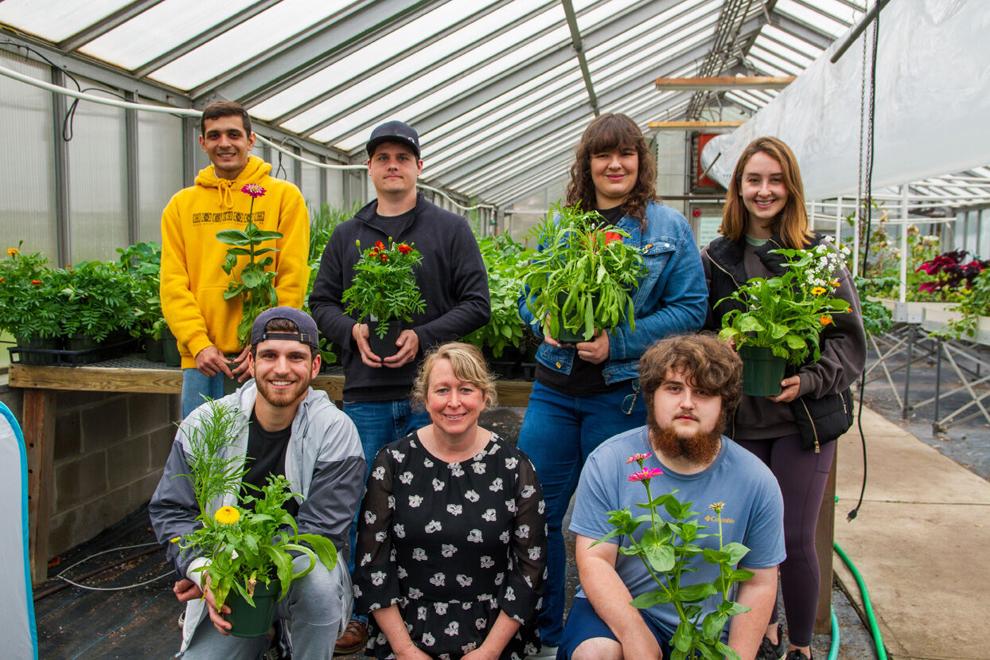 Mercer County Community College (MCCC) is once again going for gold at the Philadelphia Flower Show. Having racked up six medals — two golds and four silvers — in its past six entries at the city's indoor Convention Center, the college is facing a new challenge this year. Due to the continuing COVID pandemic, the show is once again being held outside at the city's Franklin Delano Roosevelt (FDR) Park in June.
Last year, along with many other major exhibitors, the college decided not to participate. But as professor Amy Ricco, MCCC's major domo behind all the effort, readily admits, once you've been bitten by the show's award bug, you want to try again.
Both the FDR location and the June date present problems. No more displaying a floral entry in a covered facility in March. Definitely asking students to take time off from summer jobs to help set up the entry — a set up for which four days are allotted. Hoping that there will be no rain during those four days. And then, crossing fingers, that there will not be a blistering heat wave frying all the plants during the show. Finally, once again, to be the only community college preparing to face off against horticultural education powerhouses in the greater Philadelphia area.
Ricco, holder of bachelor and master degrees from Cornell University in plant science and teaching and the 2013 recipient of MCCC's Distinguished Teaching Award, is both a passionate gardener and a passionate teacher, one whose students willingly volunteer their time for the show's entry. Unlike some other education institutions, the time and effort of Ricco's students is not applied to earning degrees or certificates.
In late January, Ricco assembled volunteers from the Ornamental Horticulture and Plant Science classes and told them that MCCC would be one of 40 major exhibitors at the show. That in itself is an honor, for, as the Pennsylvania Horticultural Society, creator of the show, puts it, "We want designers who are firmly rooted in horticulture and great plant design." It also means a lot of work because plants and structures are required to fill a large scale garden in an assigned, irregularly shaped space.
The major exhibitors, Ricco went on to explain, compete within categories and, no surprise here, the college would be with eight others in the educational category. She described the theme assigned to educational entrants: focus on horticulture's connection to mental health. And then she tossed out the first of many challenges: In addition to constructing a soothing, welcoming, descriptive display and filling it with plants that bolster mental health, what should the entry be called? Mercer Hedgeman raised his hand and suggested Re: Leaf. Everyone loved it.
Ricco noted that landscape design instructor David DeFrange, owner of Copper Creek Nursery in Frenchtown, would once again be contributing his talents to the entry. DeFrange has been involved in every trophy win and helps students in both the construction process and the display's layout. Ruth Watkin and Tom Pennacchio immediately volunteered to work with him.
Ricco had more good news: the college's Graphic Design Club would also pitch in on entry work, creating weatherproof posters and plant labels. All told, 30 students and six staff members volunteered for MCCC's entry.
Ricco next distributed packets of seeds to ornamental horticulture students. They were given five months to create praiseworthy flowers and vegetables in the greenhouse on MCCC's campus. Not as easy as it might appear, as seed varieties germinate at different times, and gold medal winners must have plants at peak perfection during judging time. The students used their plant knowledge to take assigned seeds from tiny specs in their hands, to little green sprouts in one greenhouse area, to transferring to larger containers in another section, and then admiring colorful, full grown results at their best.
While the students could choose which plants to propagate, Ricco insisted on one: the Veranda tomato. This is a 20-inch-tall patio plant, one that produces sweet, bright red, cherry-sized fruit for months. "It's the best product I ever bought from Burpee," she says. Because it can produce tomatoes for months, germination time was not crucial, allowing students to start harvesting and sampling the tomatoes before the plant made its colorful appearance in the show.
About 500 plants were grown for the exhibit, Ricco reports, with more than 300 in the college's entry and the remainder serving as backup and replacement during the show's week. She cited Katrina Henriques, James MacDuff, Jennifer Mothes, and Aidan Reid as being particularly diligent over the past months in growing a plethora of plants.
There will be different herbs with aromatic foliage (e.g. dill, lemon basil, mint), colorful annuals (e.g. deep purple coleuses, red and orange marigolds, yellow calendulas), and a variety of vegetables that are both ornamental and edible. With these plants, it is planned that those entering the display will be greeted by soothing fragrances and a cheerful abundance of not only flowers but also vegetables that create physical well being, which is an important component of mental health.
Through Friday, June 10, there will be a daily MCCC team gathering at 6 a.m. each day to travel to Philadelphia for exhibit construction. While the roster will vary, there will be at least 9 to 12 students who have signed up to take time off from work so that they could pitch in.
Construction material will be loaded in the college's van. That involves work but not much skill. Transporting plants, on the other hand, requires adroit maneuvering. Remember, they have to be perfect in appearance; not a leaf or a flower bud can be squashed. A special truck was rented for this work.
By mid-week, Ricco and her team will be busy assembling, siting, and watering the plants in their entry. On June 10, all will be in place, and judges will be closely examining each major exhibit. The plant material, the design, meeting the specific goal, and overall appearance will be evaluated and compared with other educational entries. That night, the awards will be announced.
Thus, should you visit the Show on the Saturday, June 11, opening day, you will see if there is a medal prominently displayed in the college's entry. You can also examine other nearby educational exhibits and evaluate how they interpreted horticulture's connection to mental health.
And as you walk around, you may wish to recall Ricco's summary of the past five months: "This is a great learning experience for the students and for me it is gratifying to work with such a talented, hard working group."
The 2022 Philadelphia Flower Show is being held at FDR Park, 1500 Pattison Avenue and South Broad Street, from June 11 through June 19. www.PHSonline.org/the-flower-show.
Mercer County Community College offers both Associates degrees and Certificate programs in Horticulture and Plant Science. For further information, go to www.mccc.edu/hort.