It's a hot Monday in July and the Washington Crossing Card Collectors Club is just getting started at the Union Fire Company Hall on Route 29 in Titusville.
Up first, an introduction of Bergen Record reporter Jim Beckman.
The longtime art and feature story writer steps forward and tells the 25 or so members who showed up despite the heat that he's working on a summer article about stories written on post cards.
"If any of you have postcards from Jersey shore towns from the 1940s, I'd love to hear from you," he says — getting instant results as members call out "Atlantic City! Asbury Park!"
"Get in touch with him," says WCCCC — aka WC4 — president Richard Sauers as he quickly moves on to a regular part of the meeting, The Stan.
That's the monthly contest where a pre-selected theme is announced in the club's newsletter and members enter a card and attendees vote on a winter.
It's named after its creator, Stan Sredinsky, who wanted to see more participation at monthly meetings.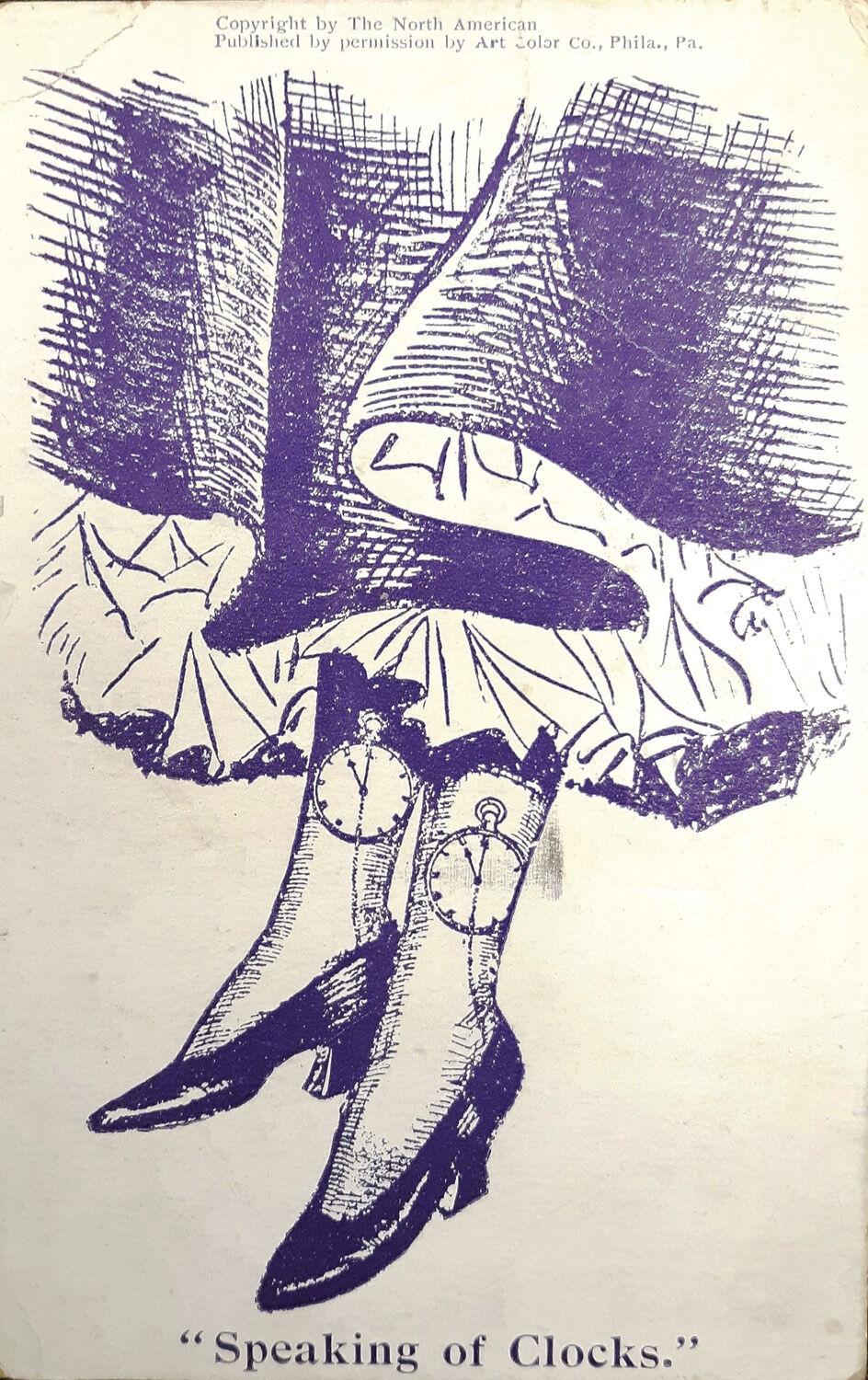 Tonight's challenge is to select the most unusual postcard featuring a clock, and club co-founder Betty Davis turns on a computer projector and beams the first of tonight's six contenders on a firehouse banquet room wall.
As expected, most of the cards feature gimmicky tourist attractions, but there's a wild card — a vintage image of a woman's leg and stocking with a clock fixed on it — that takes the $5 prize.
The session then moves to Bucks County-based retired IRS lawyer Allan Schwartz's visual presentation of the history of Holy Land postcards. It features an overview of historically significant locations as seen through the history of postcard making, including those featuring paintings commissioned by German artists and an early international card featuring the label "postcard" in 12 languages.
The lights go on and Sauers — a retired chemist and the head of the nonprofit supporting Riverview Cemetery in Trenton — encourages members to see vice president Pam Blake at the refreshment station featuring cake, coca cola, and Pennsylvania birch beer.
Meanwhile, some members, including Kelsey Dellaporte of Morrisville, Pennsylvania, browse through the boxes of cards that Plainfield, New Jersey, card dealer Ray Chase has arranged on a table while a handful of others start setting up for the monthly auction of packs of postcards that the club has accumulated through a variety of means and has decided to make available for purchase.
While the summer grouping is light, it is business as usual for the club formed in 1972 by local postcard collectors in the Delaware Valley.
Its primary aim is the collecting and study of postcards — formally known as deltiology. That's a mixture of Greek words: deltion, or a small writing tablet, and logy, a branch of knowledge.
But call it anything you want, the nonprofit group has around 200 members — with Davis saying the lower-than-usual turnout was connected to summer heat and vacations — and possibly the Holy Land topic possibly frightening some away.
Asked about the birth of the club, Davis says, "There were four of us who conceived the idea and set up a meeting date and notified in local newspapers. It attracted 15 and 10 joined."
"We focused on organizing around the Washington Crossing Parks on both side of the Delaware River," she adds.
Davis says the first meeting was planned and held in the barn that housed a flag museum at Washington Crossing Historic Park in Pennsylvania, and then the group crossed the Delaware River to hold meetings at the Presbyterian church in Titusville.
The group met there for 25 years before moving north on Route 29 to the fire house where they've been meeting for an additional 25 years.
"Washington Crossing can describe both sides of the river and cover a lot of area, so it was a title that was very broad and includes the whole Delaware Valley," Davis says.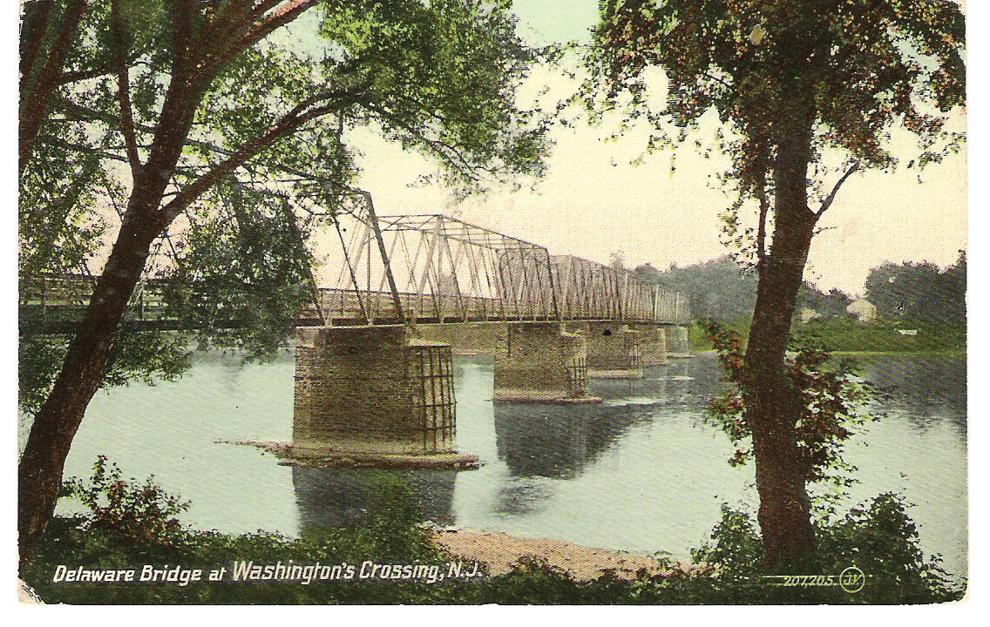 And while the club uses a Washington Crossing, Pennsylvania, post office address, the group has a New Jersey presence and, according to the above mentioned Sauers, is one of two New Jersey postcard collecting clubs (a southern NJ club recently closed).
Davis, who lives seven miles north of Washington Crossing in Wrightstown, Pennsylvania, is originally from Stockton, New Jersey, where her family operated Schuck's Garage — a block up from the Colligan's Inn.
She attended Stockton Elementary School, a three-room affair where three teachers conducted classes of mixed grades, before heading to Lambertville High School and Trenton State Teachers College (now The College of New Jersey).
After teaching for several years, she focused on raising three children. She now lives in the same house with her 90-year-old husband, a retired steam and pipe fitter.
"I had always collected postcards," she says about her pursuit. "My parents encouraged (my siblings and me) to collect things. There wasn't any money to spend, so you collected cigar bands, matchbooks, postcards. If you told people they would give you them. In the '30s and '40s, there were a lot of postcards."
Davis says a magic moment was when she turned 10 and her parents gave her a membership in the Post Card Association of America.
"I felt I was very important to be part of a national organization. The idea was the you would exchange cards with other members."
Though Davis says that during those early days she'd collect whatever was given to her, she adds, "If I had a choice, I'd chose buildings and places rather than Christmas and greeting cards. But if (someone) gave them to me, I was happy."
Davis' collection grew when she began accompanying her mother to auctions around Bucks County. "Generally, someone would die and people would sell things from the house. The auctioneer was Herbert Van Pelt — quite known as the auctioneer of Hunterdon County from the '30s to the '60s.
"There would often be an old scrapbook because people would keep one from the turn of the century. They'd sell in the range of 25 cents, and my mother would buy them for my collection and to keep me occupied.
"Most of (the scrapbooks) tended to be heavier on the greeting cards than view cards. But in a few years, I'd start separating the cards by schools, buildings, and views, some sort of topics."
She eventually became more focused and mentions two specific card themes.
The first involves scenes of Bucks County published by the regionally based Arnold Brothers company.
The other is on cards that feature the name Davis, noting that post cards came from 15 or so towns called Davis as well as Davis grocery and drug stores. "There was also a Marshall Davis who did some cards — strictly artist drawn for the Citizen Conservation Corps and World War II — and how army life has affected the various soldiers. There was also a publisher in Boston who did oodles of cards. He opened a branch in England. A Davis presidential candidate. And Betty Davis the actress. It's a topic that is huge and something you don't expect."
Davis says one of the benefits of collecting is "that it is nice if you have a set and you add to it. I don't make a big deal of hunting for a card, but it is nice when it comes along. And I find it is better to organize cards than to watch TV. Postcards are a lot more sane and easier on the eye."
She says the benefit of participating in the club is that it involves people who are friendly, pleasant, and share interests that open doors to new ideas.
As an example, she says at an early meeting, a man arrived who had more than a thousand Bucks County Arnold Brothers cards.
While such cards are now part of Davis' focus, she says at the time, she had considered the publishers and realized that she had already had a good number of their cards.
She says it became a club project to learn about the Arnold brothers and create a publication featuring Arnold Brother postcards. "We sold a thousand the first year and then had a thousand reprinted. It increased the interest in the Arnold Brothers.
"A year ago, a fellow in his early 20s wrote a new book on the brothers with all of the cards with information," she adds.
"Before the club, I had no idea of the Arnolds although they lived about three miles from where I live. By having cards and being interesting in them, you can find out a heck of a lot of stuff."
Assessing the changing landscape of post card use, Davis says new cards are becoming less visible in shops and more difficult to find. But, then again, there are some people producing new ones, including member Jim Morris, who arrived at the meeting with 12 sepia-printed cards of a Bucks County scene.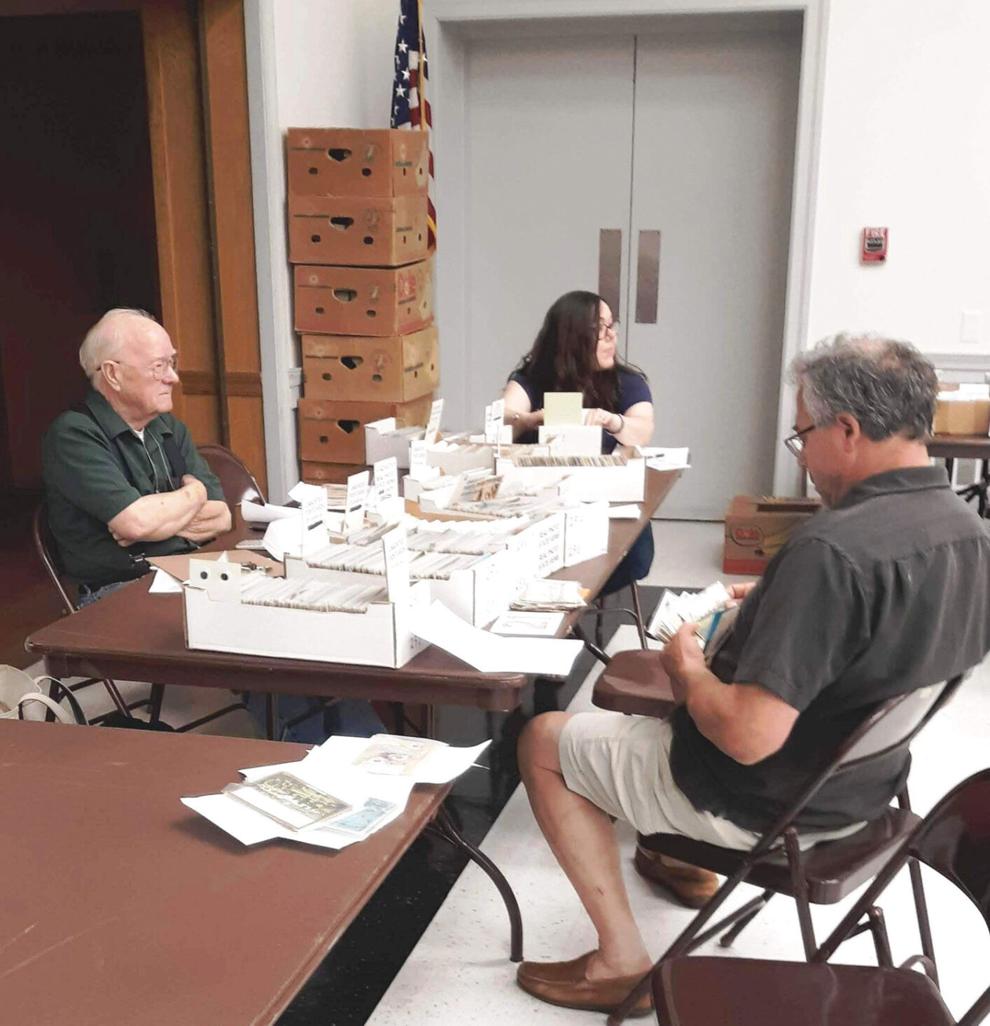 Meanwhile, back at the meeting, members sit with cake and birch beer and get ready for the final segment of tonight's session, the monthly auction of cards that the club has accumulated and made available to help pay for the space rental and refreshments.
Member auctioneers Bill D'Anjoiell and Aaron Hackler, both of Bucks County, take the floor and start the auctioning for groups of postcards starting at various prices — with dollar amounts rising and falling like the stock market.
"No matter what your interest, it will be applied to postcards," says Davis. "There are post cards that fit every topic" — as the going, going, and gone packs of Ronald Reagan, vintage Trenton, and 3-D postcards aptly proves.
WC4 meetings are set for every second Monday at 8 p.m. at the Union Fire Company, 1396 River Road (Route 29), Titusville, New Jersey. Membership is $10.
The August 8 meeting's program is "How They Started Collecting," presented by several club members. The theme for Stan's Contest is "The Most Interesting Atlantic City Boardwalk Card."
For more information, visit wc4postcards.org/index.html.