Morris Docktor is a classically trained portrait artist whose realistic likenesses can be seen in galleries and in public spaces around the region. Schooled at the Pennsylvania Academy of Fine Arts in Philadelphia, the Hopewell artist began with work that was very traditional.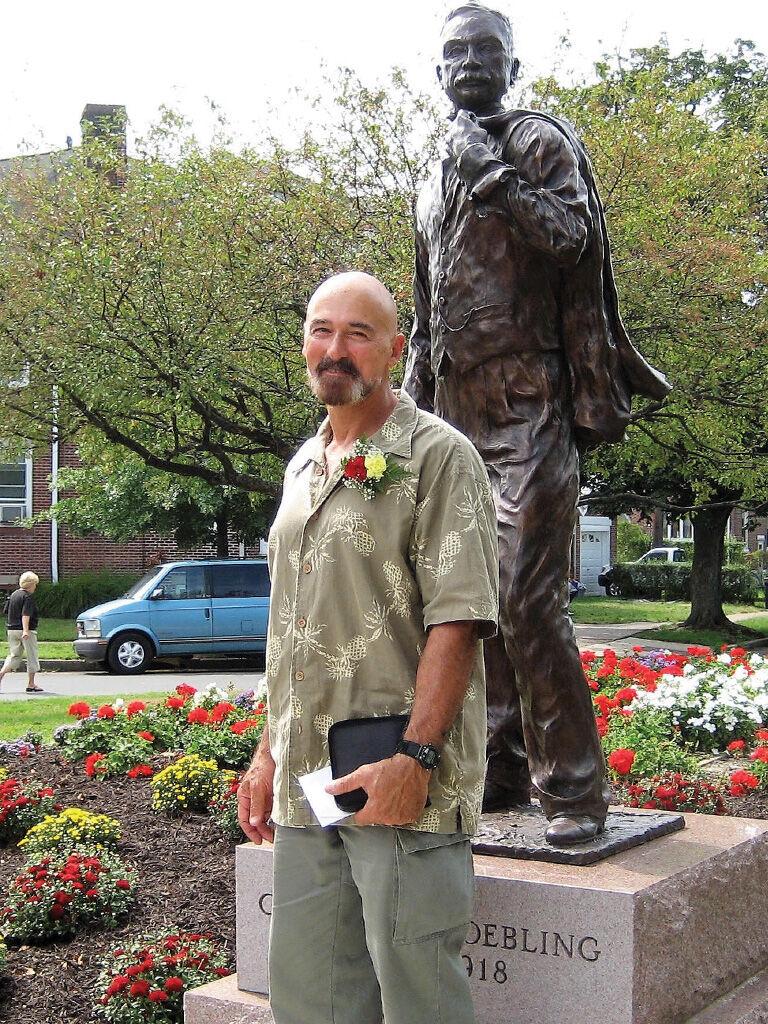 Even as a young boy impressed by his uncle's paintings, Docktor knew an artist career was for him, and he began training himself from those very artworks he admired.
"My uncle studied at the Philadelphia Museum College of Art," he says. "The name has been changed twice since then to The Philadelphia College of Art, and now called The University of the Arts. He did aerial photography in the Pacific for the U.S. Army during World War II. After the war he primarily earned his living as an illustrator for books and record album covers. Later in life he had a studio gallery on Bleecker Street in Greenwich Village, New York. In his senior years, he taught art in one of New York City's high schools for gifted students."
Regarding his own background, Docktor says, "I attended Marple Newtown high school in Broomall, Pennsylvania. My parents were born in Philadelphia. My father was a businessman who created a chain of franchised pet stores called Docktor's Pet Centers. My mother was a housewife who after the children were out of the house worked as a nurse."
"Although while in high school I had won several first-place art awards, I was not encouraged to enter art as a career by my parents. My father wanted me to become a medical doctor, but being an artist was inevitable. Eventually I entered Temple University's Tyler College of Art. The vibe I got there was of a curriculum geared towards career and teaching. I transferred to the much more serious Pennsylvania Academy of the Fine Arts. There, I was in my element and in heaven. I worked to pay my tuition by painting murals in bars and psychedelic discos, and portrait drawing in resort venues."
In addition to painting, Docktor sculpts in many different media. "I enjoy working in any medium and would not like to be held down to just one or two. I like to sculpt in clay because it is so fast and I like the spontaneity. I would say that the most challenging medium is carving stone or wood. It is a lot more of a deliberative time-consuming task. Beneath the clinical technique, it takes a strong conviction and faith in your vision to sensitively commit to every strike of the chisel."
An introduction to art for many in Mercer County was seeing Docktor painting live at his seasonal booth in Quakerbridge Mall that he manned for many years. Sporting his trademark beret, he and his booth were always popular with crowds who saw a real artist at his craft.
Docktor says he "created at least 500 quick portraits in the summer time while working my way through college, so when I finished school, achieving an undeniable portrait likeness quickly was as easy as breathing."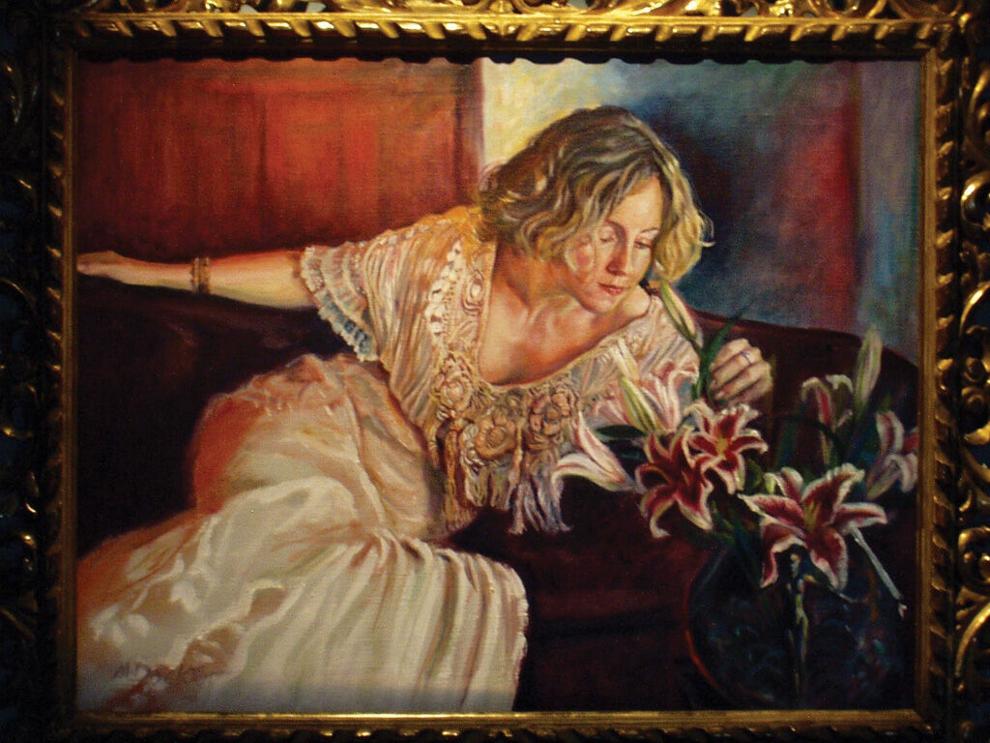 "I knew that with my speed and accuracy I could make my work affordable. I set up a menu of prices based on medium. Basically, anyone could afford a classic charcoal portrait, and the price went up according to how much more of my time each medium required. At the time shopping malls were a new and very popular attraction for the public. I set up a kiosk for November and December to take advantage of the crowds and people's need for a meaningful gift. The other 10 months I worked from my home studio, by appointment. After painting a few murals, word of mouth spread, and I was in demand for murals in restaurant, corporate, and residential settings."
Trained at the academy in both painting and sculpture, Docktor can achieve a likeness in either discipline.
"It is very satisfying to achieve an undeniable likeness in sculpture and painting," he says. "I received my first portrait sculpture commission when I was 25 years old. I found that I was fast enough to make my work affordable to the middle class. My first sculpture commission was of a three-year-old boy. He sat on his mother's lap while I modeled his likeness in clay. The bust was meant for their family residence.
"When it was completed, I casted it in plaster. The mother was young and could not afford bronze casting, so I put a bronze patina on it.
"At any time she could afford it, she could take it to a foundry, and it could be duplicated in bronze."
"The major cost for my clients is the casting of the clay to bronze. My clients with limited resources can have me cast the portrait sculpture in a resin cold cast with a bronze patina or in plaster with a bronze patina. The piece can always be recast in bronze which is much more costly, later in life if they wish."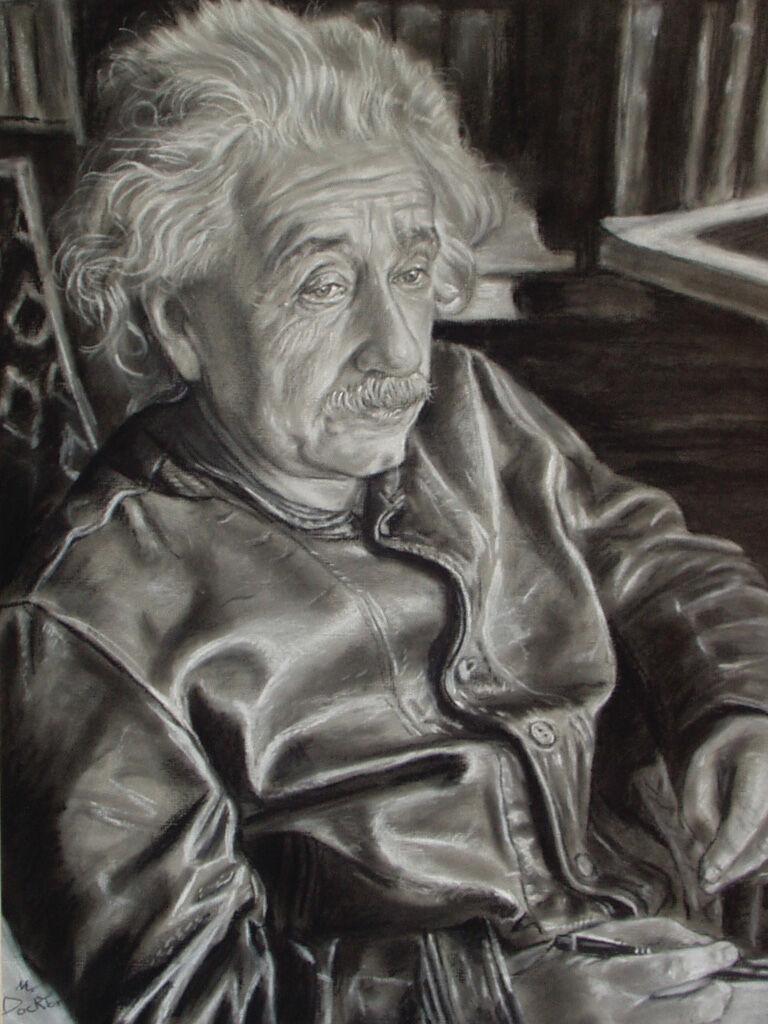 While Docktor's sculptures and paintings are frequently shown in area galleries and exhibitions, they also can be found on walls and spaces around the community, including the heart of Princeton. "At the restaurant Alchemist and the Barrister there are two murals of mine. One is indoors and is a scene of Albert Einstein sitting at the bar with his violin, and the other on an exterior wall, is a gothic window with an alchemist and a barrister having lunch."
Other murals pop up in unexpected places with sometimes unexpected images, like the one featuring a flying saucer attacking a 1950s-era diner. And in Roebling, there are two bronzes of Charles Roebling: one a bust and one life-size standing figure. He also has some Princeton-centric works on public display.
He was also commissioned to create portraits of commanding generals for the National Guard Museum in Sea Girt and portraits for the Stark and Stark law office in Lawrenceville.
"I have been working on a series of paintings with figures that are extremely minimalist," he says about exploring different themes and approaches. "They are done in a white line on a dark gray background to emulate white chalk on a blackboard. Surrounding these abstract figures, I have painted illusions of very realistic ornate picture frames on the canvas, à la trompe l'œil, which in French translates to trick of the eye. My intent is to contrast ornate against minimalism, and materialism contrasting spirit. This makes a strong dichotomy and appears to break artistic conventions."
Docktor lives with his wife in Hopewell in a house, he says, "I built in 1983 and created a nursery farm on my property. The home has grass on the roof and is built into a southern facing slope. It is geothermal, passive solar, and active solar. My totally electric house has a typical monthly electric bill of about $10."
He says he's working on a home sculpture park on his Hopewell property, incorporating natural and man-made objects to beautify his own living space, which is a mark of a true artist.
"I have planted boxwood shrubs of different conformations in geometric patterns. I have sculpted these into topiary forms and many are the natural round, columns, and conical forms. Among the living topiary sculpture, I have placed my whimsical upcycled creations. One such creation is a bright red chair balancing on one leg and a tropical Tuscan bird balanced on top of the chair. It makes me smile and speaks of blue skies."
"I have also built a long reflecting pond filled with flowering waterlily plants and a classical Greek temple that I sculpted with concrete and a copper dome. The temple reflects in the water and is a meditative garden folly.
"My house is an earth sculpture in itself. Placing sculptures on the grass roof gives me great joy and hopefully anyone else who views them."
---
To see more of Morris Docktor, look around the community or visit his website at morrisdocktorartist.com.