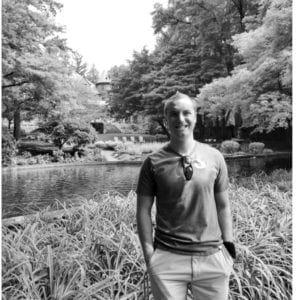 James Betz says it was at an area swim club when he first heard about the subject that would turn into an obsession and his recently published book, "Ralston Heights."
He says he overheard a woman's account of her son's bicycle trip through Hopewell and coming across a castle-like structure that was the proposed heart of a utopian colony.
The colony's underlying principle was Raltsonism and the area surrounding the "castle" was Ralston Heights.
"I was so obsessed and began researching Ralstonism as much as I could," says Betz during a recent telephone interview about turning historic fact into supernatural fiction.
What ignited his imagination was not the history of the building but the naked bigotry of the movement's founder.
Ralston may seem to be an actual person's name, but it is an acronym representing its founder's formula for productive living: Regime, Activity, Light, Strength, Temperation, Oxygen, and Nature.
Its coiner was the self-appointed 19th-century health pundit Webster Edgerly (1852 to 1926).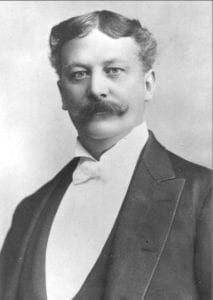 One of several late 19th century Americans who sipped from a heady cocktail of Darwinism, health fanaticism, idealism, and consumerism — others include breakfast cereal entrepreneurs John Kellogg (the creator of cornflakes) and C.W. Post (of Grape Nuts fame) — Edgerly sold mail-order self-improvement books through his Ralston Health Club.
He also concocted the pen name Edmund Shaftesbury to be the author of more than 80 books designed to address a variety of physical and psychological issues — with scant scientific support.
The books found an international clientele that clamored for self-perfection and had the means to pay each book's high price — figure $650 per copy in today's dollars.
With 800,000 dues-paying Ralston members, including England's Queen Victoria, Edgerly eventually became rich — and seemingly respectable.
He also was involved in the creation of another of the era's cereal companies, Ralston-Purina. The already existing company wanted to capitalize on Edgerly's health promises.
After some unsuccessful attempts to establish himself in various locales — including his home state of Massachusetts and Washington, D.C. — Edgerly started purchasing farmland in Hopewell, New Jersey, in order to create a community based on his ideas that ranged from perfecting personal magnetism to fostering racial purity through eugenics.
Edgerly's method to reduce the number of members of inferior — aka non-white — races was to castrate dark-skinned men to prevent their passing their supposedly inferior intellectual capabilities along to their offspring.
However, it was permissible for white males to breed with dark-skinned women to pass on white intellect.
"It was sobering to find out that a pioneer of eugenics lived so close to home, and it was too much to turn my head the other way," says Betz, a Pennington native now living in Hopewell.
The writer says the topic had also been touched on in another book he wrote before this one, "Sourland Snakebite."
That supernatural story deals with the now-vanished state home for epileptics at Skillman and Dr. Edwin Katzen-Ellenbogen, the Polish-Jewish New Jersey-based proponent of eugenics who later worked with the Nazis and who admired America's eugenic theories.
Betz also lists other eugenics connections to the region: aviation hero and eugenics advocate Charles Lindbergh and Governor Woodrow Wilson, who signed the 1911 legislation allowing New Jersey to practice eugenics (it was later repealed).
The writer says while the actual story of Edgerly's attempt to create a center before being run out of Hopewell is strange enough, he was additionally inspired by writers such as Stephen King and J.R.R. Tolkien to fictionalize it for several reasons.
"In this day and age I felt a bit of an obligation to point out the evil of racism. I was trying to expose the evil of the Ralston Castle. That you can't escape the evil," he says.
He adds Webster Edgerly's being from Salem, Massachusetts, connected him with supernatural stories, and he saw the opportunity for a "sinister plot setup" that dealt with an un-escapable curse.
Betz's story follows Trevor Marino, a young man who is "in a predicament that is transformative, and he can't escape,"
Seeing his family fall apart because of his father's infidelity and his own humiliation from being thrown out of Rutgers, Marino moves from Princeton to Hopewell with his mother and discovers the nearby castle.
He's "a character stuck in a rough time and feels that the weight of the world on his shoulders. He is not very good at dealing with his problems. He feels entitled but feels like he's not going anywhere. So when something closes on him, he denies it.
"When all the supernatural things (related to the castle) are happening, he's in denial. He's already in a rough state, and it is only going to get worse."
Betz says that like Marino he too as an undergraduate geography student at the University of Oregon "found myself more frustrated than usual" and thought the character would be compelling as a demographic.
Born in Princeton in 1990, Betz is the son of a retired New Jersey Department of Environmental Protection engineer and a mother who works for PNC Wealth Management. He attended Hopewell Valley Central High School.
He says that his plans to work in the geographical field changed when he got homesick for his family.
When he returned home in 2014 he combined various jobs with writing and following his desire to be a horror writer.
He says in order to create "Ralston Heights," he used digital and hard copies, including Edgerly's own books. One, titled "Child Life," Betz calls "one of the most racists books I ever read."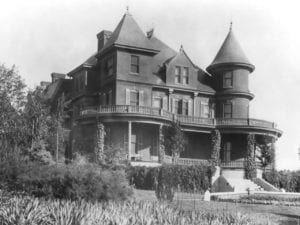 Yet one of the most important pieces of research was the opportunity to visit the privately owned house during a Hopewell Library garden tour where he met the owners, who gave him a tour.
"I walked through the first floor kitchen and dining room. There were original editions of the Ralston books. I saw them there as if they never left the place," he says of the locations that he describes in the book.
He says his preliminary work and research came together in 2019 when he "read the U.S. 1 article. It was the catalyst. I started writing a manuscript on May 15 and finished June 13." (Read U.S. 1's story from the May 15, 2019, issue.)
The connection to the publisher, Farfallina Press in Princeton, came unexpectedly while working at Antimo's Italian Kitchen in Hopewell.
Betz says he was on break when one of the chefs asked him what he was doing when not working there. When Betz told him, the chef gave him a business card to the Farfallina Press publisher Maria Galastro.
Her MLG & Associates helps clients find publishers, self-publish, and market books. Her husband is Antimo's chef, Nino Galastro.
Betz says he met with Maria Galastro about publishing his hefty "Sourland Snakebite." When she said it would be costly, he began to rethink his approach and create something shorter and more economical to attract readers and publishers.
"'Raltson Heights' was more frugal and it had to do," he says. Without revealing the publication's cost, he adds, "It is costly to publish a book. But every single penny was worth it."
He also says during the pandemic he is handling distribution, and copies are available in the Pennington area at the Pennington Quality Market. He also hopes to be involved with the Princeton Public Library's author day.
One of his goals with the publication is to get people his own age interested in local history.
"I loved supernatural stories and couldn't help but extend the story and to know the history — I was blown away by what I learned. I thought this was a criminally overlooked history lesson. Hopewell is a quiet town, and this sticks out like a sore thumb. I wanted to terrify (readers) for entertainment's sake."
'Ralston Heights': An Excerpt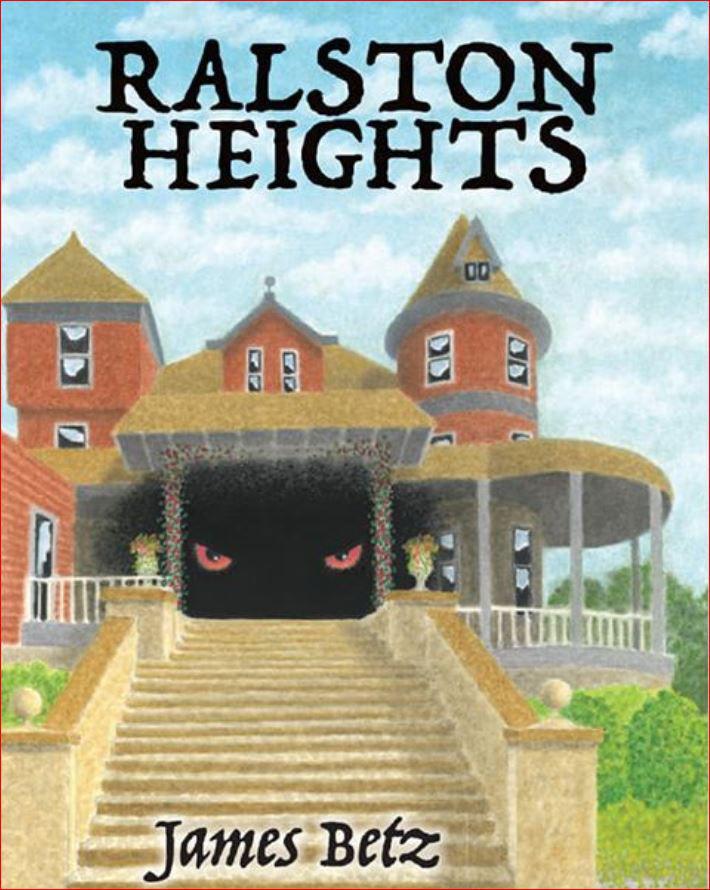 Even in broad daylight, all of the castle's 77 windows were dark. After a few more seconds of critical observation, Trevor noticed a feature that he had never seen before. Many of the windows had a "third eye" hanging above them. Since the Ralston Health Club was dedicated to concepts such as personal magnetism, glame (the Raltonism concept of natural buoyancy), vitality, and spirituality, the third eye details were yet another subtle allegory that he failed to interpret. The perennial eye symbolized the overall connectivity of the Ralston regime, and how the culture sought for a greater meaning in life. Though they were difficult to see, Trevor felt intimidated by the virtual feeling of eye contact.
Within seconds, the scenery changed into a psychedelic bouquet of lively colors. As the clouds spun in counterclockwise circles, all of the building's third eye features winked at him with simultaneous synchrony. After seeing the winks, Trevor turned away with disbelief. After shaking his head and closing his eyes, he looked back a few seconds later. Much to his surprise, Trevor saw nothing but the castle's motionless facade
Although his mind could barely tolerate the thought of the castle, Trevor believed that a quick trespassing journey would help him get over the bug. He only wanted to quell this unusual obsession with the castle once and for all, so he deiced to take a huge risk. The only issue he had was the fear of getting caught. If the police caught Trevor breaking and entering, he would be in deep shit. He was desperate to see whatever was inside the castle, and the urge was only growing stronger. Buy gulping down the painful, dry lump in his throat, Trevor prepared himself for the journey beyond his backyard fence. After recalling all the commotion spoken in Adam-Man Tongue, he refused to leave his house during he evening hours.
Apparitional minions had been messing with his impressionable mind ever since he and his mother had moved to the neighborhood. Unable to tolerate the mysteriousness any longer, Trevor made an audacious move — he was going to take his very own walkthrough tour of the castle. A sudden qualm entered his mind, but Trevor ignored it. He assumed there would be some mental hesitation, but that was to be expected. As soon as his Nike sneakers were tied up tight, he drank a small glass of tap water before leaving his house.