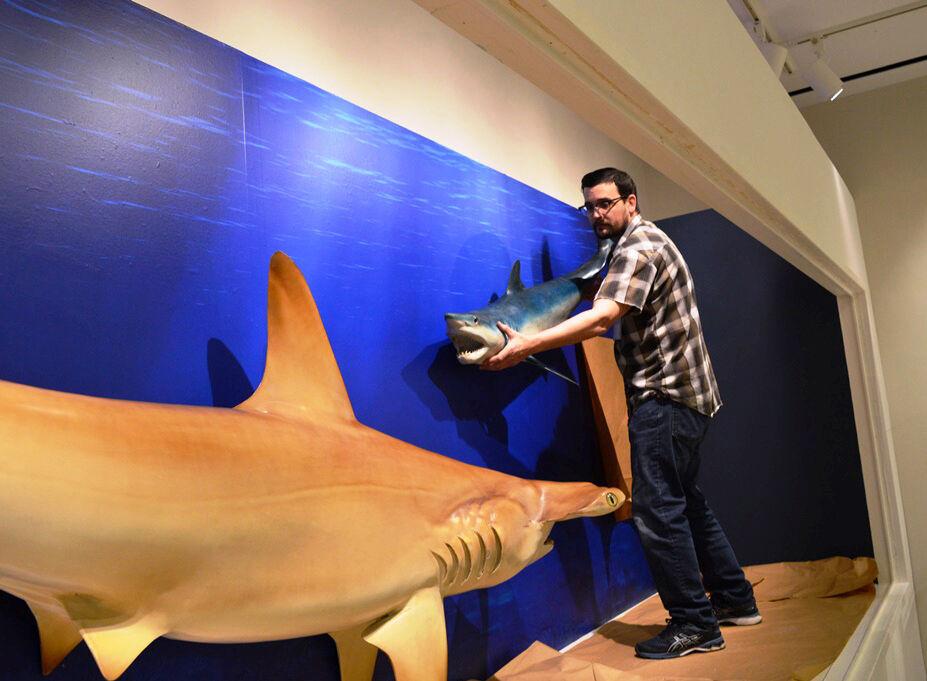 There are no megalodons in the ocean. None. Zip. Nada. The prehistoric giant sharks are dead and gone, and they've been gone for more than 3 million years. Rest assured.
Pay no attention to the "docufiction" episodes you might see on The Discovery Channel, the ones that usually run during "Shark Week" in July, with titles like "Megalodon: the Monster Shark Lives."
Dr. Dana Ehret, assistant curator of natural history at the New Jersey State Museum (NJSM) in Trenton, knows the science behind megalodon's extinction.
He has been interviewed on television and in print to dispute the pop culture rumors that the megalodon still lives, may be lurking out there ready to strike, as in the 2018 movie "The Meg." In fact, he has been on The Discovery Channel's "Megalodon: Fact or Fiction" specifically to say with authority, "The meg is dead and gone."
"We know why it doesn't exist — the fossil record for megalodon ends about 3.5 million years ago," says Ehret. "My colleagues and I published a paper in 2020, and we showed after 3.5 million years ago, we don't find megalodon teeth."
To view it from a more practical stance, over the years, humans probably would have noticed an airplane-sized shark swimming just beyond the waves, eating dolphins, whales, and even Boston Whalers.
Ehret, a fossil shark expert, will give a free lecture about the megalodon and great white sharks on Saturday, April 9, at 2 p.m., to help launch "The Jaw Dropping World of Sharks" exhibit at the NJSM, which runs through January 8, 2023.
The exhibit, in the museum's second floor Riverside Gallery, will display specimens and artifacts about sharks, as well as their relatives — stingrays and manta rays — to shed light on these fearsome but misunderstood creatures, exploring their biology, fossil record, conservation, and cultural significance.
According to Ehret, who curated "The Jaw Dropping World of Sharks," "The exhibition showcases the fossil shark record of New Jersey and aims to educate people about sharks, their unique biology, and history."
"New Jersey is known for one of the premier fossil collecting locales on the East Coast in Monmouth County," he adds. "Thousands of shark fossils from the late Cretaceous period (approximately 70 million years ago) have been recovered over the last 150 years."
A lecture series is planned to take place on the second Saturday of each month starting in May. The lectures will primarily be presented virtually, with a few having an in-person component, including a talk by Dr. Richard Fernicola, author of "Twelve Days of Terror," planned for July.
Dr. Marie Levine, founder and executive director of the Princeton-based Shark Research Institute (and profiled in U.S. 1, August 16, 2021), will give a talk on Saturday, May 14, livestreamed on the NJSM's Facebook page. The title of her talk will be, "Human/Shark Interactions and How to Avoid Them."
Levine's lecture will be come in handy to those who love to swim in the ocean at the Jersey Shore. Many species of sharks continue to live just beyond the waves there. One wall in the gallery showcases two species common to our waters — the huge, alien-looking scalloped hammerhead, and a shortfin mako shark.
Sharks and their relatives share a 400-million-year history and have a diverse family tree. They inhabit the world's oceans, rivers, and estuaries, evoking fear and mystery. But much of this fear comes from a lack of understanding about sharks and their habitats.
Walking a visitor through the exhibit's installation, Ehret talks about these fears, and emphasizes that sharks rarely attack humans. He doesn't even like the phrase "shark attack," preferring to say "shark and human interaction."
"Most of the time, these interactions are not lethal, they're incidental," he says. "Sharks have tooth-like structures on their skin, so even just being brushed by a shark, you can get a rash or be scratched, especially in a place like Florida, when there are a lot of people in the water."
Sharks are rarely after people, who will put up a fight, but favor something easier to consume, Ehret explains. However, they don't know exactly what's dangling in the water, so they may come up to a human for a "taste."
"The sharks aren't coming (into shallow waters) for people, they're probably coming in for the bait fish," he adds. "But if there are a lot of people in the water, it's going to make for an interaction."
"Sometimes sharks come in and try something to see if it's food, but decide not to go further," Ehret says. "It's 'strike and retreat,' and then they don't come back. But, with a mouthful of teeth, they can inflict so much damage."
And those teeth!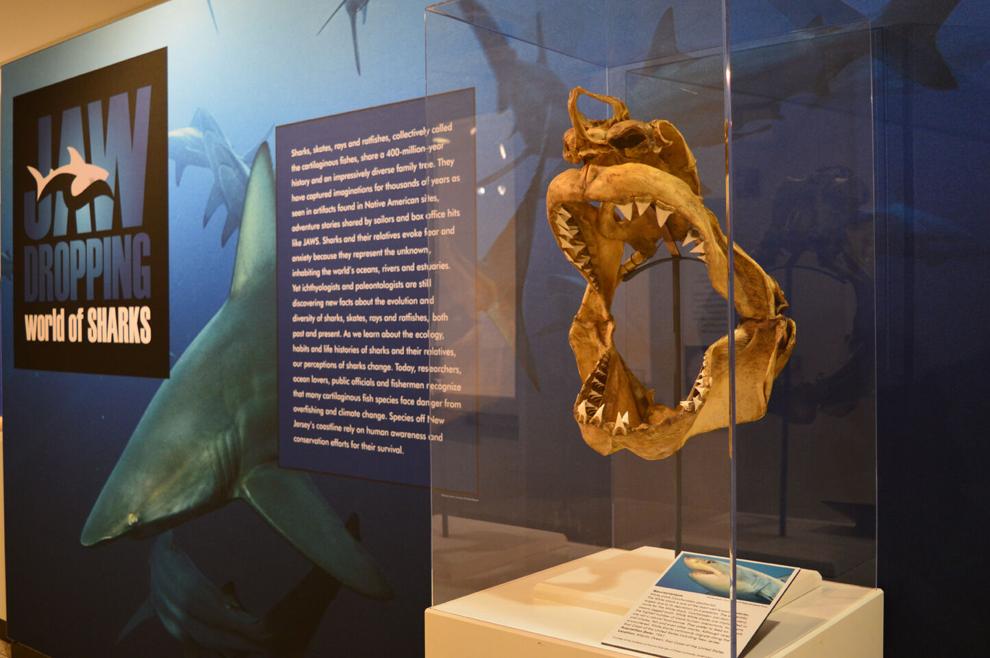 On one wall of the gallery, visitors to the exhibit can see a variety of shark jaws, large and small, but all teeming with six or seven rows of teeth.
"Many of these jaws are from sharks that are found off the coast of New Jersey — great whites, hammerheads, tiger sharks, etc. One jaw comes from a shark caught off of Beach Haven, so it's very local," Ehret says.
The centerpiece is the preserved jaw of a great white shark, a gaping maw of two feet or more on loan from the Academy of Natural Sciences in Philadelphia.
Ehret notes that sharks are constantly losing and replacing teeth, with some 250 to 300 teeth in their jaws at one time. Over a shark's long life span (maybe 60 or 70 years), they might produce 40,000 teeth. That's why shark teeth are one of the most common fossils collectors find.
Ehret goes on to say that New Jersey is a great place to find shark teeth. "We've had a shore line for more than 100 million years, with prehistoric sharks swimming just offshore," he says. "75 to 65 million years ago there were many sharks in the waters off what is now Monmouth County, so it is a known area for sharks' teeth. In fact, I visited the British Museum and saw that it has fossil shark teeth from Monmouth County."
"Sea levels have gone up and down over the ages, and around the time the Hadrosuarus (first found in Haddonfield, New Jersey) was walking around, sea levels were high — all of South Jersey was under water," he adds. "Places like Big Brook, Colts Neck, and Holmdel were at the edge of the ancient shoreline, and there were tons of sharks swimming around, so naturally there are lots of shark fossils there."
Ehret has been hunting for shark teeth since childhood and has carried that fascination into adulthood. "When I was little, you could collect teeth in Shark River Park," he says. "That's how I got into in fossils, and I still have some of those shark's teeth I collected at age 5 or 6. Now I collect fossil sharks from all over the world."
Ehret (whom U.S. 1 profiled in February, 2020) has traveled as far as Peru and South Africa to do research in paleontology, marine biology, and paleobiology. The Hamilton Square resident chose Stockton University in Atlantic County for his undergraduate work in marine biology, in large part because he would be close to the beach and ocean.
Then it was on to graduate and doctoral studies at the University of Florida in Gainesville, a premier location for fossil hunting, as portions of Florida were below a warm, shallow ocean in ancient times.
Ehret then worked as curator of paleontology for the Alabama Museum of Natural History in Tuscaloosa. Again, he hit pay dirt for fossils, as the fossil record in Alabama goes back millions of years and includes dinosaurs, giant whales, and many shark fossils.
A native of Spring Lake Heights, Ehret returned to New Jersey to take the position at the NJSM in 2018.
The new exhibit does touch upon the megalodon, boasting a fossilized Meg tooth about five to six inches in length, found on the beach in Atlantic City.
"It's one of the few megalodon teeth found in the history of fossil hunting in New Jersey," Ehret says, adding that this tooth may have washed north from Maryland or the Carolinas, which are prime fossil hunting territories for megalodons.
"People travel from all over the world to find these megalodon teeth. They're very prized by fossil collectors," he says.
Although Ehret emphasizes that sharks rarely attack humans, the exhibit does tell the story of a rogue shark that wreaked havoc along the Jersey Shore between July 1 and 12, 1916. (This is the subject of Fernicola's book.)
A shark thought to be some nine feet long bit a vacationer in the ocean near Beach Haven, badly enough so the man died from his wounds. A few days later, a similar tragedy occurred near Spring Lake to a hotel employee.
The shark then traveled north, swimming a mile up the fresh water Matawan Creek eventually killing a boy and the man who jumped in to save him. Another man was bitten badly near the mouth of the Matawan, but lived.
For the rest of that summer, enticed by sizable bounties, fishermen sought the rogue shark, while armed men in boats patrolled the New York and New Jersey coasts to seek and destroy the animal. The events made the national news.
A taxidermist and lion-tamer from Barnum and Bailey's Circus caught a 7.5 foot great white in the Raritan Bay near Matawan Creek, and for a while the shark was thought to be the perpetrator. There is still debate about this, and about the exact species of the killer shark, particularly because the animal had traveled so far in fresh water, and great whites are salt water fish.
As formidable as the creatures are, Ehret says many species of sharks are in decline, and the exhibit provides information about this aspect as well. Some sharks are fished only for their fins and then thrown back in the water to die. (There is a scene in "The Meg" where the characters discover sharks that have been hunted for their fins and discarded.)
Ehret takes the questions about the megalodon in stride. He is also amused that he has become a kind of cult figure, the sought-after guy, flown out to Los Angeles to appear on real documentaries to debate the fake megalodon documentaries. He has also lectured at Rutgers on the topic.
He was even invited to a showing of "The Meg" at the Bruce Museum in Greenwich, Connecticut, where they screened the movie and Ehret gave a scene-by-scene narration, clarifying, "No, this couldn't possibly happen."
"It's the one question I get the most, from children and adults: 'is the megalodon still alive?'" he says. "The meg was real, it was an amazing animal, but it is not still alive. It is definitely dead."
The Jaw Dropping World of Sharks, New Jersey State Museum, 205 West State Street, Trenton. Saturday, April 9 through Sunday, January 8, 2023. Free. Tuesday through Sunday, 9 a.m. to 4:45 p.m. Free lecture, April 9, 2 p.m. 609- 292-6464 or www.statemuseum.nj.gov.