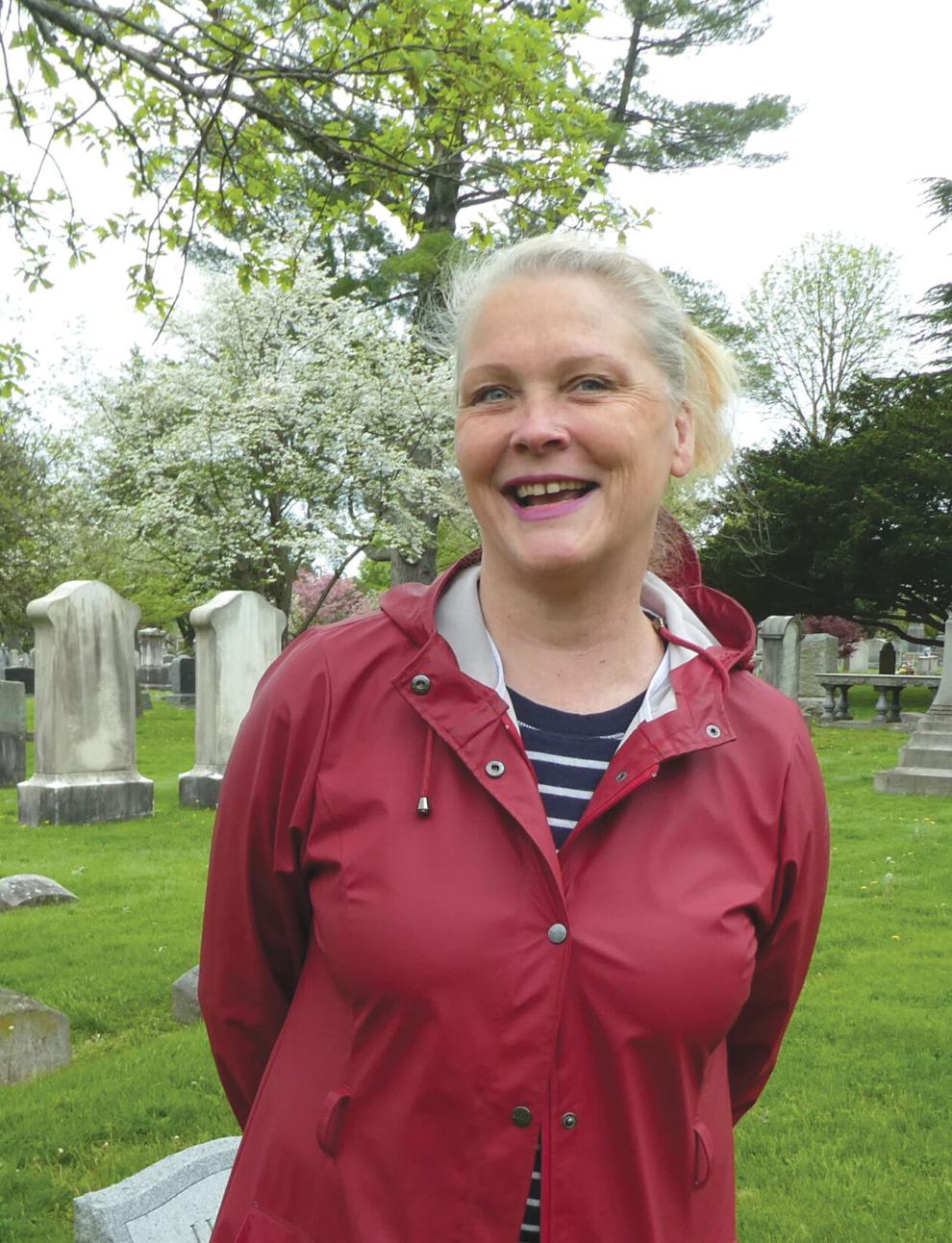 I met sculptor and painter Kate Graves on a cool, drizzly morning at the entrance to Princeton Cemetery.
Although known for her various-sized metal sculptures of accurately detailed sturgeons and sets of old Trenton buildings as well as her paintings of buildings from Trenton's illustrious past, we're meeting to discuss one of her less known artistic endeavors: creating memorials.
Fittingly, as we stand in the 264-year-old cemetery, thoughts turn to mortality and spirit.
Graves, a Californian who traveled East in 1990s to work at the Johnson Atelier and remained in the region (she lives in Morrisville), tells me she went to Mills College and took an elective course based on Elisabeth Kuber-Ross's 1969 pioneering book "On Death and Dying," which described five stages humans experience when facing or dealing with death: denial, anger, bargaining, depression, and acceptance.
"I took (the course) after returning from a semester abroad in 1991 with the School for International Training's Tibetan Studies program, a truly remarkable opportunity to travel overland through Chinese-occupied Tibet with Tibetan guides," she says.
"My degree is in Asian art, with an emphasis on Himalayan art, which fascinates me for a variety of reasons. The iconography is specific and precise: maps of states of consciousness. The idea that a place so isolated could create such powerful introspective tools took root. At such a high altitude, my mind felt very clear — free from the distractions of the sea-level life I had experienced thus far."
She continues to talk about the Buddhist idea that "Life is illusion. The Four Noble Truths of Buddhism begin with the truth of suffering, and the cause of suffering: attachment."
Graves says she has had the human experience to observe this in her own psyche — the longing for things like love, acceptance, and a place of refuge and the pain caused when such is not consistently available from outside sources.
She adds that of all the difficult events in life and emotions to process, grief is high on the list, and "the pain that results from loss of a loved one is both universal and unique to the relationships of the individuals involved."
Wanting to be clear and have her thoughts in order, Graves presented me with a statement that not only reviewed her above thoughts but explained how she came to create several Princeton Cemetery memorials for children and objects of support for others: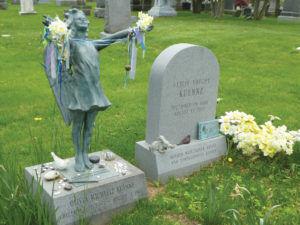 My first memorial project was for Olivia Kuenne. She was four when she died, in an accident. I had never met her and was introduced to her parents through a mutual friend. We met for the first time at the Trenton City Museum at Ellarslie, where four of my Zero Tolerance Area bronze sculptures were on exhibit. I was amazed at the level of communication between her parents: Chris and Leslie spoke so clearly to me about who their daughter was, and were able to describe what kind of memorial they wanted for her: a young female angel, uplifting and joyful, with an inscription reading "A Daughter, A Sister, A Painter of Rainbows" and a paintbrush at her feet to recognize her budding artistic talent.
At the time I was working at the Johnson Atelier, so I was able to cast the life-sized bronze sculpture in one piece. My friend and now proprietor of Integral Sculpture Works, Bruce Lindsay, was instrumental in assisting with the technical aspects of casting. The angel was made by making a mold from a lead "La Brezza" sculpture purchased for the project with permission from the Florentine Craftsmen, casting it in wax and adding wings, which I fabricated using Styrofoam and wax. Some alterations were made to bring it into alignment with the Kuennes' vision, and the resulting memorial is installed at the Princeton Cemetery near the corner of its Green Street entrance.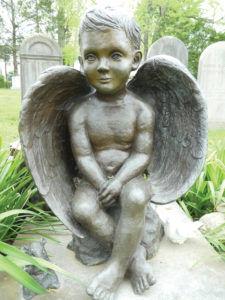 Some time after this project, I was put in touch with the Walson family by Doug Kale, head of the landscaping company that has kept the Grounds For Sculpture looking beautiful since its inception. Christopher Walson died in a tragic swimming pool accident, leaving three siblings and bereft parents behind. Where Olivia's death was equally tragic, her parents had time to process their grief to a point they were able to talk quietly and clearly about her memory. The Walsons, especially Christopher's mother Deborah, were still in a raw state, and it was a much more involved process to determine what sort of sculpture to make for him.
Sitting with her, I could physically feel her grief. A beautiful woman, with beautiful children whose features all echoed their brother — the absence of his presence was palpable in their home. Over time, the details were parsed out: a boy angel, slightly mischievous, pausing to sit before heading off to his next adventure. Deborah had spent time in Paris and New Orleans and appreciated ornate funerary monuments and visual symbolism, so I did lots of research, and we incorporated many such elements.
There's a tree trunk, chopped to show a life ended untimely, with acorns and oak leaves to show regeneration and hope. A poem is carved into the trunk, along with his siblings' initials, done in their own hands. His favorite Beanie Baby, Cheezer the mouse, now cast in bronze, sits at one corner of his marker stone that's located close to the Arts Council of Princeton side of the cemetery.
That sculpture was hard to make. The Walsons are no longer married. I can see how impossible it is to come to terms with the death of a child, no matter how it happens.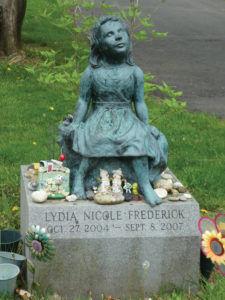 The third memorial for a child is for Lydia Frederick, who died at two and a half from a brain tumor. Her parents had split after her passing, and I admire to this day their courage and fortitude in working together with me to create her memorial.
Her Mother, Debbie, has a cracking sense of humor — at our first meeting, I opened with the statement that I had no idea of the grief they were experiencing, but the way I could help was by asking some questions to help find out what kind of sculpture would best encapsulate Lydia's life, and memory.
It's almost like playing 20 questions — by asking, and gauging the yes and no answers, the idea for the form emerges. A female form was obvious, but with wings? Debbie immediately said she preferred fries with her wings. My eyes got big, and her smile broke a lot of the tension held in that moment. She said that her faith did not really include angels as depicted with wings, and Lydia did not have any in life, so her memorial could be more aligned with terrestrial reality. A floppy sun hat was the proper accessory, with a winsome and wistful gaze.
The relationships formed by making memorial sculptures are unlike any other, in my experience. It takes a lot of trust, faith, and emotional vulnerability for people to openly discuss the attributes and stories that help to give a sense of the person the memorial is for.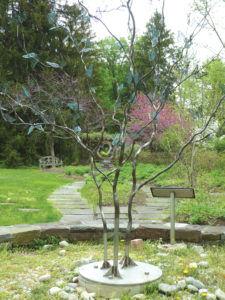 I had not met Meredith Petersen but was invited to make a proposal for a Garden for Inspiration her friends were planning to create in her memory at the headquarters of the D&R Greenway in Princeton. At our first meeting, the design directives of "light, airy, feminine, with movement" were discovered. A poem about a butterfly was suggested as a plaque to be integrated into the composition, and the placement was to be in a stone circle created to resemble a silo base.
It took quite a bit of deliberation to figure out, but again with the help of Bruce, the idea of a fabricated stainless steel tree with 150 water-jet cut bronze butterflies of various sizes came to fruition. Little ball bearings were welded to the tips of each twig and branch, and the lacy look of the butterflies emulates the leafing structure of the Amelanchier, a native planting represented with multiple actual plantings in the Garden.
My most recent memorial has been for Olivia Kuenne's mother, Leslie, a woman I feel incredibly fortunate to have met. Her husband and three grown boys shared the intricately detailed pen-and-ink drawings she made during their travels far and wide. We selected elements from them to incorporate in a memorial sketchbook like the one she carried, the drawing incised in a wax page, with pens stuck in the spiral binding, and a paintbrush to echo the one on Olivia's memorial — linking them forever as artists, as well as mother and child.
Additional memorial projects include one my father commissioned for his friend Tom. His wife had pre-deceased him by a number of years, so Tom was my Dad's dinner companion and good friend. Mrs. Tom had been cremated, her remains housed in a bronze box for which the pattern had been made by a family member. The wooden pattern was shipped to me, and fellow atelierite Rory Mahon was able to sand-cast an identical bronze box after Tom "slipped his body." I was proud to be of service in helping my Dad to honor his friend this way, and it gave me a good reason to visit him to deliver the urn in person.
Along the way, when friends have been afflicted with life-threatening illness, I have worked together with mutual friends to create quilts to let them know that we love them and are thinking of them. The first was for Trygve Van Tongren, orphaned son of sculptor Herk. Trygve came to work in horticulture at Grounds For Sculpture, and we bonded over the care of Nefertiti, an Egyptian Tortoise who spent a summer in an outdoor pen he built for her in a non-public area.
He was involved in a near-fatal accident that landed him in a rehab in Absecon, New Jersey. He withered from a robust giant of a man to a much-diminished frame, and after visiting him I resolved to do something. He had been part of the Atelier family from birth, there were quite a few people still working there who knew him, so I called in their assistance. Each of them brought fabric to reflect his interests in plant and animal life, and together in one day we ironed, cut, and laid out a quilt for him. This way he had the comfort of the textile, and the knowledge that it was made with love by people who cared about him.
When the new Capital Health Hopewell project was in development, Lin Swennson, who was the coordinator for all the art to be installed there, contacted me. She had a massive task ahead of her, having winnowed through nearly 500 local applicants to find sources for commissioned work.
My part was to fabricate three "Healing Tree" sculptures for the patient bed-tower lobbies (to visually assist with way finding), and to sew a "Building Blocks" double quilt for the oncology area. That project involved sourcing fabric from the nurses and doctors who worked there (I figured they'd be the ones looking at it every day!), and stitching a poem about "What cancer cannot do" into the quilting.
During the piecing process, Lin shared with me her diagnosis of breast cancer, so I immediately sewed a lap sized quilt using the fabrics and building blocks pattern for her to keep with her during her chemo treatments.
Last, but certainly not least, my friend George Davison had two battles with pancreatic cancer. The first involved an operation called a Whipple — from which few manage to survive the four and a half years he did before the tumor returned. In the interim, using social media, I reached out from my home on the east coast to our mutual friends on the west coast. With fabric sent from numerous sources, most notably legendary street stencil artist Scot Williams (who created almost 100 individual small works on fabric to fit the five inch square format), a truly gorgeous quilt was pieced for our dear friend. It was with him until the end.
For more on Kate Graves, visit www.kategraves.net.