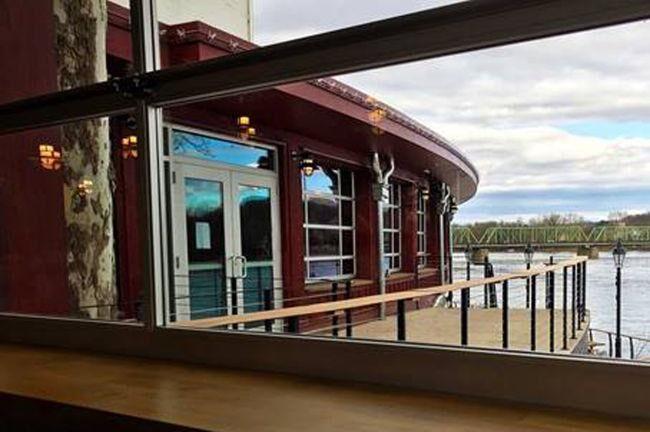 When my dining companion and I stopped by The Deck restaurant in New Hope, Pennsylvania, for lunch on a recent Tuesday afternoon, the last thing we thought we'd need was a reservation. As it turned out, the place was jam-packed with diners, and the reason soon became clear.
Seconds after our gracious host escorted us to the last available table for two, our enthusiastic server, Sonia, inquired whether we were attending the matinee performance of "Mamma Mia!," set to begin in an hour. When we assured her we weren't, we were left to peruse the menu at a leisurely pace while staff scurried about to ensure that ticket-holding patrons would make the 2 o'clock curtain.
That gave us plenty of time to survey the decor as well. The Deck makes a great first impression. Part of a multi-million-dollar renovation/reconstruction of the venerable Bucks County Playhouse and surrounding property, its barn-red board and batten cladding on the interior and exterior carries through from the playhouse and references its first transformation from an 18th-century grist mill to its debut as a performance space in 1939.
The interior fittings and finishes make effective use of industrial-style materials, such as exposed ductwork and polished concrete floors, strategically accented with natural wood. The inviting bar to the left as you enter offers casual dining at the bar or a scattering of high-top tables. A bank of monitors over the bar displayed various sporting events, while a strategically placed piano stood ready and waiting for live entertainment in the evening.
In the main dining room metal-framed rollup doors along the wall facing the river display the postcard view of the Delaware River, Lambertville, and of course the bridge connecting the two towns. Dark wood metal-framed chairs, matching tables, ceiling in shades of gray, and industrial-style lighting all work together to craft an impression of quality and thoughtful design.
One aspect of a restaurant that concerns many diners is the noise level in the dining room. Despite the abundance of hard surfaces, a background playlist that seemed to be drawn from popular juke-box musicals and a dining room filled to capacity, conversation between diners at a reasonable volume was perfectly possible, thanks perhaps in part to the discreet sound-absorbing panels attached to the ceiling.
The well-structured menu in the main dining room, served throughout the day, is divided into an eclectic mix at a range of price points. "Snacks" include fried peanuts (lime, cilantro, shallots, and sea salt) priced at $7 and a Charcuterie Board offered for $16. "Grains + Greens" include a Garden Greens salad ($7) and a Laughing Bird Shrimp Waldorf (roasted grape, walnut, grilled pear, butter lettuces, cider + honey yogurt) for $16. The "Seasonal Plates" section offers more substantial fare, including a Grilled Grass-Fed Hanger Steak served with mashed Yukon potatoes, Bearnaise, and "roots-to-river vegetables" and priced at $32.
We chose gazpacho served with a toasted crouton and intensely flavored with roasted tomato, followed by the Chicken Paillard BLT on toasted sourdough and a surprisingly tasty (to this carnivore) "Beyond Burger" veggie burger from the "Picnic" section of the menu. Carrying through with the industrial theme, a mini deep-fryer basket contained a mini Mason jar filled with a spicy mayo-based dressing and a mini clay flower pot heaped with hot, crisped herb fries, and excellent slaw was included for good measure. A Nutella & Dark Chocolate Brownie (candied red beet, Bent Spoon vanilla bean ice cream) reminded us that the diet starts … any day now.
As 2 p.m. approached, we soon had the dining room virtually to ourselves, watching a Dragon Boat glide along the Delaware River as the hoard of sated diners shuffled enthusiastically through the doors and to the theater.
The Deck Bar and Restaurant, 70 South Main Street, New Hope, Pennsylvania. Open Wednesdays and Thursdays, noon to 10 p.m., Fridays and Saturdays, noon to midnight, and Sundays, noon to 8:30 p.m. 267-270-2989 or www.playhousedeck.com
Stella by Jose Garces
Just across the courtyard along the riverside promenade from the Bucks County Playhouse and the Deck restaurant, you'll find Stella by Jose Garces, the newest project of his Garces Group.
Since he opened his first restaurant, Amada, in Philadelphia in 2005, Chef Garces has firmly established his credentials as a James Beard Award-winning chef, cookbook author, and entrepreneur. And the Garces Group operates restaurants across the country. If you're still not impressed, Chef Garces is one of eight American chefs to have earned the title Iron Chef from the reality/cooking competition program of the same name.
Perhaps equally impressive is the look and feel of Stella (the restaurant is named after the rescue pit bull of the movers and shakers behind the playhouse project, Kevin and Sherri Daugherty). Although the exterior is decked out in the same barn-red board and batten cladding as the playhouse and the Deck restaurant, the interior is fitted out in a bespoke yet understated style in keeping with Stella's loftier culinary aspirations and with the upscale accommodations offered by the Ghost Light Inn, a boutique hotel offering 12 rooms in the same building and three additional rooms in an adjacent carriage house.
Although the venue has been in somewhat stealth soft-opening mode since the beginning of summer, it is now in full operation and has clearly been discovered; reservations well in advance are a must.
Chef Garces happily responded to my emailed questions prior to my visit to Stella:
What makes New Hope and the Bucks County Playhouse promenade a good fit for a Garces restaurant?
"We think that our hospitality and creative take on classic American fare using some of the best local ingredients fits in nicely with the gorgeous surroundings."
What was your approach to designing the menu for Stella?
"Our approach was to use American regional cuisine as the inspiration. The landscape of American cuisine is so vast and varied, that it opened the door to a lot of different flavors and techniques."
How would you describe the experience a first-time guest at Stella can expect?
"Depending on the season the views would change, but a first-time guest would experience the restaurant as a welcoming spot nestled into the riverside. There are also two fireplaces, inside and outside, that really adds to the vibe."
What will guests at other Garces venues find familiar at Stella? What may surprise them?
"Across all Garces restaurants, the attention to detail on our dishes shines brightly. Our small plate format will be familiar to all of our guests, and we encourage sharing. In terms of a surprise, the first thing that came to mind is our spaghetti pie dish — it's a take on an American classic that's a baked spaghetti casserole."
Now a visit. Stella's main dining room shows a decidedly upscale, modern, industrial look and feel. There's seating for 16 at the well-stocked bar on tall black wrought iron stools covered with persimmon hued upholstery.
Several long communal tables in the center of the dining space each seat another 16 or so on intimately spaced stools. Comfortably-spaced two-tops line the wall, and cleverly joined church pews form banquette-style seating.
The menu is organized into "Spreads" that include Smoked Eggplant & Pepper ($6) and Duck Liver Mousse ($8), "Small Plates" such as a salad of local lettuces ($11) and Maryland Peekytoe Crab ($18), and "Vegetables and Grains" like Asparagus Milanese ($12) and Spaghetti Pie ($18). "Meat and Fish" offerings range from Chicken and Dumplings ($19) to Wagyu Skirt Steak ($32).
Portions are reasonably sized and prices are fair value considering the quality of the decor, the quality of the preparations, and the reputation of Chef Garces. Sharing with dining companions is the way to go here.
One word of caution; diners on a strict budget should note that the well-curated wine list is priced in keeping with the upscale surroundings. The wine offerings on Stella's website at the time this article was prepared included only one bottle priced below $50 (a rose from Provence at $45) and ranged up to a Signorello Estate 2014 cabernet sauvignon from Napa at $300, with a number of offerings in the $50 to $70 range.
That said the combination of setting, decor, cuisine, and the buzz that an accomplished celebrity chef brings to the table can make dining at Stella a stellar experience.
Stella by Jose Garces, 50 South Main Street, New Hope, Pennsylvania. Open Wednesdays and Thursdays, 4 to 11 p.m., Fridays and Saturdays, 4 p.m. to midnight, and Sundays, 4 to 11 p.m. $20 valet parking available. 267-740-7131 or www.stellanewhope.com