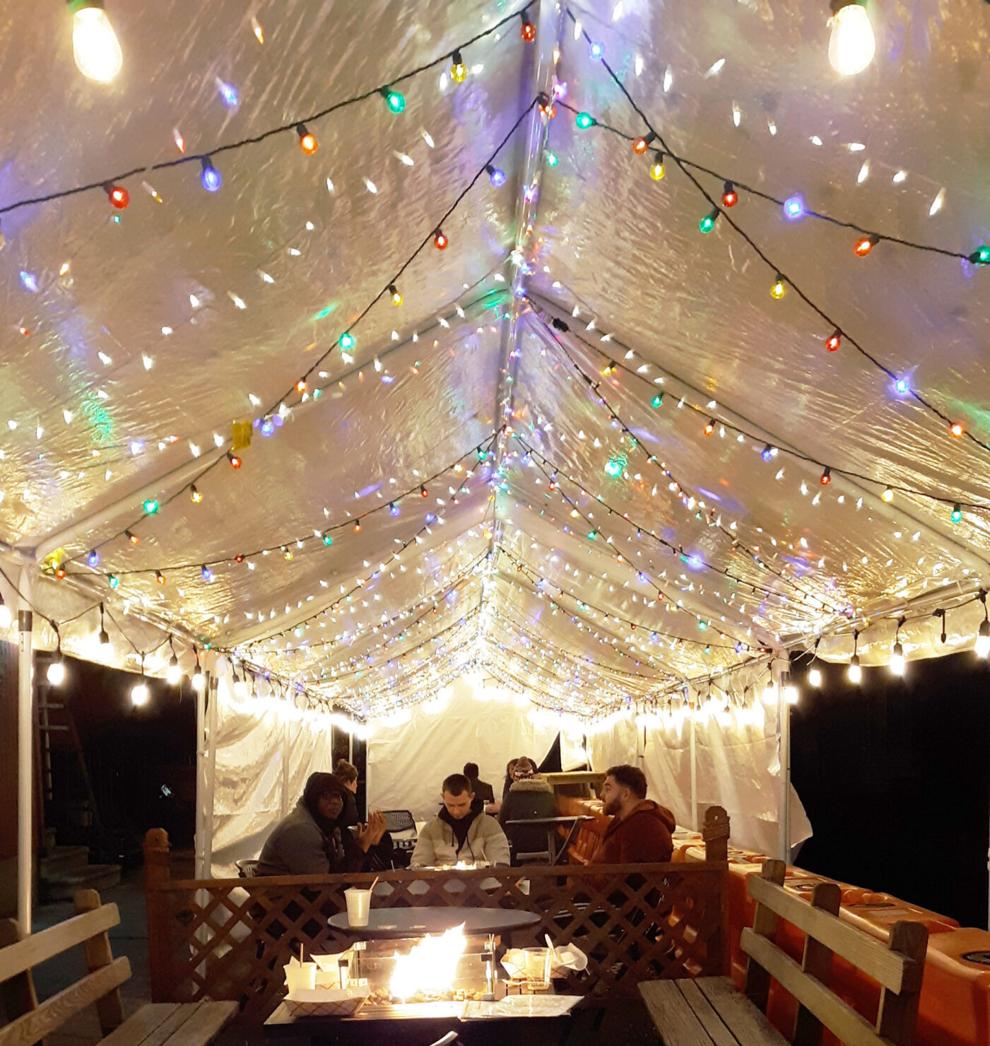 A quick visit to the HOB in Bordentown shows that outdoor eating in the winter is still an option that is on the menu.
My visit was on a chilly Friday night when my family of three took its seats around a gas-fueled firepit table under a tent the HOB (aka Heart of Bordentown) had erected on the street as part of its COVID-19 outdoor dining.
Since there are only five of these popular socially distanced tables under the tent, I reserved in advance — although the pending poor weather took people inside and tables were readily available.
After a check-in inside the tavern that takes pride in old-school basics, a HOB crew member took us to our table, where the fire was on and the menus were waiting.
We could feel the fire on our masked faces immediately but knew the heat was limited and kept our coats on — a good idea when a slight breeze made itself known.
Nevertheless the setting was cozy around the fire, and under the tent string lights easily conjured up outdoor dining events, like crab or lobster bakes or having drinks around a barbecue or camp fire.
An outdoor TV's pre-game sports chatter, noticeable but not overwhelming conversation, accented the casual atmosphere that makes this tavern a favorite for both the local community and Bordentown City visitors.
We started with a round of Guinness, $7 each, a cider, $6, then ordered selections that blended bar fare and local history: French onion soup, $6, a hearty and satisfying dish to accent Bordentown's former French residents including Joseph Bonaparte; the Ewing, $9.50, a hot grilled chicken and cheese sandwich named in honor of the Revolutionary War hero James Ewing; and the William Allen, $9.50, a satisfying chicken cheesesteak — with provolone — named for the Bordentown native involved with the creation of standard time. The sandwiches came with side orders, but we added more orders of onion rings and pierogi, $7 per.
As the staff leisurely readied our orders (the spirit here is to linger), the forecasted rain started, and a cold drizzle tapped on the tent roof and sprayed at its edges. Then the TV chatter turned to loud 80s-era music setting the tempo for Friday night festivities.
With a few more drinks, some happy chatting, and an easy bill, rounding out with gratuity to $78, it was a fun, COVID-safe, and cozy winter gathering — and a quick remedy for cabin fever.
HOB Tavern, 146 Second Street, Bordentown. Tuesdays through Saturdays, 3 to 11 p.m., and Sundays, 1 to 6 p.m., closed Mondays. 609-291-7020 or www.facebook.com/HOBTavernBordentown.