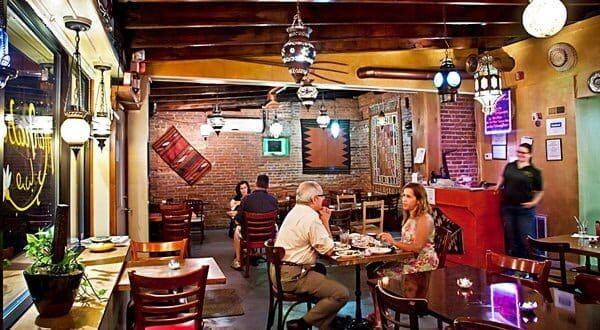 The long wait is over and fans of Marhaba, the beloved Middle Eastern restaurant in Lambertville, are giving a hearty marhaba (or "welcome") to the newly opened second location, now in the heart of Princeton. Hampered by a variety of issues that caused frustrating delays for owner Karim Elsharabasi and eager patrons, Marhaba opened two weeks ago and was quickly embraced by diners who were eager to dive into the restaurant's silky smooth labna (creamy yogurt thick as frosting that makes anything you put it on sing) and piping hot pita. The pita, feeter (like pizza only fluffier and layered with goodies), and other breads are made right before your eyes in a modern version of the wood-fired ovens that are part of the vibrant street scene in the eastern Mediterranean.
Located on Nassau Street in the space that formerly housed Cheeburger, Cheeburger, Marhaba has transformed the space with rich wood and tile. Copper-topped tables and intricately carved chairs are arranged in smaller groupings defined by equally intricately carved wooden lattices and screens. The tile floor and walls glow in the light from the hanging, pierced-work lanterns creating the ambience of the Very Old World. The traditional music playing is not distracting and adds to the ambiance. Small things need to be tweaked still, such as the one discordant florescent light in the ceiling, but it is very early yet.
The menu is substantially the same as at the Lambertville location. When we arrived on a recent Monday night, the place was humming at 6:30 with only a momentary wait for a table. Among the diners were university students wanting a taste of home and others like me who revel in the heady spices and flavors from the Levant. The recipes are eclectic, predominantly Egyptian, but featuring dishes from a variety of traditions such as Greek gyros and Israeli/Iraqui sabich (a veggie lover's delight of hummus, eggplant, pickled mango, and egg at $8).
My friends were not overly familiar with this cuisine so I ordered almost everything on the menu. The chicken shawarman platter ($15.90) was big enough to satisfy a hungry 20-something. The kuftah ($15.90) is ground lamb and beef robustly spiced and grilled, and the feeter "pizza" we chose was loaded with sausage and veggies ($12-$19). In addition to the rich, tangy labna, we devoured an order of the zatter bread redolent with thyme, oregano, sesame, and olive oil ($6.50) and finished off by sharing an order of barbousa, a semolina cake soaked in syrup, rich but not cloying ($5). Their special dessert is Om Ali, a traditional Egyptian dessert akin to bread pudding, made with dried fruits, coconut, sweet milk, and a butter cookie bottom crust. It is made to order and served piping hot.
They also offer kebab platters ($15.90-$24.90) and the lentil soup is hearty and spicy ($4.50). The fetush salad is an entree-sized greens salad topped with fresh pita chips, raisins, almonds, sumac dressed with fresh lemon, and premium olive oil ($9.50).
As with any brand-new operation, there were some hiccups in the service. At dinner the items came at once, rather than as starter and mains, but that may have been a function of the starter dishes all being made-to-order breads. It was fun watching the pita and zatter coming straight from the oven, steaming hot. The staff is eager to please, if a bit tentative, but give them time to settle. I stopped by again a couple of days later for lunch and again found the place jumping, but again no long wait.
Marhaba is definitely a date night destination and a delightfully different place for lunch or dinner. The ambiance is refined but casual and the welcome is traditionally warm. Given how busy they are so soon after opening, it is clear that Marhaba Princeton will become as much of a well-loved eatery here as is its first location in Lambertville.
Marhaba Middle Eastern Restaurant, 182 Nassau Street, Princeton. 609-423-2850. www. marhabaprinceton.com. Open seven days a week, 11 a.m. to 11 p.m.