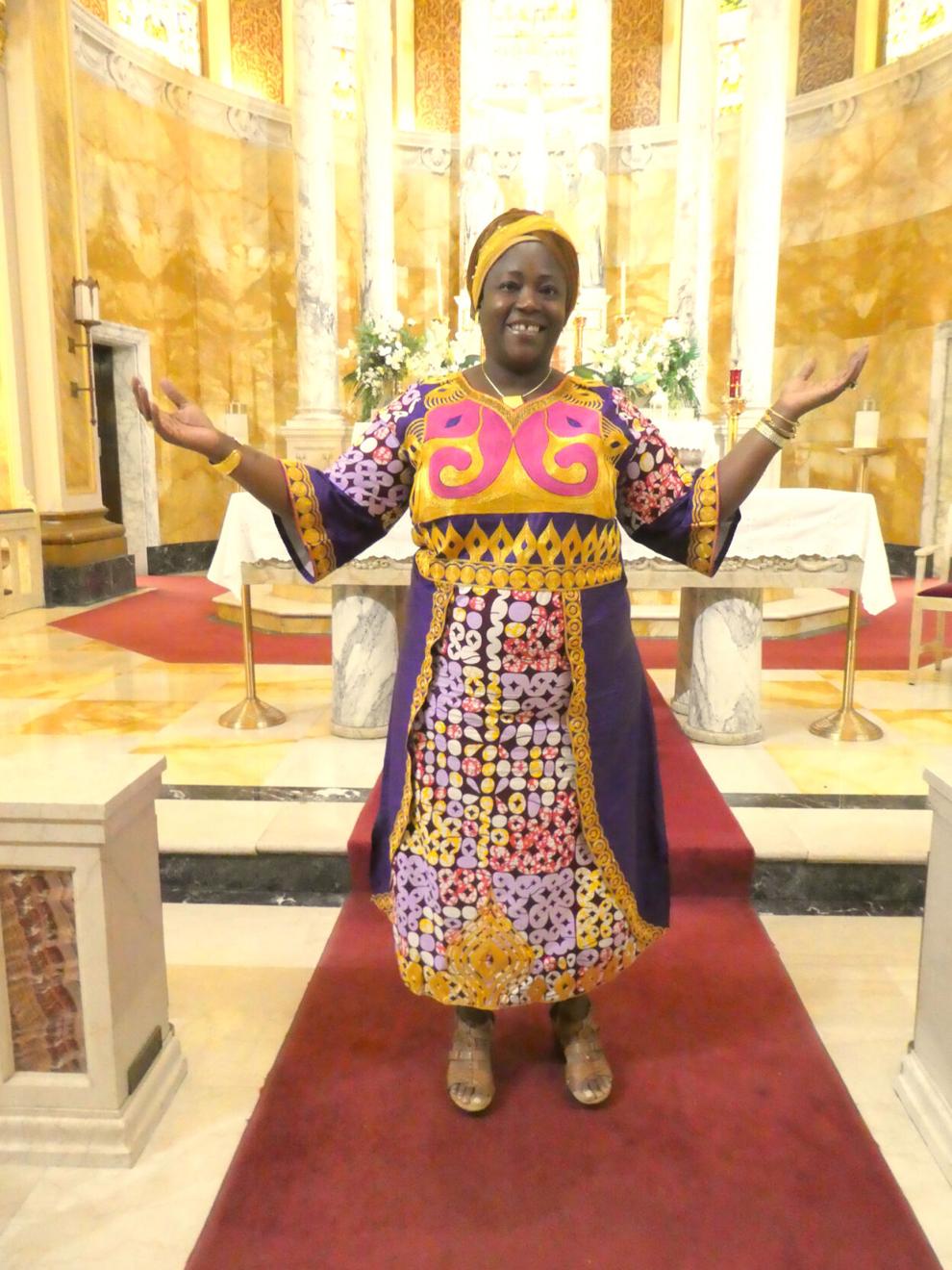 Trenton streets brighten up on Sunday mornings when Americans of Liberian heritage emerge from churches and the sunlight illuminates their colorful gowns — but at Christmas they'll also light up the churches.
"The women wear a lot of traditional West African clothing," Liberian-born Nettie Davis tells me.
Davis attends Holy Cross Catholic Church on Adeline Avenue, where she's talking to me about the gowns — a topic that I've long been interested in and began exploring a few years ago and but was halted by the pandemic.
I got interested again when I drove past a church one morning last summer and spotted women in bright flowing garments stepping down the stairs.
Father Dennis Apoldite, the pastor of the parish that includes Holy Cross Church, connected me with Davis when I met him when he was participating in a special event at the Trenton City Museum: the St. Francis Day blessing of animals.
"These clothing are gowns, which are free, long dresses with wraps to tie their heads. It is mostly worn for weddings and special occasions," continues Davis.
"Another outfit is the lappa suit that is wrapped around with a top call bubbas and the matching head wrap. It is made from Ankara wax, bazan, and lace. The meeting has to mostly have the head wrap, especially the married women."
Davis is one of several hundred Liberians who live in Trenton or Greater Trenton region who attend Trenton Churches.
In addition to the former Holy Cross Catholic Church, Lutheran Church of the Redeemer at South Broad Street is another gathering spot. Its pastor is the Liberian-born Rev. Raymond H. Kolison, with whom I was speaking prior to the pandemic.
It is unclear how many Liberians are in Trenton, and calls to local and regional Liberian associations were unanswered, but Liberians contribute to Trenton's status of a city of immigrants.
In fact the city has lively connections to Central America, Eastern and Western Europe, the Caribbean, and Africa.
While the nation and culture of Liberia may seem foreign, it is actually a product of the United States and has a major connection to the region.
The Republic of Liberia is situated on the West African coast and borders the Atlantic Ocean as well as Sierra Leone, Guinea, and Côte d'Ivoire. It is populated by about 5 million people of 16 ethnic groups.
Although the region's rulers had encountered European traders, there was no slavery from it. However, American slavery factored into founding of Liberia through the American Colonization Society.
The ACS was conceived in 1816 by Rev. Robert Finely, a Presbyterian minister from Basking Ridge, New Jersey, to address various issues related to free Blacks and recently freed slaves by creating a new African nation where they could reach their full potential.
Finley traveled to Washington and met with several influential legislators, including Henry Clay, who is connected to the ACS's founding. However, it was U.S. President James Monroe's support that made the African colony a reality.
Monroe, who held the flag behind Washington during the Christmas Day Battle of Battle of Trenton, ordered U.S. Navy Captain Robert Field Stockton to take ACS representatives to Africa and help negotiate the procurement of land to establish the colony.
Stockton, the grandson of Declaration of Independence signer Richard Stockton, was born in Princeton in 1795 and lived at the Stockton family mansion, Morven, now a museum.
He joined the U.S. Navy at age 16, served during the War of 1812, and later captained American ships sailing the African coast.
In 1821, Stockton traveled to Sierra Leone where he reportedly forced — allegedly at gun point — the region's King to cede a 36 mile-by-3 mile strip of land in return for $300 worth of goods, weapons, and rum.
The ACS called the colony "Liberia," Latin for freedom, and named its capital Monrovia, after President Monroe, who, incidentally, received an honorary degree from Princeton University in 1822.
While an estimated 3,000 American blacks emigrated to Liberia between its founding and 1831, interest in the movement ebbed and flowed, until the colonists from America declared their independence from the ACS in 1847 and attracted several thousand more, in part for being one of the only western-styled nations in Africa.
The government was modeled after the U.S. government, English became the official language, and Black and Southern American culture mixed with indigenous music, art, and culture — including dress practices that originally came from Africa, were re-imagined in America, and then returned to Africa..
The minority American-connected population that the nation was created for also became the dominant order in Liberia and eventually led to civic strife and civil wars.
The latter led to Liberians immigrating to the United States and continuing traditions that had been shaped by African and American culture. That includes religious practices that blend Christianity with the African practices that inform Gospel music.
Describing her journey to the Trenton area, Davis says, "My family won the diversity visa lottery, and we were fortunate to come to the United States as immigrants in the year 2000. My country was going through a civil war and the USA, under Bill Clinton's administration, organized that program."
New York City, New Jersey, and Philadelphia became centers for Liberian populations, and Davis' family came to the region where her mother, Lucy Davis, is a caregiver. Her father, who had worked in Liberia's Special Security Service, died in 2015.
She says her Hamilton-based family and other Liberians had attended two Trenton churches that had been sold or closed and in 2018 found a home at Holy Cross Church, which has a regular "Gospel Service," as well as traditional and Polish services.
The mother of two boys and a girl says she and her husband, Francis Kollie, are both involved with the church.
"I am also the president of a ladies group in the church named the Ladies Auxiliary and head of a women group in the community called Women of Success that takes care of both women in the U.S. and Liberia as well."
Her husband, a social worker, is the supreme secretary for the Knights of St. John International and the president of the Liberian Community Association for Central New Jersey and Metropolitan Area.
"I am a preschool group teacher and a certified behavior specialist," says Davis about her own background. "I just graduated with a double master's in early childhood education and early childhood special education, and I am currently working on my license to be a lead teacher."
Davis turns her attention to her full-length dress suit that includes shoes, gown, and head wrap.
She says she purchased it in Liberia a few years ago. "We usually take turns to visit every two years, but due to COVID, none of my family has left (since the pandemic). My mom and oldest son are planning to go visit early next year."
Davis says if she didn't get back to Africa she would go to some of the local African boutiques that import them in order to keep a tradition of her own.
"As a little girl, I always admired the different (dress related) customs and wished to wear them one day, especially learning how to tie the head wrap. I urge little girls to be proud of their traditional clothes and be proud of wearing them."
As for her Christmas dress, she says, "The gold design shows our rich culture, and we wear them mostly on occasions like holidays, weddings, special functions. (But) you have to wear it with the head wrap as it shows respect that you are not exposing your whole body."
Then thinking about the new year, she says, "My goal for 2022 is to work on my women's organizations and help those less fortunate women help themselves. This year we were able to sponsor five girls to attend vocational school majoring in tailoring, baking, interior decoration, and beautician. I would love to get some donors or partner with any organization that would be of help. My dream is also to open a vocational school for young ladies who do not have the opportunity to go to college but can learn a trade and be of help to their family" — and, in her own way, brighten more than the streets in Trenton.