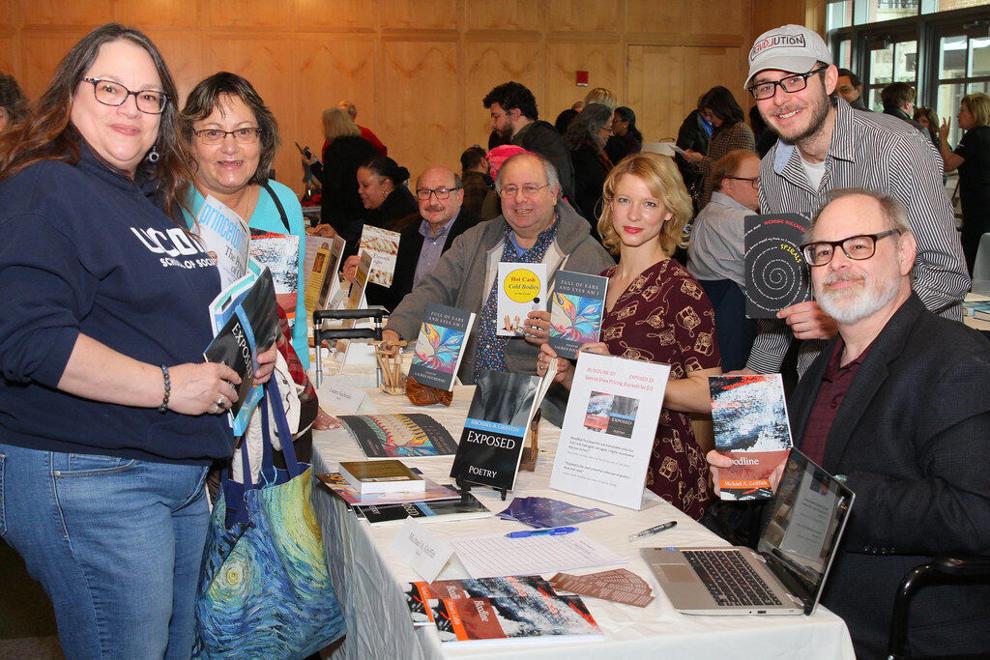 The best in regional writing will be on hand — virtually and in person — for a celebration of fiction, nonfiction, and poetry at Princeton Public Library's 11th Local Author Day. Over two days of virtual presentations and the return of an in-person author fair, authors, as well as avid readers, are hoping to find their next inspiration or favorite book.
Nora Walsh is an adult services librarian at the Princeton Public Library. Since Local Author Day's inception in 2008, Walsh says, the event has evolved throughout the years to reflect the "robust" writing community in the geographical area.
"It started as an opportunity for local, self-published authors to have a platform to promote their books, to meet the public, sell their items, and talk about the publishing process," she explains. "So this has always been a great event for us to be able to offer local authors, especially ones that are publishing small, to have that platform to promote what they're doing."
Both days of the event — Friday and Saturday, May 6 and 7, kick off with online events. Walsh explains that the library usually tries to select speakers to address both the creative and business sides of writing.
Then, at 2 p.m. on that Saturday, 24 authors from a range of publishing backgrounds will be given that opportunity to meet the public at the Author Fair in the Community Room and across PPL's first floor exhibit area. Likewise, the public is granted that same chance "to find a great read that maybe they might have otherwise missed," Walsh says.
To still observe COVID-19 precautions, one author will be seated at each table. Virtual readings featuring authors such as Caitlin Mullen, Colby Cedar Smith, and Dave Jordan are available on the library website. A schedule of the events, as well as links to registration, can also be located at princetonlibrary.org/local-author-day-events.
Whether the authors come from a self-published, indie, or bigger publisher experience, "there should be a little something for everybody" and all literary genres, Walsh explains.
Like many other forms of community engagement, the 2020 Local Author Day was canceled, but in 2021, PPL moved it to a series of virtual events, upping the number of presentations and including virtual networking opportunities. Using themed breakout rooms, people shared ideas and resources even while remote, Walsh says.
"Right now, a lot of our events, we're finding ways to take a hybrid approach in how we do them," Walsh says, citing as an example the two featured speakers, who will both present by Zoom because neither is from the immediate area.
"It also lets us reach a larger writing audience, which is great, and gives us a little bit more flexibility with setting them up and with timing," she says of the remote format's benefits.
While the library was "pleased with the results," of last year, she adds, returning to an in-person experience with the author fair is even better.
Walsh continues that the publishing industry was not exempt from the wrath of the COVID-19 pandemic, causing unique problems for authors with new books.
"A lot of how they promote their materials is in-person events, and since we haven't been able to have those, it's hurt a lot of people, not just here, but across the board," Walsh explains, noting the importance of highlighting these authors, who typically live within 20 miles of the library, in face-to-face interactions.
"[It] just highlights that great work and makes the connection again between authors and their readers, which is what we always love to do on a day-to-day basis," Walsh says. "In the past couple years, too, people have really discovered how important it is to shop small and shop local. This is really a great example of that. We really hope that the community is able to come out and share in the day."
Richard C. White's Zoom presentation and Q&A, "Writer Beware," will be from 7 to 8:30 p.m. on May 6. White will be discussing "effective and ineffective agents, publishers, editors and more to help writers pursue their publishing goals," according to the PPL website.
"Writer Beware" is a resource founded in 1998 under the Science Fiction and Fantasy Writers of America. Their mission is to provide guidance, advice, and help as authors navigate the publishing industry. The program is constantly working to dispel misinformation that keeps writers away from potential harm.
While it started as an extension of one genre's nonprofit, Writer Beware's tools of the trade are now used by other organizations such as the American Society of Journalists and Authors, the Mystery Writers of America, and the Horror Writers Association.
White is a published author with a lengthy career in not only fantasy, having penned an original novel called "Harbinger of Darkness," but in the world of nonfiction, too, under the title "Terra Incognito: A Guide to Building the Worlds of Your Imagination." The latter is about how to build the ideal mythical landscape for conjuring up new characters, countries, and creatures.
He has also written media tie-ins for series such as "Star Trek," "Doctor Who," and "The Incredible Hulk," as well as other works, more which can be viewed at www.nightwolfgraphics.com.
Terry Wolfisch Cole's Zoom presentation, "Introduction to Personal Storytelling," will be from 10 a.m. to noon on May 7. Cole leads the guided workshop as she offers her expertise and methods to help writers "engage audiences and captivate listeners in any setting," according to the PPL website. Attendees are then divided into breakout rooms to practice the approaches together.
Cole regularly takes to the stage for live performances, as she is a Moth GrandSLAM champion for her story about running away from home. The Moth is a syndicated nonprofit storytelling entity responsible for the "The Moth Radio Hour," which shares tales of human experiences through shows and recordings.
Cole is also the founder and host of another storytelling show, "Tell Me Another," which is based in Greater Hartford, Connecticut. More information can be found at her website, tellmeanotherstories.com.
Cole had been a part of a successful event with PPL before, so Walsh says that her "great resume with storytelling," in addition to her past history with the library, made her the perfect candidate for tackling the creative side of writing.
Walsh's first time helping out with Local Author Day was back in 2019. Three years later, she is excited to see the tables at the library building finally bustling in terms of people, and boundless enthusiasm, once again.
"We're so hopeful that we can bring people back into the library and share in the community aspect of books and writing. We want people to come in and be excited by what they're seeing," Walsh says. "I think there's nothing better than making that connection between what you're enjoying and knowing that it's somebody who lives nearby."
Writer Beware, Princeton Public Library. www.princetonlibrary.org. With author Richard C. White. Via Zoom. Register. Friday, May 6, 7 p.m.
Introduction to Personal Storytelling, Princeton Public Library. With Terry Wolfisch Cole. Via Zoom. Register. Saturday, May 7, 10 a.m.
Author Fair, Princeton Public Library, 65 Witherspoon Street, Princeton. Saturday, May 7, 2 to 4 p.m. www.princetonlibrary.org/ local-author-day-events.