Playwright Pearl Cleage packs so many welcome old-fashioned values into "Blues for an Alabama Sky," one savors the return of the well-made play as much as the textured, nuanced, evolving production director Nicole A. Watson gives it as Princeton's McCarter Theatre through May 25.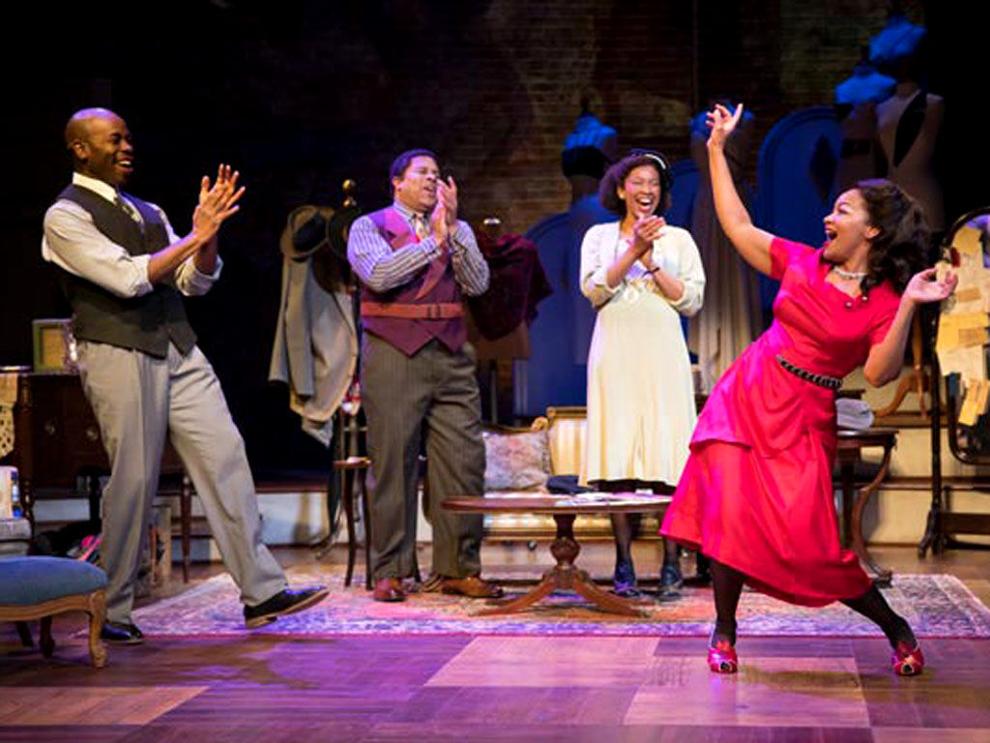 "Blues for an Alabama Sky" is the first standard work McCarter has produced in the Sarah Rasmussen era, which heretofore tended to broad, sweeping productions with narratives buried in "thee-ah-tuh." It is satisfying to see the company relax into a meaty, conventional work that seems direct on its surface but has so much underlying its text and characters. A look at McCarter's next season promises more of the same.
Cleage's play is set in Harlem during its famous Renaissance. Its characters are first-name familiar and attend parties with such luminaries as Langston Hughes, Adam Clayton Powell, and Josephine Baker, even though she's in Paris. The two focal figures are ambitious people who have come from — make that fled — Savannah for the opportunity, open-mindedness, and freedom of New York even while Harlem is not immune to the Great Depression, Prohibition, or prejudice of various kinds.
Two other characters are equally intent on making better lives for themselves and others, one being a doctor, born in Harlem, who tirelessly serves the community's medical needs, especially when it comes to delivering babies, and one being the play's most ordinary person, a woman who has some crusader in her but would be content making a living and being a modest part of Harlem's fabric.
The amiable intersection yet pointed differences between the characters who seek the glamor of Harlem's vivacious creativity and those who enjoy the atmosphere while remaining more practical gives dramatic and emotional heft to Cleage's work. It allows Cleage to say and show a lot within the context of a single, ongoing story.
That story gains further complexity via a fifth character, a newcomer to Harlem from Alabama who embodies the Southern mores that the others have studiously and gladly shed. The contrast he brings to Cleage's piece stresses that no place, no matter its easygoing flexibility, is exempt from judgment or encroachment from a larger, neighboring world.
Cleage's and Watson's art is in gathering "Blues's" myriad threads and making them clear and important while keeping the production's action simple and accessible. Watson lets themes and ideas find the audience while keeping Cleage's basic story in the forefront. The effect is one of billowing revelation as each scene covers its narrative ground yet suggests or presents something that adds to the understanding of both the characters and the time it which they live. As in the best of American plays, politics, attitudes, perceptions, and concepts are present in abundance, but they are woven into Cleage's dialogue rather than blatantly stated, as is the habit with so many 21st century works. It is blissfully satisfying to hear ideas stated as incidentals while the purpose of the play remains the lives of its characters.
Watson captures all of the vivacity and optimism of 1931 Harlem while revealing the subtleties of Cleage's characters and allowing them to expand into full, complicated people whose problems and triumphs reflect the conflicting realities of a transformational age.
Romance and its various forms of affection are included in Cleage's story with Watson making sure they get their due, dramatically and in terms of character development.
The scope of Watson's production is deceptive. It seems to be going in a straight line when so much is happening in all directions, including one sequence that shocks and disheartens.
That's its strongest attribute, and no production could make such an impression without uniformly excellent acting from an ensemble so attuned to each other. They make it seem as if their character's lives are unfolding in front of you instead of being acted out for you.
Throughout the performance, I nominated a different actor as best of cast. Each has a moment where he or she makes you appreciate both the difficulty and deftness of acting. Sometimes it's just a look on the character's face or a flash of wit that is the actor's contribution to Cleage's text, but every member of Watson's cast exudes that competence and creativity.
Kevin R. Free anchors Watson's production as a flamboyant fashion designer, Guy, bent on costuming Miss Josephine Baker and gleefully unencumbered by modesty or self-consciousness.
Free, though his character lives in a world almost 100 years past, embodies the 21st century individualist who regards other people's opinions and restrictions as their problem.
Free is both elegantly and ebulliently liberated in his attitudes and behavior. Guy is equally reckless and cautious, irresponsible yet meticulously forward moving, knowing and unapologetic. This is a man who knows what he wants and will work assiduously and methodically to get it. He is the eternal free spirit but with a purpose. Guy's elan and modernity, his ability to exist by the seat of his pants yet calculate carefully, is the oxygen on which Cleage's play and Watson's production is built. You know both fun and common sense will prevail when Free is on stage.
Crystal A. Dickinson plays the loosest, most troubled character but one, in Dickinson's able, versatile hands, you can't help caring for and falling in love with.
Angel is the most complex of Cleage's creations, and Dickinson doesn't miss a nuance. She can be brash and temperamental one moment and sincere and clear-headed the next. Dickinson's Angel admits no barriers. She is wary of commitment, being both afraid of it and burned by it, and Dickinson makes it interesting to see how Angel concludes that what she thinks she wants might be wrong for her and faces her way out of it.
So much is encapsulated in Angel, Dickinson must be congratulated for revealing all of it. Hers is a bold, engaging performance that entertains as much in its complexity as in the fun Dickinson frequently provides.
Maya Jackson is brilliant at understatement. Her character, Delia, suppresses a lot as she pursues a relatively simple, straightforward life with few goals beyond security and eventual romance. Unlike Guy or Angel, Delia would be content with the ordinary.
She has goals and gumptions. She is dedicated to bringing Margaret Sanger's birth control ideas to Harlem despite adversity in some corners. Jackson is so subtle and adept at making Delia blossom without ever taking her to the extremes Free takes Guy or Dickinson takes Angel. Hers is a lovely take on a woman who takes a narrow road but is willing to expand and represent what the Harlem Renaissance is all about.
Stephen Conrad Moore adroitly shows the two sides of Harlem's busiest doctor, Sam. Devoted to his work yet ready to balance it with Harlem's nightlife and excesses, Sam is a reliable, admirable man made more likeable in Moore's comfortable, fussless portrayal.
Brandon St. Clair brings sober intensity to Watson's proceedings as Leland, a carpenter fresh from Alabama and not quite in tune with the laissez faire of his new setting. St. Clair correctly alters the tone of Watson's production when he appears. He is different from the other characters but in a way you know is more prevalent than their accepting, striving, catch-as-catch-can ways.
Lawrence E. Moten III's set is a wonder of versatility giving Watson freedom to move her characters at will while creating spaces that define the people who inhabit them. Sarita P. Fellows is just as meticulous with the costumes, including samples Guy has designed. Sherrice Mojgani's lighting accentuates the play's moods. Paul James Prendergast's sound design shrewdly combines music and the practical needs of the production.
---
Blues for an Alabama Sky, McCarter Theatre, 91 University Place, Princeton. Through Sunday, May 28, Tuesday through Thursday, 7:30 p.m., Friday and Saturday, 8 p.m., and Saturday and Sunday, 2 p.m. $25 to $60. 609-258-2787 or www.mccarter.org.