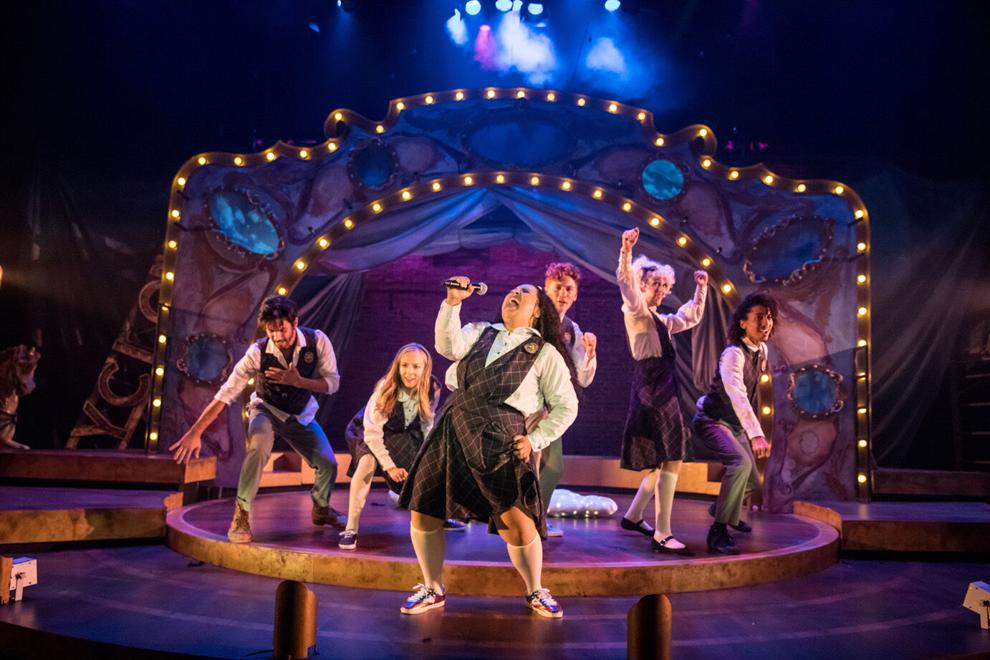 Expertly performed solos, each in a different musical style to match the essence of the teenage character presenting it, provide zest, urgency, and personality to "Ride the Cyclone," the musical playing at Princeton's McCarter Theatre.
"Ride the Cyclone" marks the directorial debut of McCarter artistic director Sarah Rasmussen, who waited two years to put her personal stamp on the Princeton stage. Rasmussen does a wonderful job in creating both energy and clarity in a show chocked with details, including clever sights and sounds it's fun to catch while focusing on center stage or wherever each member of the cast is revealing his, her, or their character's individual story.
"Ride the Cyclone" seems at times like the roller coaster ride from which it derives its name, but with all that's happening on stage, it's the simultaneous bravura and intimate revelations of those teens, members of singing ensemble at a Saskatchewan school, that grab and make Brooke Maxwell and Jacob Richmond's musical fun, complex, and commanding of attention.
Getting to know each student is its own reward. Getting to witness the exuberance of Noel (Nick Martinez), the sardonic, ennui-ridden gay boy in town as he acts out his fantasy of becoming a morally abandoned Parisian demimondaine, complete with an apache sequence, is an absolute joy because of the wit, subtlety, naughtiness, and joie de vivre with which Martinez endows it.
Then, there's Mischa (Eli Mayer), the town delinquent, left to fend for himself when the parents who adopted him from Ukraine — "Ride the Cyclone" predates the current troubles — realized he was 16 years old instead of 16 months old, showing his romantic side in a sweet, passionate number that includes Mischa's fantasy fiancée from his home village.
Mayer may qualify as the most admirably nonchalant actor alive as he times everything he does beautifully and executes it with fussless perfection. For his number, Rasmussen employs a trompe l'oeil effect in which Mischa almost pirouettes around a curtain, only for the image projected on that curtain to turn into a Ukrainian meadow with that fiancée, Talia (Molly Gibbons) in traditional folk garb, joining him in a native dance that shows how vivid and complete Mischa's imagination is.
You also have the school's self-appointed but natural leader, Ocean O'Connell Rosenberg (Katerina McCrimmon), bragging about how competent, forceful, and necessary she is; the school's unanimously agreed upon nicest student, Constance (Princess Sasha Victomé), expressing how she wants only to have a normal quiet life and wondering why anyone thinks that's wrong; a mute student in a wheelchair, Ricky (yannick-robin eike) who expresses themselves mostly via a tambourine until allowed to do their number about what's happening inside their head and the world pities, patronizes, or bullies them; and the unknown girl with no discernible past, Jane Doe (Ashlyn Maddox) who wonders, quite justifiably, who she is, why she's been abandoned, and how she came to be with the choral group members relating her particular angst and perspective.
Just as watching Mayer's technique and discipline fascinates on its own, listening to Maddox, whose voice can go from small to full and cover countless octaves with room for both power and vocal embellishment, makes you hope someone snatches her up and gives her a Broadway lead with a full, varied score all sung by her.
Hands down, this cast is terrific, including Jeffrey Binder, who shows inhuman physical control and adds the right note of ominousness as a mechanical carnival fortune teller still encased in his glass cubicle and still looking in his crystal ball to predict futures and fates that are unfailingly accurate.
Including a future and fate every professional fortune teller knows not to reveal, the time of place of a customer's death.
There is the catch and substance to "Ride the Cyclone," its reason for being, if you will. All of the numbers the students perform are done after their deaths in a roller coaster accident as, in a combination of "Cats" and Ellen DeGeneres-style sadism, they compete in the fortune teller's contest to see which will be spared his, her, or their fate and allowed to recover and resume life.
Included in this battle for life and death is Jane Doe, who is not part of the choir but is found among the students' lifeless corpses when their bodies are recovered. Apparently, she was a child who was decapitated and buried in the fairground years before the choir's calamity occurred.
Appreciation of life, particularly by those who are killed suddenly before they exit their teens, is the theme creators Maxwell and Richmond are aiming for. The canny solos are the expression of what the young person wanted or envisioned his, her, or their life to be or a plea, as in Ocean's case, to win the fortune teller's competition and have an existence she loves and thrives in restored.
That theme is clear, but it's the one thing that doesn't take firm hold or register sharply in Rasmussen's production. You understand it but are not moved by it or affected emotionally by it. A closing number, done by the complete ensemble, takes things a step further and has more weight. It says that life, precious as it is, is not measured in time. Years are less important than experiences and the kick of just existing. As Ocean says, she's happy to have lived 17 years rather than never having lived at all.
Depth arrives during that finale, when the full purpose of what we're seeing presents itself.
It may be late, but it's poignant enough, and even while "Ride the Cyclone" is going through its paces without making a definite point, it's fun, entertaining, and full of the life and liveliness it eventually informs us is the essence of existence.
Brooke Maxwell and Jacob Richmond are smart writers. Their script is full of acerbic, iconoclastic lines, intoned with sinister irony by Binder's fortune teller, named the Amazing Karnak, with bite and regret by Martinez's Noah, who admires French film noir and longs to be Marlene Dietrich's Lola Lola from "The Blue Angel," and with brash plainness by McCrimmon's irrepressibly dominating Ocean O'Connell Rosenberg.
Maxwell and Richmond are also sharp composers, finding the right style for each character and showing prowess in every genre from brassy to sexy, from ballad to Constance's plaintive contentment.
Sarah Rasmussen demonstrates she knows how to put on a show. Jiyoun Chang's lighting, Andre Pluess's sound, and Katherine Freer's projection designs invite you into each character's mind and create a dazzling milieu, including brilliant but almost missable touches, such as projecting each teen's life in pictures in starburst frames around the stage as he, she, or they sing about their lives, dreams, and ambitions.
Scott Davis's set is versatile enough to allow for all of this creativity, and Trevor Bowen's costumes are spot-on, especially in Martinez's chanteuse turn.
McCrimmon, Martinez, Mayer, Maddox, Victomé, eike, and even Binder are abetted grandly by the inventive but so specifically grounded choreography by Jim Lichtscheidl. "Ride the Cyclone" is truly an ensemble triumph.
Ride the Cyclone, McCarter Theatre, 91 University Place, Princeton. Through May 29, Tuesday through Thursday,7:30 p.m., Friday and Saturday, 8 p.m. and Saturday and Sunday, 2 p.m. $25 to $85. 609-258-2787 or www.mccarter.org.