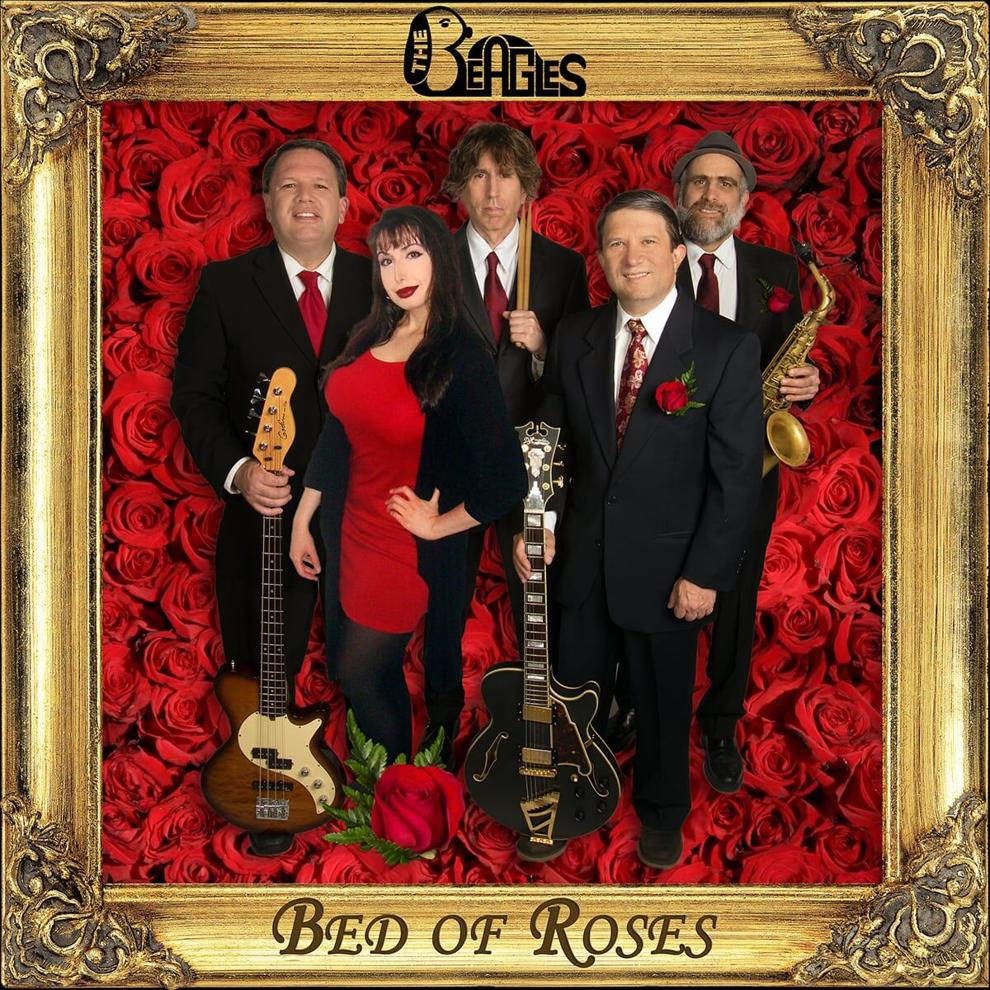 The Beagles are picking up the pace with a Thursday, September 20, CD party at the Blue Pomegranate in Blawenburg and as part of a Sunday, September 30, Motown music party tie-in to McCarter Theater's "Detroit '67" production in Princeton.
Formed in 2013 as a duo pairing of Lawrenceville-based guitarist and song writer Rob Freeman and former area sax player and singer Steve Wolpert (now living in Glenside, Pennsylvania), the Beagles slowly grew to include area-based vocalist Vanessa Rose, bassist Chris Clark, and drummer David Ross.
They also grew from providing standards and covers at outdoor concerts and receptions to developing collaborations with regional cultural institutions.
"I am an attorney who has spent much of my career doing media and entertainment law," says Freeman about his involvement with the Beagles and their history. "I am currently an in-house attorney in Jersey City and focus on contract negotiation. Before going to law school I got an M.A. in folklore, which informs both my lyrics and my musicianship as I focused my academic work on improvisatory musical traditions."
While Freeman and Wolpert connected earlier and shared a common background — both lived in Montgomery County, Pennsylvania — his connection to the other musicians and the birth of a bigger band came through the Einstein Alley Musical Collaborative (EAMC), a musical meetup group.
"I first learned about Einstein Alley by reading an article in U.S. 1 in 2013," says Freeman. "At the time Steve and I were a duo with harmony vocals doing my original material exclusively.
"Inspired by the article we went to perform at an open mic EAMC was hosting at Princeton Public Library in November, 2013. At the end of our set I indicated we were looking to expand our lineup and that if anyone was interested in working on this material with us, they should speak to us after the set. A few minutes later, we had interest from a bassist, drummer, and a female singer and the first full band lineup of The Beagles was set."
Freeman says that he eventually became more involved with EAMC projects and planning and in 2014 became one of the group's co-leaders. "My greatest contribution in this role has been in helping to shift the focus of EAMC slightly away from open mic events (though we will host many of them) and more towards events involving stable well rehearsed bands and higher end productions such as the series of tributes to 20th century musical icons I have organized with partnerships between EAMC and McCarter Theater, Morven Museum & Garden, and Princeton Public Library."
While the Beagles started outside the EAMC, the two merge in history and involvement.
"(David Ross) is the one person in the Beagles I met through EAMC, he originally discovered EAMC through Meetup.com," continues Freeman. Chris Clark and Vanessa Rose "became involved in EAMC through their involvement in the Beagles. I met Chris as our elementary school daughters were playing together at a local playground.
"Steve, Chris, and I met Vanessa at an open mic in Hopewell. She was singing mellow standards with a jazz guitarist backing her and we were stopping by as a band after a rehearsal to do a live run through of some of the material we had just rehearsed in preparation for a Lawrenceville Main Street Music in the Park show we had coming up the following week.
"This was going to be one of our first shows without a female singer, as one had just left us, so I had my eye out for new talent and had been impressed with Vanessa's jazz singing. I didn't really know if she could do rock, but I have a great respect for jazz vocalists, so when I saw she enjoyed our music enough to get up front and start dancing during our set I invited her to come to our next rehearsal and try singing with us."
About their varied off stage backgrounds, Freeman says the New York City-raised Ross has a PhD in psychology and does work related to computer speech interface technologies. Wolpert works for a water heater installation company. But neither Clark, from Palo Alto, California, nor the NJ-raised Rose, are currently pursuing full-time careers outside music, though both pursue a number of musical projects outside the Beagles including teaching, jazz, classical, and musical theater work. "Vanessa actually teaches my daughters singing," says Freeman.
What about their musical training? "All of the band members except Steve have musical parents, and Steve has a sister who is a professional singer," notes Freeman. "Vanessa's dad is a guitarist and he has at times accompanied Vanessa for a few tunes on guitar at some EAMC events. Vanessa also plays a number of instruments in addition to singing. Chris's dad is a professional drummer and bassist who once played bass with jazz pianist Teddy Wilson. Chris started on drums before switching to bass as his main instrument."
About his own training, Freeman says, "My mom is a Juilliard-trained classical pianist who still has a full-time teaching practice. I was probably at least as influenced by my (psychiatrist) father's love of singing folk songs. My mom pushed my siblings and me to take classical music lessons as kids, but I was the one of us who rebelled against lessons and instead figured out how to play piano on my own and then branched out to guitar with a year of $5 per week lessons at a local music store, and then taught myself the rest. My self-teaching was effective enough that I am now arranging music for ensembles of up to a dozen musicians and a dozen singers."
Freeman says he is responsible for the band's name. "I like that it is fun and friendly and folksy. I liked that it sounds a bit like both the Beatles (who have been my greatest musical inspiration since I saw 'The Yellow Submarine' when I was three) and the Eagles. So it sounds familiar while being distinct. I also love dogs, owned a beagle growing up, and love the Snoopy character — so those associations were great as well."
The Beatles connection has also found its way into the new CD "Bed of Roses." It was realized with the assistance of music producer Lon Van Eaton, the Trenton-born recording artist who had been signed to Apples Record and had an album produced by George Harrison. Van Eaton lives in New Hope, Pennsylvania.
"I knew Van Eaton's name from reading his credits on George and Ringo LPs from the 1970s and form reading books about the history of the Beatles and Apple Records," notes Freeman. "Lon produced a CD of Christian music for a friend (and fellow Einstein Alley participant). She provided the introduction to Lon (who) had actually already seen an earlier lineup of the Beagles perform a couple years earlier at an event where she was playing as well. I called up Lon on the phone one day in October, 2017, got together with him that night to play my material for him, and we had signed a deal a few days later."
Freeman says Van Eaton helped select the CD's songs, produced and engineered 17 of the CD's 19 tracks, and "made constructive suggestions about instrumentation, song structure, and where I could improve lyrics."
Of the remaining two tracks that he produced along with engineer Peter Gregory, Freeman says, Van Eaton "is a genius at composition, arrangement, production and guitar playing — and I learned a huge amount working with him, though I played all the guitar and composed all the music on the CD myself. There is no way I could have self produced the two additional tracks as well as I did without the education I received by working with him as a producer on the first 17."
Those interested in hearing the CD can do so on the at the free September 20, "Bed of Roses" CD release party and concert at Blue Pomegranate at Blawenburg Reform Church, 424 Route 518, Blawenburg. 7 p.m. www.facebook.com/BluePomArt
Then there's the Sunday, September 30, Motown music event with EAMC and the Beagles at Hinds Plaza on Witherspoon Street in Princeton, present in partnership with Princeton Public Library and McCarter Theater to complement McCarter's presentation of "Detroit '67," playwright Dominique Morisseau's exploration of Detroit during that explosive year.
The free event highlights Detroit's 60s-era Motown sounds and features EAMC commentary and a playlist that includes hits by Smokey Robinson and the Miracles, Four Tops, Temptations, Jackson Five, and most fittingly, Martha and the Vandellas "Dancing in the Streets" — a song that has become synonymous with the mood of the era.
A Historical Celebration of Motown, EAMC and the Beagles, Hinds Plaza, 55 Witherspoon Street, Princeton. Sunday, September 30, 2 to 5 p.m. Free. www.mccarter.org
The Beagles will also appear at "Scarecrows in the Village," Lawrenceville Main Street's free festival in Weeden Park on Route 206 on Sunday, October 14, 1 to 3 p.m.