I'm not originally from Trenton. But in my years of being around town I have had my share of Trenton holiday meals — everything from Polish to Jewish and soul food to traditional goose dinners.
Yet the late Agnes Smoliga's Christmas Eve pasta fagioli — aka pasta and bean soup — remains a gastronomic standout.
Agnes was in her 80s at the time and had honed her cooking skills in two tough training grounds. One was her stove on Genesee Street, where she fed her late husband and son, my friend Mike, a guy with strong — and very Trenton — opinions about food preparation.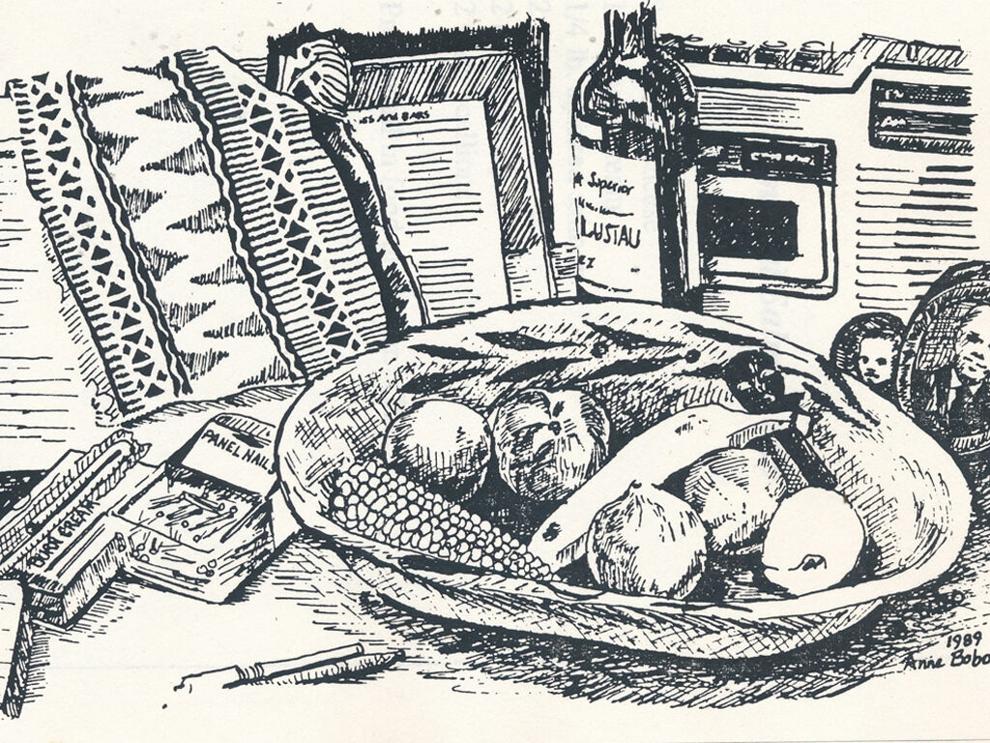 The other was her waitressing in the bygone world of Trenton's fabled eateries, when great taste was expected from even the lowliest places. Her resume included David's Luncheonette and Jakes Dinette on South Broad, the downtown Woolworths lunch counter, and even cafeteria work in the Trenton Public Schools. If she summarized her career as "Fed Trenton," it wouldn't be an exaggeration.
And while Agnes was a fixture at St. Mary Assumption Byzantine Catholic Church and had a Slovak last name, she was all Italian, and — in addition to the maiden name Terramani —"Aggie" had the big heart, big smile, and a big cooking pot to prove it.
Now back to the soup. When it appeared as part of a series of courses that Christmas Eve at her son's home, I knew the food would be up to a standard. But after I casually put the first steaming spoonful in my mouth — Madone!
By this time I've been in Trenton for decades and had consumed gallons of pasta fagioli from some of the city's best — Greco's, La Gondola, the original Marsilio's — as well as popular stops like the Casino. But this was different. There was a gentle and comforting release of flavors, solid yet not crunchy vegetables and pasta, liquidy but not watery broth, and a mellowness made bright by spice that added up to the internal equivalent of a warm hug.
When I exclaimed how good it was, Aggie waved me away, smiled, and said she'd get me the recipe.
I got it a few weeks later and was surprised. The standout had no secrets or exotic spices or vegetables. In fact the ingredients were as close as the pantry, and her approach as simple as one-two-three.
Agnes died in 2012 at age 94. Yet her soup lives on as a holiday memory, and the recipe she gave me is still ready to be stirred up. So I present it here, knowing that Aggie would be happy to share it — just as she shared it with me one Christmas Eve — and even more happy to serve up another meal for the Trenton community.
But take note, there was a secret ingredient: She loved to cook and made sure it showed in the tasting.
---
Aggie's Pasta Fagioli
Ingredients:
1+ cup chopped onions
1+ cup sliced celery
1 cup sliced carrots
2-3 cloves chopped garlic
1 large can Cannellini beans or soak 2-3 cups of hard beans overnight
1 can tomato soup
1 can tomato sauce (small) or spaghetti sauce (as red as you like)
1+ cup elbow macaroni (or any pasta)
2 bouillon cubes.
Instructions:
Saute first four vegetables in oil, margarine, or bacon fat then add beans, soup, and tomato sauce and stir; simmer several hours until thick, stirring occasionally; cook noodles in salted water, then drain most of water after noodles are cooked, and add to the tomato and vegetable mixture; taste — if needed add bouillon or salt; you can add sliced cooked sausage, ham, or bacon; stir well and heat together.
Tip: Freezes well. And, oh, don't forget the love.
---
"I love to cook," says Shirley Poole, the woman named by members of Shiloh Baptist Church, in downtown Trenton, as the one to share a Trenton holiday recipe with local readers.
"People enjoy eating it; so I guess you can say my food is pretty good," she says when she's told that word of her cooking has spread beyond her home and church.
Shirley's expertise is southern or soul cooking, something she learned when she was young Shirley Tillotson in Seneca, South Carolina.
"I was raised by my grandparents, and my grandmother always had something cooking in the kitchen," she says about her love of cooking and sharing food. "When I was eight my grandmother was making biscuits. I asked to help her. She instructed me and I followed. When the biscuits were out (of the oven), they looked just like hers. I've been cooking since," she says.
Shirley arrived in the Trenton area just after she finished high school in 1956. She was following others in her family during the Great Migration, when Americans of African heritage left the South for employment and opportunities in the North. "My mother was here first and then sisters and brothers. I lived in Princeton. The person my uncle was working for needed someone, and I watched children."
Within in a few years, Shirley met George — who surprisingly had attended the same high school before her — and joined Shiloh Baptist Church, where the couple was married by the Reverend S. Howard Woodson Jr. in 1959.
She also helped prepare five decades of meals for Shiloh Baptist Church functions. "I would help out in the kitchen when we'd have big affairs. We would bring the food in. People would come together and volunteer," she says.
In response to a question about the ingredients for a pie for which she is known, she laughs and replies, "You're going to give away all my secrets?" But George tells her that while people may have her recipe, they miss something that she adds.
She thinks about his comment for a moment and says quietly, "When you love doing something, it is always better."
Here's her holiday gift to the community:
---
Shirley Poole's Cold Oven Pound Cake
Ingredients:
2.5 cups plain flour
1/2 cup self-rising flour
3 cups sugar
4 large (or five small) eggs
1 cup sweet milk
2 sticks margarine
1/2 cup Crisco
1 tablespoon vanilla or lemon flavoring (or 1 teaspoon each)
1/2 teaspoon baking powder
Instructions:
Cream the margarine, Crisco, and sugar. Beat eggs one at a time into mixture. Sift flour together. Add milk and flour alternately until mixture is well blended. Add baking powder and flavoring. Pour into well-greased tube pan. Place in cold oven, and then set at 350. Bake for 1 hour, then check (exact baking time depends on the oven).
---
Over the years I've shared Trenton-related holiday recipe to warm up the season and to celebrate the city's great history.
But this year I'm taking a recipe from one of the most unusual Trenton cookbooks — one that helps reminds us of the current Russian invasion of Ukraine, the presence of Ukrainians in our area, and an interesting piece of art history.
The book is "Recipes of the Soviet Union," published to commemorate the 1989 art exchange program between the Trenton Artist Workshop Association and artists from the Soviet Union, which included Ukraine.
While several Trenton-area artists accompanied artwork to be exhibited in Moscow, several Soviet artists did the same for an exhibition at the Trenton City Museum.
The idea was hatched to make the art of cooking part of the exchange, and amidst the resulting 52-page book of recipes and illustrations by Trenton-area artists is the following:
---
Ukrainian Orange Nut Cake
Ingredients:
½ cup shortening
1 cup sugar
1 egg
1 cup buttermilk
½ cup nuts, chopped
1 tbsp. grated orange rind
1 ¾ cup sifted cake flour
1 tsp. baking soda
1 tsp. baking powder
Instructions:
Cream butter and sugar. Add egg and orange rind. Beat well. Sift dry ingredients and add alternately with the buttermilk. Fold in nuts. Bake at 350 in greased 8-inch by 8-inch sugar pan for 45 to 55 minutes.