The Delaware Valley Poets and US 1 Poets Cooperative have merged as one nonprofit organization, the Delaware Valley Poets/US 1 Poets Cooperative.
Coordinators say the merger that occurred in April, 2021, capitalizes on the strengths of each legacy group and provides new advantages for members.
That includes "more opportunities to be published, a new website, more venues in which to meet and discuss our work, and transparent finances to support new programs," according to a statement released by the group.
Additionally, using the already established DVP nonprofit structure, the organization can receive tax-deductible contributions.
The statement adds "the immediate change is that members of both groups are now invited to activities formerly conducted by either group alone. For example, DVP members are automatically invited to US 1's Tuesday night 'share and critique' meetings. By the same token, legacy members of US 1 are able to join DVP's monthly workshop, originally meeting at the Mercer County Public Library in Lawrenceville, but on Zoom since the onset of the pandemic. Invitations to submit poems to these activities will be sent to all members."
During the spring organizational meeting, the new group adopted bylaws and elected an interim board consisting of president Corey Langer of West Windsor; DVP vice president Pat Hardigree of Bordentown; US 1 vice president Maxine Susman of Kingston; DVP treasurer Mark Schardine of Ewing; US 1 treasurer Coleen Marks Schlaffer of Kendell Park; secretary Ilene Millman of Hillsborough; managing editor Lew Maltby of Princeton; programs coordinator Lois Harrod of Hopewell; and communications coordinator Mike Griffith of Belle Mead. A standing board will be elected in autumn 2021.
A statement from the new organization put the two merging groups in the following historic perspective: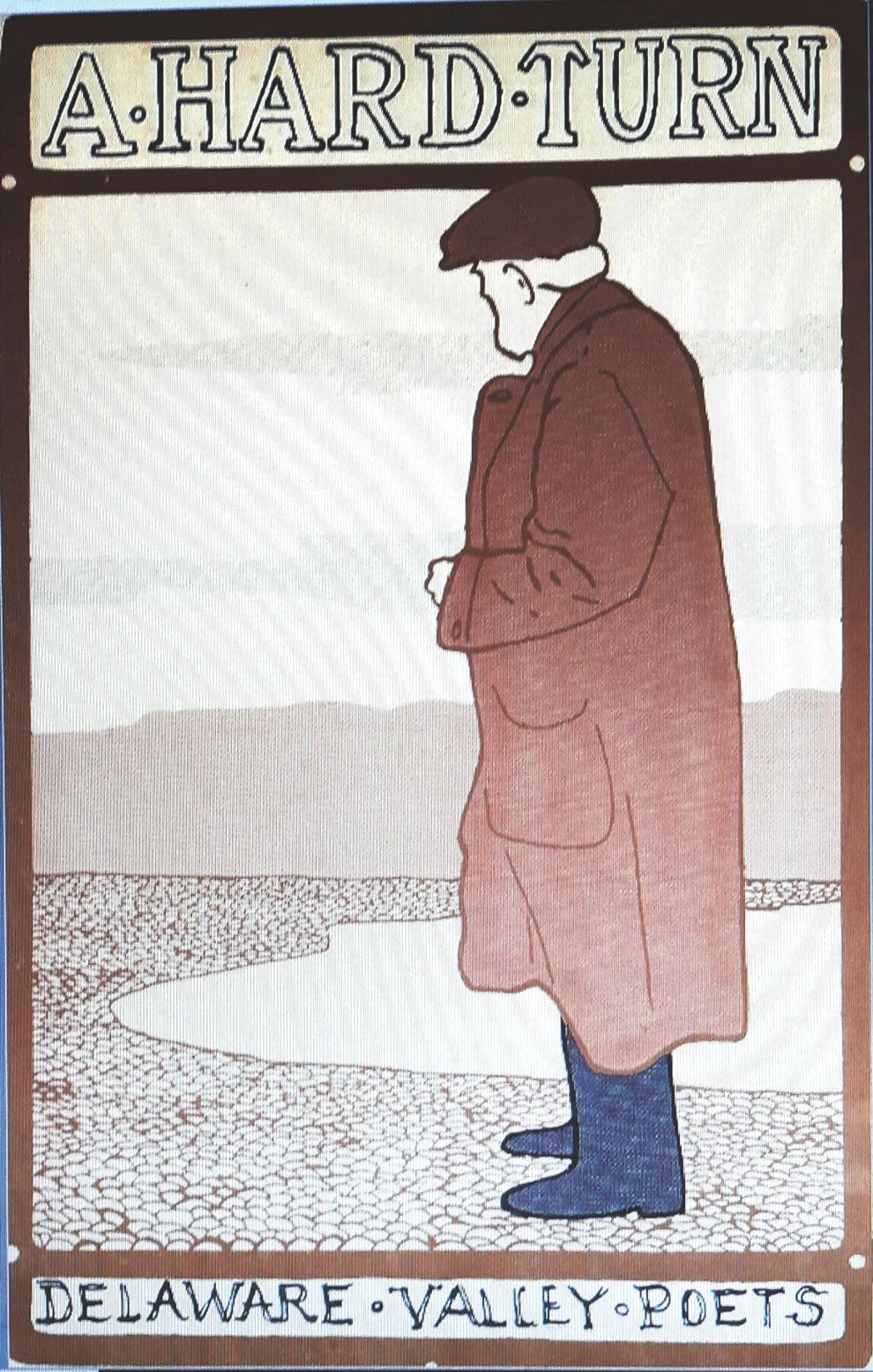 Delaware Valley Poets began with a few poets first meeting informally in each other's living rooms starting around 1952. Over time the group increased in size, and Princeton University gave it a home in its library, and in 1970 the members voted to become part of the NJ Poetry Society as the Delaware Valley Poets Chapter. For years they have been meeting once a month at the Mercer County Library in Lawrence on the third Monday in the month. Over the years they have published several anthologies.
US 1 Poets Cooperative was founded in l973 by Alicia Ostriker, Elizabeth Sokolow, David Keller, and others, and has been meeting in living rooms along the Princeton area of Route 1 every Tuesday night. Since the pandemic the meetings have been held virtually on Zoom and now include members from as far as Georgia and Canada.
A 2003 U.S. 1 Newspaper article on the US 1 Poets Cooperative provides the following overview, "Founded by still-active members Alicia Ostriker (Princeton) and Rod Tulloss (Roosevelt), the U.S. 1 Poets (no relation to this newspaper) began meeting in June, 1973, and have met in members' homes virtually every Tuesday evening since. In addition to the founders, long-time members include Jean Hollander, Cleopatra Mathis, Lynn Powell, David Keller, Elizabeth Anne Socolow, and Lois Marie Harrod.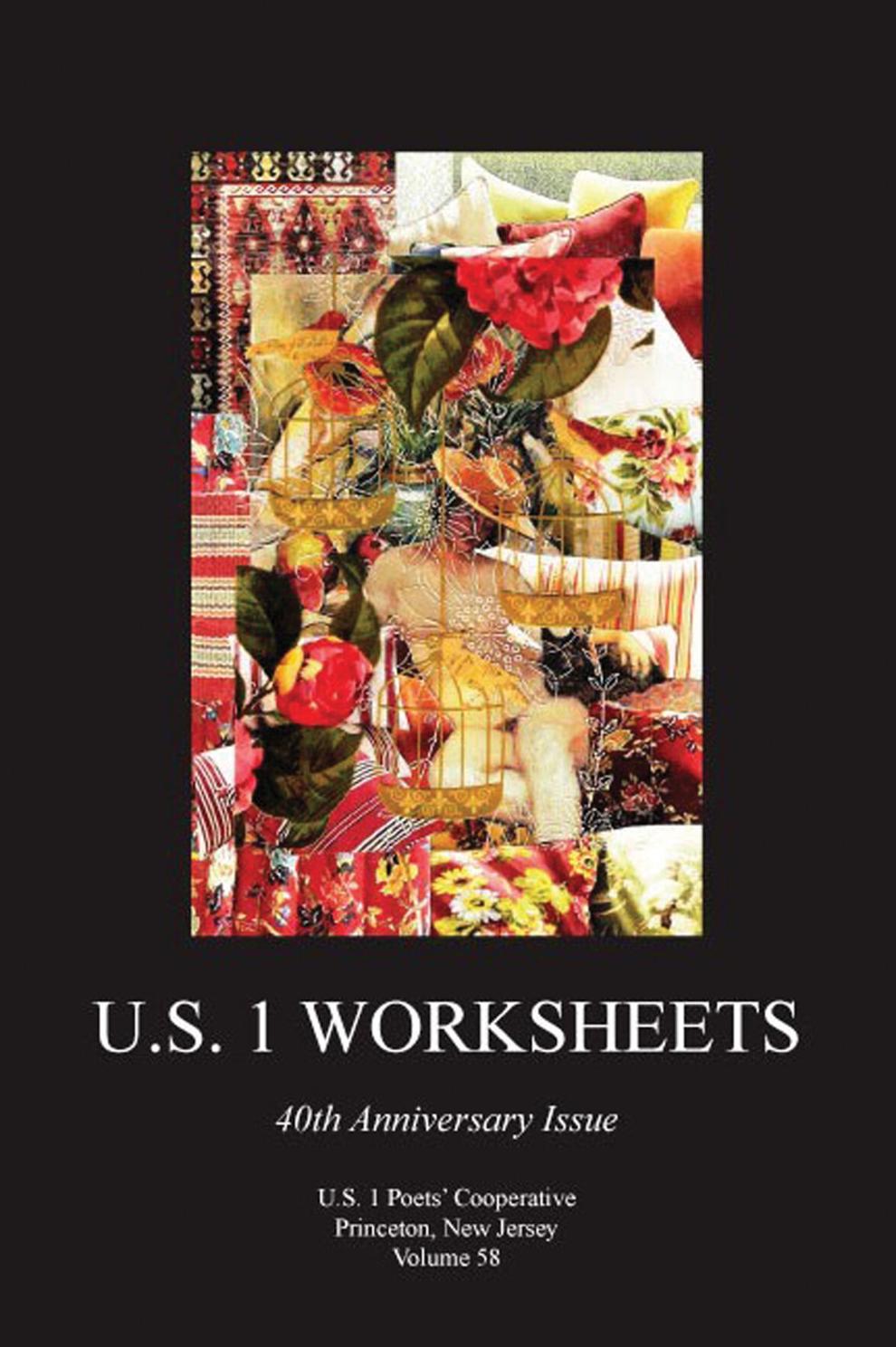 "The group's occasional publication, 'U.S. 1 Worksheets,' made its debut in October, 1973, as a humble, inky publication comprising a single folio sheet, folded twice, to an 8-1/2 x 11 inch package.
"It has endured in various formats, published at irregular intervals, to the present. In 1999, as it celebrated its 25-year milestone, U.S. 1 Worksheets Volume 38/39 made its appearance in a new, upscale format, a perfect-bound book, of standard literary magazine size, with an attractive color cover. Winifred Hughes, a co-op member since 1993, became managing editor of U.S. 1 Worksheets in 1999.
"Although the majority of the Worksheets contributors are co-op members, the group's listing in 'Poet's Market,' the national directory of poetry journals, has attracted submissions from across the country.
"The new edition is no exception; it features work by members, newcomers, and established poets. Selections are made by a team of editors that rotates among members.
"'The title 'Worksheets' was meant to suggest process, and that's one of the things you can still see,' says Hughes. The weekly Tuesday night meetings, held in members' homes, are so frequent that few members attend every one. The result is a spontaneous, diverse mix of attendees, she explains.
"'We don't try to make one poet look like another. We don't have one style, but there's a tremendous seriousness about it. We always try to be supportive, but at the same time to push each poet to the highest standard that he or she can aspire to,' says Hughes."
"Ostriker writes that just before she went off to spend a semester at U.C. Berkeley, Rod Tulloss (also a founding member of the Berkeley Coop) told her about the Berkeley Poets' Co-op, which she joined for half a year. On her return, she yearned to reproduce the experience in Princeton.
"'It seemed like an unlikely prospect for Princeton, that white-bread community, that bubble of privilege, that ultimately square setting in which, after living there for eight years, I still felt like a round peg,' she writes in the new Worksheets.
"'Whenever I meet lonely young poets — and all young poets are lonely — I tell them to do what we did. Start a group. Meet every week. Let yourselves be open to strangers. And you'll grow, and your work will grow."
Additionally, a 2004 U.S. 1 article on the Delaware Valley Poets illustrates the importance of such a group to an individual:
"'Writing poetry is very cathartic for me,' says West Windsor resident and oncologist Corey Langer. 'It's a terrific outlet. Some people go to a psychologist. I write poetry instead.'
"For the past 10 years he has relieved his work stress by immersing himself in the ancient art of poetry. 'I love writing poetry,' he says. 'It is my one major extracurricular activity. It exercises a part of my brain that is dormant during the day.""
"Langer is the president of Delaware Valley Poets (DVP), a grassroots poetry group that holds regular workshop meetings . . . a simple but effective means of improving one's writing, according to Langer. Poets bring copies of their work and read to the group. The group then offers its critique. 'About five to ten people attend each month,' he says. 'The group is both critical and nurturing. The more experienced poets can sometimes be given a harsher critique while that is somewhat toned down for fledgling poets.'
"But Langer is also quick to point out that poets are always the final arbitrators of the validity of any criticism if or opinion about their work. 'Suggestions from the group can call for radical or minor changes to a poem, but I always tell writers that it is their poem,' says Langer. 'Any changes they make are up to them. They control the delete button.'"
The article notes that "Langer is a testimony to the effectiveness of the group's critical techniques" and that his "Cyberpoem" appeared in the July 28, 2004, U.S. 1 Summer Fiction Issue.
Langer said that his participation in the DVP workshops helped him become "a much better poet. I've learned to tailor my work and to economize the language. My work has matured."
Coordinators say US1 Worksheets # 66 will be published in November, 2021, and that DVP is planning an anthology that will contain poems from previous anthologies as well as new works.
For more information, visit us1poets.com.
Poetry of the Past
U.S. 1 commemorates the merger of the two long-running area poetry organizations by sharing some of the poems that appeared in their early publications.
Concerning Women's Rights
I write, write
of chrysanthemums, how strong
against the frost.
— Geraldine Clinton Little
From the Delaware Valley Poets' 1987 "A Hard Turn, An Anthology of Poetry."
Up The Bog
Arms churning up
the slope – the bog up
the waterfall – we clutched upwards
to hug roots for the life slipping
out moist at the stem.
The earth that held them
shrugged, let go, and closed up.
We hold onto rocks that slid downward
with us. The stream and gush
of water invited us
to fall with it, to fall
to the reservoir – to rest
at bottom. Breath dead-
still. Numbly inhaling
sharp dense air.
Progression.
Chest beating, slowly
rising, pulling-pushing each
other from bending branch,
to loose root, to green branch.
At the point where waterfall
hit rock, spraying cold
from the drop,
we shivered
and sweat.
At last, a draft
blew up through
the final stretch
hushed, wet and
speechless.
— Miguel Pagliere
From US 1 Worksheet #1.
Imaginary Conversation
You know, -----, you are just as sexy as ever through you
as philosopher are not familiarly considered as this and would/might be
indignant about the term, maybe, incorrectly thinking i was mocking you,
or contemptuous of this here shallow youth vulgarity and fat
mouth, or morally shocked possibly or possibly you would simply
agree, term and all, having simply been waiting impatiently
sixty-five years for somebody to notice. Well I'd like to
say that you are a wild fierce elf of a man. Your passionate
nervousness, when the skin on your head, on your temples, grow
white and breakable, your passionate nervousness as if purifies
into old age, is still luminous, still, genius. i want you to know i realize
and see, yourself, lonely and blaze as immortality.

— Alicia Ostriker
From US 1 Worksheet #1.
Absolute Honesty
Take my hand,
Cross your heart,
And we shall make a solemn pact:
Only truth
And honesty,
In word, and deed, and fact.
(Except, of course,
In self defense,
Or if the truth would make you cry,
Or I forget,
Or you forget,
Or one of us should lie
— by Kate Delano Condax
From US 1 Worksheet #1.
Cape Cod
Rose hip, holly, bayberry bind the Cape
And keep her many shades of green
To link the sky and earth.
Here sand, the wind's child,
Shifts with the compass and the sea.
But nothing moves the granite monsters
On the coast or underneath the houses;
They sulk in their strength
Like anchors that have sunk
Their teeth in the ocean floor
And know their heavy worth.
In this hook of Massachusetts land
The days and nights are threshed by weather;
The hearts of the wilted are freshened,
Learned papers roll off the minds at midnight;
Children melt with the waves and fishes;
And lovers find their hands in phosphorescent waters.
Thoreau drew her shape with his bended arm and wrist,
Others have caught her in oil and watercolor.
But I am content to print and bind the Cape
With rose hip, holly, and bayberry.
— Herman Ward
From "A Hard Turn, An Anthology of Poetry."
Autumn in the Midlands
If every autumn were as imperceptible
as this, we could stray into winter
never knowing. While we slept,
the white thistles discarded a finch
or two, yet every morning we heard
them sing. Leaf above leaf held golden
to the chestnut, crimson to the maple, purple
to the oak. And if each lost its hold
a leaf at a time, we thought not of leaving,
but dreamed we lingered. The noon sky
did not lose its heat nor the hills their green,
though we wandered each day in the pale light.
— Lois Marie Harrod
From "A Hard Turn, An Anthology of Poetry."