The Trenton City Museum's "Painting the Moon and Beyond: Lois Dodd and Friends," featuring works by New Jersey native and noted American painter Lois Dodd and several former students, opens Friday, November 19, and remains on view through April 29, 2022.
An opening reception — free and open to the public — takes place Sunday, November 21, from 1 to 4 p.m.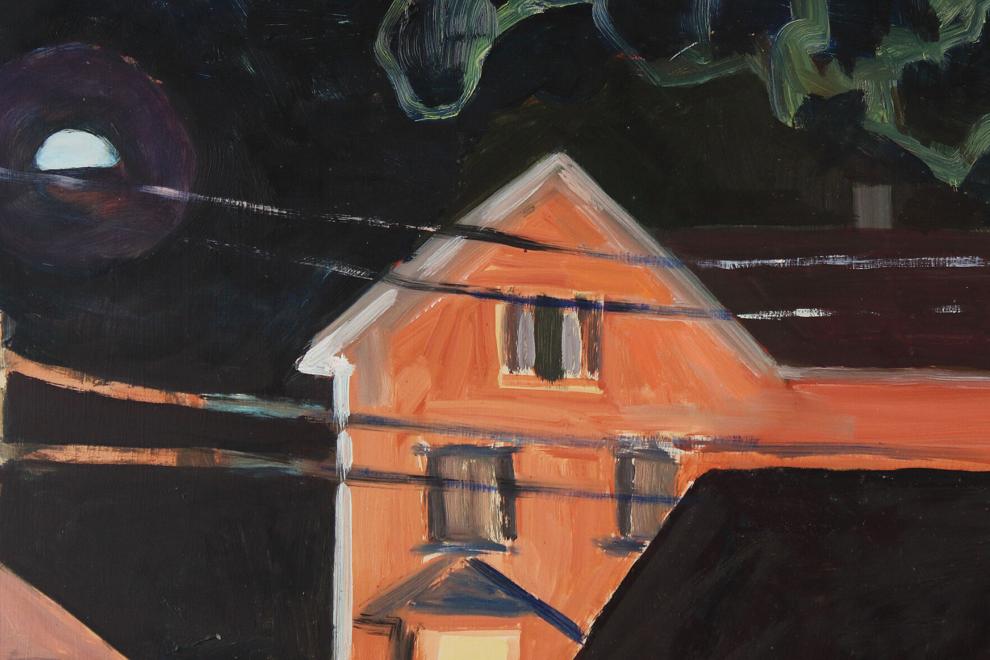 Dodd is a pioneering artist from an era when women were generally overlooked. Born in Montclair in 1927, she forged a career as an innovative landscape, cityscape, and portrait artist and was the subject of more than 50 solo exhibitions, starting with her 1949 show at the Pyramid Gallery in New York City.
The founder of the Tanager Gallery, one of the first Lower Manhattan cooperative galleries formed to mount exhibitions outside the sphere of established uptown galleries, Dodd studied at Cooper Union from 1945 through 1948.
In 1951 she began dividing her time between New York City, the Delaware Water Gap, and Cushing, Maine, where she was inspired to paint from her immediate environment, often integrating interiors and exteriors.
As she told one interviewer, "Maine has a landscape light that is more dramatic and graphically clear than that of more southerly locations. The strong light-and dark-value contrast provides a visual simplification of shape and forms and denies disruptive detail," and "the more personal an expression can be is also the most universal it can become."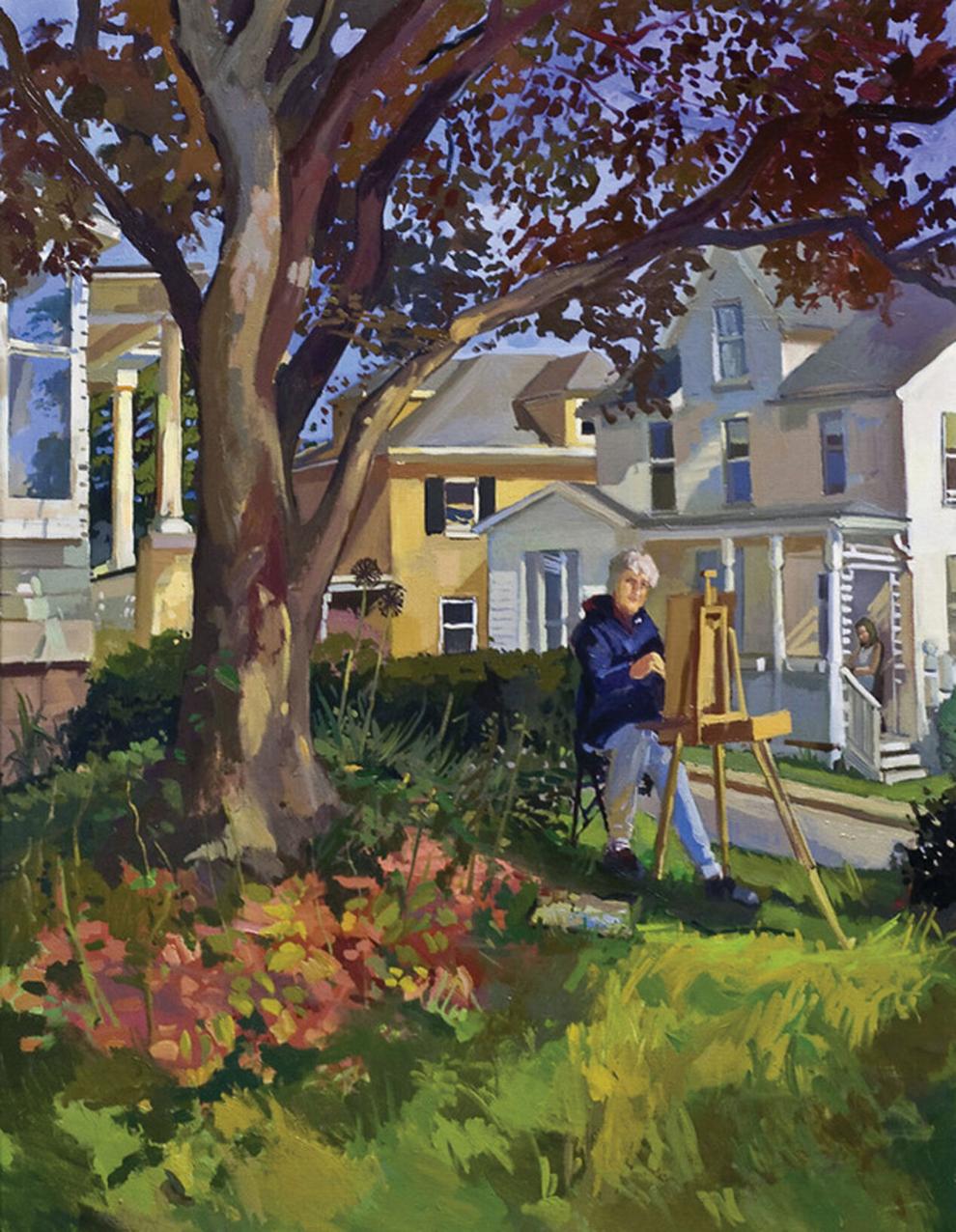 Represented by the Alexandre Gallery in New York City, Dodd's work is in the collections of the Museum of Modern Art, National Portrait Gallery, Whitney Museum, Princeton University Art Museum, as well as the Bowdoin and Colby college museums of art and the Farnsworth and Portland art museums in Maine.
Dodd also taught at Brooklyn College, Queens College, and Wagner College in New York City and the Skowhegan School of Painting and Sculpture in Maine.
A key to the exhibition is Dodd's statement, "I started doing nighttime paintings in the 1970s. You could stand outside, and the moonlight was so brilliant certain nights that I realized I could paint in it."
Eventually she was joined by Trenton native Jeff Epstein, Highland Park resident Dan Finaldi, and Irish-born artist Elizabeth O'Reilly, whose work is also in the exhibition.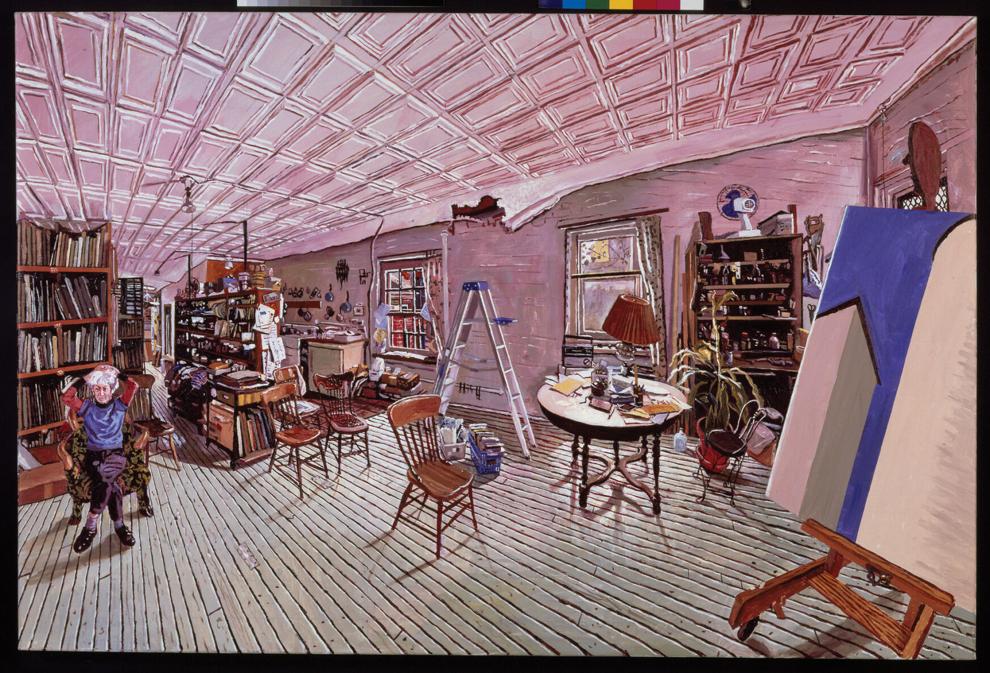 The exhibition also includes a work by nationally known Trenton artist Mel Leipzig, who is friends with Dodd and other participating artists, created a portrait Dodd, and is the subject of one of the outdoor works.
Writing about the exhibition, Dube notes the following:
It all began, for me, with Mel Leipzig's painting of her. Lois Dodd is pictured in her New York studio, Leipzig's wide-angle perspective putting the pressed tin ceiling and white-painted floorboards in the foreground, while Dodd is seated in a corner, holding her white hair up behind her head. And yet we get a sense of a woman who doesn't spend much time seated: there's a painting in progress on an easel, and a ladder just beneath a portion of the ceiling in need of repair. (In a recent conversation Dodd told me she'd had it fixed but that it needed to be repaired yet again.) Though taking up only a small portion of the canvas, Dodd's presence is strong.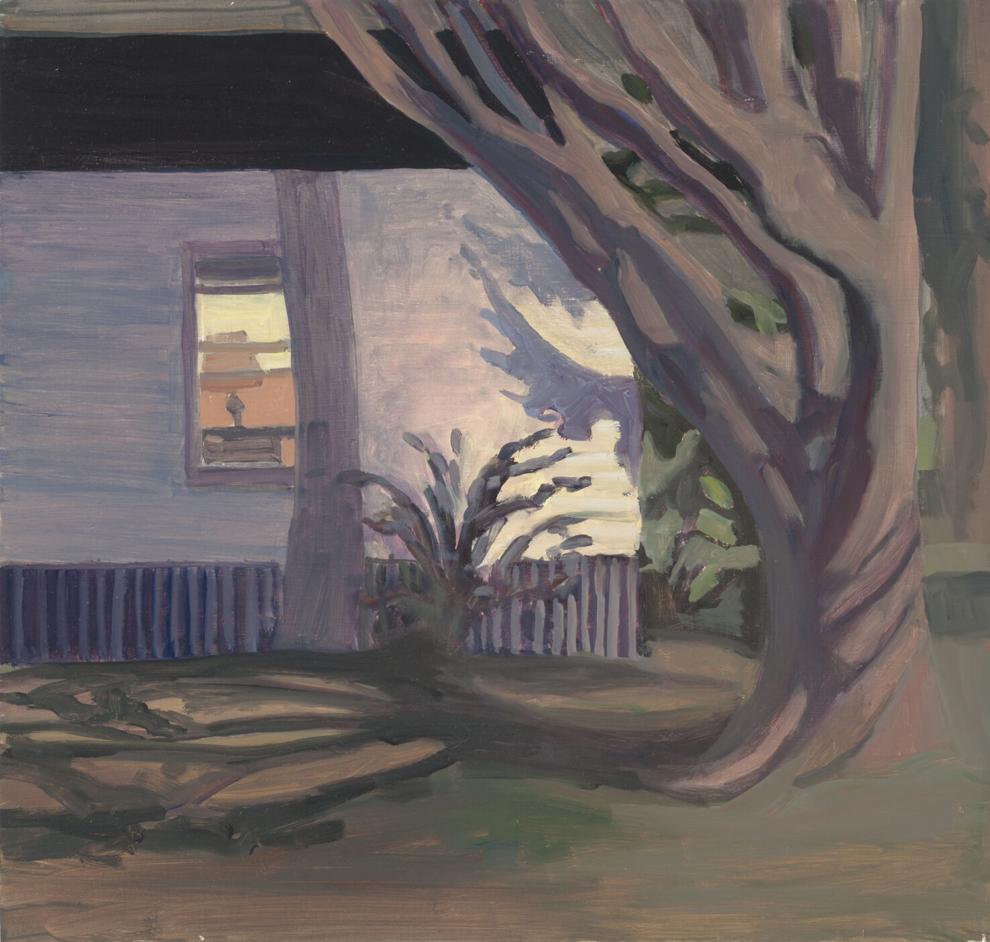 I wanted to get to know her work better, and I wanted to get to know this figure who'd played a significant role in the downtown gallery scene of 1950s New York and who, as a nonagenarian, continues to make paintings that enamor legions around the world. Soon I learned that she was a catalyst for a group of artists who would go outside in the wee hours to paint, capturing the ethereal magic of Maine at night.
Communities of artists fascinate me. They provide a space where individuals can nurture, encourage, and support each other. Artists enjoy camaraderie with like-minded individuals who share advice on everything from politics to relationships.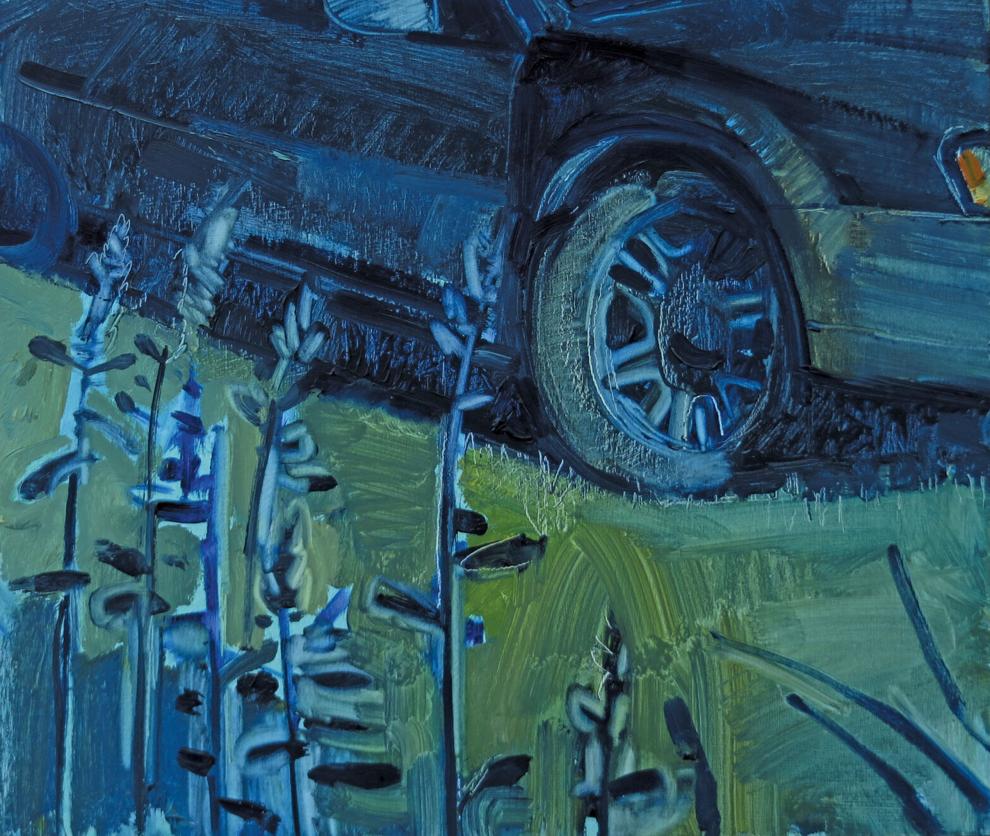 Such communities of artists have been a part of Lois Dodd's life since her early years at Cooper Union and Skowhegan, through the days at the Tanager Gallery she cofounded in New York in 1952, where she exhibited with Alex Katz, Philip Pearlstein, Tom Wesselmann, Yvonne Jacquette, and others.
Jeff Epstein, Dan Finaldi, and Elizabeth O'Reilly are former students of Dodd who have embarked on painting expeditions together near Dodd's homes in Blairstown, New Jersey, and Cushing, Maine. Together they have ventured out to uncover the mysteries of the night.
These artists share an affinity for subject matter, if not style, and feed off each other's creativity. In addition to the nocturnes, "Painting the Moon and Beyond" looks through windows and doors, and at portraits the artists have made of each other, including the one by Leipzig. It was Leipzig who introduced Epstein to Dodd, and Dodd who introduced Finaldi to Leipzig.
The exhibition comes on the 25th anniversary of a retrospective of Dodd's work at the Trenton City Museum and is accompanied by a short film and a catalog.
Painting the Moon and Beyond: Lois Dodd and Friends, Trenton City Museum, Ellarslie Mansion, Cadwaladar Park, Trenton. Friday, November 19, through April 29, 2022. Fridays and Saturdays, noon to 4 p.m., and Sundays, 1 to 4 p.m. Free; donations welcome. A public reception takes place Sunday, November 21, from 1 to 4 p.m. Masks and proof of COVID vaccination or recent negative test required. 609-989-3632 or www.ellarslie.org.