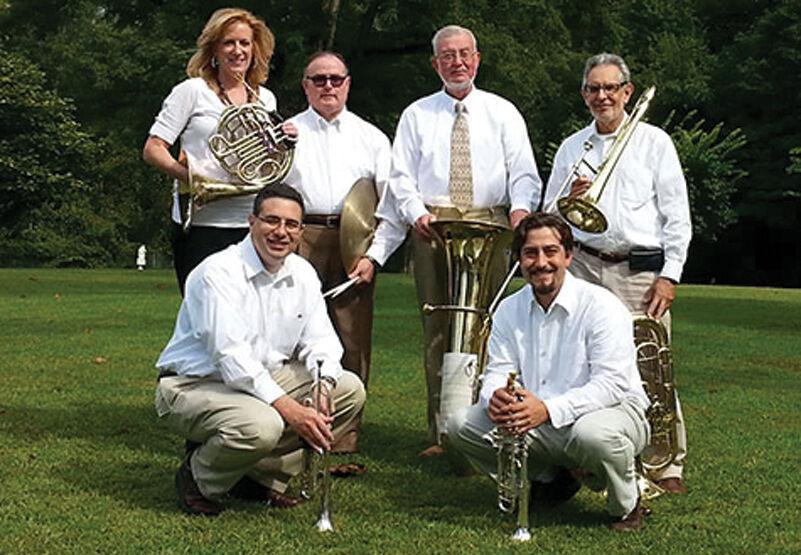 Horn player Karl Megules has definite ideas about the structure of a brass quintet. He believes that an enlightened brass quintet needs the addition of a percussionist if it is to achieve its musical destiny. Indeed, he considers the absence of a percussionist a serious deficit and broadcasts his opinion by calling the group he founded in 1973 the "Trenton Brass Quintet Plus One." We'll call it "TBQ Plus One."
TBQ Plus One performs at Randy Now's Man Cave in Bordentown on Thursday, December 5. The program includes both secular and religious selections from Christmas, Hanukah, and Kwanza traditions. Many of the works scheduled are arrangements by Megules himself.
Interviewed by telephone, Megules says that he has arranged and performed works by 24 known composers. His guide for programming is variety. "People don't want to hear Renaissance music for an hour," he says. They want to hear jazz, rock 'n' roll, spiritual music, and Broadway musicals. Music brings out different feelings in different people."
Percussion adds what Megules calls "punctuation" to music. Nevertheless, he says, it took a lot of initial effort to get concert bookings for the ensemble. Many people, he observed, were not sure that a tuba could play a melody and feared that a brass quintet would be too noisy. "We had to show that we could play many genres. We played Broadway musicals, and people said, 'Wow, these guys can play everything.'" TBQ Plus One has more than 250 pieces in its repertoire.
Behind the vast repertoire of Megules' TBQ Plus One ensemble lies a family tradition. "I learned my love of music from my parents," he says.
"My father was a jazz player and started me on piano when I was eight. He played bass fiddle and toured with big bands in the 1930s and '40s. I toured with him in nightclubs before he died."
"My mother was not a musician. But she loved music and kept asking me to play for her at home."
As an undergraduate at Trenton State College, Megules had broad exposure to music. He majored in piano. His minor specialization was in trumpet. And though his musical horizons were wide, he remembers that he didn't know much about the tuba. "I knew about drums because I took a percussion course in college, expecting that I would teach percussion." His undergraduate studies included a brass course devoted to trombone and French horn. Violin and cello were among the instruments Megules encountered before he graduated.
"Strings," he observed, "approach music differently from wind instruments. They're tough to master. You have to find the note on an unmarked string. When people hear a beginning string player, they wince. It sounds like a cat."
"Strings," Megules concludes, "are among the hardest instruments to teach."
Also, he says, among the most difficult instruments to teach, many think, are wind instruments because, uniquely, they require fine control over facial muscles. (The technical term is the French word "emboucher.") Mastery of muscles in the cheeks, the lips, and inside the mouth is required to control whether the proper tension or relaxation for playing the instrument can be achieved.
Constant practice is required for mastery, according to Megules. "If you don't practice, you can't play," he says. "I'm not bragging," he adds. "I had to let musicians go because they were not doing their job and practicing enough. Sad to say, they were spoiling my reputation as a teacher."
Megules started to study tuba at age 27, after his Trenton graduation. He went on to give a tuba master's recital, accompanied by his late wife, Natalie, where the greatest applause followed a piece originally for piano, four hands.
Along with Natalie, Megules co-founded TBQ Plus One. Among their guiding principles is the notion of arranging a tuba version of a piece when none exists.
"When I can't find an arrangement," Megules says, "I make one." His musical judgment is based on his experience rather than academic principles. "I learned by hit-and-miss what works and what doesn't," he says. From his wife, he adds, he learned to recognize what he calls "the equality of the genders" as far as music is concerned.
Megules' teaching career began in 1967 in Bordentown. It included the publication of an article about the most neglected sections of the high school band where he singled out percussion and tuba. He retired from his Bordentown engagement after 35 years, in 2002.
"It's hard to get kids to play tuba," Megules says. "It's too big for junior high school, and it's ominous looking." On the other hand, he points out, trumpet appeals to everyone.
At age 75 now, tuba player Megules declares "Music keeps the old fingers moving."
He comes from a family with six children. The family's ethnic background is Hungarian. A musical tradition existed on his father's side of the family. Although all of Megules' father's siblings played in bands, his father was the only child who earned a living as a professional musician.
Megules' mother, he reports, was the eldest child in a poor family. She quit school before finishing eighth grade and gave all of her income from a Trenton cigar factory to the family.
Megules and his siblings could be the ever-shifting personnel of a musical ensemble. Alicia, the eldest, plays clarinet and violin. Mary's instruments are French horn and cello. Celeste is a flutist. Charlie, a trumpeter, plays in Karl's Brass Quintet Plus One. Natalie, a soprano, maintains a private studio in Hamilton.
Megules volunteers as a pianist at Capital Health Hospital in Hopewell and is aware of the healing effect of music. "People tell me that when they walk into the hospital they hear the music and find it refreshing," he says. "I remember a woman coming into the building with her son who was about to have brain surgery. She came up to the piano, started crying, and said 'Music makes such a difference.'"
Megules selected the spot for his hospital playing by looking over the layout and selecting a space that invited relaxation. "I noticed that one piano was in an area with chairs and tables, where people could settle and eat and listen. I've been playing there for more than a year and think that I'm doing a service with my music.
"Music," Megules declares," is one of humankind's most important achievements. To me it ranks with speech, human history, art, architecture, law, and government."
Randy Now's Man Cave, 134 Farnsworth Avenue, Bordentown. Thursday, December 5, 7:30 p.m. Free. 609-424-3766.