An internationally renowned dancer, instructor, coach, director, and choreographer, Ethan Stiefel has been called one of America's greatest male ballet talents, but as a youngster he didn't imagine life would lead him to that world. In fact, he dreamt of being a Green Bay Packer.
"Neither of my parents had a background in dance, but my sister wanted to do it, and since she was older, she got the priority," Stiefel says. "I tagged along and sat there while she danced, the only boy in a dance studio, in a strip mall in Madison, Wisconsin. But then I got into it, said 'What the heck, I like to move.'"
"I was active, very physical — I thought I was going to play football," he says. "Instead I put on my shorts and my knee-high tube socks, started dancing, and here I am."
Indeed, here he is, in central New Jersey, as Stiefel was chosen to be American Repertory Ballet's new artistic director after an extensive search.
ARB's staff will now also include celebrated ballerina Gillian Murphy, a principal dancer with American Ballet Theater, as well as Stiefel's spouse. As ARB's new artistic associate, Murphy is already familiar with the company and Princeton Ballet School, since she coached young dancers there last spring for the performance of "Swan Lake."
"That was another good thing about living in Princeton: New York is close, so Gillian can continue her career," Stiefel says. "It wasn't part of the plan when I was applying, but bringing in a star who is still performing is something really special for the (Princeton Ballet) students."
The power couple sounds like a true team, and Stiefel rephrases the adage, "Behind every great man, there's a great woman."
"(Gillian) is beside me, not behind me, and she deserves it," he says emphatically. "It's extremely important for her to feel empowered, and I want to give her that acknowledgement. Whether it's a small or large project, I couldn't do it without her. Gillian is a great sounding board, I love and trust her, and she'll be honest about the work I'm doing."
"Plus, it's very important to have someone like Gillian, who is so knowledgeable about pointe work, a whole other (aspect of ballet) for female dancers," Stiefel says.
The couple has a two-year-old son, so they were in search of an ideal place to balance work and creative life with family life, and the Princeton area fit the bill.
Stiefel (pronounced STEE-ful) is looking forward to October 23 and 24, and the launch of ARB's 2021-2022 season that opens at the New Brunswick Performing Arts Center with a program titled "Emergence." Performances throughout the year take place at the NBPAC, except for the "Nutcracker," which will travel to various venues around New Jersey.
"It feels like we're hitting a reset or reboot for everything in the arts and especially for live performing arts," he says. "So there's a sense of emergence, of things coming to life, like we're coming out of a cocoon."
The varied program includes Stiefel's own "Wood Work," which he created a few years ago for the Washington Ballet, as well as Amy Seiwert's "World, Interrupted," David Fernandez's "Mexican Music" and "Saudade," created by the company's own Ryoko Tanaka. The latter features original music by a former member of ARB, who is no longer dancing.
"The first program will include two works which have never been seen live before," Stiefel says. "During the pandemic we had new creations, but they were only streamed digitally. That's the beauty of live performance: It's such a different experience, seeing the work in-person."
"Wood Work" should be an especially compelling piece, with its use of contemporary interpretations of Scandinavian folk songs, brought to life by a string quartet. Stiefel muses that it evokes a sense of the past but recasts the traditional into a new light.
"When it comes to the dancing, it's based in ballet but also presents new perspectives in the art form," he says. "It has that sense of tradition but looking to move it forward. 'Wood Work' also gives a sense of community, a sense of gathering, which is important, especially at this time."
He says the dancers will sometimes be dancing in a group, like festivities and social gatherings set in a small Scandinavian town.
"But there are also smaller solos, duets, and trios that show the diversity and individuality of these people, different characters within the community," Stiefel says.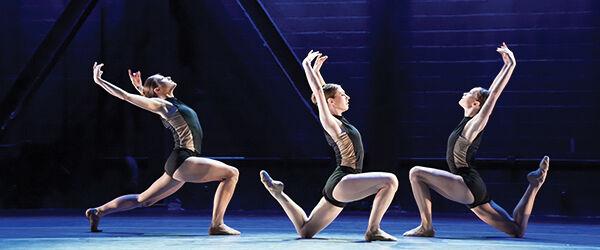 In November ARB's "Nutcracker" returns to venues across New Jersey. The holiday production opens at McCarter Theater in Princeton Thanksgiving weekend, followed by the Patriots Theater at the War Memorial in Trenton, and the State Theater in New Brunswick.
ARB's season continues in April, 2022, with a series of world premieres, beginning with Stiefel's reimagining of "A Midsummer Night's Dream." Then in June ARB rounds out the year with a program of new works titled "Movin' and Groovin.'"
"For the final program, all the works are new, and that doesn't happen too often," Stiefel says. "Plus, the works were made specifically for us. There's so much breadth and variety, and different ideas, very much of the now and of the future. It's about the spirit of us going forward."
Born February 13, 1973, in Tyrone, central Pennsylvania, Stiefel took gymnastics before he got involved in ballet, around age nine.
It was in Madison, Wisconsin, watching his older sister dance, where a teacher persuaded Ethan to take classes because boys in ballet were such a rarity.
The family moved around a lot, ending up in Somerset, with a stop in Houston, Texas, in between.
Stiefel's father had been a minister with a small congregation in central Pennsylvania but made a huge career shift to law enforcement, moving the family to the Lone Star State to take a job as a Texas State Trooper.
"He had the mirrored sunglasses and everything," Stiefel says. "My mom didn't like Texas, though, so then it was Wisconsin, and then my dad became a (prison) guard on the federal level, so we moved wherever he was transferred."
"They were the most supportive parents, though, and would drive hours to take us to class," he adds. "We moved where the government sent us, but my parents always looked for a good ballet school."
The elder Stiefel landed in New York City at the Metropolitan Correctional Center. The family lived in Somerset, rising very early to get dad to work and the kids to school in the city. Stiefel's mom also found work there, in the accounting office at the Correctional Center.
Not too many years after the move East, Stiefel got a scholarship to the School of American Ballet in New York.
While there, renowned ballet instructor Stanley Williams enrolled him in the company's special class for men. (The late Williams had once taught Rudolf Nureyev, Edward Villella, Peter Martins, and Fernando Bujones.)
In addition, Stiefel was fortunate to study with Mikhail Baryshnikov at the short-lived Mikhail Baryshnikov's School of Classical Ballet.
Launching his professional career at age 16 with the New York City Ballet, Stiefel quickly rose to the rank of principal dancer. He was also a principal dancer with Ballett Zürich.
He joined the American Ballet Theater as a principal dancer in 1997 and gave his final performance with ABT in July, 2012. Stiefel received a 10-minute standing ovation following this outstanding show (take a look at www.youtube.com/watch?v=bS30FX8-wkg).
A three-year stint (2011-2014) as artistic director of the Royal New Zealand Ballet was followed by Stiefel's position as dean of the School of Dance at the University of North Carolina School of the Arts in Winston-Salem.
During his career, Stiefel performed leading roles in all of the full-length ballet classics, as well as a range of shorter works. He has made guest appearances with the Royal Ballet, the Mariinsky Ballet, New York City Ballet, Australian Ballet, New National Theatre (Tokyo), and Kings of the Dance, among others.
Stiefel has also done an ample amount of film and television, starring in the feature film "Center Stage," and its sequels. Stiefel's television and video credits include "The Dream," "Le Corsaire," "Die Fledermaus," "Gossip Girl," and the documentary "Born to be Wild."
A prolific choreographer and respected educator, he has served as a guest teacher for many institutions in the U.S. and abroad, such as the Paris Opera Ballet, Royal Ballet School (London), Australian Ballet School, Dance Theatre of Harlem, American Ballet Theatre Studio Company, as well as ABT's Jacqueline Kennedy Onassis School and the School of American Ballet.
Stiefel is especially grateful to have a father who was so encouraging about his love for dance. He thinks there is something sad that more young American males aren't drawn to dance, that a boy taking ballet might meet with disapproval.
"Dance is so vital, it was really our earliest form of communication," he says. "Right from the beginning of time, you communicated through movement, mime, some kind of gesture."
Stiefel doesn't want to think about the possibility of repeating 2020, the year the lights went out for live performances, and everyone went home to isolate.
"These are tricky times," he says. "That's another reason I took the position with ARB. With the isolation we've been in, it's not just about dance, it's about healing, communicating, and being uplifted. It goes way beyond the performance."
"I have a chance to come back after this 'intermission' and do something to be positive and forward thinking, and do it in a relevant way that will resonate with the community."
American Repertory Ballet's 2021-2022 season opens Saturday, October 23, 7 p.m., at the New Brunswick Performing Arts Center, 11 Livingston Avenue, New Brunswick. Additional performance Sunday, October 24, 2 p.m. $25 to $55. 732-745-8000 or www.nbpac.org.
Ethan Stiefel is the new artistic director for American Repertory Ballet, 301 North Harrison Street, Princeton. 609-921-7758 or www.arballet.org.