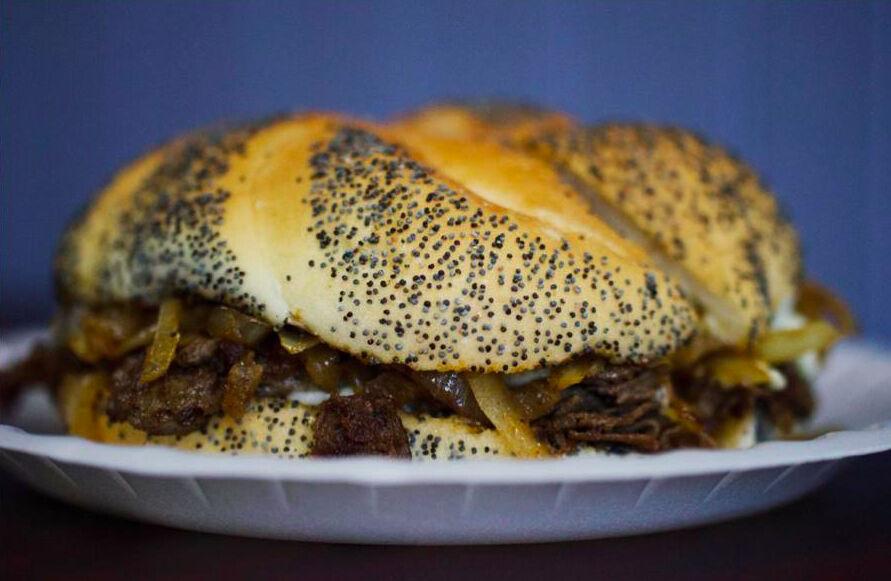 The ongoing regional argument about who makes the best cheesesteak — in and out of Philadelphia — got a new twist in 2015.
That's when a world-famous food critic weighed in and delivered a decisive one-two shot into the guts of self-proclaimed Delaware Valley cheesesteak connoisseurs by giving a greasy thumbs up to a steak joint not only off the road less traveled but outside of Philadelphia.
With that anointed cheesesteak maker just opening a new shop close enough to the U.S. 1 region, now is the time for area food adventurers to make a trip, get a quick bite out, and join the debate.
The food critic was the late New Jersey-native and host of the popular cable television show "No Reservations," Anthony Bourdain.
The show featured former New York City celebrity chef globe-gobbling with no reservations about eating local delicacies — including concoctions stirred up with maggots, testicles, and animal eyes. The program attracted a large audience up to the host's suicide in 2018.
But in 2015 he and the show's producers decided to put the focus on the southern New Jersey and Philadelphia area.
Since Philadelphia and cheesesteaks are akin to the connection between London and fish and chips, it was clear that the show's menu needed to include a highly visible test taste and that Bourdain would have to face the ensuing fire from legions of cheesesteak fans.
But first, let's put the delicacy in perspective.
"A cheesesteak is a long, crusty roll filled with thinly sliced sauteed rib-eye beef and melted cheese," posts Visit Philadelphia, the official city visitors' port for regional info.
Its writer — agreeing with numerous others (including this one) — readily says the cheese of choice is Cheez Whiz — a glowing, mild-tasting processed cheese sauce developed by Kraft foods in the 1950s. But American and provolone are acceptable substitutions.
South Philadelphia hot dog vendor Pat Oliveri is credited with the creation in 1930. A Thomas Edison of caloric intake, Oliveri cooked up the idea of putting grilled beef on a hotdog roll and giving it to taxi driver client.
The driver in turn had a mouthful to say about the concoction and drivers, and their clients soon headed to Oliveri's corner — where he spiced up the menu by adding cheese.
Oliveri and his co-partner brother eventually opened the shop on the corner of 9th Street and Passyunk Avenue, the site of the now well-known Philadelphia stop, Pat's King of Steaks.
In true Philadelphia fashion, a competitor opened Geno's Steaks across the street and ignited the long-standing argument regarding the better cheesesteak.
Although cheesesteaks have become as plentiful as hot dogs or hot pretzels in Philadelphia and around the region, the who-serves-the-best-and-why argument has only intensified.
Now cheesesteak aficionados often argue their preference for a particular vendor with the same fervor used for sports teams and political parties — even to the point where a server at a noted Philadelphia restaurant advised ignoring the cheesesteak on the menu and heading to a small place several blocks away. She also noted — rightfully — that Pat's and Geno's were for tourists.
Bourdain's entry into the cheese­steak dispute was like tossing two splashes of fresh grease on the already sizzling controversy.
The first was that he didn't venture into Philadelphia — a place he dubbed the cheesesteak capital of the universe.
The second was that his sweet hot spot was on a road less traveled: Donkey's Place on Haddon Street in Camden.
Donkey is the late Leon Lucas. He was a lightweight boxer who represented the U.S. in the 1928 Olympics. His nickname is connected to a punch that was likened to a donkey's kick.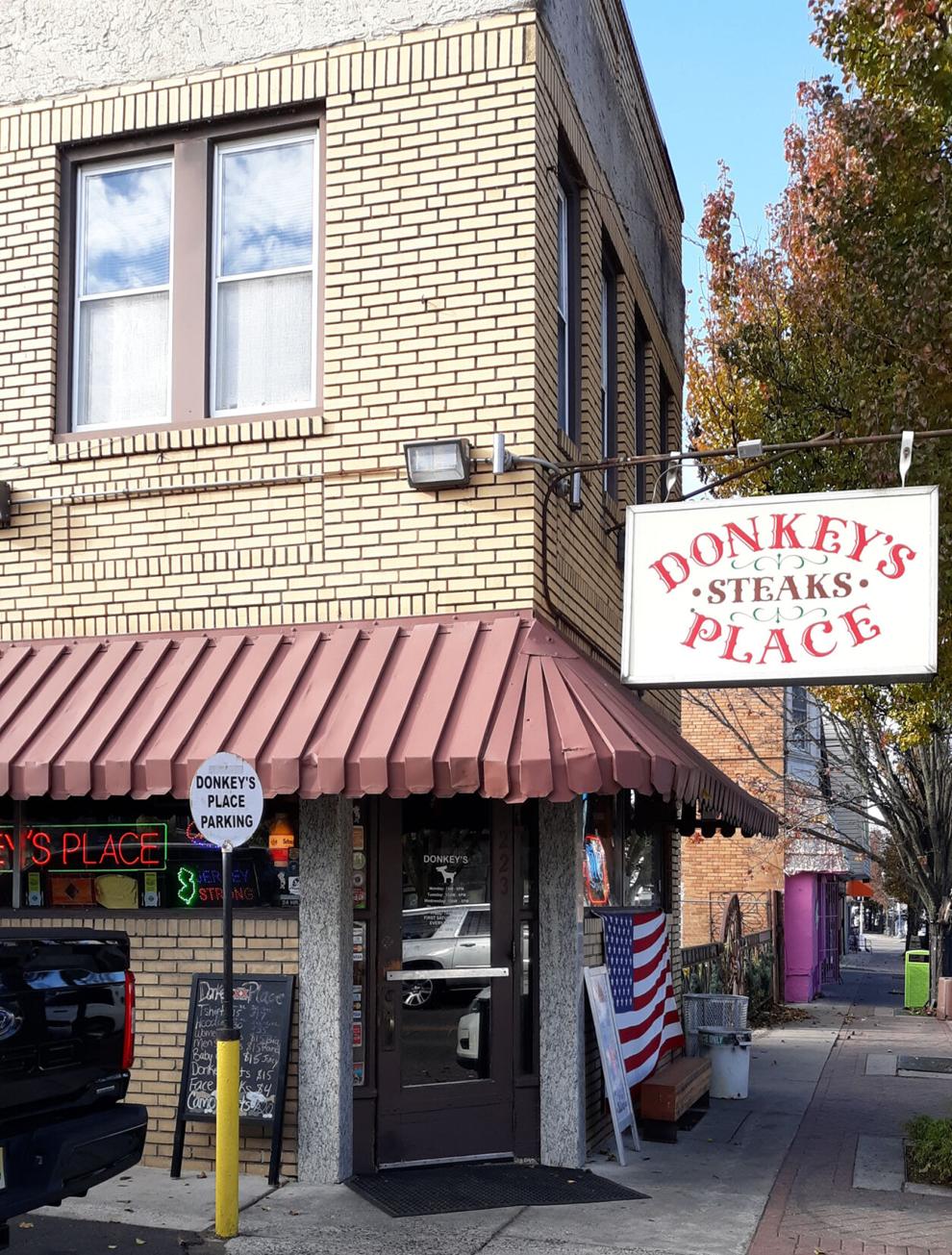 Lucas purchased the place in 1943, gave it its lively name, and added cheesesteaks with his own special sauce to the menu.
Eventually the reputation of Donkey cheesesteaks gained steam, and in 1998 then-Philadelphia mayor Ed Rendell got a taste of the Camden competition and asked Donkey to come to Philadelphia. He didn't bite.
Donkey's is a family operation. After Leon, the bar was run by Donkey's son, Robert Lee Lucas, and now by his son, Joe Lucas.
Robert had moved to Medford, where the family opened a Donkey's outpost several years ago.
Now back to 2015's game-changing visit.
A quick review of newspaper reports show that Bourdain was out an about in the area and even sighted in the Pinelands.
But, as we know, the show stopper was his stop at Donkey's. And since cheesesteaks are the only sandwich on the menu, it was clear why Bourdain was there.
As the Camden-area Courier-Post newspaper reports, Bourdain "stopped by Donkey's Place in Camden in late January for not one, but two of its special cheesesteaks, featuring candy caramelized onions and a poppy-seeded Kaiser roll."
But in the "Parts Unknown: New Jersey" broadcast segment, available for viewing on YouTube, one can watch the historic account unfold.
Bourdain sits at the bar. Lucas places the sandwich before him. And Bourdain intones the following narrative: "It's round. It's got steak, spices, browned onions, and real American cheese — such as it is. And it is sublime."
Bourdain then tastes, gazes at the chef, and says, "Man, this should be a national landmark right away. This sandwich is unbelievably good."
One can only imagine the chefs at Pat's, Geno's, Jim's (my go to place), and Tony Luke's eating their hearts out — with wiz — as a Camden joint gets international attention for Philadelphia's phenomenon.
With Donkey's Place opening its third location in Mt. Holly — about a 35-minute ride from Hoagie Haven in Princeton — I decided to do some taste testing for myself.
As noted, I'm a fan of Jim's Steaks on South Street in Philadelphia and use that as a standard.
Here's some quick taste-making background. According to former Philly Voice and current New York City-based food writer Allie Miller, Jim's takes a spot with Pat's and Geno's as one of "big three" Philly cheesesteak places.
But more importantly, as Miller reports, "Jim's recipe is slightly different from the others. Their menu states that they use top round black Angus beef for their meat. Also, Jim's tends to be more partial to Cheez Whiz over other dairy options." It's also served on soft submarine roll that absorbs the juices and flavor but maintains its body for easy lifting.
And while it doesn't have the street scene that Pat's and Geno's have, Jim's has gotten Philadelphia Magazine's nod for best cheese­steak in the city and the recipient of four Best in Philly awards.
So with a tuned palate, I took a trip to Camden to get a taste of Donkey's real deal before heading to its new digs in Mt. Holly.
Donkey's Haddon Avenue place is in the northern section of the city and is easy to access from the area where Routes 30, 130, and 38 meet. A few minutes' ride up Kaighn Avenue and a left hand turn onto Haddon gets you there.
There is parking on the street and in a lot for Donkey's patrons. And while urban decay is nibbling at the area, people coming and going seem lively and upbeat.
A quick few steps later I'm in the tavern and sucking up the scent and sound of onions sizzling, the lively banter of workers and patrons sitting at the modest sized bar, and the anticipation of the waiting customers gazing at the cooks over the grills behind the bar.
My sense that the march of time had somehow missed Donkey's was supported by the observations of a Philadelphia Inquirer writer who called it "a bit of Camden in amber" and "maybe a shrine" where the only major change "is that while it looks like a bar (circa 1943) and feels like a bar, it is really more a cheesesteakery these days, the Lucas family's magnificent version of the sandwich having triumphed over the booze (especially since the place now closes at 6 p.m., though an adjoining take-out window cranks out the steaks until midnight)."
The writer also then went onto the building's pedigree: a Prohibition-era speakeasy serving Jewish clientele and later the watering hole for shipyard workers, RCA assemblers, Campbell Soup-makers, and hospital workers.
Since my plan is to test taste the Camden and Mt. Holly sandwiches to see if there is any difference, I order, pay ($11 per steak), joined the wait line, and pass time by looking at the rack of Donkey's Place T-shirts. There's "A Meet Me Under the Mistletoe" printed over a donkey holding a sprig over its backside or "Fuck Long Rolls" (the bar's declaration of independence from the expected long submarine roll).
I also watch as Lucas prepares his magic with the standard recipe, described by the Inquirer reporter as "a block of thin-sliced ribeye folded on the grill, poked at with the corner of a spatula to loosen the texture — but never chopped. The hot, chopped red pepper relish is from K&Z, the Camden pickle maker. The rolls are, yes, round, their tops set on the sizzling steaks to breathe their steam and give them character. They are the same oversize poppy-seed kaisers, baked to Donkey's specs by Del Buono's Bakery in Haddon Heights, just as they have been since opening day. Finally, there are the sweet onions. They were delivered in a little red wagon years ago by a vendor who lived two blocks away. Now it is his son who delivers them. They are ordinary onions. But they become special on the grill, mounded up and around the steaks for close to an hour, sucking up the beefy juice, seasoned with secret seasoning (garlic? paprika?), furrowed and plowed until they are as tender and caramelized as the onions in French onion soup."
After hearing my garbled name and order called, I step forward and have one of the staff members give me a friendly slap on my shoulder, a cheery good afternoon in my ear, and a bag with a noticeably weighty sandwich put into my hand.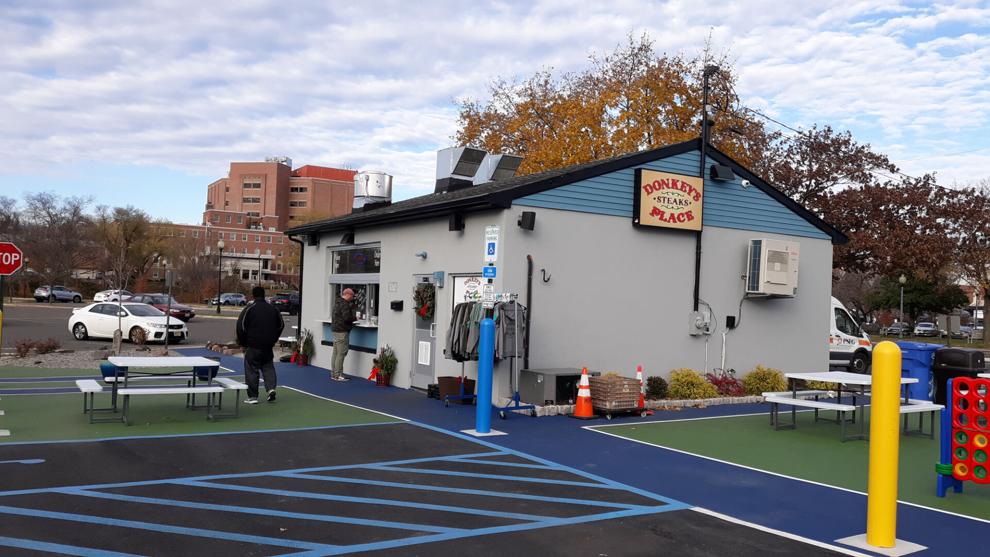 In a few minutes I am on my 20-mile trek to Mt. Holly — with the scent of steak and onions filling the car.
Since I had once lived in Mt. Holly, I didn't think I would have trouble finding the 37 Washington Street Donkey's shop, especially since it is one of the town's major roads. But I was wrong.
After driving around the block and trying to make sense of the GPS directions, I finally figure out that Donkey's was in the parking lot behind the façade of Washington Street buildings.
That is just one of the striking differences between the Camden and Mt. Holly Donkey's. Another is that while the old city place is marinated by decades of onion fumes and bar talk, the new one is a frill-free take-out only window-counter of the sort one finds on the boardwalk. The older place is run by an older gang that has eaten too much of its own fare and needs to see some sunlight, the other by a team of slim and perky young people. And the Camden place has a community vibe, while the new one is surrounded by empty cars.
The contrasts made me wonder if the sandwich would be different too — and perhaps generate an argument about which Donkey's cheesesteak was the best and most authentic.
After several minutes of waiting in the great outdoors, my order was ready and I was heading home to taste test — and resisting the fragrance and the temptation to stop the car and dig into the bag.
When I got home, I headed directly to the kitchen, put the steaks on the table, got out a notebook, and dove in.
The first thing I noticed when I lifted the sandwich from the Camden bag was that the wax paper was moist with juice. Then I unfolded the wrapper and, like Bourdain, was struck by the look of the sandwich — a substantial mound of steaming meat, onions, and cheese under an equally substantial poppy-seed dome.
After taking a deep whiff of the sweet scent of onion and spices, I carefully lifted the sandwich, studied it, and found that while the roll was moistened by onion and meat it was hard enough to keep the sandwich together but invitingly soft.
Then there was the bite and the immediately realization of what all the fuss was about. Donkey's met the best of what I had previously experienced, but its spices, bread, and secret sauce took it to another level.
I immediately turned my attention to the Mt. Holly version and again checked its appearance, scent, heft, and taste and happily found that it was up to the standard of the original — but with even sweeter onions.
Since one sandwich was too much to eat at one sitting, I had the opportunity to revisit the cheesesteaks over the next day and was more impressed with each bite.
However, as good as it was (and is), I was not convinced it was the best cheesesteak in the region — or even a cheesesteak to begin with.
That's because the Donkey's version goes against the basic form perfected on the streets of Philadelphia — a recipe that calls for the simple arrangement of steak, onions, and cheese on a basic long roll. It's a simple formula that challenges cheesesteak chefs to excel and find their own special mojo to make the taste buds sing.
It's even a point Bourdain alluded to when he told a reporter he was used to a cheesesteak served on a long roll.
Donkey's round roll version, on the other hand, is more like a roast beef sandwich with a Philadelphia accent and attitude. It's a thing in a league of its own.
But why take my word for it? A short trip will bring you into the long rolling argument that continues to feed our area's fascination with cheesesteaks.
Donkey's Place, 37 Washington Street, Mt. Holly. Open seven days a week. donkeysplacedownto.wixsite.com/mountholly.
However, those needing a quick cheesesteak break can find several great places in the region. Here's just a few:
Meatheadz on Brunswick Pike in Lawrenceville. In the former Stewart's Root Beer stop, it made big food news in July, 2019, when it was rated No. 1 by an aficionado with 295 regional cheesesteaks under his belt.
Pete's Steak House. With its roots in Chambersburg's fabled Italian restaurant culture, the tasty tradition endures on Whitehorse Avenue in Hamilton.
Gaetano's on Route 33 in Hamilton is part of a chain that has a winning mixture of a hefty layer of thinly sliced meat, an equally hefty sesame seed roll especially made for them by DeLuca's Bakery in Riverside, sweet fried onions, and, although it comes with American cheese, the opportunity to request Cheez Whiz. While the "Where size matters" slogan may set the eyes rolling, it is more than hype: The small sandwich is 12 inches long.
And, finally, Hoagie Haven on Nassau Street in Princeton keeps it simple with a respectable layering of chewy meat, American or Provolone cheese, sweet fried onions, and a roll from Italian Peoples Bakery in Trenton. The place stays close to the basics and provides a comforting you-get-what-you-expect sandwich.