The late Princeton artist James Wilson Edwards (1925–1991) is the key subject of the current exhibition at the Arts Council of Princeton that draws attention to the artist and a circle of accomplished Black artists working in the Greater Princeton region.
In addition to Edwards, the circle included Rex Goreleigh, artist and founder of the influential Studio-on-the-Canal; Hughie Lee-Smith, a nationally known painter; Selma Hortense Burke, a nationally known sculptor; and Wendell T. Brooks, a noted painter and The College of New Jersey professor.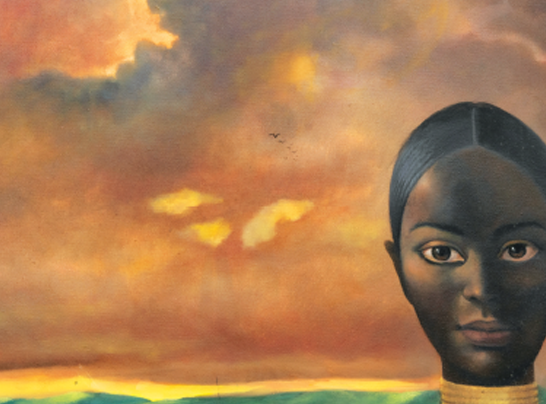 Co-curated by respected Princeton-based artists Judith Brodsky and Rhinold Ponder, the exhibition is the first to highlight Edward's work and the interaction between the mentioned artists.
The exhibition catalog — written by the curators and Princeton University's Dr. Rachael Z. DeLue — extends that connection beyond the exhibition and serves as an important artistic document — especially giving insight to Edwards' work.
Additionally — thanks to the curators' involvement with art and Princeton — the catalog also recreates life in mid-20th century Princeton.
Regarding Princeton life, after the authors chronicle Edwards life as a poor child, military service, and studying in art in post-World War II Europe, marrying a Swiss woman, and living in New York City, the curators explain that:
"After reading an article in Ebony Magazine extolling Princeton as a community that valued racial integration, they left New York for New Jersey. For a while, Edwards commuted to New York to work but eventually began working for design and publishing firms around the Princeton area. They purchased the house at 110 Cherry Valley Road, on the border of Princeton and the next town, Montgomery, from James and Phyllis Phox, with whom they became friendly, as evidenced by the portrait Edwards painted of Phyllis Phox.
"(Daughter) Christine describes growing up there as a happy experience. Christine and (brother) Larry loved Jackie, the dog belonging to Gertrude Buggs, a neighbor who later married Rex Goreleigh. Princeton still had rural spots, and the Arcaro family who lived next door to the Edwards kept a cow. Behind the two houses was a wooded area that contained an old plow and a small stream. Christine recounts that she and Larry pretended to be pioneers, exploring the woods and fetching water from the stream. Plow in the woods behind the Edwards house on which Christine and Laurence played pioneers.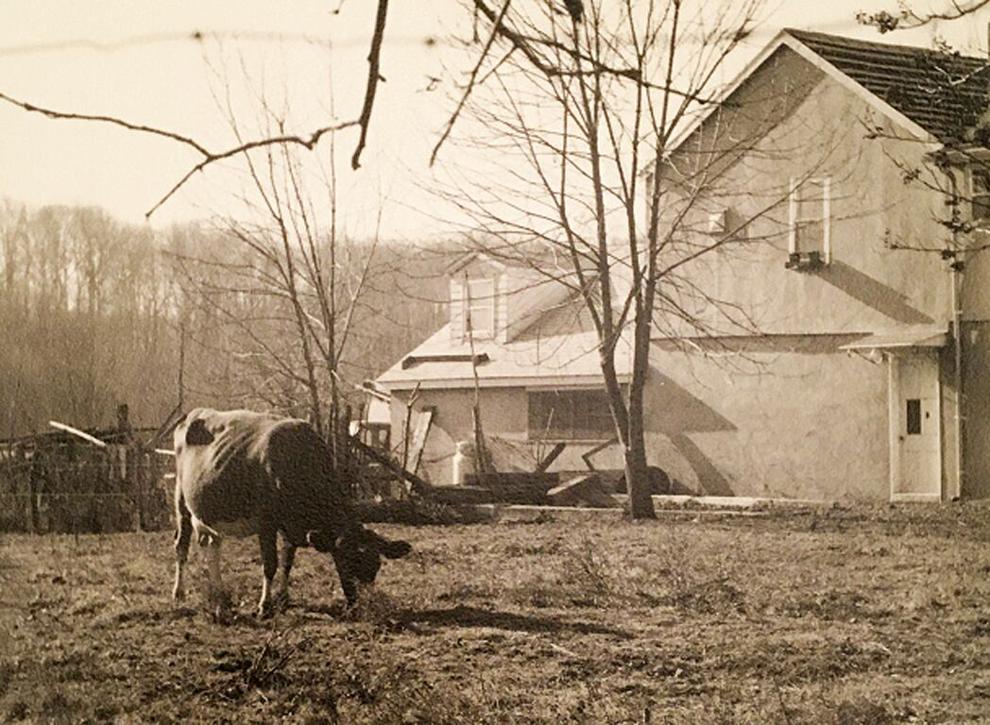 "The Edwardses had many friends and enjoyed an extensive social life. Their friends included prominent members of the Princeton African American community, the history of which goes back to before the Civil War when Princeton students from the South brought their slaves with them. A close friend was the artist Hughie Lee-Smith, his colleague at Studio-on-the-Canal. Lee-Smith commuted from New York in the early days of his involvement in Princeton and often stayed with the Edwards family until he purchased his own New Jersey home in a townhouse community located in nearby Cranbury."
Regarding Edward's art, the two note, "Edwards was engaged with an exploration of ideals of beauty, both Black and white, as expressed through the female form. His library reflects that exploration. It included The Changing Face of Beauty: Four Thousand Years of Beautiful Women by Madge Garland, first published in 1957. He painted dozens of small nudes and portraits of imaginary women throughout his career.
"Edwards' images of women relate to both Black and white art, art historical periods, and various cultures as disparate as sculpture heads of the Yombe culture in Africa or the Pre-Raphaelite images of women. Other nude studies are of Black women, painted with Afros, and dark skin. They are reminiscent of African sculpture, such as this figure from Mali. They are placed in settings that look like African landscapes rather than Northern European gardens.
"His paintings reflect his immense interest in the art of the world past and present. He was a voracious reader of art history. Christine still possesses Edwards' extensive library of art books.
"They include books covering the history of Western European and American art, including the Italian Renaissance, French impressionism, Goya, El Greco, Miro, and books on Black artists and Black history such as Black Americana and The Image of the Black in Western Art. There are also books on ancient Greek and Roman art, Egyptian painting, the art of Africa, ancient ceramics, and Persian miniature painting, as well as technical books such as 'Painting Sharp Focus Still Lifes' or 'The Human Figure in Motion.' Knowing how much he treasured his library, his Swiss in-laws gave him art books as holiday gifts.
"Another group of works consists of imaginary portraits of generalized and idealized women who are presented as figures of grace, contemplative, self-contained, and mysterious, expressing a quiet spirituality yet also a sexuality. Sometimes, the faces of these generalized and idealized women fill the canvas from edge to edge, insisting on their presence to the viewer.
"Edwards was an adventurous artist. He was an accomplished portrait painter, who tried his hand at sculpture and ceramics, painted views of the landscapes around Princeton, on vacation in Switzerland, visiting friends in Camden, Maine, spending time in Provincetown, Massachusetts, and elsewhere, and experimented with different approaches to abstraction. He even experimented with printmaking.
"Testament to the friendship between Edwards and Lee-Smith are Edwards's experiments with the kind of dream imagery based on empty landscapes and solitary figures integral to Lee-Smith's content and style. Edwards even dedicated a painting to H. L-S, but Edwards gave his twist to (the) paintings . . .They have a delicacy which contrasts with the more solid physicality of Lee-Smith's figures and landscapes. "
And given the two artists/writers interest, isn't a surprise to fine them consider Edwards as individual as well as an entry into a larger discussion regarding the creation of art:
"Edwards' artistic practice reminds us that it is the artist's individuality that leads to a distinctive content and style and that not being recognized by the art world of New York, London, or Paris, does not mean that an artist is any the less thoughtful or any the less concerned with the larger issues of art—What is beauty and how can it be expressed? How can an artist relate to the past and the present simultaneously? Is it possible to create art that reflects both white and Black culture and heritage? Edwards was searching for the answers to these questions throughout his career. At the same time, he enjoyed the experience of making art — putting down on canvas what he was looking at — the face of a friend, the elements of a landscape — exploring the way sculpture captures form, or how the process of etching changes a drawing. His paintings reflect Edwards' familiarity with the art of the past and art of many traditions. He was an artist working from a rich background, but ultimately, the images are his own, images that address the perennial issues of making meaningful art that honors the past but captures the present."
The 112-page catalog is available at the exhibition on view Monday to Saturday, 9 a.m. to 4 p.m., through December 3, at the Arts Council of Princeton, 102 Witherspoon Street, Princeton.
A related panel discussion is set for Wednesday, November 30, "Restoring the Overlooked History of Black Artists in Princeton and Trenton in the Later 20th Century Through Local Research, Preservation, and Oral History."
The free event, starting at 6:30 p.m., will be held at Princeton University Art Museum's Art on Hulfish Gallery, 11 Hulfish Street, Princeton. Panelists include Shirley Satterfield, founder of the Witherspoon-Jackson Cultural and Historical Society, Princeton; Lawrence Hilton, collector of African American art and longtime member of the Trenton, NJ art and music community; Stephanie Schwartz, curator of collections and research, Historical Society of Princeton; Margaret O'Reilly, director, New Jersey State Museum, Trenton; Aubrey Kauffman, Trenton artist/photographer, and former president, Trenton Artists Workshop Association (TAWA).
---
Retrieving the Life and Art of James Wilson Edwards and a Circle of Black Artists by Judith K. Brodsky, Rhinold L. Ponder, and Dr. Rachael Z. DeLue, 114 pages, $45, Published by the Arts Council of Princeton.
For more information on any of the above, call 609-924-8777 or go to www.artscouncilofprinceton.org.