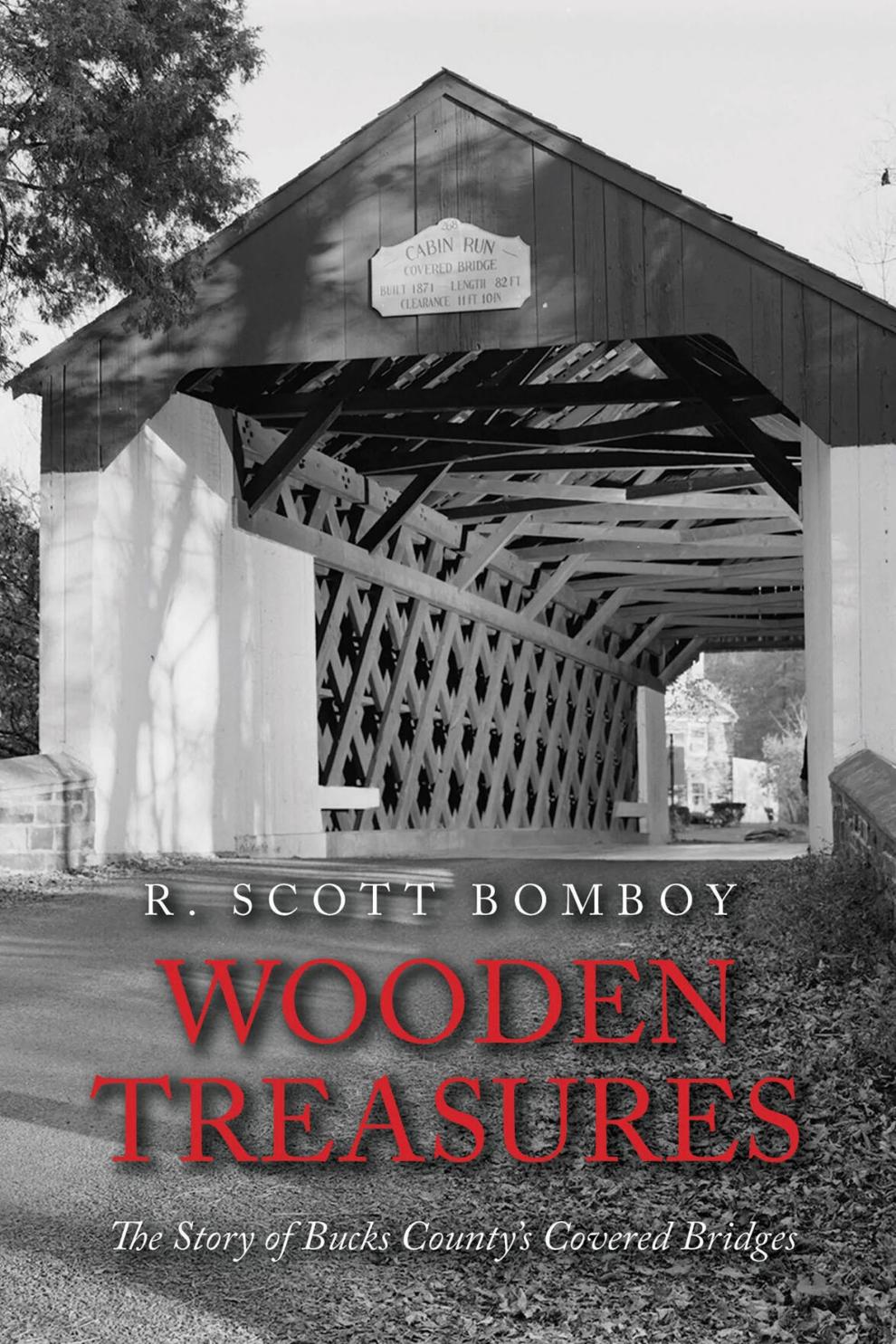 Stories elsewhere in this issue of U.S. 1 show that there is a strong connection between the region and bridge history.
In refection it is something that has been touched on before with stories that provided a guide to summer walks across bridges over the Delaware River and fall visits to the covered bridges in New Jersey and nearby Bucks County, Pennsylvania.
Now, the arrival of a new book, "Wooden Treasures," is helping by claiming to be the first complete history of one of Bucks County's enduring icons: the covered bridge.
And who's to argue?
The 220-page book documents the 51 covered bridges that had been built (only around a dozen remain) and includes more than 240 photos and illustrations — some published for the first time.
Its author is R. Scott Bomboy, who, according to promotional materials, is an "historian and preservationist who was written frequently about Bucks County's past. In his career, Bomboy has received national awards for his work in journalism, and he holds degrees in history from the Pennsylvania State University and Arizona State University. He is the editor in chief of the National Constitution Center in Philadelphia, and the author of 'Perkasie: An American Hometown.'"
The project started in 2018, and Bomboy began working with the Mercer Museum in Doylestown to build a website on the county's bridges, bucksbridges.com.
Then, as the author notes, "The project grew in scope, with content contributed by the Theodore Burr Covered Bridge Society of Pennsylvania, Bucknell University, Temple University, Princeton University, the Trenton Free Public Library, and private collectors of covered bridge photographs."
In the following excerpts from the book's introduction, Bomboy explains his book and starts the journey:
This book tells the story of how covered bridges had become ingrained in everyday Bucks County life for generations. That legacy played an important role in the popular rejection of covered bridge demolitions in the late 1950s, when the "weather-beaten romantic structures" gained new appreciation in a society dominated by the Baby Boom and consumer culture. Or perhaps "rejection" is too strong a word to describe the phenomenon. Appreciation of the past, which played a bigger role in national historic preservation efforts in the 1960s, might be more accurate.
In addition to the covered bridges within Bucks County, a network of 11 covered bridges, longer than any covered bridge that exists today in the United States, once crossed from Bucks County into New Jersey on the Delaware River starting in 1806. Unlike their smaller counterparts, they weren't built by the county. Because of the rules governing waters that bound two states, Pennsylvania and New Jersey granted charters to private shareholder companies that sold stock, charged tolls, and paid to maintain these massive structures. The biggest, the Trenton City Delaware River Bridge that spanned from Morrisville to Trenton's Calhoun Street, was more than 1,200 feet long.
By 1919 only three covered wooden bridges remained on the Delaware River in Bucks County. The historic October 1903 Pumpkin Flood had wiped out four massive bridges. Three others perished in fires in 1884, 1892, and 1923. Several remaining covered bridges on the Delaware River added metal spans to replace sections lost in the 1903 flood. In 1945 the Delaware River Joint Bridge Commission decided to close the Lumberville Covered Bridge for safety reasons when its wooden sections became unusable for road traffic, ending a 140-year era of the grand timber structures spanning the river between Bucks County and New Jersey. It was replaced by a Roebling walking bridge.
The long-lost river covered bridges were part of a transportation network that tied together roads, canals, and eventually a train system. This interconnected transportation web allowed products to flow between towns and to major markets like Philadelphia, forming the backbone of Bucks County's economy in the pre-Industrial Revolution era.
Popular opposition to covered bridge demolitions also started in Bucks County during the 1930s. The Bucks County Federation of Women's Clubs and the Delaware Valley Protective Association publicly criticized the state's abandonment of Neeley's Covered Bridge in Washington's Crossing State Park in 1935. State officials had agreed to relocate the historic bridge within new park over a canal, only to change their minds and leave the bridge to rot in a field by a road.
The fight to save Bucks County's covered bridges officially started on August 15, 1958, when workers slowly began moving the old South Perkasie Covered Bridge from its abutments. An image of the bridge lifted by a crane became the national Associated Press photo of the day on Saturday, August 23, 1958, appearing in newspapers from Oregon to Texas.
Locally and nationally, the efforts to save covered bridges from extinction represented a rejection, at least in part, of government policies that preached everything new was good and the old was just a remnant of horse-and-buggy days. By the 1960s, local political leaders mostly embraced that idea that covered bridges were "wooden treasures," and Bucks County made it an official policy to promote cultural tourism that focused on automobile covered bridge tours. In fact, the red covered bridge became one of the county's official symbols — on the same level as George Washington and William Penn's images.
To understand why preservation happened, one only must look at Bucks County's neighbors. At one time, Montgomery County shared three covered bridges with Bucks County and had at least 24 covered bridges. The county's demolition of Markley's Mill Covered Bridge in Pennsburg in 1956, to make way for a reservoir, saw the last original covered bridge disappear from the county. In 1958 Lehigh County only had seven of 19 covered bridges still in service, while Northampton County had one covered bridge when it once had at least a dozen.
Philadelphia also had least a dozen covered bridges over the ages; however, by 1958 only one remained in Fairmount Park. The state of New Jersey had several dozen covered bridges in its history. By 1958 only one existed in the Garden State, the Green Sergeant Covered Bridge, which would survive extinction two years later only after a bitter battle between residents and government officials.
But to understand the origins of covered bridges in Bucks County, we need to start with the first covered bridge builders in America, and their competition to connect Pennsylvania and New Jersey during the pre-Industrial era in the early 19th century. The success of those early bridge-building projects led to an age where great wooden bridges spanned the Delaware River. The technology also paved the way for at least 39 covered bridges paid for by Bucks County between 1825 and 1875.
Wooden Treasures, R. Scott Bomboy, 220 pages, $29.99, Bridgetown Publications. More information: coveredbridgebook.com.