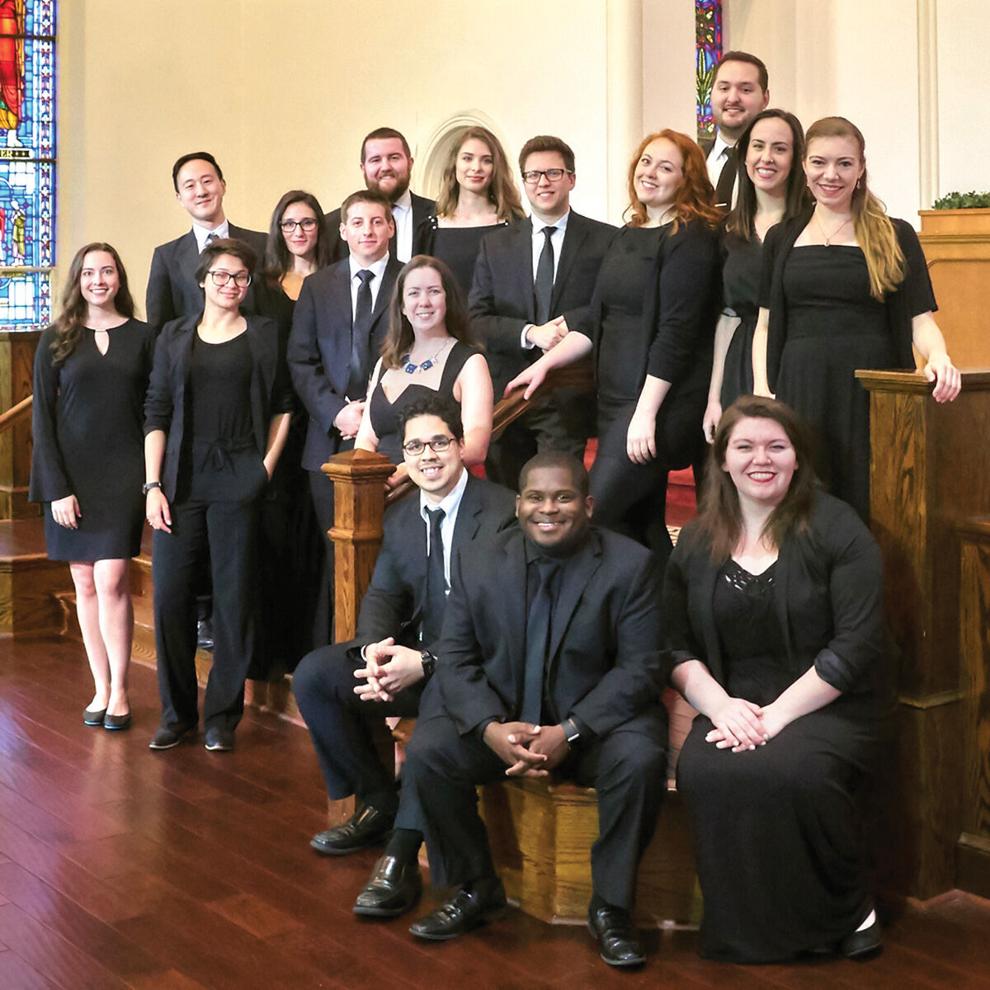 In just over a year, the fledgling Glassbrook Vocal Ensemble is not only finding its voice, but its voices are getting heard.
In an area that boasts many established musical groups, Glassbrook grew from a cadre of like-minded singers who wanted to stay together after college to make beautiful music and to offer it to the community. For co-founder and artistic director Chaequan Anderson and many of the members, Glassbrook is the fruition of a dream.
During college at Westminster Choir College of Rider University, Anderson says, "We fantasized about forming a professional ensemble in New Jersey." During his day job teaching at a private school he thought, "There's got to be a way to bring this to the community." He refers to the early rehearsals as a "garage choral group."
Like a garage band, the then-unknown ensemble was waiting to be discovered. Almost all the singers are area music educators, teachers, and church soloists, with experience singing in groups such as Philadelphia Symphonic Choir, the Virginia Chorale, Mendelsohn Club chorus, Philadelphia Gay Men's Chorus, Cornell University Glee Club, Princeton Pro Musica, and other respected ensembles. Some drive from Philadelphia to Ewing regularly for rehearsals.
Glassbrook members, who are auditioned, are now rehearsing for an upcoming Christmas concert titled "Mary's Lullaby" on Sunday, December 16, at 6:30 p.m. with the Princeton Girlchoir at the 1867 Sanctuary in Ewing, the group's home base.
On Sunday nights in Ewing the singers file into the historic chapel and greet each other as friends. Even the night after a concert they show up for rehearsal, 12 men, 14 women, and Anderson, whom they call Chae.
Looking at the music on his iPad (a binder could fall during a concert, he notes), he energetically moves to the music and elicits beautifully blended notes.
Mercer County is "bursting" with music and art, says Anderson, all the better to offer choral music to a public that may not be as familiar with its joys and unique sounds. "We wanted to be able to welcome the community to the choral music world, to make choral music more accessible to the public," he says. "We want to involve people who have little knowledge or interest in choral music. We try to provide captivating concert programs that cater to the modern audience and want to be able to communicate with people through music like this, on a deep level."
The group's first concert was in April, 2017. "It's crazy to think that it's only been two years. It almost feels like we've been working on this project for a lifetime. This is mostly due to the fact that we feel so connected to those who are a part of the ensemble and are so invested in the community," he says.
In the year-plus since its founding, Glassbrook has performed in several concerts, including a recent one in November at Trenton's War Memorial. "Pioneer Songs," chronicling the first wagon trains to California, sung with the Westminster Community Orchestra, Westminster Community Chorus, and others, was written by Westminster faculty Eric Houghton and conducted by Ruth Ochs.
The repertoire varies. "When we asked ourselves, 'what kind of choir do you want to be?' we didn't want to limit ourselves," Anderson says. The December seasonal concert will include classical carols. "We tried to change the focus to Mary, thinking, how can we put this in a modern context? We are looking at the story through a mother fleeing tyranny."
The concert will include the piece "Mary's Lullaby" by composer John Rutter, and a piece written for the group by Westminster alumnus Michael Robert Smith, "Dormi Jesu." The concert program also will include spirituals, a Benjamin Britten piece, and "Silent Night" arranged by Ryan Brandau, director of Princeton Pro Musica.
Anderson describes the chorale's sound as "warm, blended, and welcoming." It is the result, he says, of "the shared musical background of the choristers and their ability to not only be a choir, but a family.
"We are excited to partner with the ensemble from Princeton Girlchoir. The Girlchoir is one of the finest musical organizations in the area and Dr. (Lynnell) Jenkins is a masterful teacher and conductor."
The ensemble will have a mid-year concert in February, singing "songs in the African American tradition" in the 1867 Sanctuary, and in the spring Glassbrook will sing the story of a life from birth to death, according to Anderson.
When members named the ensemble, they wanted to signify transparency, and chose the word glass, and forward movement, choosing the word brook. "We liked Glassbrook because it seemed to be rooted but moving," Anderson explains.
Anderson grew up in New Castle County, Delaware, to a musical family. His mother sang in church, and his father was a DJ who died young but played the piano and sang. One uncle is a jazz musician, and the family was active singing in church.
He credits the "amazing" teachers he had during grade school and at Westminster, from which he graduated in 2015 with a bachelor's degree in music and studied choral arts, performance, conducting, and music education. He started as a music education major and is not surprised he ended up teaching at Montclair Kimberly Academy, a coeducational K-12 private school in Essex County, where he is director of middle school choirs. He admits, though, that teaching all day is not good for the singing voice. "We just have to be diligent that we are taking good care of ourselves!"
Anderson has conducted and taught for several area music groups such as Princeton Girlchoir and Trenton Children's Chorus. In addition to performing with the Westminster Choir, he has performed with several choral ensembles including the Philadelphia Orchestra, Philadelphia Symphonic Choir, Princeton Pro Musica, and VOICES Chorale of Hopewell.
Glassbrook assistant director Emily Vite met Anderson at a summer music workshop and has a lot in common with members of the group. She holds a bachelor's degree in music theory and composition from St. Olaf College in Northfield, Minnesota, where she served as the alto section leader for the St. Olaf Choir. She has served as assistant conductor for VOICES Chorale and as concert manager and a director for the Trenton Children's Chorus. She is the director of the Joyful Noise choir at Nassau Presbyterian Church, music teacher at Princeton Friends School, music theory instructor for the honors music program at Westminster Conservatory, and is a collaborative pianist and private piano instructor at the Chapin School in Princeton.
After she graduated from St. Olaf, she moved home to New Jersey "looking for opportunities to continue making music," she says. "I was lucky to meet a group of people in my home town who had similar musical training to what I had experienced at St. Olaf. We started singing together because it was fun!"
She shares Glassbrook's vision for bringing the community together through music. "When I speak to members of the audience after concerts, I am always amazed to see that the joy I experience as a singer is shared by those who hear us," she says. "I believe more connects us than divides us, and we can come together through the power of shared musical experiences. Glassbrook is doing exactly that, bringing these unifying experiences to the community."
As the vocal ensemble moves forward, the directors would like to see more concerts in collaboration with local groups that will be meaningful for the choir and engaging for our audiences. The mission is, after all, to build and connect with the community, through choral music.
"We hope to build roots and connections in Ewing and Trenton, and expand their musical palate," says Anderson. "We hope the people of Ewing, Trenton, and other immediate surrounding areas feel a sense of ownership and pride when thinking about the choir and that we are successfully bringing the community together through music."
Glassbrook Vocal Ensemble, 1867 Sanctuary, 101 Scotch Road, Ewing. Sunday, December 16, 6:30 p.m. $5 to $20. 609-392-6409 or www.1867sanctuary.org
For more information on Glassbrook Vocal Ensemble: www.glassbrookvocal.org