Viewing the dreamlike landscapes of Elizabeth ("Liz") Roszel-Aubrey, you might not easily guess her source of inspiration.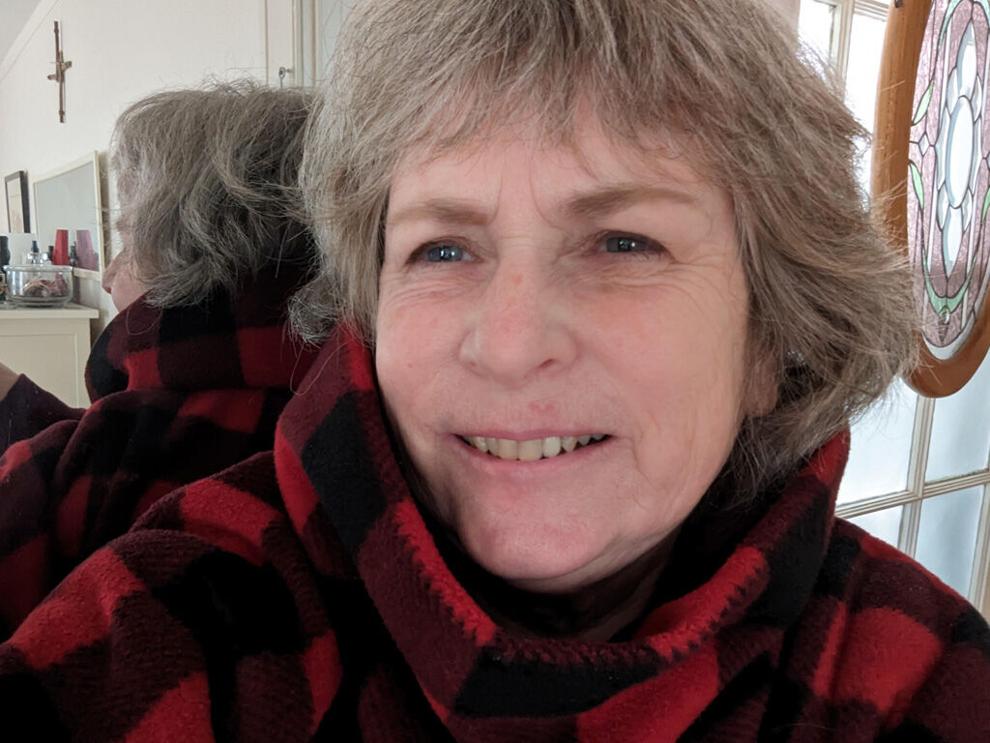 These paintings, which can been seen in the Gallery at Pennswood Village in nearby Bucks County through May 7, seem to portray a quaint village, perhaps in the French countryside or an imaginary world.
There are gently rolling hills, orange roofs, stucco facades, pink skies, and idiosyncratic architecture whose lines are never straight.
Before the pandemic, Aubrey commuted daily on the New Jersey Turnpike. It was the sprawl of warehouses and development that inspired these scenes, she recently told a packed house in the auditorium at the Newtown, Pennsylvania retirement community where the gallery is located. She would make sketches out the window of her car, she said. "Someone else was behind the wheel," she quickly assured her audience.
Aubrey (if the name sounds familiar, it is because she is married to Dan Aubrey, who is arts editor/writer at Community News Service, the company that publishes the News) categorizes her body of work into "townscapes," "landscapes," "New Jersey roadway studies," and "urban art studies." Even the urban art studies seem to suggest an area at the outskirts of town, when there is not much density.
It is a long road from the views along the Turnpike to the enchanting world created by the Bordentown-based artist. After enlarging her sketch in a process using Mylar, Aubrey toys with the composition, sometimes up to a year before she is satisfied.
A native of the Dutch Neck area of West Windsor, Aubrey grew up a stone's throw from the 116 acres on which her grandparents operated a dairy farm.
On land they purchased in the 1920s, her grandparents raised chickens, turkeys, potatoes and soy. Subsequent to their lives, the farm was turned into the Princeton Oaks housing development.
"Everywhere you looked there was farmland," she recollects. She remembers being able to smell the manure from Walker Gordon Farm in nearby Plainsboro, where as a child she visited the Rotolactor, or cow merry-go-round—a mechanized system for milking cows that became a popular tourist attraction. The odor of manure would be commingled with the scents of perfume being developed at Firmenich, also in Plainsboro. A funky result, for sure.
"West Windsor was very different back then," she says. One senses that that world, or a fond memory of that world, is still alive in her head. It is channeled in her paintings, suggested by the barns and silos.
"We're surrounded by the disappearance of natural places that are rapidly being replaced by new homes and warehouses," she writes in her artist's statement. "I like to show natural elements competing with the constant conflict of industrial influences. Before the pandemic, I drove down the Turnpike each day. Along the way, new warehouses were being built at an alarming pace. Yet no matter what, there is evidence of nature still working to maintain a balance."
Her father, Malcom Roszel, a one-time mayor of West Windsor, was a contractor involved in the development of Carnegie Center. His numerous civic engagements include the Princeton area YMCA Board of Directors, Princeton United Fund, West Windsor Board of Education, and the American Legion. Roszel Road in West Windsor is named for him. Aubrey's mother, a teacher and reading specialist, encouraged her to become an artist, as did the art teachers at Dutch Neck School. "The teachers recognized my strength" in art.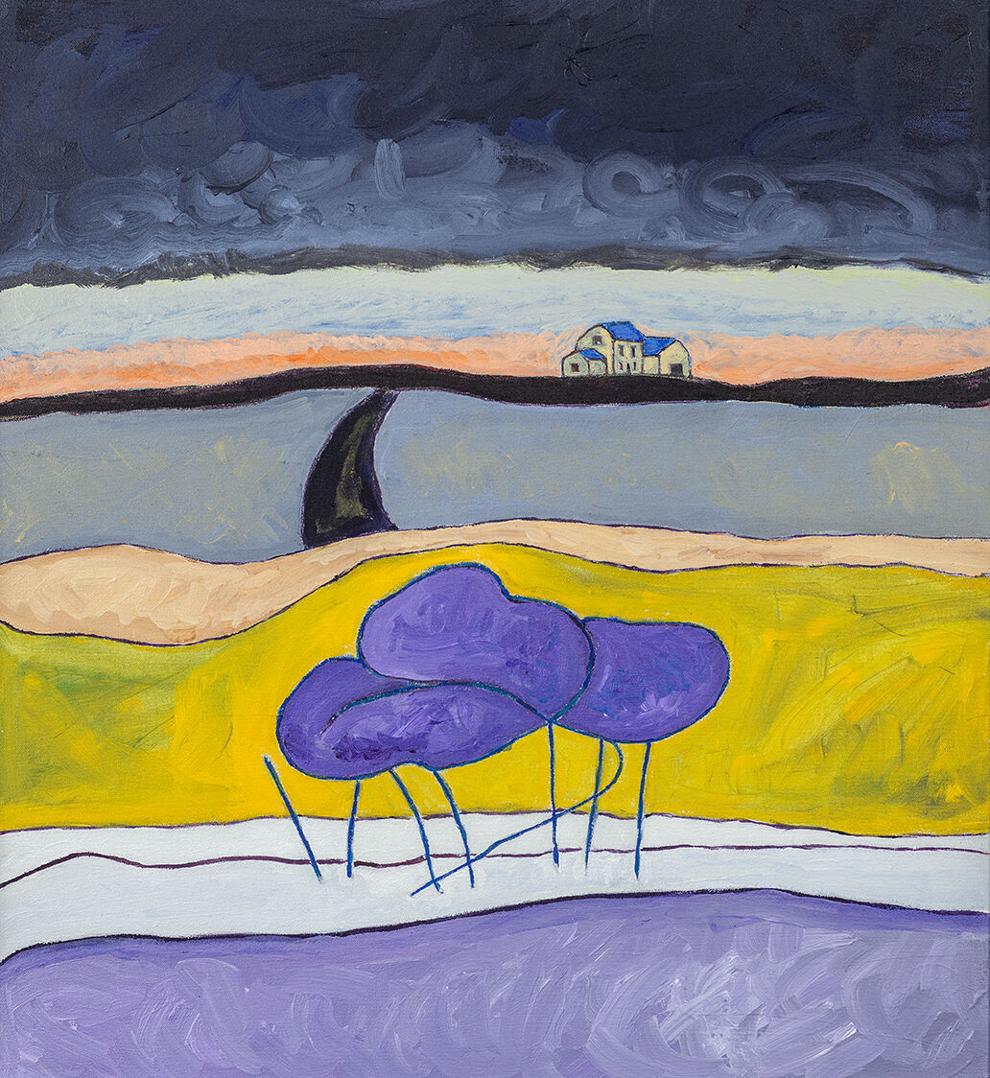 After graduating a semester early from Princeton High School (West Windsor didn't yet have its own high school), Aubrey went to Mercer County Community College before starting at the University of Colorado.
Her bachelor's degree in liberal arts, with a special in art history, came through Thomas Edison State College. She had earned enough credits prior to that, but needed to present a thesis. It was feminist art scholar, artist, and curator Judith K. Brodsky who gave Aubrey's thesis the approval it needed.
From there, she studied printmaking and graphic arts at the School of Visual Arts in New York and at The College of New Jersey, where she availed herself of the printmaking studio.
"I would layer colors on one plate, using different media in each ink" so the colors would react with each other in the process. "I loved it, it was hard to give up when I no longer had access to a printmaking studio, but I made up for it by taking up acrylic."
Aubrey seems to have an innate sense for using color, often favoring pairing blues and oranges. Among her influences are "Edward Hopper, for his reflections and lighting; Henri Matisse for the colors and forms he employed; and Milton Avery and Marsden Hartley, whom also have excellent color and solid forms," she told writer/artist Thomas Kelly in a 2019 interview.
Liz and Dan Aubrey met when, early in their careers, they worked as counselors in the children's unit at Trenton Psychiatric Hospital. "I was interested in social work so I tried it," Aubrey says of the job she held for four years. "It was the best job I ever had but it was emotionally exhausting. Those were the dark ages for the psychiatric field."
After freelancing in production work and pasteup of mechanicals, Aubrey held a career with IEEE (Institute of Electrical and Electronics Engineers) as a manager for publications. It was for that job, in Piscataway, that she spent all those hours absorbing the scenery along the turnpike.
Along with her husband and their son, Byron, Aubrey moved from Hamilton to Bordentown two years ago, during the height of the pandemic. "It's a nice town with connections to mass transit and has a burgeoning art community," says Aubrey, adding that she has yet to fully engage with that community because of the pandemic lockdowns. "I hope to start getting out more."
The first thing she did in their new home was to convert the attic space to her studio, adding insulation and track lighting, and partitioning an area for art storage. The result— viewed through a video call—is a light airy space.
In addition to being an artist, Aubrey, along with her husband, is a collector. The walls of her studio include the works of Roosevelt artists Jacob Landau and Bernarda Bryson Shahn, with whom Aubrey was in an exhibition ("Realism/Surrealism" at the Trenton City Museum at Ellarslie, curated by Mel Leipzig, 1995").
When not making her own art, in her role as president of TAWA (Trenton Artists Workshop Association), Aubrey curates the gallery at the Trenton Free Public Library. She first became involved with the nonprofit, founded in 1979 by Latta Patterson and Dr. Mary Tatum Howard, through her husband. "Dan was friends with (artist) Mel Leipzig, who had a lot of resources and energy. There weren't many art organizations at the time," and TAWA was founded to help artists get their work exhibited. Aubrey has served as the organization's president since 2012, and among the highlights were two exhibitions she brought to the Prince Street Gallery in New York, in collaboration with Trenton's SAGE Coalition.
Aubrey serves on the Trenton City Museum at Ellarslie exhibitions committee. TAWA will have an exhibition there in fall 2023 celebrating its 45-year history. In a nice bookend, the exhibition will include work by Judith Brodsky, among many others.
"I thought I'd share a footnote about my experience growing up," Aubrey says at the end of the interview. "My grandparents' house was eventually bought by a couple named David and Harriet Kaplan, and they changed that quaint little farmhouse into an art gallery."
She was 8 years old when the Kaplans began inviting her to visit. "Their door was always open to me. They were nurturing to me as a budding artist. He was a world traveler, spoke seven languages, and worked as economic advisor for developing countries. He collected art and it transformed the house. A lot of the work was from South America and Africa. I wasn't seeing this kind of work at Dutch Neck School."
Elizabeth Aubrey, Pennswood Art Gallery, Pennswood Village, 1382 Newtown-Langhorne Road, Newtown, PA, through May 7, Vaccinated outside visitors may visit the gallery from 9 to 5 daily. More information at 215-968-9110 or pennswood.org/art-gallery. For more information on the art of Elizabeth Aubrey, visit ejaubrey.com.