David Lee White and Kate Brennan have accomplished something remarkable with "Clean Slate," their new musical for Passage Theatre that opened last weekend at Rider University's Yvonne Theater and continues next weekend, March 10 to 12, at Passage's usual home, Mill Hill Playhouse in Trenton.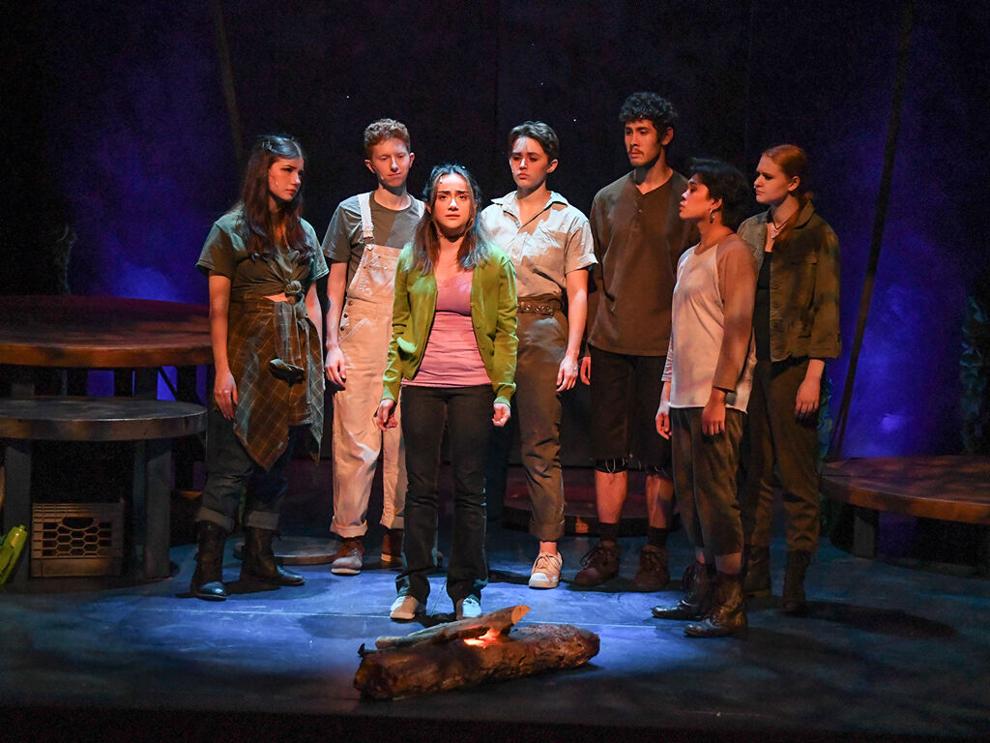 White's book for "Clean Slate" includes a ghost story and a parallel universe yet never seems far-fetched, corny, or mawkish. Using classic Greek mythology and physical geography as his guides, White keeps all plausible and logical within a specialized world he creates and that remains consistent within rules he clearly defines. Just as important, he avoids sentimentality as much as is possible when dealing with teen characters assigned to a summer nature program called "Clean Slate" in lieu of remaining in juvenile detention for offenses ranging from arson to solipsism. If a delinquent succeeds at "Clean Slate," he or she is freed with an expunged record. If one fails, he or she is sent back to jail.
White is also adept at providing sharp, often sarcastic, and often pointed dialogue that reveals character and gives "Clean Slate" humor that derives from the personality of each camper or their counselor, Hercules (Kaedon Knight), and never registers as being forced or out of place. Most impressive and refreshing of all, he avoids a nagging curse of 21st century theater and lets us learn to know each camper while never having one plead his or her innocence or ask directly for anyone's understanding.
The adjudicated teens own up to their crimes and treat them as matter-of-fact or spur-of-the moment. They express neither pride nor shame. They do, for the most part, show they are kids that deserve the chance "Clean Slate" gives them. Individual inmates might be smartass, quick-tempered, or compulsive, but none seem like people who can't ever behave within society or who will be a lasting threat to civil peace. The most dangerous is Leo (Tiffany Bedford) who has a personal trainer's idea of required effort and is willing to enforce, by bullying and fists, her standard of how someone on a team or given a task should perform. The only mystery is a young man, August (Ricky Cardenas), who is at "Clean Slate" for refusing to speak, a psychological rather than criminal lapse, and who becomes more a cog in the ghost story than one whose personal tale is fleshed out.
Brennan is a good partner to White as her lyrics tend to tell stories or express shared emotions rather than succumb to another 21st century malady, songs that are either lists of grievances or riddled with clichés.
Brennan deftly avoids both, so her songs move "Clean Slate's" plot forward, and her production numbers add texture and an important layer of inner thought or group expression to the piece.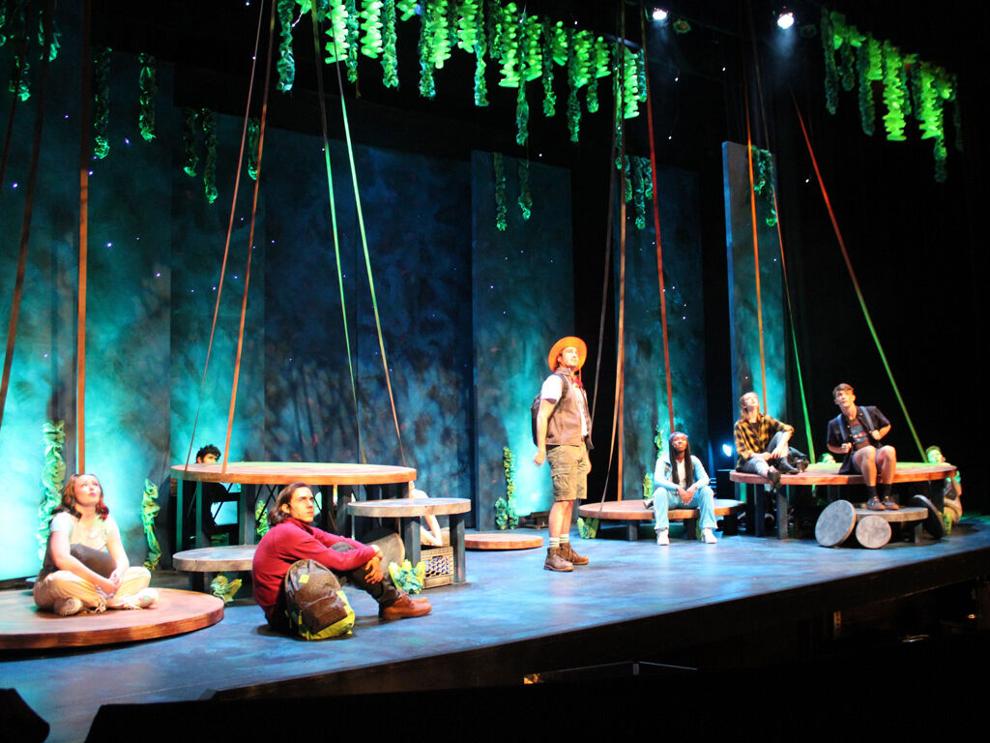 She also has a strong sense of melody, so her songs do not have the cookie-cutter feel of so much music in today's musicals.
In general, "Clean Slate" is intelligent and becomes moving as characters and situations are more fully revealed. Its supernatural content is kept within boundaries and contributes to the story, particularly its main thread of a relationship formed between a current camper and one from the past, rather than making it seem contrived or outlandish.
That blending of science fiction and the reality of troubled kids' lives is skillfully achieved by White, Brennan, and "Clean Slate's" director, C. Ryanne Domingues, who manages a lot of separate and potentially dodgy or colliding elements. She also builds a cohesive piece that concentrates on the characters and folds-in both the surreal and truths outside "Clean Slate's" haunted campground. They include the criminal justice system and the well-meaning nature of parents as represented by two women, Sara (Miriam White) and Gina (Jessy Gruver), who want to help their adopted daughter, Andi (Ellie Pearlman), a compulsive thief who looks at what she steals as deserved souvenirs.
I saw "Clean Slate" in an earlier incarnation at Mill Hill Park last summer. White, Brennan, and Domingues have done an extraordinary job in honing a musical that seemed eerie for its own sake and occasionally disjointed into a work that tells a full and worthy story and is moving as you see the teens develop in spite of their doubts about "Clean Slate" as a program, Herc as a leader, and the justice system as anyplace that has their interest at heart.
Domingues is well aided in staging "Clean Slate" by choreographer Alison Liney, who creates strong images via synchronized moves each of the campers, and later the ghosts, to illustrate both the unanimity of their situation and the feelings it provokes. Liney also stages some slick production numbers and gives some individual characters, such as the arsonist, Iggy (Maclain Rhine), a moment or two to show off some footwork.
Each of five campers has a story, but White, Brennan, and Domingues are smart to let one thread dominate while making sure all others, except for August's, are covered in full.
This central story depends on the supernatural and demonstrates White's adroitness in incorporating it into what could have been an elaborate pastiche and Domingues's nimbleness in bringing it forward.
It involves the thief, Andi, and conversations she has with a camper from another generation, one who was in Hercules's group when he was a teen delinquent committed to a program like "Clean Slate" only stricter and involving more severe punishments. This bond, between Andi and Cassie (Rylee Carpenter), holds our interest and makes White's constant references to mythology richer while supplying a strong emotional core to the musical in general. It provides breakout sequences that not only add depth but lift "Clean Slate" from being an interesting look at troubled kids to a piece that is warmer, more tender, more redemptive, more poignant, and more affecting.
This is especially so when the thread that links Andi and Cassie meshes with one that foments a stronger tie between Andi and the women who adopted her.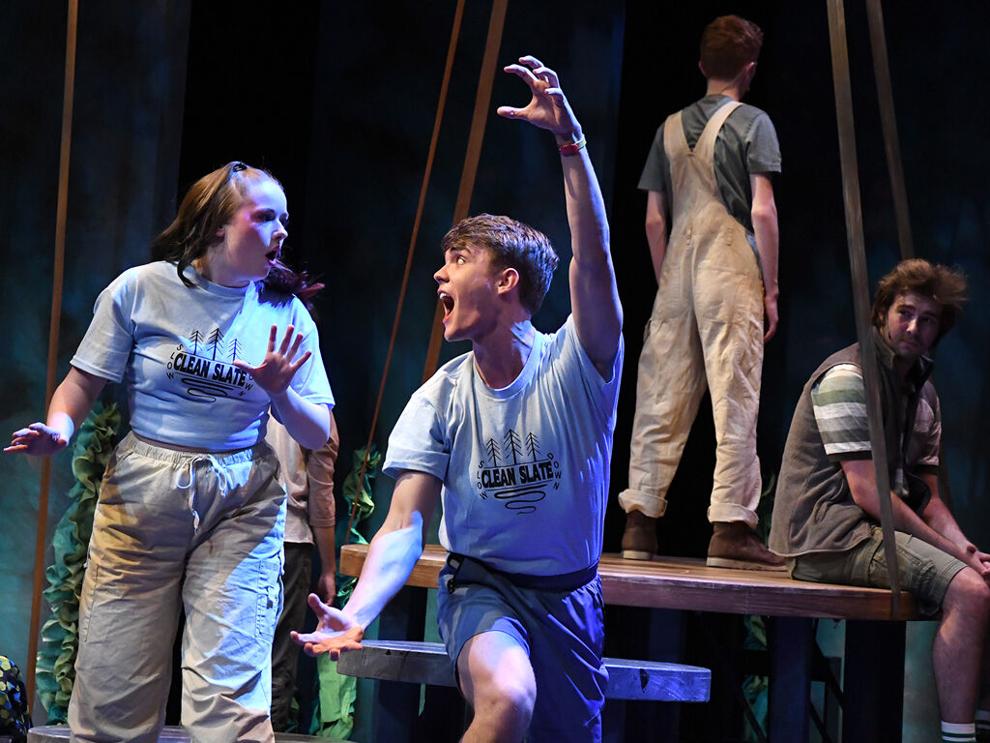 The cast of "Clean Slate" is excellent, as they have been since their workshop of the piece last summer.
Most of the actors are students at Rider. Ellen Pearlman brings strong focus to Andi and to the work as a whole. She shows her character's intelligence and verbal quickness, at first using them as weapons, later using them to convey her relationship with Cassie, mostly through an alleged short story she is writing in a journal Herc requires the campers to maintain. Pearlman and Rylee Carpenter are almost like singers doing a duet with tight harmony. Their rhythms are perfect.
Tiffany Beckford is a slickly annoying as Leo, called "the brown-noser" by Herc at the start and constantly showing how her compulsion to lead rules her life. Maclain Rhine shrewdly balances being a kid with intimacy issues and being the brainiac who knows mythology and astronomy enough to give White's mention of those weight. Rhine can also tap dance and click his heels.
Nicole Duffy is funny as the club girl among the delinquents. Kaedon Knight's Herc lays his preaching justifiably thick as "Clean Slate" begins, but he becomes the cool counselor and veteran delinquent the kids need as a guide. Miriam White and Jessy Gruver hit all the right notes as Andi's adoptive parents. Ricky Cardenas keeps August a curious enigma. A chorus, called Echos, is tops, but one among them, Riley Bocchicchio, stands out for his choreographic poise.
Kudos to set designer, Bella Mazzoni, for a woodland scene made from tree stumps and chopped wood. Todd Lloyd's lighting design contributed greatly to the mood Domingues established. Craig Pincus's sound design nicely accentuated the presence of the ghosts (echos). Robin Shane's costumes were totally on the mark.
---
Clean Slate, Mill Hill Playhouse, 205 East Front Street, in Trenton. March 10 to 12, Friday and Saturday, 7:30 p.m., and Saturday and Sunday, 3 p.m. $33. Online streaming available March 21 to 26, $10. 609-392-0766 or www.passagetheatre.org.