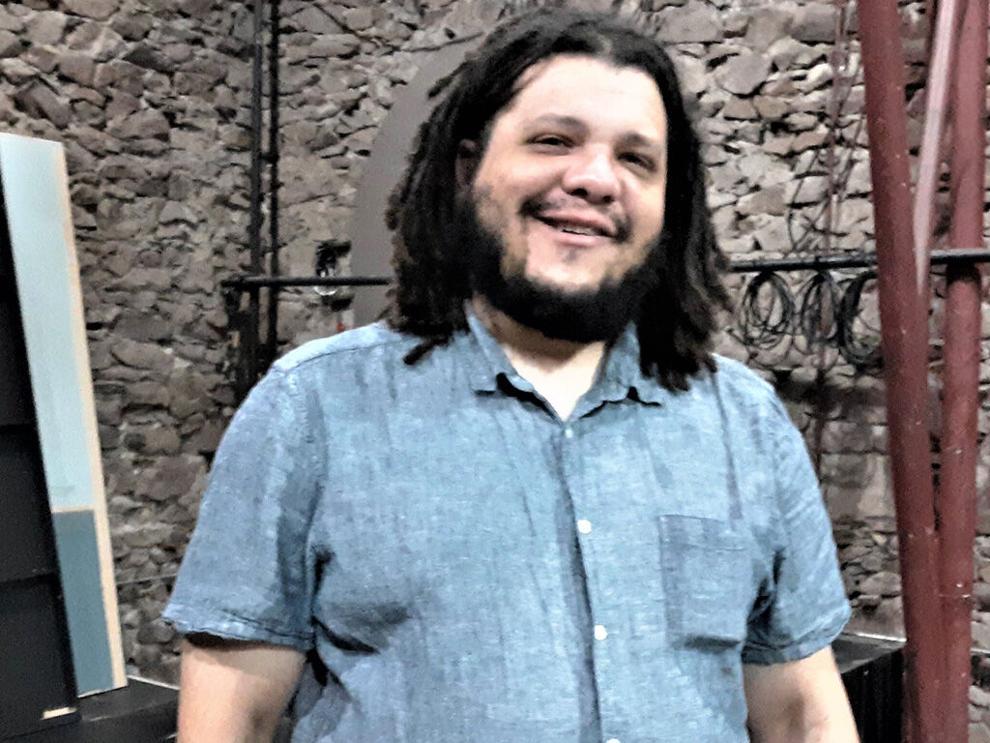 Passage Theater Managing Director Brishen Miller stops at the door of the Mill Hill Playhouse in Trenton, where the Trenton nonprofit company starts its new season with the October premier of "Blues in My Soul: The Legend and Legacy of Lonnie Johnson."
But the sound of a theater buzz saw causes Miller to pause, smile, and suggest it may be best to talk at the nonprofit theater company's offices at the Douglass House next door. Both buildings are owned by the company's partner: The City of Trenton.
Then heading to the second floor of the historic building used by General George Washington as a war room for the Battle of Princeton, as well as one of the New Jersey State Council on the Arts offices during its early days, Miller is ready to get down to business, more specifically the business of running a theater in downtown Trenton during a pandemic and the ensuing economic climate.
But first, he addresses a quote that tags his email communications: "The simpler you say it, the more eloquent it is." Its author is celebrated American playwright August Wilson, whose works include "Ma Rainey's Black Bottom," "Fences," "Joe Turner's Come and Gone," and other works that spotlighted the lives of Americans of African ancestry during the 20th century.
"I wanted to remind myself that a brief email will get the point across rather than three paragraphs that someone has to schedule time to read," says Miller.
"August Wilson is important to me and my history. As a young biracial artist, there aren't a lot of biracial examples. (Although) Wilson considered himself fully Black and didn't know his German father at all.
"When you're a young man in a Black community, that is the first playwright you're given, especially in 1990s. I latched onto him as a role model, although he was untrained and I was on an academic track" — with "untrained" meaning that Wilson learned on the job rather than through academia.
And while Miller has both academic and professional experience, he too is learning by doing and talks about his personal journey to Passage Theater.
Hired in July, 2019, as production manager, Miller says his job was to make sure that all the production "elements align together."
"I was promoted into the management directing position January 1 of this year. That's when then-managing director Damion Parran announced that he was leaving to attend Princeton Seminary."
Since the production manager deals with some of the business managing aspects of the theater, the transition made sense, and Miller become "more plugged into the public face" of the theater.
Describing his duties, Miller says he now manages the business of the company, including all money coming in and going out, while managing the staff — which includes four fulltime and three part-time workers — and fundraising.
Other duties, he says, include "trying to organize the different revenue streams of the season and direct connection between the board and rest of the staff. I keep the trains running on time."
Assessing the post-COVID financial landscape, Miller says "there are a lot of funders that have drifted away from the arts and are focusing for more in going to direct basic needs. We have lost some funders.
"It is challenging to find funders that fund your mission and organization. Some want to fund projects, rather than organizations, even as our production values have increased."
Regarding Passage's income, he says, "We are dependent on foundations and government. Earned income and ticket sales take up about 10 percent. A good portion of our funding comes from individual donors — the board would be the biggest — but through a summer fund or holiday appeal individual donors make up a good portion. (But) we are largely reliant on foundations and grants, perhaps too much so."
He says to meet that concern Passage is looking for different or "nontraditional" ways to attract monetary support and mentions corporate giving projects and block parties that can attract donors who contribute small amounts that add up.
"After a year and a half of shutdown we have realized that the old way of doing things doesn't work, and we have to do new things."
One such new thing is the Studio School. "The community was asking for an opportunity to take theater classes that weren't for children."
The next offerings in that series are "Writing and Performing Your Own Solo Show," and eight-session course taught by David Lee White and Richard Bradford from October 19 through November 30, and "Scene Study and Audition Technique," taught by Ryanne Domingues and Kara Jonsson for eight sessions from October 18 through December 6.
Although Miller, his wife, and 16-month-old daughter live on Jackson Street near the Mill Hill Playhouse, he is originally from Kalamazoo, Michigan.
He says some of interest in theater or production comes from his parents: a carpenter and hair stylist.
"My father was a technical designer and led the building of the sets for Channel 8, WOOD TV. He did the sets throughout the 1990s — news, daytime talk shows
"Mom had a background as songwriter singer and that she never picked up. She ran a business, Black Lace Hair Design. She was the most known stylist in the region."
He also mentions attending various theaters in Kalamazoo, including the community Civic Theater, and seeing African American shows featuring "a lot of people in mom's salon."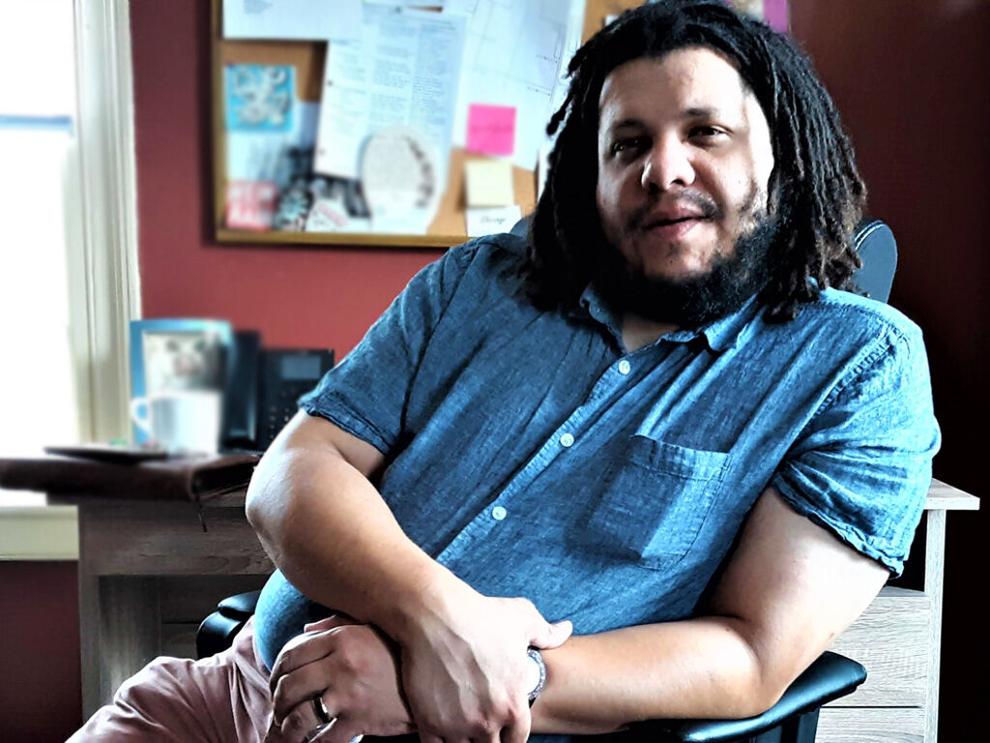 But that was just a warm up. "My interest in theater came from when I did a (high school) talent show and did a (musical parodist) Weird Al bit.
"The drama instructor saw me and said, 'You need to come act with me,' and I was in the ensemble group for four years.
"She said, 'Theater could be a career. It could be a profession. Why have a day job when I can make theater the day job?'
"I took the education (program) to learn how to act and write plays and prepared for auditioning for college. From Kalamazoo, I got my undergrad degree from Wayne State University in Michigan."
When Miller returned to Kalamazoo, he participated in the start up of a new company, Fancy Pants Theater, and says that's where he began to "figure out" all the aspects of production and attracting new audiences. "We were the offbeat theater that brought in the college students and bucked the trend of the big theaters in the community."
Following Fancy Pants' run from 2009 to 2014, Miller moved to Philadelphia in 2016 and began working on his master's degree at Villanova University.
He also began to freelance in the Philadelphia region and attracted the attention of Passage Theater staff. He was contacted by Perran as a candidate for Passage's first fulltime production manager.
Since then and with the recent move from Philadelphia to Trenton, he's been looking at the capital city through fresh eyes, and says, "It has the comfort of Kalamazoo, the problems of Detroit, and the attitude of Philadelphia.
"The community flows here in an such a fun way and how information gets across and is spread. There are things that are different about Trenton that are Trenton"— accenting the second Trenton.
He says he discovered one of those things when Passage began participating in the First Friday art openings where "the visual artists are the rocks stars. It is interesting they're the community celebrities. There is something really special about that."
Another difference is that in Trenton "everyone takes ownership of the city. Passage is a part to them. Artworks is part of them. People feel that they have ownership. You don't see that everywhere."
But he also found the "city silos itself. People isolate pretty hard. This group will only interact over here. Different stakeholders act independently. Everyone is pulling for the same goal but with different methods. There are many ways that we can collaborate as a city, but we don't. Trenton has a way of not talking to itself. A lot of players in Trenton really want the same things."
Some of those things are part of building a new Trenton based on the city's "very diverse community. There is such a diversity that you can grow it into a culture, grow it into a philosophy. I feel that the art scene in Trenton is burgeoning. All this could become an arts district and unified in that way and known that way. Trenton could be the birth place. On the surface it has boiler-plate problems, but underneath it is unique. A self-producing arts community can break the mold and show a path to the rest of the country."
Miller shares some other observations. "I was very surprised that for a capital city, so much of the business was government-based, and after 5 or 6 p.m. the city shuts down.
"But what definitely surprised me was Trenton's history, Trenton's story. As a Midwesterner, I never encountered that history. Trenton's role in history is evident."
Looking at the upcoming season, Miller says, "Last year was a big year for us. So we need to recover, and this is a smaller season in terms of cast size."
He also mentions tight funds thanks to the audience ebb and flow caused by COVID.
Last fall, the pandemic paused long enough for the company to do "swimmingly" for its premiere of "The OK Trenton Project," the true story of a Trenton artwork created by students being censored by the Trenton Police Department and administration.
But COVID caused havoc on their final mainstage production, the musical "Group," when cast members tested positive and, despite the old showbiz adage, that show didn't go on.
However, that was an exception during a challenging year.
"There were a lot of places that just shut down, but we kept going straight through," says Miller. "We did five virtual productions, and we have all that footage. Zoom theater was new, and we got good at it."
But for this season, he says, "We have grown our staff and grown our production values, and we have to grow our revenue sources. We need to produce theater at the level we have promised our audience. And if we are not able to raise those funds we have to make our choices. I really hope that corporations and audiences realize the impact that we are making and support us."
As the discussion winds down, there's a return to his email signoff where under the Wilson quote he simply states "Black Power."
Miller says he decided to include it during 2020 as a reaction to escalation of police shooting Black people.
He said that he and Perran, also of African ancestry, had gotten close and had been talking. "I said we need to bring light to (the shootings). Whatever happened to Black Power before it got militarized?
"(With the phrase) I'm acknowledging my own power and influence. If people are willing to start these murders, then we have to shift the tide. We have to take action.
"I started my dreadlocks because I was biracial and light. All through my life I had the ability to pass."
Then referring back to the Black Power note, Miller says, "I thought I'd take it down. But I want it to be on my email. It was a slogan my mom touted."
---
Passage Theater, Mill Hill Playhouse, 205 East Front Street, Trenton. 609-392-0766. www.passagetheatre.org.
"Blues in My Soul: The Legend and Legacy of Lonnie Johnson," written by David Robson and directed by Ozzie Jones, runs October 15 through 30. $30.