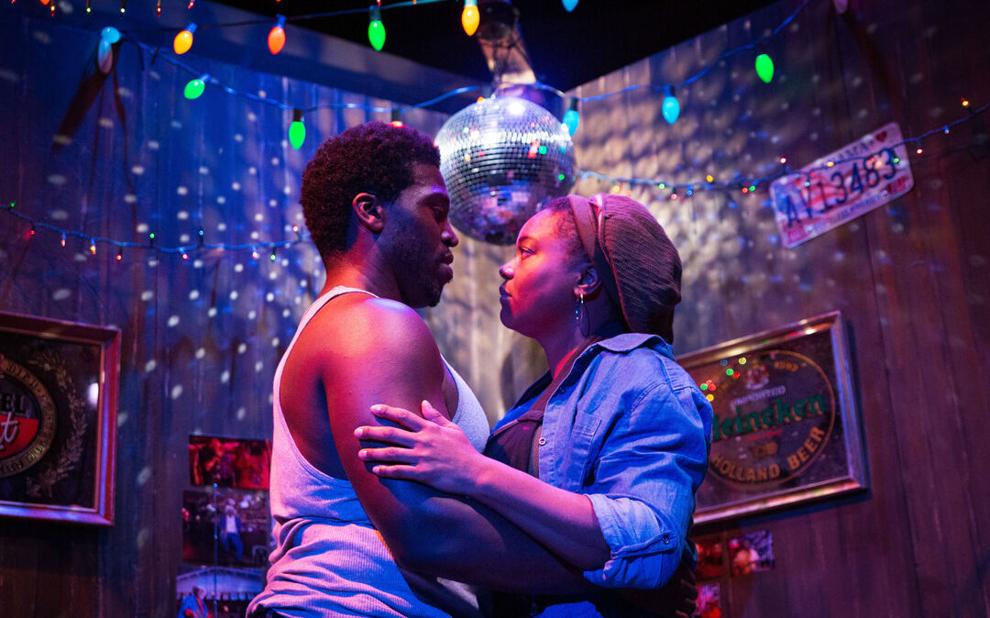 Chocked with twists, revelations, and conflicts, Jeffry Chastang's "Dauphin Island," at Trenton's Passage Theatre through October 27, satisfies most by its view of ordinariness.
Neither Kendra (Shadana Patterson) nor Selwyn (SJ Hannah) is particularly beautiful or talented. They are each urban Midwesterners who, years apart and separately, make a practical decision to leave their hometowns and families by retreating to, and meeting at, an Alabama backwater near the more industrial than recreational Dauphin Island.
Kendra was a Chicago socialite who became weary of a life and lifestyle that expected her to play a specific role and follow specific rules that eroded her individuality, eventually to a degree she found untenable. Selwyn is a construction foreman whose life in Detroit included jail time, a failed marriage, and $7,000 in child support debt.
She came to Alabama to flee, secretly, to a place no one would think to look for her. He arrives to start a new job he hopes will give him stability and an income with which he can maintain shared custody for his young daughter.
Both Kendra and Selwyn have a lot on their minds, but their mutual habit is to take each day as it comes and get through it. As typical, they seem mismatched at first but find common ground and a bit of co-dependency that brings them together and kindles a romance.
There's little new in Chastang's story. He comes up with an original idea or two, but you can spot the formula to Kendra and Selwyn's relationship from "Dauphin Island's" outset.
Yet knowing what's coming does not preclude Chastang's play from being enjoyable. On the contrary, awareness of the paradigm provides a chance to relax and see how deftly Chastang weaves his ordinary tale, how director Amina Robinson keeps it involving, and how Patterson and Hannah endow their characters with reality and honesty that makes them compelling to watch and interesting to listen to.
It makes no difference that nothing of monumental proportions or great importance happens in "Dauphin Island." Chastang, Robinson, and their actors keep it pleasant and engaging enough to sustain an even, likeable keel that fosters contentment and makes one root for Kendra and Selwyn.
To his credit, Chastang makes neither character remarkable in any way. It is the everyday quality of Kendra and Selwyn that draws you. Sure, both have charms and accomplishments, and Kendra in particular has learned a lot about roughing it through life, but they are not presented in a manner that marks either as being special.
Of course, as in any budding relationship, there will be argument and moments of high dudgeon. There will be moments when one or the other character feels deceived or betrayed. Emotion is part of the mix. In general, even these mark minor crises that will strengthen something bigger. Kendra and Selwyn recognize something in each other that not only appeals but that declares a soulmate has been found.
It's not that Chastang's or Robinson's approaches are always subtle. There's plenty of drama, and revelations when they come are welcome variations. It's that the heart of "Dauphin Island" lies in two unlikely people finding each other and developing romance in an unlikely place under unlikely circumstances.
Straightforward simplicity, heightened by scenes of conflict and leavened by segments depicting peaceful ease between characters, is enough to make Robinson's production sweet and occupying.
Robinson was as canny in her casting as she was in her pacing of the production. Shadana Patterson and SJ Hannah seem natural and authentic on Dustin Pettegrew's versatile, atmospheric set. Neither one give airs to his or her character. They are a pair of straight shooters who have to take time to build trust. They are people who have been through a lot and know who they are in their lives.
Patterson and Hannah capture that. They keep Kendra and Selwyn within the scope of the real. Following Chastang's suit, neither actor ever changes abruptly or does or says anything that would seem out of character.
The actors are even physically suited to the part. Both of them remove garments from their torsos. Both of them show signs of living, meaning neither is buff or taut. They are built like people meeting randomly in an Alabama town would be, as they are.
Hannah conveys affability from the start. His Selwyn is friendly, helpful, and determined to make a stable, expansive life for the daughter he left in Detroit. The play begins with Selwyn in an awkward situation, and Hannah plays his initial angst and frustration well, without going overboard or seeming to underestimate the seriousness of his situation.
Hannah's is a big, open performance that immediately makes Selwyn sympathetic, especially as he is a man with a purpose.
Patterson, in keeping with Kendra's wariness, is more suspicious and more challenging. She establishes quite early that Kendra is not a woman who brooks nonsense and is certainly not anyone who thinks men have the upper hand or the right to give orders.
Patterson quickly reveals Kendra's anger and desire to be left alone. She more subtly lets loose Kendra's warmer, romantic side. Lots of range is shown. Lots of comic ability, too, starting with a withering, just-try-it look Kendra shoots Selwyn when he is whiningly pleading for her to trust him.
Pettegrew's set meets the challenge of creating a neat, comfortable space in a home that has no electricity or running water. A bright red pump brightens a rustic kitchen. A quilt makes a bed look cozy.
Danie Schreckengost's lighting signals day parts while at times adding tension. Tiffany Bacon's costumes suit the characters' and the show's needs.
Dauphin Island, Passage Theatre, Mill Hill Playhouse, 205 East Front Street, Trenton. Through Sunday, October 27. Friday and Saturday, 7:30 p.m., Saturday and Sunday, 3 p.m. $33 to $38. 609-392-0766 or www.passagetheatre.org.