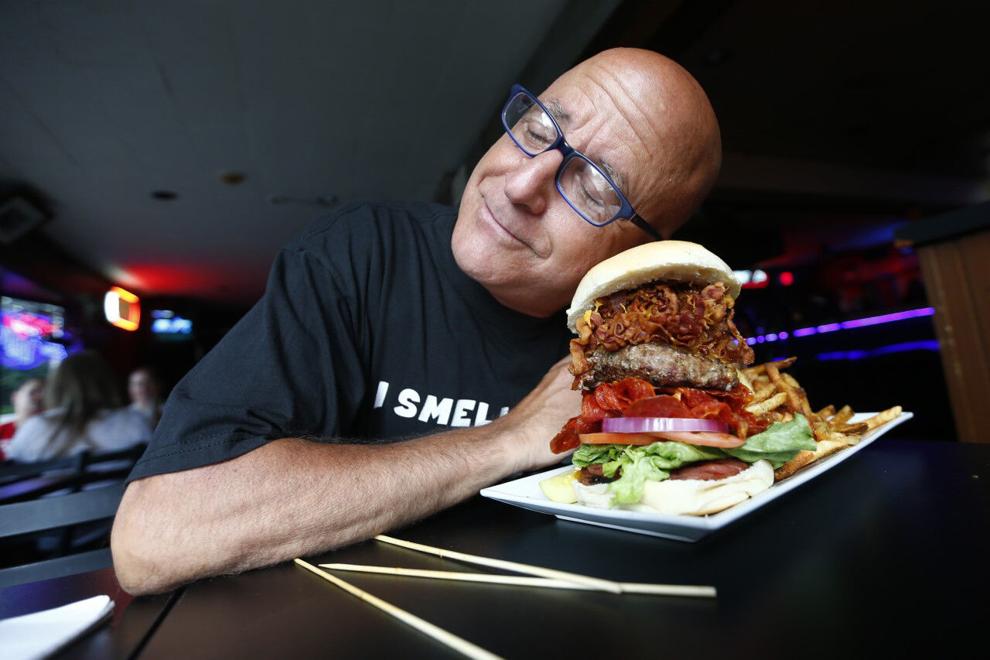 If the title "New Jersey State of Mind" doesn't grab your attention, perhaps the book's author will.
Peter Genovese is NJ.com's veteran food and features writer.
He is also the author of 10 other New Jersey books, including "Jersey Diners," "Roadside New Jersey," "The Jersey Shore Uncovered," and "Food Lovers' Guide to New Jersey."
This hot-off-the-press new one published by Rutgers University Press is in many ways a 156-page tough-love letter to a small state big enough to include 9,200,000 people (the nation's most densely populated), 39,000 miles of highway, 525 diners (another national record), and more stores than the square of the number of registered vehicles (6,628,080).
"I live, breathe, and even dream New Jersey," says Genovese at the top of his book.
And why wouldn't he?
With 35 years of newspaper experience that include long terms at the Home News and Star Ledger, Genovese has written about all 565 state municipalities, doesn't need a GPS, and regularly visits state locales reached only by Jeep.
And with his articles' trail of visits to delis, hot dog stands, pizza places, and dive bars, the unmarried Ocean County-based reporter could have added "eats" to the above list.
The new book, he says, was inspired by his 2010 Star-Ledger State of Mind series — one that Genovese says introduced readers to the "real Jersey, not the cliched, stereotypical, or rose-tinted one."
But inspired is the key word. This Jersey-fresh collection of new stories continues a personal objective to capture and preserve New Jersey places and people in ink.
Mix that intent with a chatty and detail-rich journalistic style, Genovese's voice becomes that of an informed waiter whose a la carte menu is the book's content.
To sample the fare, simply scan down the 27-item menu and settle on something suits the mood or state of mind, like the chapter "Straight Outta Camden."
That's a visit to Donkey's Place, enticingly described as "part dive bar, part sports memorabilia museum, part cheesesteak paradise."
Genovese is quick to report the name comes from the bar's founder, Leon Lucas. And that the former boxer nicknamed for his mule-kick punches christened the bar with the name when he opened it in 1947.
Already part of Camden culture and lore, the place gained national attention in 2018 when the late food writer and adventurer Anthony Bourdain proclaimed Donkey's cheesesteak as the best in the Philadelphia region, Genovese says.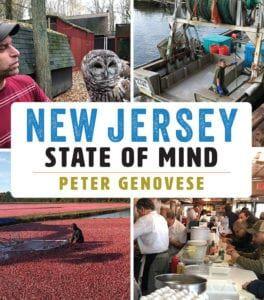 Another item is "Muscle Cars Forever." It's a trip to South Jersey Classics, a place owner Ed Van Hee says people come to buy vintage cars to "fulfill a dream" from an inventory of more than 70 cars of various ages and body shapes — from hefty Mercuries to lean Corvettes. It's also a place where two French dealers travel 3,800 miles twice a year to purchase cars.
Other choices include "Where 6,000 Insects Are on the Menu," about the Raptor Trust near the Great Swamp National Park in Morris County, and "I'm Not Eating the Dirt," a canoe trip in the Pine Barrens.
Then there are the topics: Monmouth Mobile Homes on Route 1, Atlantic City's boardwalk rolling chairs, an ice cream stand in Elizabeth, the South Jersey Boost! beverage, and New Jersey trucker stops and diners.
People include Rodrigo Durante, a Newark pata negra purveyor; Alka and Arvind Agrawal, owners of the nation's largest Indian radio station in South Brunswick; and Tori Fischer, a female army veteran turned founder of Backward Flag Brewing in Forked River.
And while Genovese's wit often grabs the reader's attention and sets the tone, he also knows how to use surprise to bait the reader into considering something deeper, as when he mentions "the world's largest salad" and takes the reader into a story on the Hoboken Shelter.
Here, in one of the most restrained sections of the book, Genovese opens the door to a hidden New Jersey world where everyday people — firefighters, policeman, construction workers, teachers, nurses — stumble and find help in an organization.
"I wanted to get away from the stereotypes of when people think about New Jersey," says Genovese about the book during a recent telephone interview.
And while he says he had some general ideas of what he wanted to cover when he started the book, he didn't know who the subjects would be and set out to find them.
The hunt sometimes starts by simply surfing the web.
"I wanted to do something about bay fishing," he says, "I was on a Facebook page and found this guy with personality."
So much so that Genovese starts the chapter focusing on the manager of the Belford Seafood Co-op on Raritan Bay with, "The first thing I learn about Dave Tauro is that it doesn't take much to get him wound up." He then steps back and lets the man uncoil and dictate the story.
Another path to his subject is through word of mouth. "People tell me about people, and I just show up at the doorstep and hope for the best," he says.
Then there is just getting out on the road, getting out of his car, and opening his mouth. "I have an easy way, and people tell me their stories," he says. "Everyone has an interesting story. We all have a story to tell. I think you start there and you have to draw them out. And tell it truthfully and compellingly."
Genovese's own story begins with his Trenton birth in 1952.
The son of an engineer father and insurance representative mother, he grew up in nearby Ewing Township and graduated from Notre Dame High School in Lawrence in 1970.
He next stop was Marquette College in Milwaukee, Wisconsin. "I wanted to get away from home," he says about the choice. "It was a solid school, and they had a reputable journalism program." It was also less expensive than the other schools he had considered.
While he now writes extensively about New Jersey food, he says he didn't focus on it at all in school.
His current bread and butter writing slowly evolved when he lived in Plainsboro, drove daily to his reporting job at the Home News in New Brunswick, and became a regular at the Lorraine Diner — now the South Brunswick site of a McDonald's on Route 1.
"That's where my diner fascination started, just driving up and down Route 1. As a reporter you can tell when a story hadn't been told. And no one had written about Jersey diners. So I spent a year and hit every diner in the state."
During that time he ate, took pictures, and talked to diner owners, builders, and customers. "I just dropped in at diners," he says.
That led to his 1996 book "Jersey Diners" and his hiring three years later as a feature and food writer for the Star-Ledger – now part of NJ Advance Media which also published NJ.Com.
"I was hired to take over the Munch Mobile," he says, referring to a band of writers who visited and wrote about casual food joints around the state.
With thousands of miles in his rearview mirror and thousands of articles stuffed in files, Genovese says he is lucky that both the Home News and Star-Ledger allowed him to move away from regular reporting beats, explore stories, and develop a style.
"The editors saw something in me and didn't stick me at town meetings, although we need those stories. But I wanted to be in features without realizing it. I wanted to wander around and write about real people. I thank the editors at two newspapers for allowing me to do that."
Thinking about his book, he says, he wants to depict New Jersey people in places in a way that is missing from Facebook description or posts. "My main mission is to bring Jersey to my readers. And a lot of that is describing a place and taking them to a place they may not have heard of."
Asked if one chapter gives a glimpse of what he is about, Genovese singles out "Inside the Traffic Management Center." Located just off Route 1 in Woodbridge, "down the road from Wawa," it is the state's digital eye to its mega-highways and byways.
"Because it was about a highway I got into it more," says the road-ready writer. "It stirred up something inside me. I don't see a lot of me in it. But it is a chapter in which I identify."
"New Jersey State of Mind" by Peter Genovese, 2020, $24.95 156 pages, Rutgers University Press.
Dishing on Dining
When not writing books, such as the just-released "New Jersey State of Mind," Peter Genovese is hard at work visiting New Jersey eateries and recording the experience for his regular NJ.com column.
During a recent interview, the Ewing-raised writer of the book "New Jersey Diners" shared some thoughts on diners and his winning recipe for a successful diner experience.
"It was probably the Ewing Diner," he says about his first time at a diner. "It was near where I grew up. My folks were not diner people. For me, that (interest) grew."
The catalyst was his habit of a daily breakfast stop at the Lorraine Diner on Route 1 in South Brunswick during his commute from his apartment in Plainsboro to his job at the Home News outside New Brunswick.
"That's where my diner fascination started. Just driving up and won Route 1," he says about the start of a career covering the Jersey diner beat.
With hundreds of diners and calories under his belt, Genovese — who learned informally on the job — dishes out some thoughts on what make a diner a "good" one.
"I don't do straight reviews," he says of his writing. "It's all casual."
But, he says he has a general approach and "it's usually breakfast. I'll order French toast, pancakes. For me you have to do the basic things well."
But he says you get a sense by asking a few basic questions, such as "Is it clean?"
Then he zeroes in on something vital. "Coffee is key. Some have bad coffee. Watery coffee is my number one diner turnoff."
He says he is currently interested in what diners are doing and cites the recent U.S. 1 article on the forward-looking Americana Kitchen & Bar as an example of an innovative diner.
Since Genovese also write about New Jersey pizza, what's his formula?
"Really saucy tomato pie with basic ingredients," he says. "Don't give me jarred sauce that tastes like everyone else's."
He also looks for fresh cheese, dough with crust, and quality topping — with special attention to pepperoni. "It's the world's most used topping, and places use the same product."
Instead he "savors" the less mass produced sausage, saying "You tell by looking at it and know it's not mass produced." Fresh mushrooms also get high marks. But the best in taste goes to "the quality of toppings. Are you using cheap mass produced or are you spending extra money to get quality items?"
Asked for some dining recommendations in the Trenton-Princeton area, Genovese shared the followed recommendations directly from "New Jersey State of Mind:
Barbecue: Hambone Opera in the Trenton Farmers Market.
Bars: Checkers in Trenton, a "downtown dive bar, good pork roll and egg and cheese sandwich." Tir na nOg, also in Trenton, with "no food, but maybe the state's most authentic Irish bar." The Boat House in Lambertville, "The state's most peculiar bar, a two-story house at the end of an alley with enough nautical decor for a cruise ship. And Clydz in New Brunswick, a "small bar with an enormous drink menu."
Breweries: River Horse Brewing in Ewing, "My favorite: Hippotizing IPA." And Troon Brewing in Hopewell, "My favorite: Mineralized Matrix IPA."
Greek: Mykonos, Ewing. "Made my list of the state's best Greek restaurants."
Ice Cream: "the bent spoon is one of my 10 favorite ice cream places in New Jersey. Talk about pushing the envelope." And also in Princeton is Halo Pub, where the "chocolate rocks."
Italian: Vidalia, Lawrenceville, "made my list of the state's 10 best Italian restaurants."
Mexican: Taqueria El Mariachi in Trenton, a "funky little place" with "good cheap food."
Pizza: Conte's in Princeton and DeLorenzo and Papa's tomato pies in Robbinsville.