Princeton is a proud piece of the "pi" that is Albert Einstein's life and legacy. Although many of Einstein's monumental scientific findings preceded his time in the town where he had come as a Jewish refugee of Nazi Germany, his reputation as a physicist, humanitarian, and source of wisdom endured.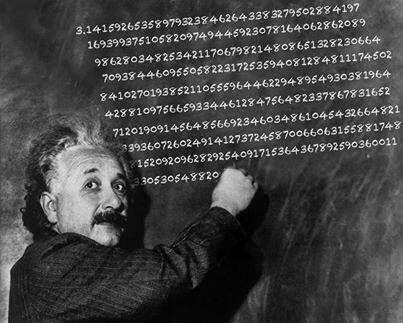 With his every casual walk through Princeton, Einstein and his signature white, wiry-haired image would challenge the almost mythological lore of what someone famous should be or do. He expressed disdain for his "celebrity" status and followed an approach as simple as the theorist's favorite treat — vanilla ice cream in a cone with chocolate sprinkles.
Einstein was born on March 14, 1879, the date now known as "Pi Day" because of its match to the beginning digits of the mathematical constant. This time is annually observed to promote learning in the spirit of Einstein, but rather than wait to activate these atoms of education each year, Einstein's history in Princeton is being specifically recognized through the Princeton Einstein Museum of Science, or PEMS.
Elizabeth Romanaux, the founder and project director of PEMS (a working title), spent most of her life in Princeton before she moved to nearby Kingston. Her father, the late psychiatrist Peter Penick, was an undergraduate student at Princeton University when Einstein was still alive.
As her father and others of that era shared stories about the scientist's daily activities or quirks, Romanaux said she almost, in a sense, "grew up with him" through these verbal snapshots.
"We felt like he was one of us, and for probably the most famous man in the world, one of the things I most appreciated about Einstein was [that] he walked among us. He was a Princetonian," Romanaux explained. "He allowed himself to be part of the community. He reached out and talked to people, and I think we've lost that feeling."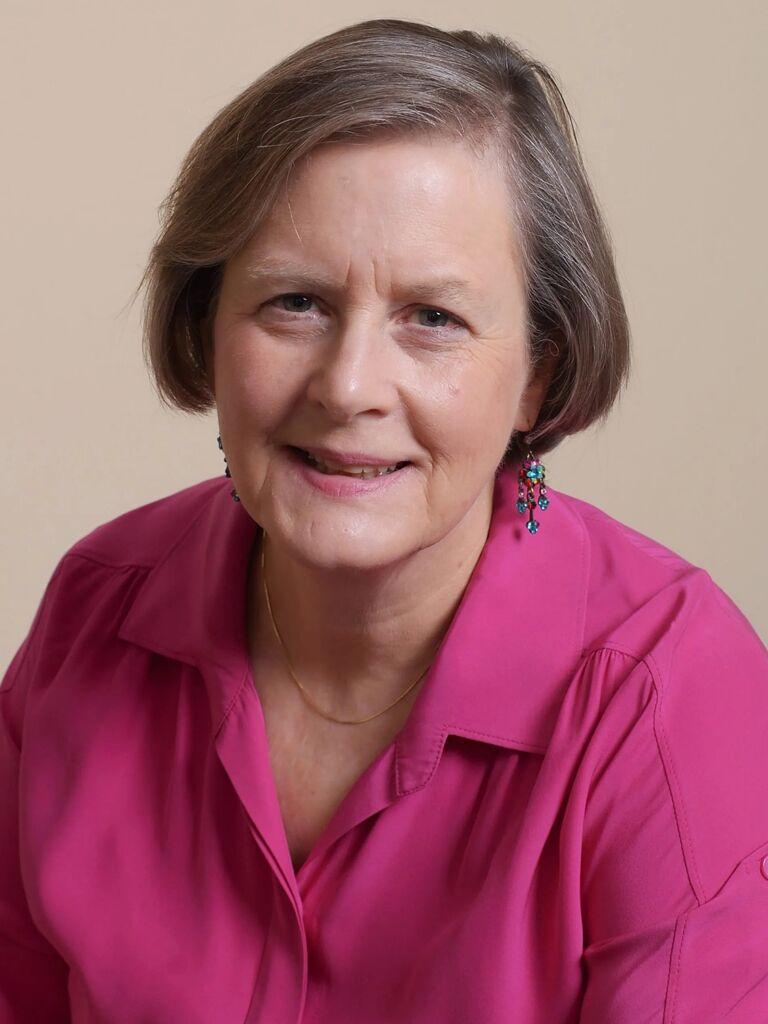 Such a sentiment has led Romanaux down the path of establishing this new boutique museum, which is currently in the "quiet fundraising phase" and is anticipated to launch in about two or three years, depending on financing.
PEMS is planned to open in the former space of Triumph Brewing Company at 138 Nassau Street and would be the first museum to highlight Einstein outside of Europe. Romanaux, who is also the chair and treasurer, noted that Einstein's story — the full, unedited one — is still significant for the local communities of Princeton that knew him well.
When the Nazis came into power in January of 1933, Einstein had just left Germany with his second wife, Elsa, a month earlier, for California. Einstein accepted, while still living in his home country, an invitation to work at the newly established Institute for Advanced Study in Princeton, so he moved to New Jersey and remained there until his death on April 18, 1955.
While the scientist has a permanent exhibit at the Historical Society of Princeton, there are few Einstein-centric spots in Princeton, leading many to visit his former home — which has no plaque or markers indicating it as such, per Einstein's own wishes — or the two bronze busts of him, one by Robert Burks at Monument Hall and the other by Sir Jacob Epstein at the temporarily closed Princeton University Art Museum.
Romanaux, an award-winning marketing and public relations expert with more than four decades of experience, is a self-described "science nerd." She worked for the Liberty Science Center, an interactive museum in Jersey City, prior to the facility's opening in 1992 and until her retirement in 2020. Romanaux was behind many creative advertising and promotional activities in the span of those 28 years, but she also took the time to speak with younger age groups to build their education, as well as, hopefully, their love for science.
---
Expectations, Exhibits, and Early Einstein History
The former Triumph building is roughly 11,000 square feet, with a 30-foot-high ceiling and a long, winding gallery entrance area where Romanaux plans to feature historical context for Einstein's time in Princeton. This will inform guests of Einstein's lesser-known history of "anti-racist" advocacy and dispel common "misconceptions" about the scientist, such as that he worked for the university rather than the Institute for Advanced Study.
A space-time fabric optical illusion hallway floor would introduce the museum experience, while PEMS, which is also proposed to serve as a visitor's center for the town, has a peaked roof that Romanaux intends to use as an overheard art gallery.
The exhibit concepts, suited for anyone eight and older, include interactive opportunities for hands-on experiments, an immersive theater experience visualizing his theory of light and space-time, a game on quantum entanglement, the power of gravitational pull as seen through black holes and wormholes, as well as others that can be found on the PEMS website, princetoneinsteinmuseum.org, with accompanying artwork.
PEMS has been the recipient of multiple donations and grants thus far, including gifts from the Stephen & Ann Jasperson Charitable Fund and the McCutchen Foundation. According to the early calculations of Romanaux's team, she expects "about 130,000" people to come to PEMS a year, with that figure composed of students on field trips, families, and "a surprising wave of international visitors."
Romanaux observed that families who come to town with their children often "walk up and down" Nassau Street before returning home, noting that many "just want a casual, drop-in visit somewhere" that is not currently available.
"There are some barriers to just doing a very simple, fast, family fun activity here," she said, and with the traffic from Princeton University alone able to attract those in town for a conference or campus trip, Romanux thinks there is "pent-up demand to find out about Einstein."
"[PEMS] is an asset for people. It's a visitor asset, it's a resident asset, it's a student asset, and it's a workforce asset, so I think this little, tiny museum aspires to do a lot of things," she added. "I need people to understand what this is going to do for Central New Jersey and for the town. It will be a wonderful asset."
By featuring interactive environments and less of the traditional atmosphere of a museum with historical artifacts that need to be preserved and then maintained, a boutique style appeals to Romanaux's strengths while helping her achieve her goal of championing science for younger audiences. She also wants to communicate to parents, whose perception of science matters to impressionable youth, that an adolescent love of science can blossom into a successful career.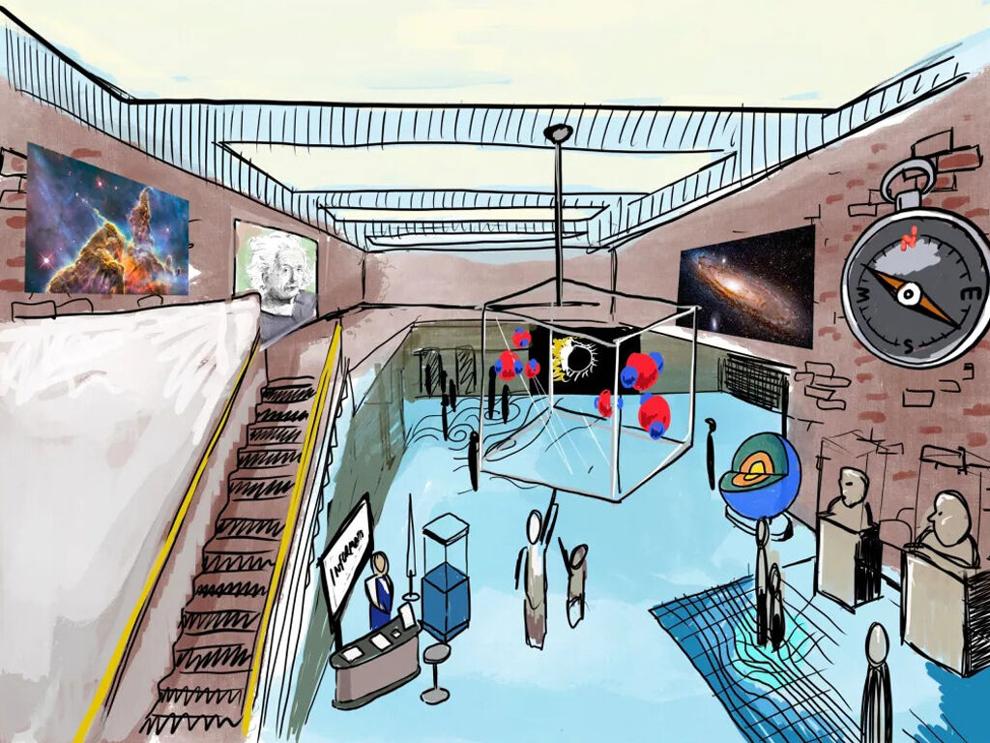 "If you were to get a kid interested in any science at all, it doesn't really matter where they start; what you need to do is get them to think that science is fun and interesting, and then they want to join the coding club, the robotics club, or sign up for another science course in high school. It's a process," Romanaux said. "What I want to do in this museum is just get people to think that science is fun. You don't necessarily need them to walk out the door understanding quantum physics. You'd like them to know something about what it is, but I think people instinctively understand a thing a little bit if they do the activity."
From her time with LSC, the director noted, she "came away with a set of principles," one of which is that museumgoers have a vested interest in themselves, "so if you can get exhibits to reflect the visitor themselves, you're going to get a lot more connection with them."
In an activity about E = mc2, Romanaux said, users will be able to calculate their own potential for atomic energy after manually inputting their own weight. Then, that will be converted to mass "and show you how much energy is contained within the atoms in your body. It's something enormous; these are huge numbers, and that will be about you, the visitor. You will get to see how much energy is in your atoms, which I think is fun."
Influenced by the philosophy of science centers, Romanaux explained that encouraging people of all ages to figure out and work through the science can help them better understand the core principles of it.
Because of the simplification of science education in Romanaux's youth and many others, associations with the subject have suffered. Instead of lectures, she recognized the importance that content "having a relationship with people's lives" can have, using the example of seeing a teacher draw a leaf's stomata on the board versus venturing outside to pick a specimen, then examining it under a microscope.
That "ah-ha" moment of connection, as Romanaux explains, is like "brain candy."
"It's something sweet for your brain, when you get that sudden perception of something in a new way, I think it feeds into a very positive impact for people," she said, equating it to completing a satisfactory puzzle.
In earnest, Romanaux acknowledged that she has an "affinity for old Princeton" and wants to keep Einstein's image alive by promoting the areas of STEAM, or science, technology, engineering, art, and math, to children.
Einstein could picture problems in his head, "for example, the new view of gravity, not as a force between two objects, but bending of the space-time continuum," as Romanaux explained. "Einstein couldn't prove it. He could do the math. He could think of the idea, but then it was proven in 1919, and that's really when he became famous."
Einstein and his theory of general relativity "ousted" Sir Isaac Newton as the prevailing expert when scientists corroborated Einstein's findings during a total solar eclipse on May 29, 1919, thus launching him into stardom and bending the scientist into a figure of fame.
"The way they proved it was they measured this light coming from a star, and then during a full solar eclipse, as the sun moved closer to that star, they measured where the starlight came from, and sure enough, it shifted a little bit. The starlight was being attracted by the sun as it went by before it came to us, just by a tiny amount, and by the amount that Einstein predicted," Romanaux said. "What was going on in his head that he could figure that out walking around town and with a piece of paper? It's extraordinary. It really is."
PEMS hopes to "recreate" that event in a theater experience that uses lights to guide guests in their understanding of how each person's mass can affect gravitational space-time. Guests will also be able to simulate the aging process in an exhibit on gravitational time dilation, "learn about the behavior of atoms and molecules," and explore the photoelectric effect, which Einstein received the Nobel Prize for in 1922.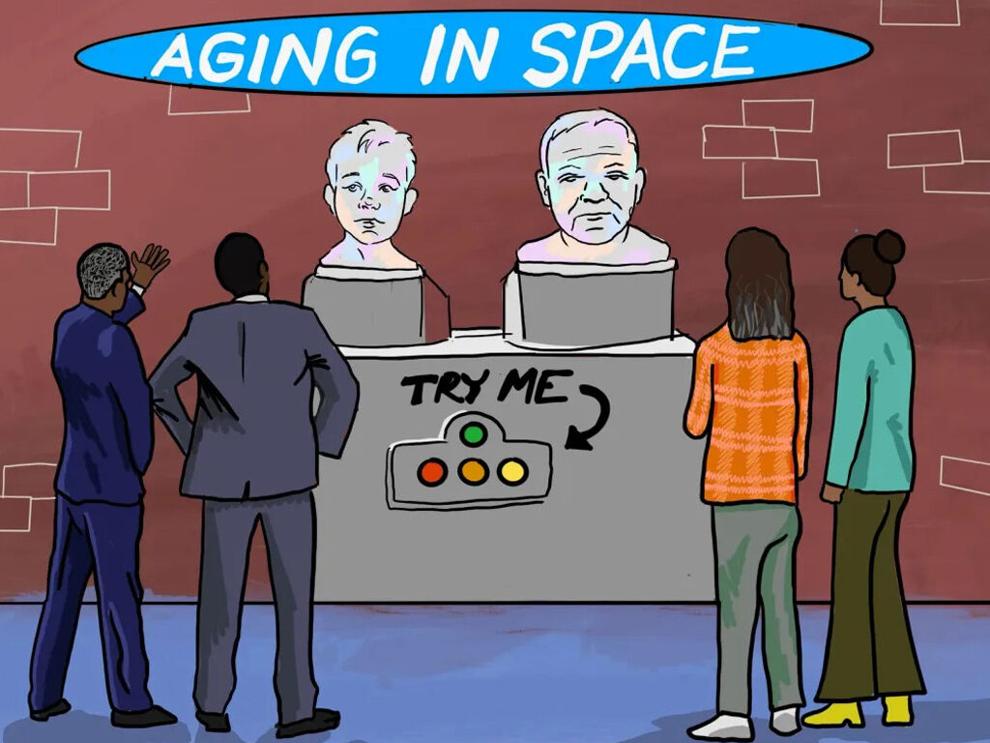 "People are always trying to prove Einstein wrong. They haven't done it yet. It's kind of amazing, considering he just did it in his head. He was a little old guy shuffling around town without his socks, thinking of amazing things," Romanaux explained. "We want to paint a little portrait about him as a person in addition to a scientist."
---
PEMS: A Proud Princetonian's Proposal
Romanaux comes from a family of Princeton graduates, while her grandfather was on the university's Board of Trustees. She moved permanently to Princeton in 1963.
Romanaux grew up in a "rural setting" by River Road where her mother, Margen, a native of Eureka, California, wanted to ensure her children would form a connection with the natural world.
Romanaux and her siblings wandered through the fields and woods, where she built bird blinds, caught frogs, and embarked on canoe journeys or skated across Lake Carnegie.
On her mother's orders, Romanaux would ride her bike or walk to Littlebrook Elementary School. She played sports with others in the neighborhood and graduated from Princeton Day School, always in constant motion — an energy she has since applied to her work.
While her siblings both became attorneys, because of this "quintessential country childhood," Romanaux was drawn to science, an interest that surprised even her parents.
Margen, a graduate of Vassar College in Poughkeepsie, also pursued law school, but stopped after her husband's sudden death.
While she would never return to school, Margen used her legal knowledge as chairman of the Princeton Regional Planning Board in the 1980s. According to Romanaux, she considered her mother to be an "early environmentalist" for her part in projects dedicated to "saving" the Princeton Battlefield and D&R Canal Park from further development.
"It was actually fun to watch her," Romanaux admitted. "I would go sometimes, and these young people would come in, and they would want to do some vast development or something in town, and she would just let them talk," with Romanaux noting that her oft-blunt mother did not dress fancy, causing her to appear "unassuming to others."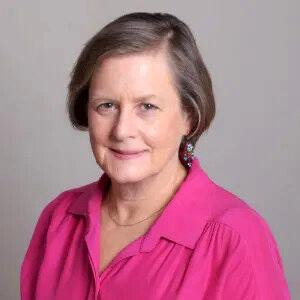 "At the end of the conversation, she would tell them the three legal mistakes they had made and 'no, they couldn't do this,' 'they couldn't do that.' I think they were a little astonished. She was brilliant," Romanaux recalled. "[My parents] were both absolutely brilliant people and very committed."
"My dad worked really long hours as a psychiatrist because so many people needed him," she said, noting his "big waiting list" and late-night hours.
Romanaux received her bachelor's in anthropology from Wellesley College in Massachusetts, "one of the four remaining Seven Sisters," with a minor in geology. While she originally wanted to study the science behind earthquake predictions, the math involved was a deterrent to pursuing it as a career.
Before Liberty Science Center, Romanaux worked at the Kreisberg Group, a boutique PR firm in New York City for major museum projects. In representation of architects Beyer Blinder Belle, Romanaux was a part of the opening of the Ellis Island Immigration Museum. She is also a former president of the networking and professional development membership group known as the NJ Association of Museums.
Romanaux, who has always been drawn to Einstein, first formulated the idea of a museum after retiring during the COVID pandemic, and when she told Princeton Mayor Mark Freda about it, he encouraged her to take it on as a potential project.
"I had not really expected to take this whole thing on myself, but I thought about it, and I realized it plays into all my strengths. I want to do this. I'm interested in this. I have the time to do this," she said, then called Dr. Joseph H. Taylor, the winner of the 1993 Nobel Prize in Physics and a professor emeritus at Princeton University, whom she knew through working with his wife at the Bryn Mawr-Wellesley Book Sale.
He agreed to help and be on the advisory committee, bringing in other advocates who would join from the varied backgrounds of academia, science, history, business, etc., which now includes another Nobel Prize-winning physicist, Dr. James Peebles, the recipient of the 2019 award and Albert Einstein Professor of Science Emeritus at Princeton University, in addition to other professors from Harvard and M.I.T.
Romanaux spent about six months researching, consulting, and talking with people to get "back end" questions about the museum process answered. She taught herself how to shoot and edit videos like the one on the "About" page of the PEMS website, which she also maintains.
Romanaux recruited Robert Landau, the retired owner of Landau's Einstein Museum, a collection of Einstein memorabilia and ephemera that closed in 2020 alongside his longtime clothing store, as a secretary and board member.
The items have since been relocated to the Historical Society of Princeton's permanent "Einstein Salon and Innovators Gallery," where the materials, including 65 pieces of furniture from his former home donated by the Institute for Advanced Study, are cared for.
---
Albert Einstein in Princeton
"I think Einstein was such a humanitarian, and he was such a mild person. He was so modest. I heard a great story recently which said that when he came to Princeton, the Institute for Advanced Study asked him how much money he wanted, and Einstein named a figure so low that the Institute was embarrassed to pay him that much, and they gave him a lot more money. He didn't need much. He needed to just be comfortable and be in his mind."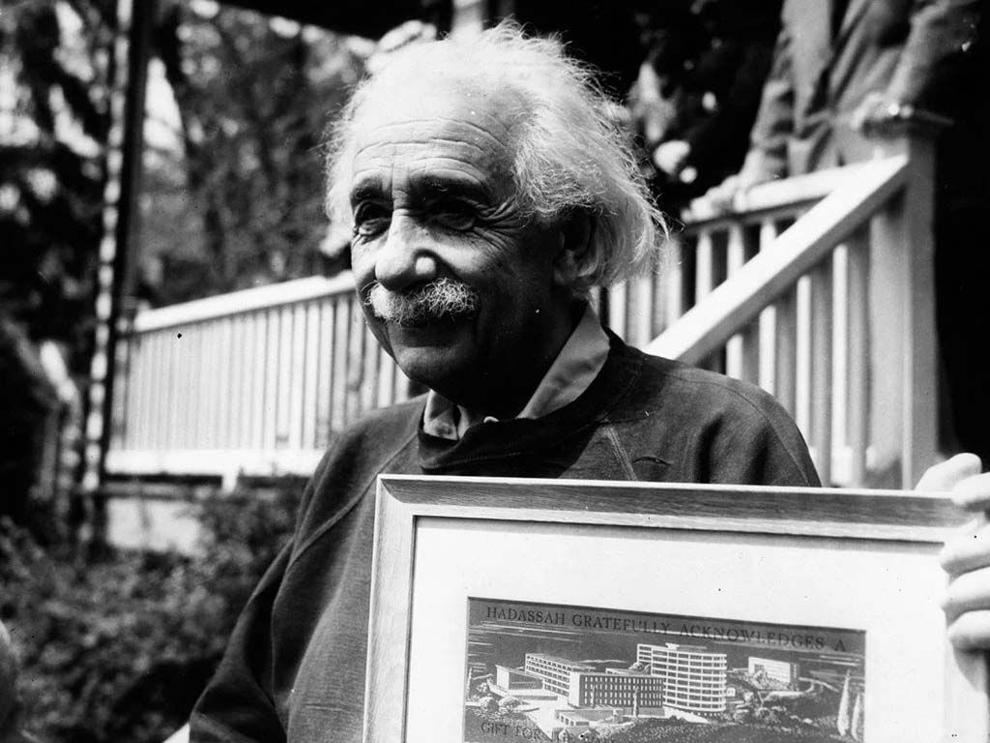 And in his mind he was, whether walking down the street in an L.L. Bean sweatshirt and without both or any shoes, down to earth with a Princetonian affect. Einstein liked to garden and sail, although, according to a story Romanaux heard, he was not exceptionally skilled in the latter, "because I'm told that he would start thinking about something and just quietly run into the shore on the other side. He was very much living in his head a lot of the time."
During these trips of thinking and leisure, Einstein would get his ice cream from the Baltimore Dairy Lunch, colloquially referred to as "The Balt," at 82 Nassau Street in Princeton, which closed in 1963 and is now the home of the newly opened Nassau Diner.
Most of these "old Princeton" businesses have since moved on with the shuttering of doors and signing of contracts, transforming the town into an increasingly modernist landscape. However, Einstein's house is still owned by the Institute for Advanced Study, yet it attracts so many curious onlookers that people have mistaken nearby homes for his and accidentally trespassed.
Romanaux wants PEMS to highlight Einstein's history of civil rights activism that went, by and large, unreported in the press but was widely known in Princeton's historically Black Witherspoon-Jackson neighborhood.
Romanaux is in the process of co-developing a moving pop-up exhibit with historian educator and Shirley Satterfield of the Witherspoon-Jackson Historical and Cultural Society, which is intended to debut on Juneteenth of this year. With 12 panels and corresponding audio recordings, the project will share the stories of "the four remaining people in Princeton who knew Einstein as children," including Satterfield, according to Romanaux.
In conversations with her, Romanaux said that Satterfield mentioned that the media's lack of attention on this topic made it so white people at the time, both nationwide and in Princeton, were completely unaware of Einstein's historical presence there. Romanaux called this an "information gap" that she will strive to address through PEMS.
"There is a lot of value to our history," she said. "We need to further embrace and expand our history, but we also need to think about the world and where we're going; oddly enough, Einstein is part of that, even though he's been dead for so long."
Einstein was longtime friends with Princeton native, entertainer, and activist Paul Robeson, as well as singer Marian Anderson, who would come stay with Einstein after he offered his "personal home" for her to stay at when the Princeton hotels refused to give her a room. Anderson would take him up on that when she came to town to perform at McCarter Theatre.
He also volunteered as the "star character witness" in the 1951 trial of sociologist and historian W. E. B. Du Bois after corresponding with him for two decades; once Einstein made this announcement, the case against Du Bois was dropped.
In 1946, Einstein visited Lincoln University, which was the country's first Historically Black College and University, or HBCU, to award degrees. There, he delivered a commencement speech with the following quote, albeit with wording reflective of the era, that Romanaux referenced as being a powerful statement.
"There is separation of colored people from white people in the United States…That separation is not a disease of colored people. It is a disease of white people. I do not intend to be quiet about it," Einstein was reported to have said.
In addition to these famous names and historical moments, Romanaux explained, Einstein also chatted up the "local people in the center of town," visiting the Witherspoon-Jackson neighborhood multiple times a week to sit on people's porches for hours of sharing cookies, conversation, and companionship.
This association is "a source of local pride" for the community, Romanaux said. "I think it's important to tell the whole history. We have in the past, as a nation, focused on the history that was convenient, and now we need to have the realistic history of Einstein being Jewish and having escaped from Nazi Germany."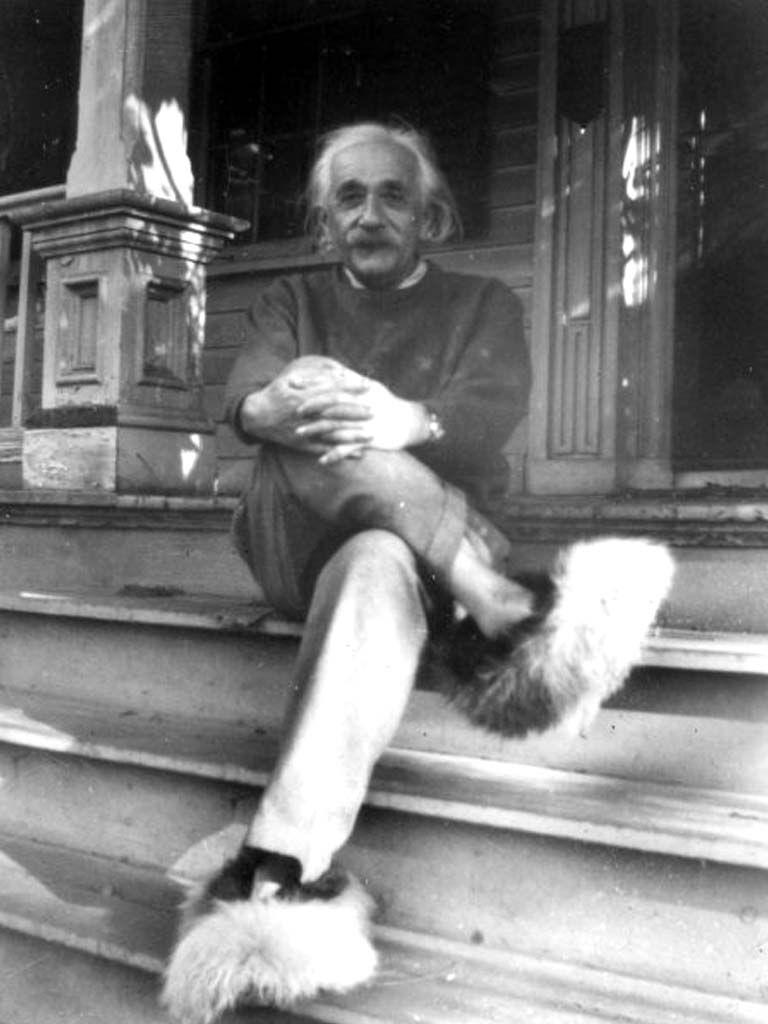 Einstein, who was persecuted for his religion and was never able to return to his home country, would later have a German bounty on his head and was the subject of constant surveillance from the FBI, which had more than 1,400 documents on him.
According to Romanaux, when Einstein arrived, he was "shocked" at the level of anti-Black racism in America, as detailed further in Matthew Francis' March 3, 2017 article for the Smithsonian Magazine, "How Albert Einstein Used His Fame to Denounce American Racism."
"The irony of ending in Princeton, one of the most racially segregated towns in the northern U.S., was not lost on Einstein. While no town was free of racism, Princeton had segregated schools and churches, generally following the Jim Crow model in practice if not by law," and the institution did not admit any Black students to the University "until 1942," Francis wrote.
There are also plans for another pop-up exhibit featuring "prototypes of the exhibits," which might launch in the two years or 18 months before PEMS can officially open.
---
Science Moves Forward with "Pi Day" Events
At LSC, Romanaux was instrumental in coordinating the installation of new wayfinding signs at Liberty State Park with NJ Transit leading passengers to the site and had the chance to experience zero-gravity weightlessness in NASA's KC-135A "Vomit Comet," a zero-gravity simulator aircraft, at the NASA Lyndon B. Johnson Space Center in Houston in 2004.
One of her favorite publicity stunts, she said, was the construction of a 20-foot-high vinyl Rubik's Cube, which went out on a barge on the Hudson River. When LSC opened the Jennifer Chalsty Planetarium, the largest in the Western Hemisphere, in 2017, Romanaux promoted it with the painting of a building-wide mural, accentuated by selfie spots for maximum social media circulation.
These whimsical projects, most of which were "off-the rails" in idea, according to Romanaux, have become special ways of showing her enthusiasm for science education.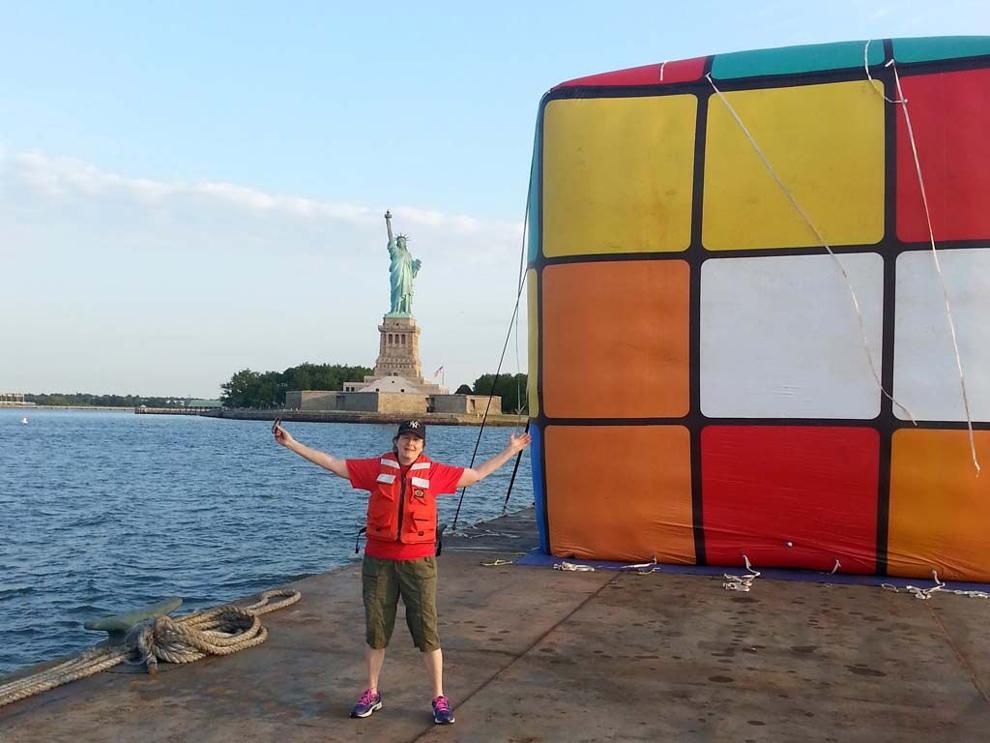 Joined by HSP and the Princeton International School of Math and Science (PRISMS), PEMS will be at the Princeton Public Library's "Einstein Open Archive for Families" event Saturday, March 11, in the Princeton Public Library's CoLab Space from 2:30 to 4:30 p.m.
"It's funny, because Pi Day is really about a number, and it's grown to encompass physics — because of Einstein's birthday — and math," Romanaux said.
She added that Einstein's eccentric nature gives him a unique appeal to younger audiences, so with a host of activities, stations, puzzles, challenges, and more, a Princeton Plasma Physics Laboratory scientist will also be available for inquiries.
She has confidence in her ability to appeal to global media, but explained that rather than take on the role herself, she is looking to hire a director and staff, as well as volunteers. Romanaux is looking to bring in anyone with an interest in making PEMS a reality, noting that her current team has united for this common goal despite coming from different credentials.
"I just want to get people turned on to science. I really do believe that for as many issues as science has caused us, that we are on the path to science and technology really making our lives better," Romanaux explained.
As the fundraising process moves forward, PEMS will continue to draw from Romanaux's core belief that everyone "should enjoy" what they are doing in life. Such an ambition, in her opinion, reanimates the principles that Einstein embodied in physics and daily practice, thus "reflecting who we are in Princeton" by emphasizing the equal value of pursuing happiness as in every intellectual pursuit.
While a capital campaign will be announced in the future, any individuals or entities looking to donate larger amounts of money can do so at several themed levels, starting with "quark," then progressing to electron, neutron, proton, and atomic.
Her idea for PEMS takes inspiration from Quark Park, Princeton's temporary outdoor exhibit joining landscape architects, sculptors, scientists, engineers, and more to create a downtown garden display with aesthetics featuring form and light.
"It was a physical representation of the scientific work that people were doing, and it was kinetic, and it was neon, and it was moving, and it was huge," she said, finding the installation "mind-blowing" for its ingenuity, then tucking away the value of such an explosion of brilliance in her mind for future reference.
The former vacant lot where Quark Park, named after the subatomic particle, once stood has since been developed into new residential housing. But because of the collaboration's strong influence, Romanaux is striving to "make a nod to Quark Park" by sharing that Princetonian vision "to recreate that sense of wonder about the natural world."
As the boutique museum becomes "internationally known," according to Romanaux, she predicts PEMS will not only benefit the town but guarantee that "Central New Jersey, in general, is going to get this sparkling new jewel," she said.
---
More information: princetoneinsteinmuseum.org.