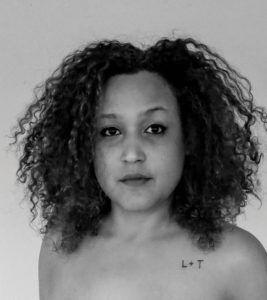 When Trenton artist Tamara Torres was a little girl, she decided to create her own religion. "I thought I was going to be a pastor. I remember hearing my dad talk to people about religion and thought 'why is religion so difficult? Why is everyone completely obsessed with the thought that there's one religion that saves humanity? Why are there so many arguments about who's right and who's wrong? I can create my own.'"
Born to Puerto Rican immigrants in 1978, the artist — who created an exhibition on her religion at Artworks Trenton and is participating in the Trenton City Museum's current exhibition "Women Artists Trenton Style" — spent much of her childhood struggling financially in Trenton and supported mainly by her father, Heriberto Torres.
"My father raised my brother and me. He was a good man. He worked odd jobs and did his best," she says. Despite her father's efforts, Torres — who does not speak of her mother — often found herself sleeping at the homes of friends. Then things got worse when she was assaulted at age nine. "I won't talk about the details," she says now. "I think that breaks your character apart. It happened, that's all."
The assault marked the end of her childhood musings on spirituality for quite some time. "My thoughts about religion went away after that. Before that, I thought the world was difficult and tough, but I still had this optimism — butterflies and rainbows."
The traumatic event also led to a kind of reverse-spiritual awakening. Instead of imagining her own religion, she stopped thinking about God altogether. "You get to a point where you think, okay if this is how life really is after something so painful, then there must not be anything out there. So you just push it down."
But Torres' life took a turn for the positive when a friend gave her a 35mm Pentax camera so she could take pictures of him. The gift changed her life. She began taking photographs and never looked back.
"Art saved my life," she says. "It really did."
The turn continued. When she was 16 Torres volunteered for the Edison Job Corps and earned her GED. She then attended classes at Mercer County Community College, where she met more people who encouraged her to become an artist. She still communicates with some of them years later.
"They're amazing teachers and amazing friends," she says. And now Torres — who has an adult son and daughter — makes her living mainly by doing her art.
While stories from her unpredictable childhood were dramatized on the stage of Passage Theatre in 2010 as part of its production of "Trenton Lights," Torres has since taken charge of her own story — through photography, collage, abstract painting, and fashion design, and her often shocking and controversial work has been seen not only in Trenton, but in Chelsea, Rome, London, Milan, and Calabria. To create visual and performance art she has put together a team of collaborators — models and actors — to push both buttons and boundaries.
"It's gotten to the point where models will ask me 'Do I have to bring Band-Aids?' One time a model lay down on broken glass. We were very careful but still … I can't believe she did it."
When her father, also a visual artist, died several years ago after a traffic accident, Torres — facing another life-altering event — began asking questions that she had not confronted head-on since she was nine. "Somehow," Torres says, "I found my way by creating a more personal spirituality."
In a general statement for the Trenton City Museum exhibition, Torres, who has worked at New Jersey Manufacturers and concentrates on selling and exhibiting her art, says her photographs evolved over time into collages of images, text, symbols, and abstract backdrops that she created herself to address the complex "hard truths and fractured world" that surrounded her. And that her abstract paintings "evolved into standalone creations, renditions of complicated emotional landscapes navigated by 'shadow men.'"
She says being an artist has allowed her to create works that embody her Afro-Latina ancestry and life experiences and that the lack of Latina abstract artists has pushed her to pursue this field with passion — even though she lacks formal training.
Speaking more personally about her approach, she says, "For each individual artwork created, there is a unique process that often begins with a concept ripped from childhood memories, music, or current events. Art has been a way to heal and give voices to the idea of not being cemented to circumstances that would have made me into a statistic from a broken home.
"It begins with capturing photographs in my city, self-portraits of private moments or of others that speak the truth or inaccurate portrayals of the Afro-Latina woman. The photographs are a process and the beginnings of my paintings. Creating imaginary worlds that give you the sense to swim in them is the goal.
"The process of my paintings is opening a spiritual connection that identifies with feelings of hidden truths. They are transformed in one sit-down with a related paint pallet, markers, spray paint, or any materials surrounding my area. I would rather not stop and come back to them because when I am putting a brush against the canvas it is a revelation that cannot be stopped until it's completed; otherwise the truth changes.
"The inspirations come from the energy of my photographs, the trumpets of Miles Davis, writings of James Baldwin, declarations of Victoria Santa Cruz, and the stories of the unknown heroes who have saved my life growing up in a world that was not safe. Most importantly my paintings have a religious connection to each individual one, a cry for a mental sanctuary from any darkness that has surfaced from unwelcome encounters."
Find out more about the artist at www.tamaratorresart.com.
Women Artists, Trenton Style, featuring the art of Tamara Torres, is on view at the Trenton City Museum at Ellarslie, Cadwalader Park, Trenton. Friday and Saturday, noon to 4 p.m., Sunday, 1 to 4 p.m., through June 6 (masks, social distancing required, and timed entry). Free. For more information, call 609-989-1191. To reserve a viewing time, go to www.ellarslie.org.