The peak season of lavender at area lavender farms proves that farm fresh means more than vegetables and fruits.
Lavender is a southern European transplant to the United States.
Although it appears in several varieties, their purple-hued flowers provide a treat for the eye, nose, and, through oils and mixture, the skin and taste buds.
Getting immersed into the world of lavender is easy and easily done by a short day trip or a quick drop in at one of the regional farms.
And with the season fading over the next few weeks, it's time to get moving.
Let's start with one providing the most opportunities to stop in.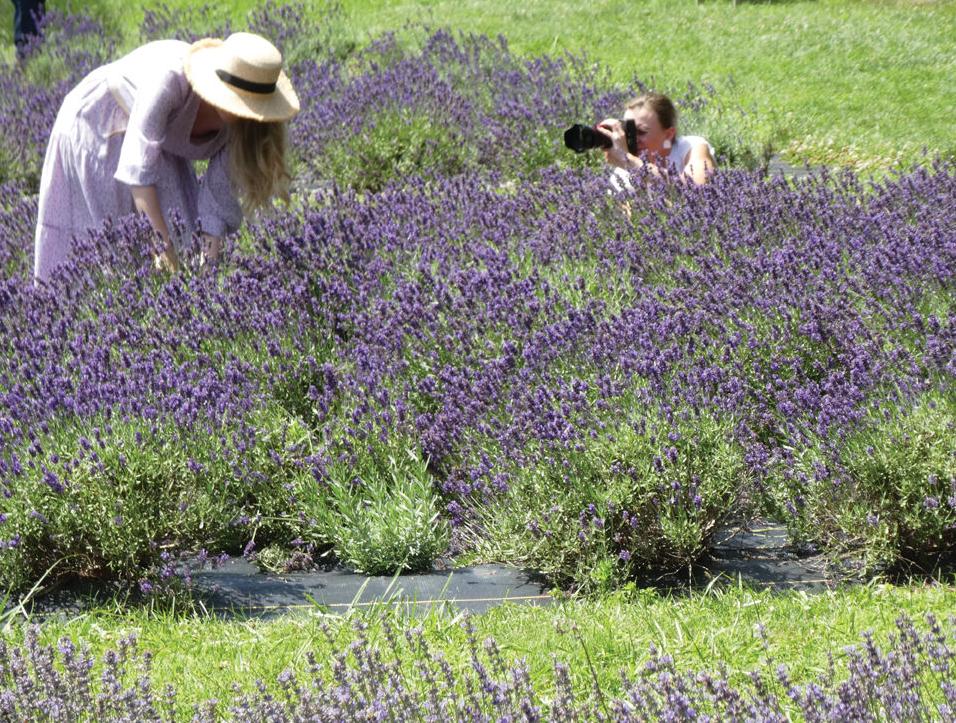 Peace Valley Farm in Bucks County provides a pleasant summer day trip. Located just outside Doylestown, Pennsylvania, and across from Peace Valley Park and Galena Lake, the 50-mile journey from the Princeton/Trenton region can either be a pleasant ramble through winding back roads or faster paced highway jaunt that can include stops at New Hope, Peddler's Village, and downtown Doylestown.
An item on the Visit Bucks County website, Peace Valley Farm was established around 20 years ago but underwent a renovation in 2019 in order to control water and support the cultivation of a plant that still yearns for home.
Several acres at most, the small farm provides quick access to the 3,000-flower field where visitors wander freely and take photos —like the French-speaking photographer arranging young girls in 19th-century dresses to stand amidst the flower rows or, presumably, a young father taking a photo of his wife holding their child.
Tree shaded areas with benches around the square-like field provide the opportunity for visitors to rest. Seats are also provided around the barn-like structure that features a lavender drying station where cuttings hang on racks and an antique machine for processing flowers for oils.
The building also houses a shop that sells lotions, oils, scent satchels, and lavender-flavored drinks. And since the farm depends on the shop's income for support, admission, tours, and parking are free. Summer hours are Thursday through Saturday, 11 a.m. to 4 p.m. and Sunday, noon to 4 p.m. Shopping on line is also available.
Peace Valley Farm, 801 New Galena Road, Doylestown. 215-249-8462 or www.peacevalleylavender.com.
Closer to home are the following farms currently offering weekend visits.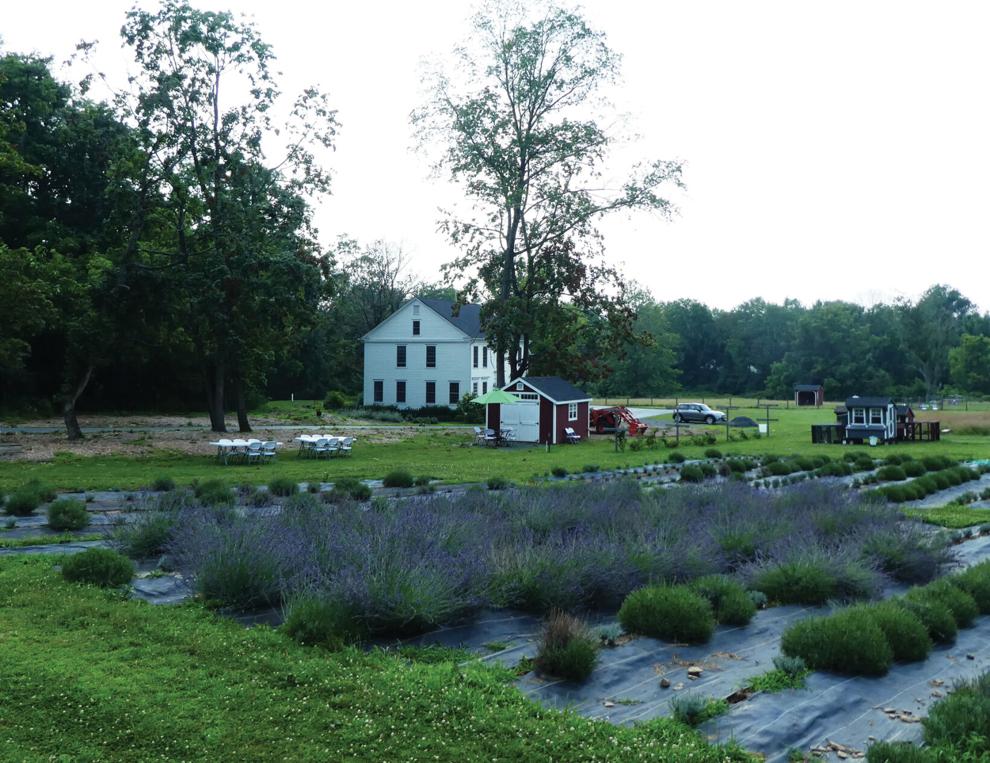 Princeton Lavender Farm on Lawrence Road — aka Route 206 — was started in 2016 and has blossomed into a farm that includes a barn for ponies, alpacas, and goats. There is also an apiary, events, and a farm stand that sells lavender plants, products, and honey. They also have special events throughout the year.
The farm is open by appointment only Mondays through Fridays, 9 a.m. to 7 p.m. But no appointment is required on Saturday, 10 a.m. to 4 p.m., and Sunday, 11 to 4 p.m. There is a $5 tour charge for individuals over 3 years old.
Princeton Lavender Farm, 3741 Lawrenceville Road, Lawrence Township. 973-978-8311 or www.princetonlavender.com.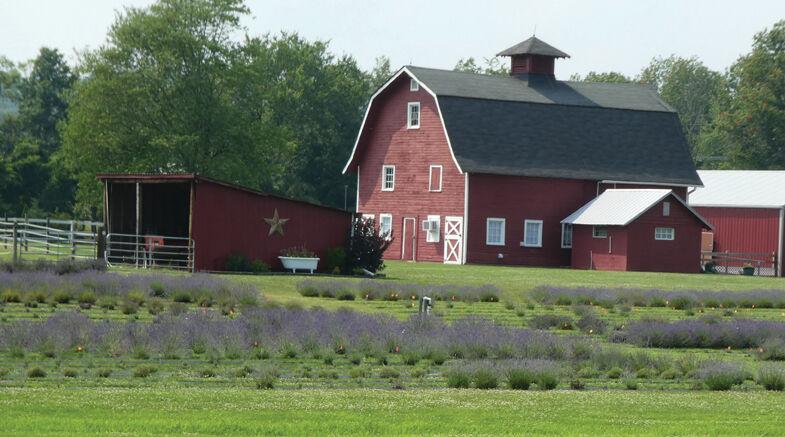 Hidden Springs Lavender/Alpaca Farm is also open just on weekends. The circa 2008 farm features 15 types of lavender plants and, obviously, animals.
The large, traditional-looking farm also produces a variety of lavender products ranging from oils to wreaths sold in its shop. The farm is also available for weddings and photography sessions.
Since the shop and various products provide support, visits are free and no reservations are required.
Hidden Spring Lavender/Alpaca Farm and Gift Shop, 890 Route 601, Skillman. 609-558-7034 or www.hiddenspringlavender.com.
Although its current lavender bloom is finished, Serenity Farm in Robbinsville says it plans to reopen in September if it has a second harvest.
An active farm for years, it went to lavender in 2018 and features three varieties of the herb, an apiary, and five acres of wildflowers. They also have a gift shop and sell online.
Serenity Farms, 44 Tindall Road, Robbinsville. 609-851-9094 or www.serenityfarmsnj.com.
Lavender Libations
Thanks to Serenity Farms' website, those looking for a lavender experience can have one at home with some of the recipes, like the following for lavender-flavored beverages:
Serenity Farms Lavender Lemonade
Ingredients:
4 cups water
1 cup sugar, honey, or agave syrup
1 Serenity Farms Large Lavender Tea Bag
1 cup of lemon juice
Instructions:
Boil water. Add lavender tea bag. Let steep for 5-10 minutes (depending on how strong you like the lavender). Add your sweetener of choice. Stir until completely dissolved. Add the lemon juice and chill. Add ice and more water to achieve desire taste.
Lavender Martini
Ingredients:
Ice
1 1/2 ounces vanilla vodka
1/2 ounce fresh lemon juice
1/4 ounce Lavender Syrup
1 fresh lavender sprig
Instructions:
Fill a cocktail shaker with ice. Add the vodka, lemon juice and Lavender Syrup and shake well. Strain into a chilled martini glass and garnish with the lavender sprig.