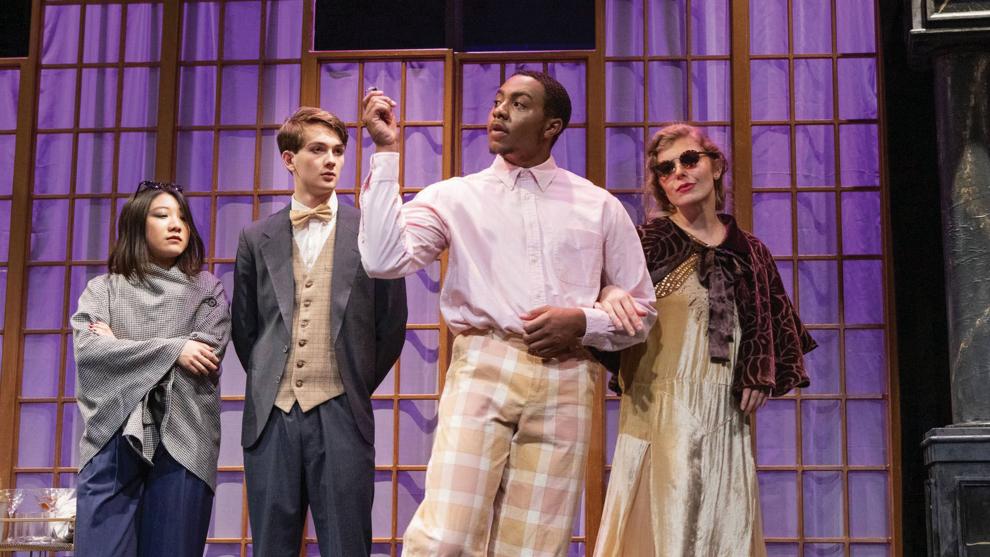 The worry when any literary classic is adapted for the stage is that the essence and texture of the work will be lost, the adapter's mission being different from the novelist's, theater being a different storytelling form from the printed page.
How, for instance, can a writer capture the glitter and elegant cohesion of a work so carefully composed and so universally known and lauded as F. Scott Fitzgerald's "The Great Gatsby?"
Several screenwriters have not managed it, although the 1974 movie directed by Jack Clayton with Robert Redford, Mia Farrow, Sam Waterson, and Karen Black is an achievement I think would have been more lauded if Clayton had changed the title and said his film was suggested by "The Great Gatsby."
Simon Levy, whose rendition of "The Great Gatsby" is on view at Princeton Summer Theater through Sunday, July 3, deftly finds the solution with a script that doesn't have the bubble and taut felicity of Fitzgerald's opus but does a thorough and involving job of telling its basic story with enough texture and detail to give insight into "Gatsby's" romantic core, emphasis on status and identity, and telling look at people of various stripes during the transitional pre-Depression, Prohibition-laden period called, possibly because of Fitzgerald, the Jazz Age.
Director Ethan Boll capitalizes on Levy's shrewdness with a staging that always holds interest and comments fittingly on the caprices of love, the honesty of feeling, and how much reality matters vs. what an individual has to offer in the long run.
Through Levy's and Boll's eyes and talent, the Summer Theater audience gets to know Fitzgerald's characters in total detail, the intermixed foibles and humanity of Jay Gatsby and Daisy Buchanan contrasted pointedly with the simplicity of Myrtle and George Wilson, the cool, reflective observation of Nick Carraway, and especially the old-school, old-tie code of Tom Buchanan.
Boll's cast runs the gamut from a highly professional and polished turn — Robby Keown as Tom — to an ephemeral and stylized but strikingly effective rendering — Allison Spann as Daisy Buchanan — to a quietly nuanced soft-spoken approach — Jay White as Nick Carraway. In this somehow meshing jumble of acting techniques, there's also the bold, harridan-like performance of Violet Gautreau as a well-dressed but coarsely voiced Myrtle, and the gentle, sympathy-provoking portrayal by Devin Lee as George.
Rather than jarring, this mélange seems to work in making each character distinct and defining his or her role in the story Fitzgerald is telling. Adding the appropriately sophisticated and slightly cold performance of Megan Pan as golf pro/socialite Jordan Baker and the benign but ingratiating manner Xavier Jefferson brings to Gatsby, Boll lets his troupe create a salad of disparate techniques that add up to a believable picture of an absorbing place, time, and situation. Miquon Jackson and Ally Wolski acquit themselves well in a variety of small parts.
It doesn't make a difference if one actor is more skilled or accomplished than another. The heightened style of Keown, Spann, and Gautreau work well next to the earnest and attuned performances of White, Lee, and Jefferson. The triumph is that even an audience that is not familiar with every detail of "The Great Gatsby" will be entertained and absorbed by the plot twists of the book and the variety within its characters.
Levy's script is particularly astute in establishing Gatsby's war experiences and the intimate tie he and Daisy shared before Gatsby went abroad as a soldier and Daisy, fearing he would never return and possibly not remember her, married Tom Buchanan.
These details are, of course, significant in any telling of "The Great Gatsby," but usually they seem to be two among myriad elements and threads to follow while reading Fitzgerald or seeing movie versions of "Gatsby." In Boll's production, they provide, as they should, the core of the drama, the various other plots, such as Tom's dalliance with Myrtle or Jordan and Nick's attempt at a relationship, being secondary to Gatsby and Daisy's attraction and affection for each other.
Putting Gatsby and Daisy's complicatedly tortured relationship, so infused with obvious love, front and center gives Levy's script and Boll's staging strong grounding. All else that happens provides commentating contrast and texture that strengthens one's ultimate focus on Gatsby and Daisy. The play and production become a tale of a beautiful but doomed romance more than a study of an enigmatic title character, and they benefit from that concentration.
Boll finds another way to bring texture and lightness to his production. Before Jeffrey Van Velsor's assorted fences, furnishings, signs, and defining set pieces appear, a band led by Ned Furlong and featuring Paolo Montoya, Henry Baker, and Cliff Wilson treat the gathering audience to music, more from the 1930s and '40s than from Fitzgerald's 1922, but happy in the selection of great tunes from the American songbook, including one of my personal favorites, Bert Kalmar and Oscar Hammerstein II's "A Kiss to Build a Dream On," which at one point is sung with excellent style and telling phrasing by Allison Spann as Daisy.
Spann takes to singing several times during Boll's production, and it's a gift every time she does. Spann's way with a lyric is so intelligent, and her range so smooth and effortless, I would like to see her return to Princeton, or anywhere, in a full evening of cabaret.
The best part of infusing Spann's singing and several instances of the band providing a number as scenes change is they become delightful interludes rather than curious interruptions that make you wonder what a director has in mind.
Spann also wins with her freewheeling approach to Daisy, one that conveys whimsy while also revealing Daisy's depth, doubts, and confusion about what she should do regarding Gatsby and her husband, Tom.
Watching Spann is like watching a Tennessee Williams heroine. I can picture her as Blanche DuBois, the Countess Del Lago from "Sweet Bird of Youth," or Maxine in "The Night of the Iguana." Daisy is from the South, and Spann is clever enough to add just enough touches to convey that while her Daisy spins around the stage in enthusiasm when not paralyzed by the weight of the choice she believes she is being asked to make.
Robby Keown is as solid an actor as you will find. His Tom is a living monument to the successful and traditional if not exactly cultured American man of the turn of the last century as depicted in novels beyond "The Great Gatsby." Even his philandering and drinking fit in with that impression, and Keown is adept at acknowledging Tom's faults while emphasizing his confidence, self-righteousness, and old-boy patterns.
Jay White never stops being the keen observer Nick Carraway has to be as the narrator of Fitzgerald's story. Even when not the focus of a scene, White can be found studying a conversation or encounter as it takes place. Violet Gautreau is a cyclone of a scorned woman as Myrtle, always loudly demanding attention and her expected place in Tom's life.
The Great Gatsby, Hamilton Murray Theater, Princeton University (enter by foot across from Labyrinth Books). Through Sunday, July 3. 8 p.m. Thursday through Saturday and 2 p.m. Saturday and Sunday. $34.50. www.princetonsummertheater.org or 732-997-0205.