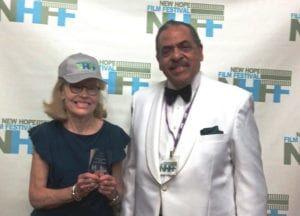 The WHYY television premiere of the film "Quakers: the Quiet Revolutionaries" on Sunday, October 6, is significant for more than a few reasons.
One is that it is World Quaker Day. The sixth such event organized by the Friends Committee for World Consultation, the day is designed to commemorate Quaker practices. This year's focus is to draw attention to "the spiritual imperative to sustain life on earth."
The second reason is much of the film is connected to people and places in the Philadelphia and Central New Jersey regions. That includes the Friends Meeting House in Princeton.
And third is that it was created by Princeton-based filmmaker Janet Paxton Gardner.
"I like to do the human side of history," says Gardner during an interview at an area restaurant about the creation of the film.
She was joined by Gardner Documentary Group producer Richard Nurse. He is also the film's narrator.
"I saw this as a powerful story that was waiting to be told," says Gardner who produced, directed, and wrote four films related to the Vietnam War. This film "is about a faith that was shrouded in mystery for too long. It was confusing to people. They would get them mixed up with the Amish and Shakers."
And while it explores how the values of Quakers, formally known as the Religious Society of Friends, were revolutionary — they influenced the founding of America, struggled for civil and equal rights, and sought to end the Vietnam War — she is quick to say, "it isn't a Valentine. We show both sides. We wanted to show that Quakers made mistakes. Like prison reform. They introduced solitary confinement" and the psychological problems that it causes.
The film also examines the controversial legacies of two Quaker U.S. presidents.
One is Herbert Hoover, forever connected to the start of the Great Depression and the appearance of "Hoovervilles," makeshift communities of homeless and out–of-work Americans.
The other is Richard Nixon, whose involvement with the Watergate scandal and related impeachment proceedings led him to become the only American president to resign office.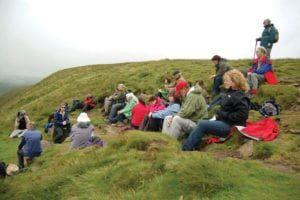 Gardner says the catalyst for the film's creation was a 2010 incident that mirrors Quaker founder George Fox's inspiration to found a new religious order in 1652. He also gave the Friends the "Quaker" nickname when he told a judge to quake when he heard the name of God.
"I went on a pilgrimage that was sponsored by an education group in Philadelphia," she says. "We went to Quaker country, the central part of England. We went up a sacred hill, Pendle Hill, a large mountain. It was really intimidating in terms of walking it, but I did take on the challenge. It was rainy and foggy, British weather. We got to the top and this is where George Fox had his vision of a great people gathering.
"And I began thinking about it and looked down the mountain and saw the little houses, stone railings, and stone houses, and I saw a great people."
When she returned to the United States 10 days later, she brought up the idea with Nurse, a Quaker.
Nurse told her "it was something (orthodox Quakers) needed because they don't proselytize. So we took on the challenge. We 'KickStarted' a campaign. We had a modest goal of about $10,000. We got that in about two weeks and thought that was a good start. So we were off and running."
She says their direction included a deliberate intent "to dispel the images of the bonnets, buggies, and the man on the cereal box," the latter being the Quaker Oats brand designed to capitalize on the perceived purity and honesty that had become associated with the Quakers.
After months of research, the film designed to fit into a PBS Broadcast hour program — actually 56 minutes — began to take shape and needed to focus on several key individuals.
That included people connected with the Philadelphia and Trenton-Princeton areas.
The first is William Penn, who despite his plain style image was born in 1644 into an influential British Anglican family. His father was a British admiral who had provided services and loans to King Charles II.
Penn went to Christ Church College (Oxford University) to study theology was expelled for criticizing the Church of England.
His father attempted to set young Penn straight and sent him abroad, first to study law in France and then to Ireland to manage a family property. It was there that he met members of the Society of Friends, converted, and became friends with Fox.
He also became a writer whose work had him jailed for blasphemy. It was in prison where Penn wrote a book with a title that reflects his beliefs regarding the Church of England and the British royalty: "No Cross, No Crown."
Because of his understanding of law, management, and religion, Penn was asked by the Friends to resolve a Quaker dispute over property ownership in the American colony West Jersey.
That led to knowledge of the colonies and his interest in joining the movement to create a Quaker colony.
He then petitioned the king to repay the debt to his family in land and was named proprietor and governor of Pennsylvania in 1681. He moved to the colony in 1682 and founded Philadelphia, the City of Brotherly Love.
"It was his 'Holy Experiment,'" says Gardner. One that included a constitution that emphasized individual rights and religious freedoms, practices that later shaped the U.S. Constitution — created in Philadelphia.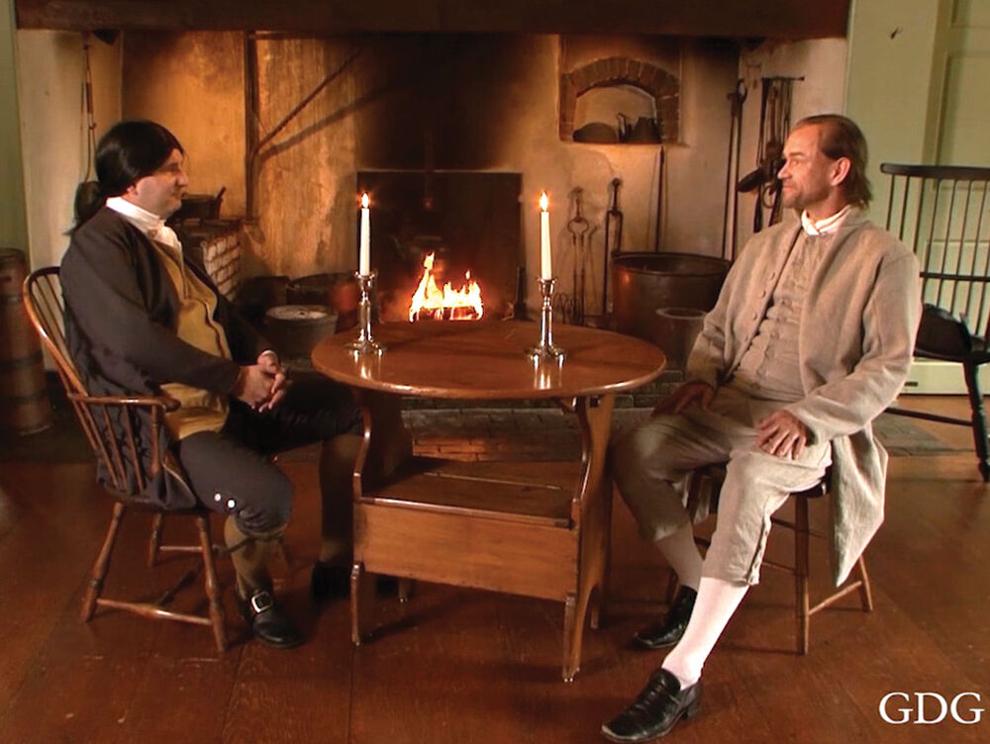 Another subject, who is one of Gardener's heroes, is John Woolman, an early American abolitionist who was born in Burlington in 1720, had a farm in Mt. Holly, and died during a trip to England in 1772.
"He is considered the Quaker saint," she says. "We did a (film) re-enactment on how he approached the slave holders. [When the abolition movement picked up] you couldn't remain a Quaker and slaveholder at the same time. A number wanted to maintain their status and went to another religion."
The inclusion of Woolman puts a spotlight on another blemish not usually connected to the Quakers: slavery. Quakers who could afford slaves used them.
That includes Penn. "He was like a lot of people of that era," says Nurse about Penn and the practice prevalent in the Delaware Valley Region.
"Another one of our heroes was Alice Paul," says Gardner of the suffragette who whose house is museum in Mt. Laurel (see U.S. 1, August 21). "She led the final campaign for women's suffrage. Alice Paul's suffragist groups were the first ones to picket the White House. She was successful in leading that campaign in the face of intimidation — things that can only be describe as torture," including being force fed during a hunger strike.
And then there is the namesake of Princeton University's Bayard Rustin Center for Social Justice, who has no other connection to the area.
Since Rustin was the planner for Martin Luther King's March on Washington, the film shows how Quaker attitudes and beliefs directly affected the Civil Rights Movement.
It also does something else. "I think it is important because most people don't think African Americans were involved with the Quakers," says Nurse.
That perception reflects another problem associated with Quakers: the unwillingness of American Quakers to integrate their congregations until the late 1960s.
The irony is that of the approximately 400,000 Quakers worldwide today "half are in Africa," says Nurse. "They are there because two Quaker missionaries from Cleveland, Ohio, found their way to Kenya."
The Africa Quakers show another misconception regarding Quakers. There are two branches. The orthodox and evangelical.
"They were Evangelical Quakers, not the quiet Quakers," says Gardner about the Africans shown in the film who sing and dance during worship.
Nevertheless, says Gardner, "They believe in peace and equality and everything else Quakers believe."
According to the Friends General Conference, those beliefs are rooted in the concept "that every person is loved and guided by God. Broadly speaking, we affirm that 'there is that of God in everyone.' Everyone is known by God and can know God in a direct relationship."
Quaker quietness is based on silent waiting, where worshipers expect to come into the presence of God's Inward Light. And "In this living silence, we listen for the still, small voice that comes from God through the Inward Light. And anyone who feels inspired by God is encouraged to speak out of the silence."
Gardner and Nurse say the small numbers of Quakers and the splintering of the two groups are related to an attitude that harmed the early orthodox Quakers.
From the late 17th to the mid-19th century, orthodox Quakers shunned the use of art and music in their worship. Additionally, their pacifism stopped them from supporting the American Revolutionary War and created the suspicion that they were pro-British.
However, more importantly, during the time when religious revivalism was spreading through the colonies, many Quakers felt their congregations lost their fervor and began to adopt new ideas, such as Methodist movement thinker John Wesley's idea of mixing faith, practice, and outreach.
Friends General Conference and World Quaker Day are ways of bringing the two branches together and fostering justice and social action.
Like the two African Quaker missionaries, director Gardner is also from Ohio. Her father was a paper industry executive father and her mother was a noted painter.
A 1971 graduate of New York University's Tisch School for the Arts, Gardner has worked as a film editor, field editor for television news, a staff writer for the Cleveland Plain Dealer, and contributor to several major newspapers.
She moved to New Jersey after marrying George Morren, a Rutgers University anthropology professor whom she met during a Vietnam War protest in Washington. She started the award-winning Gardner Group in 1980.
The New York- raised Nurse also has Rutgers connection: He was the assistant vice president for academic affairs. The son of a postal worker father and reformatory school head mother also served as the first African American headmaster of the Stockbridge School in Massachusetts and was the executive director of Crossroads Theater Company in New Brunswick. He attended Brown University.
With the film already shown at several national and regional film festivals — receiving the International Humanitarian Award Grand Prize at the Flickers' Rhode Island International Film Festival and an Audience Choice Award for Best Documentary at the New Hope Film Festival — Gardner and Nurse are looking forward to the WHYY television premiere.
And despite the current success and the early Kickstarter campaign, they say one of their biggest challenges was funding the noncommercial project.
But that changed in 2015. "I got a Guggenheim Fellowship that turned things around for us," says Gardner. "Other foundations thought we were legitimate. Then things started to move ahead. And People will give money because it's on PBS." That includes funding support from the New Jersey Historical Commission.
The two also mention a few topics that they were unable to include in the hour-long film, such as former area Congressman Rush Holt's involvement with the Princeton Friends Meeting on Quaker Road.
Nevertheless they see their film opening up viewers' minds and providing an education that no one else has given. And while they note strong Quaker presence in other regions of the nation and world, they feel regional viewers especially will take note and say, "They put their stamp on this region."
Quakers: The Quiet Revolutionaries, a documentary by Janet Gardner, will be broadcast on WHYY, Sunday, October 6, at 6 p.m. For more about the film: www.quakers­thefilm.com.
Information on the Gardner Group can be found at www.gardnerdocgroup.com