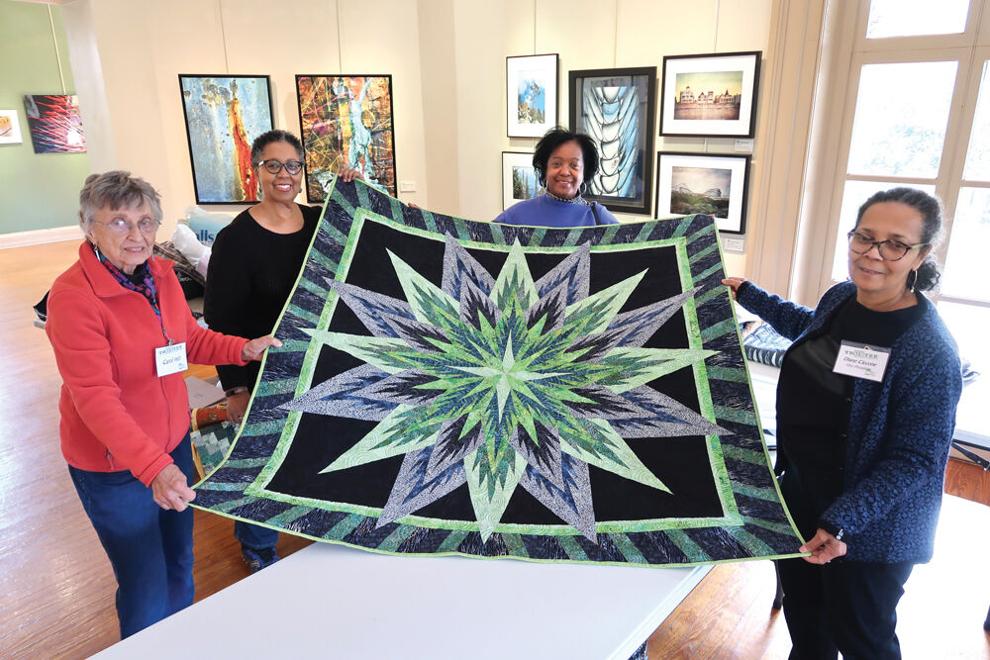 With their colors and patterns and creative innovations, quilts are art that provide comfort and warmth. At the same time they tell stories: of the people who made them and the people who used them. Even the fabric — its dyes, its weave, its patterns — has stories to tell.
Take, for example, Juandamarie Gikandi's family quilt. Made in the "Sunbonnet Sam" pattern — the male version of Sunbonnet Sue — it depicts a boy in overalls seen from behind peering through a fence. The circa-1940s quilt was made by the Princeton resident's Great Aunt Mittie, who lived to be 104.
Gikandi's grandmother — Great Aunt Mittie's sister — was born in Arkansas in 1910 and subsequently brought to Massachusetts as a live-in domestic in the 1930s. When she reached age 65 and became eligible to collect social security, Gikandi's grandmother traveled to Arkansas to bring back her birth certificate. She returned to Medford, Massachusetts, where Gikandi was born, bringing the Sunbonnet Sam quilt with her. "It is one of my most treasured possessions," Gikandi says.
She recalls the quilt, during her childhood, at the foot of her sister's bed. "It was an item of comfort," says Gikandi, who inherited the heirloom. Although about 80 years old, the quilt, made from leftover garments and love, is stuffed with cotton. Not batting, as most quilters would use today, purchased from a craft or sewing store; but real cotton bolls, lumps and all.
"My family picked cotton," says Gikandi, who retired from teaching social studies at Princeton High School in 2010. "The family owned lots of land. My grandmother sharecropped and told stories of picking cotton. You were paid by the weight, and so they'd leave sticks in to weigh more."
The quilt is one of many that will be on view in "If These Quilts Could Talk," an exhibition of locally produced African-American quilts at the Trenton City Museum at Ellarslie from January 17 through April 19, with an opening reception Sunday, January 19. Both the Princeton Sankofa Stitchers, of which Gikandi is president, and the Bucks County-area Friendly Quilters will be exhibiting contemporary quilts.
Although she has thought about quilting since childhood, Gikandi, who learned to sew from both her grandmother and mother, a financial aid administrator who raised five children, only took up the practice about 10 years ago. At that time she had enrolled her 12-year-old daughter — now a Kenya-based journalist for Public Radio International — in a quilting class and got hooked, teaching herself from books and patterns. In that time span she has completed about 70 quilts, many given as gifts to friends and family members. "I expect them to be snuggled under and used," Gikandi says.
Each of her six children went to college with a quilt, each got another quilt when they graduated, and her oldest daughter got a star quilt when she completed her Ph.D. "When you give a gift of a quilt it lasts forever," Gikandi says.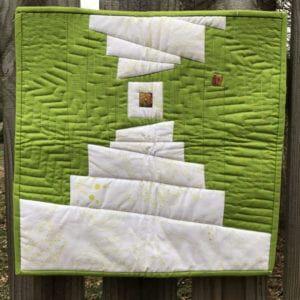 With her husband, Simon Gikandi, a Kenyan literature professor and postcolonial scholar who is the Robert Schirmer Professor of English at Princeton University, she has traveled to Ghana and taken batik and other textile workshops. These weave their way into her quilts, along with her collection of African fabrics. She describes her style as modern traditionalism.
Princeton Sankofa Stitchers Modern Quilt Guild was formed in 2015 by a group of African American women — Gikandi, Mada Cole-Galloway, and Paulette File — who began getting together to quilt and share information about the craft, toting sewing machines on carts to monthly meetings.
Members of the group chose the name Sankofa Stitchers to reflect the guild's identity as a group that works with African and African-American fabrics, designs, and cultural experiences. "Sankofa" is translated as "look, seek, and take," used by the Akan people of Ghana to represent the idea of reaching back to the past to acquire knowledge that has been lost in order to make progress in the present. Sankofa is represented visually either by a bird with its head turned backwards while its feet face forward carrying a precious egg in its mouth, or with a stylized heart shape.
Sankofa Stitchers believe learning from the past serves as a guide in planning and securing a strong future. The group's motto is "Each one, teach one." Initially the group met in the home of its founding president, but as its membership grew the group moved its meetings to Shiloh Baptist Church in Trenton; one of the members, Jane Wyche, is the minister of the church, and two other members attend the church. Wyche, who has been quilting since she was four years old, does what she can to meet the demand for new quilts among the babies born into her congregation.
In 2018 the group helped start a Girl Scout troop near Shiloh Baptist Church, teaching the Scouts to sew, cook, and make small quilted objects to donate to community organizations. Sankofa members sewed flannel baby blankets and baby quilts for local charities and made wash-cloth-based personal hygiene kits for Womanspace.
Each meeting includes a show-and-tell of a recently completed work. Gikandi describes herself as a "quilter stalker," haunting such places as Jo-Ann's Fabrics to find quilters who are reflecting the African-American cultural experience.
For the exhibition, Mada Cole-Galloway, retired from teaching at Lawrence Township Middle School, created "Morse Code Ubuntu Hidden Messages."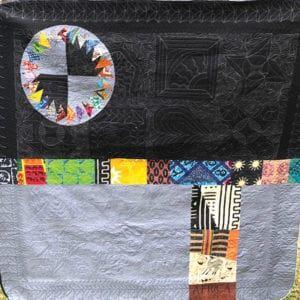 Ubuntu is a Southern African term describing a philosophy that refers to acting in ways that benefit the community. Such acts could be as simple as helping a stranger in need, or much more complex ways of relating with others. Cole-Galloway says she first learned of the term when she heard Archbishop Desmond Tutu use it. "He explained how we as humans need to treat each other with respect," she says. "So I decided to take Morse Code to create messages related to Ubuntu: spirit, humanity, respect. We are all dependent on each other."
Ora Brown, a retired labor and delivery nurse, started quilting three years ago when she was recruited to the group. Her quilt, "Brown Bags," refers to the practice during slavery of holding a paper bag up to a person's face and "if it's darker than your skin it means you work outside in the fields; if it's lighter you work inside the house."
Paulette File, a retired stay-at-home mother who volunteers for Arm in Arm, a nonprofit support organization, has sewn since childhood but "thought of quilting as something old ladies do." She met Gikandi in a stained glass class at Princeton Adult School and has been a quilter ever since.
Gail Mitchell, a retired educator and poet — her book "Makers and Keepers" has just been published by Moonstone Publishing in Philadelphia — is known locally for her quilt tribute to Princeton's Witherspoon-Jackson neighborhood that hangs permanently at the Arts Council of Princeton's Paul Robeson Center for the Arts. A retired fourth- and fifth- grade teacher of English as a Second Language in the West Windsor-Plainsboro Schools, she first discovered her passion for quilting in 1989, using it as a teaching aid.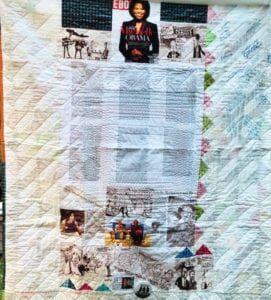 Her quilt "Tribute to President Obama" grew out of her experience attending the Democratic National Convention and includes the signatures of Senator Corey Booker and other New Jersey politicians.
Gikandi either hand or machine pieces her quilts and sends it out to a "long armer" to professionally do the quilting with a special long-arm machine. "They are artisans in their own right," she says. "A quilt (top piece, batting, and backing) is not a quilt until it is quilted. Quilting enhances the pattern."
"Ode to Gee's Bend with a Little Bit of Mother" is Gikandi's tribute to the quilters of Gee's Bend, Alabama, whose tradition that goes back to the 19th century when African-American women pieced together strips of cloth to keep their families warm in unheated living spaces that lacked running water, telephones, and electricity. They developed a distinctive style, noted for improvisation and geometric simplicity, and have been exhibited at the Whitney Museum of Art and the Philadelphia Museum of Art, among other major museums.
Gikandi's eye can also be seen in her home, furnished with African antiques and African and African-American art, including prints from Jacob Lawrence's Great Migration series to the Obama "Hope" poster. "I see these as bookend opportunities for African-Americans," she says of the works.
Her dining room wall is a tapestry of African story quilts, gifts her husband brought back from his travels. Gikandi has worked with other guilds, such as Sisters in Stitches Joined by the Cloth, has collaborated with refugee artisans to produce a community quilt, and attends quilting retreats. She even secured a National Endowment for the Humanities grant to create an archive of African-American quilts at www.njdigitalhighway.org. At this stage in her life, Gikandi says, she enjoys the community in quilting, adding that her quilting groups are a kind of family.
"Sometimes I wake up and want to sew," she says. "I dream patterns and fabric, and go into my space" — she has a quilting studio with numerous shelves filled with African textiles organized by colors — "and take scraps of fabric and play. From the 'crumbs' I make a larger fabric, or I take big pieces and cut it up into smaller pieces to be sewn together. It's my creative outlet, very therapeutic and Zen-like. This is my writing, I write with my fabric to tell my story."
If These Quilts Could Talk, Trenton City Museum at Ellarslie Mansion, Cadwalader Park, Trenton. Opens with a free reception on Sunday, January 19, 1:30 p.m., and remains on view through April 19.
The project also includes the following series of programs, all starting at 1:30 p.m.:
Sunday, February 2: Underground Railroad Quilts lecture by Cassandra Stancil Gunkel.
Saturday, February 8: Improvisational Quilting workshop led by Rose Miller.
Sunday, February 16: Quilt Arts and Culture lecture by Gail Mitchell.
Saturday, March 7: Adinkra Stamping workshop by Cassandra Stancil Gunkel.
Sunday, March 29: Improvisational Quilting workshop led by Mada Coles-Galloway and Juandamaire Gikandi
Saturday, April 19: Closing reception with quilters talk and community quilt unveiling.
The museum is open Wednesday through Saturday, noon to 4 p.m., Sunday 1 to 4 p.m. Free. 609-989-3632 or www.ellarslie.org.