The Arts Council of Princeton is making a trial run of what can be a significant annual event, Bloomsday.
Held around the world on June 16, Bloomsday takes its name from Leopold Bloom, the central character in James Joyce's influential 20th century novel "Ulysses."
Told in a tour de force use of story-telling approaches, the surface story follows Bloom's traveling about his native Dublin, Ireland, on June 16, 1904 — the actual day of Dubliner Joyce's first date with his future wife.
Bloomsday events feature public readings of the novel, involving both a mixture of writers, scholars, and community members.
The ACP's abbreviated — or priming the pump — approach to Bloomsday will feature Zoomed thoughts and comments on the novel by Irish-born writer Paul Muldoon, Joyce Carol Oates, Colum McCann, Jhumpa Lahiri, Esther Schor, Sean Wilentz, and others.
Bloomsday celebrations make sense with some significant connection to Joyce, Dublin, and the book. So it's easy to think that Ireland's capital city would commemorate the day. And with Joyce's handwritten "Ulysses" manuscript in its collection, the Rosenbach Library in Philadelphia's entrance way street provides the right connection.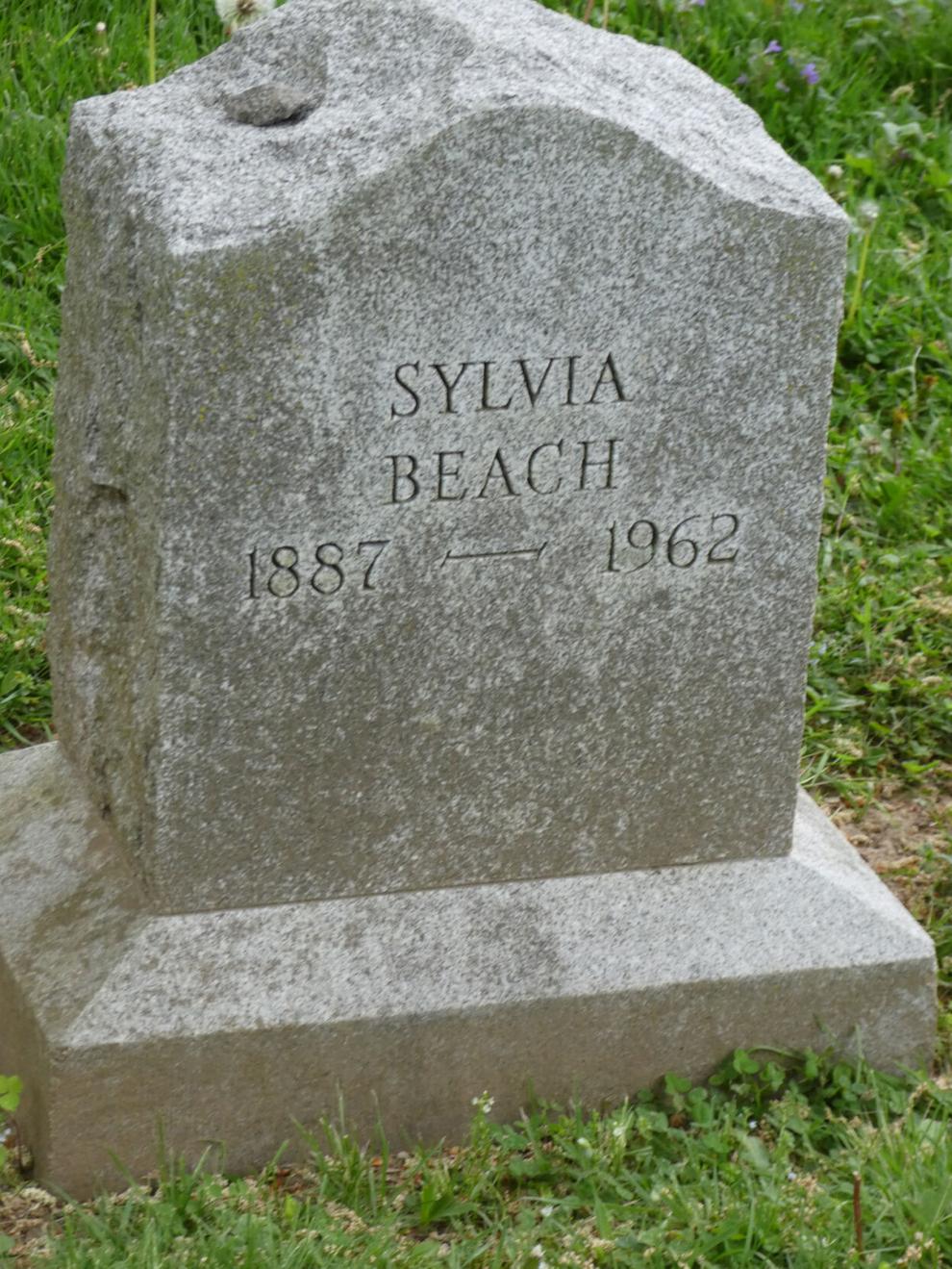 However, Princeton, perhaps, has one of the most significant connections to the novel in the United States. It was the home and the burial place of the person who brought the novel to the world, Sylvia Beach.
The daughter of the Princeton Presbyterian Church's minister who came to Princeton in 1905, Beach moved to Paris in the early 20th century and helped usher in modern literature and art when she opened a bookshop that attracted English speaking writers, musicians, artists, and more, Shakespeare and Company.
As Beach once explained it, "It was in the summer of 1920, when my bookshop, Shakespeare and Company, was in its first year, that I met Joyce."
The occasion was a "sultry Sunday afternoon" party that Beach had no intention to attend but was cajoled into doing so by her friend, fellow book store owner and mentor Adrienne Monnier.
She says she was glad when she arrived and then the host, poet Andre Spires, drew her aside and whispered into her ear, "The Irish writer James Joyce is here."
As Beach continues, "I worshiped James Joyce, and on hearing he unexpected news that he was present I was so frightened I wanted to run away, but Spire told me it was (poet and critic Ezra Pound and his wife, Dorothy) who had bought the Joyces — we could see Ezra through the open door. I knew the Pounds, so I went in.
"There, indeed, was Ezra, stretched out in a big armchair. He was wearing a becoming blue shirt, pen at the neck, and the usual velvet jacket.
"I couldn't get near enough to hear what Pound was imparting to his listeners, so, spying Mrs. Pound, I went over to speak to her. Dorothy was talking to an attractive woman whom she introduced as Mrs. Joyce and then she left us together.
Mrs. Joyce was rather tall, and neither stout or thin. With her reddish wavy hair, her eyes with a twinkle in them, her voice with its Irish inflections, and a certain dignity that was Irish also, she was charming. She seemed glad to find that we could speak English together.
"My conversation with Mrs. Joyce was interrupted by a shout from Spire that lunch was ready — "À table!" — and we all sat down at a long table on which a feast was spread. From a vast assembly of bottles Spire was pouring red, white, and rosy wine, filling everybody's glass — except that of the guest sitting opposite him. Pound's friend James Joyce resisted every offer of wine, finally turning his glass upside down to show he meant it; whereupon Ezra collected all the bottles and lined them up in front of Joyce. This horseplay produced quite a laugh among the others, though they didn't exactly 'get it,' but the object of it was obviously not amused. A blush spread over his face and neck and he appeared so embarrassed that I pitied him and avoided looking his way, though I would have liked to, all through the meal."
As Beach would explain later, Joyce had the habit of abstaining from alcohol during the day in order to write. He did drink after dark.
She then says that after the feast, when others went for strolls or engage in charged discussions about French writers, "I stepped into a little room lined to the ceiling with books. There, drooping against one of the bookcases, was Joyce. He was rather tall, thin, slightly stooped, graceful."
They began to speak and introduced themselves and "shook hands; that is, he put his limp, boneless hand in my tough little paw — if you can call that a handshake."
Beach then verbally paints a portrait of the artist, starting with his hands: "They were narrow, and on the middle and third fingers of the left one he wore rings, with stones in heavy settings. His eyes, a deep blue, with this light of genius in them, were extremely beautiful. I noticed that the right eye had a slightly abnormal look and that the right lens of his glasses was thicker than the left. His hair, thick, sandy-colored, wavy, was brushed back from a high, lined forehead over his tall head. On his chin was sort of goatee (grown to hide a scar from a dog bite). His skin was fair, with a few freckles, and rather flushed. With his well-shaped nose and narrow, fine-cut lips, he was good-looking. I thought he must have been very handsome as a young man."
After stating that "he gave an impression of sensitiveness exceeding anybody I have ever known," she continues to describe one of his most important attributes, his voice, "with its tenor's pitch and its sweet tones, charmed me. His enunciation was exceptionally clear. His English resembled that spoke on the stage rather than the careless speech of the English today, consequence, perhaps, of teaching foreigners for so many years to speak English correctly. One felt also that he was more attentive to language than most people, and perhaps loved it more."
"'What do you do?' Joyce inquired. I told him about Shakespeare and Company. The name seemed to amuse him, and a charming smile came o his lips. Taking a small notebook out of his pocket and as I noticed with sadness, holding it very close to his eyes, he wrote down the name of the 'firm' and its proprietress and the address. He said he would come to see me. "
She says since his "manners were extremely courteous, and he was so simple and unassuming that instead of being overcome in the presence of the writer who was undoubtedly the greatest of his time, I felt quite at ease with him. It was always that way. Ever conscious though I was of his genius, I knew no one so easy to talk with."
Evidently Joyce enjoyed his conversation with Beach because on "the very next day Joyce came walking up my steep little street. He was wearing a dark blue serge suit, a black felt hat on the back of his head, and on his narrow feet tennis shoes that had no doubt once been white. Joyce was always a bit shabby, but his bearing was so graceful and his manner so distinguished that one scarcely noticed what he had on." He was also twirling an ashplant cane, just like the central character of his first novel, "Portrait of the Artist as a Young Man."
"He stepped into my bookshop, peered closely at the photographs of Walt Whitman, Edgar Allan Poe, and Emerson, then at the two Blake drawings; finally he inspected my two photographs of Oscar Wilde, in velvet breeches and cloak, framed with some of Wilde's letters. Having looked attentively at the décor, he sat down in the uncomfortable little armchair beside my table."
It was then that he shared with her three concerns: finding a more permanent apartment for his family of four, finding work to support them, and his concern that his new major work in progress, "Ulysses," be completed and printed.
While the first two concerns seemed always a problem, the third was seemingly becoming insurmountable.
Joyce's innovative language and frank depictions of human beings — including sex acts and defecation — were a lightning rod for critics and reformers.
The respected literary publications the Egoist Review and Little Review both were financially destroyed by their attempts to publish portions of "Ulysses," with the Little Review's co-editors and publishers Margaret Anderson and Jane Heap tried for obscenity in a U.S. Court — and ushering in a new argument for freedom of the press.
Beach says after yet one more publishing calamity, "Joyce came to announce the news. It was a heavy blow for him, and I felt too that his pride was hurt. In a tone of complete discouragement he said, 'My book will never come out now.'
"'Ulysses' did indeed seem to be in quit a fix. The hope for publication in the English-speaking countries, at least for a long time to come, was gone. And here in my little bookshop sat James Joyce, sighing deeply."
Then in a moment that changed literature, Beach says, "It occurred to me that something might be done, and I asked: 'Would you let Shakespeare and Company have the honor of bringing out your Ulysses?'
"He accepted my offer immediately and joyfully. I thought it rash of him to entrust his great Ulysses to such a funny little publisher. But he seemed delighted, and so was I. How happy I was to find myself suddenly the publisher of the work I admired above all. Undeterred by lack of capital, experience and all other requisites of a publisher, I went right ahead with Ulysses."
And it seems just as right to commemorate Sylvia Beach's participation in changing literature by speaking the book aloud so that she may just be able to hear it from her grave at Princeton Cemetery.
Bloomsday | Zoomsday, Arts Council of Princeton. Wednesday, June 16, 5 p.m., via Zoom. Register. Free. www.artscouncilofprinceton.org