The times they are a changin'.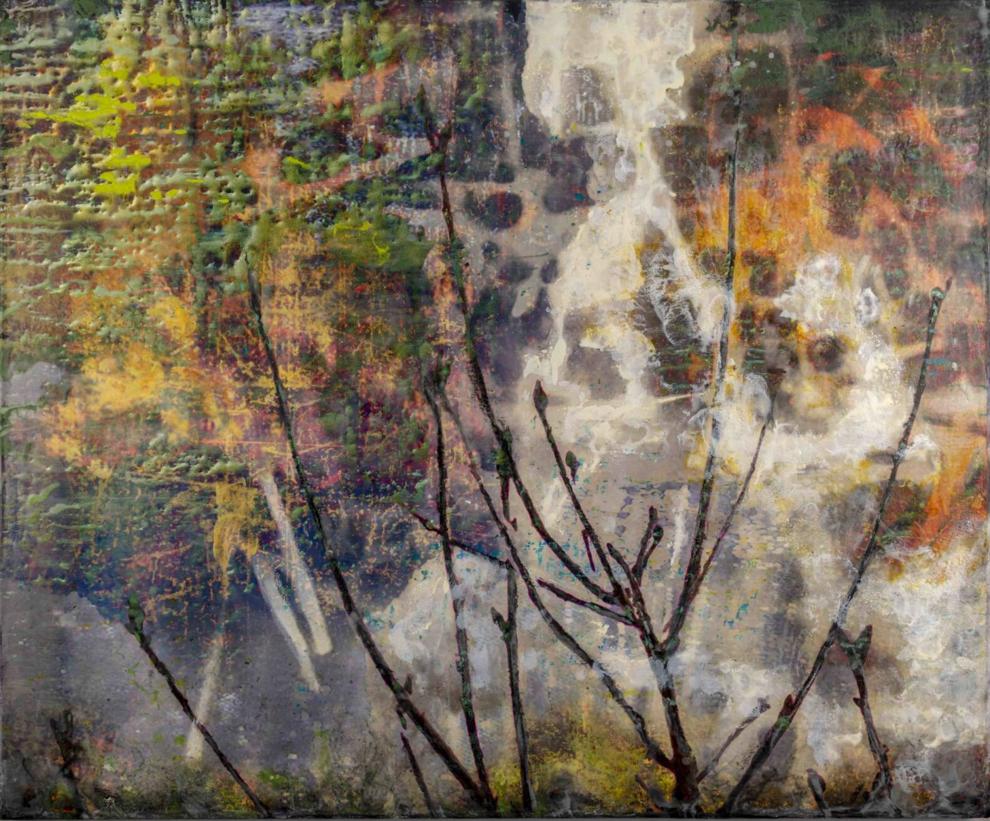 In 1989 a group of Princeton artists met to form an organization that would enable them to share and discuss their work. Over the intervening years their many successes included exhibits on such themes such as Homer's "Odyssey," the Pine Barrens, the Trenton Marsh (now known as Abbott Marshlands), and America.
Calling themselves the Princeton Artists Alliance, members included Joanne Augustine, Hetty Baiz, Joy Barth, Anita Benarde, Rajie Cook, Clem Fiori, Tom Francisco, Carol Hanson, Shellie Jacobson, Margaret Kennard Johnson, Judy Langille, Eva Mantell, Pat Martin, Charles McVicker, Lucy Graves McVicker, Harry I. Naar, Jim Perry, Maria Pisano, Richard Sanders, Madelaine Shellaby, Marie Sturken, and Judy Tobie.
The painters, sculptors, print and papermakers, and photographers were recognized nationally, some internationally, and they sought to enrich the Princeton community with talks, open studios, art demonstrations, and exhibitions.
In that time period, other Princeton-area art groups formed with a similar model, including Movis, Art+10, and Roots (see box).
In 2016 the constellation of members named above ended its great run with "The Politics of Water" at the Bernstein Gallery at Princeton University. The artwork responded to climate change, dried up lakes and riverbeds, and how local economies and natural habitats have been affected.
Thirty years is a generation, and many of the original artists have moved from the area or simply wanted to go on to a something new. Two of the original members, Marie Sturken and Maggi Johnson, who lived well into their 90s — largely crediting their art making as the key to longevity — died.
Richard Sanders was not ready to see the group fall apart. Having been a PAA member for 10 years, he started sending out emails to recruit new members. "The group has a wonderful legacy," said Sanders who, with his wife, Karen, designs and makes rugs. He had been in a traveling group exhibition, "Animal Architecture," organized by artist Donna Payton, and so he started with those artists: Joy Kreves, Libby Ramage, Kathleen Preziosi, and Eve Ingalls, as well as Payton. "I mined that group because I'd witnessed their dedication and ability to deliver around a theme."
Soon the new constellation grew to include Fran Eber, John Shockey, Annelies van Dommelen, William B. Hogan, Karen Francazio Sanders (Richard's wife), Susan Hoenig, Alice Sims-Gunzenhauser, and Ivia Sky Yavelow (Kreves' daughter). Original members Clem Fiori and Lucy Graves-McVicker stayed on. Members of the new group hail from Lambertville, Ewing, Perrineville, Montgomery, and Hopewell, as well as Princeton.
In addition to their monthly meetings, PAA soon decided to have a themed show. "Transformations" became the apt title, running through May 27 at the Brodsky Gallery at the Chauncey Conference Center at ETS, 660 Rosedale Road, Lawrence, with an opening reception on Thursday, April 11.
"We are in the midst of a transformation," said Eber, who designed the catalog and the postcard, fitting all the member names into the letters forming TRANSFORMATIONS, suggestive of a new union.
"We're organized around the same principles," continues Sanders, who serves as the group's president (founder Charles McVicker is president emeritus). "Most artists are squirreled away in the bubble of their studios, so our meetings include the sharing of ideas and getting feedback."
Each member sends images of their work that is projected and discussed. The former PAA constellation always had a goal of including younger members. Now only four months old, the new PAA has succeeded on that measure, with Ivia Sky Yavelow, 26, the youngest member, working on the group's website and social media campaign.
The Arts Council of Princeton has had close ties to the group — meetings were once held there, and the council has hosted numerous PAA shows over the years. Five of the new members, including Payton, Eber, and Preziosi, have had faculty affiliations with the ACP, and in spring, 2020, the group is planning an exhibit at the venue, with live painting performed to music and choreography.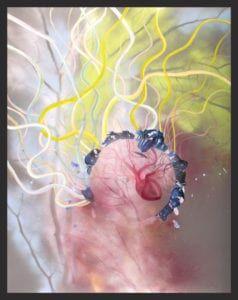 "Transformations" is also a part of PAA member Eber's modus operandi. "Change is my process," she says. "If you leave it in my studio, it will change. The medium may change, as I take it off canvas and put it on board." She may add more beeswax or paint, or add alcohol ink to give it a sheen.
In 2016 Eber won the Healing Power of ART & ARTISTS' Featured Artist Award from Manhattan Arts International.
"This work of art gently reaches out and imparts to the observer a sense of peace, calm, and beauty," wrote the juror, Mary Lou Dauray. "Eber's art seeks to replicate the emotional states one might experience when watching ripples in a calm body of water, delight in the beauty of the close-up photo of a flower, or quietly take a walk in nature."
In her statement Eber wrote: "I have spent a lot of time in hospitals with family, and it has influenced my art. It gives me an emotional bond with others going through similar stressful situations. That's why I create images that are comforting, the way sitting next to a lake feels. I focus on water reflections and other imagery that offers a natural calming effect."
As the principal of Fran Eber Advertising and Design, she creates artwork for Summit Medical Center.
Eber is not only new to PAA, but new to Princeton — she arrived five years ago, having lived in Chatham for 20 years. Her husband, Richard, also works in advertising — that's how they met — and they came to Princeton to lessen his commute to MRM McCann marketing's regional office, although he soon after began to commute to New York.
Eber, who works with a 44-inch digital printer, had a studio at Manna Contemporary in Jersey City — that's where PAA member and "Animal Architecture" curator Payton met Eber — but found the commute robbed her of the energy she would rather put into artmaking, and now works from her studio at home.
One of her big projects has been working with architect/photographer Alan Chimicoff on her home design; Chimicoff was the original architect of her modern house in Princeton's Riverside neighborhood, and she brought him back to restore some of the aspects of the house that had been changed by a previous owner, as well as add new touches of her own. There are circular rooms with curved walls, and her husband's black-and-white photographs of Italy line the curvilinear shelves.
Born in Fort Lee, Eber was the daughter of Italian immigrants. "My mom was born in Ischia, a remote little island near Capri," she says. "My dad was from a little fishing village called Chioggio, a part of Venice. They met in New Jersey where I and my six siblings grew up. He worked in the embroidery business until he had a heart attack — that's when my mom started her own business, and they worked together for many years."
Eber went back to school after raising her sons (a doctoral candidate in healthcare economics, 34; and a computer animator for TV and film, 27), earning a BFA from Rutgers Mason Gross in 2010. That is where she found her calling in mixed media and studied encaustics with Lisa Pressman at Summit Arts Center.
She has developed her own technique, combining photographic manipulation, acrylic pour, resin, peeling and dripping, ironing, and more. "I'm taking reality and creating abstraction by changing the scale," she says of one work that began as a photograph of the sea. "I wanted the essence of the water."
Adept in such encaustic techniques as shellac burning and accretion, Eber now rents her artwork to movies — look for it in "Murder Mystery" with Adam Sandler and Jennifer Aniston; "Voxlux" with Natalie Portman; and "The Punisher," the Netflix series based on Marvel Comics.
For "Transformations" her photograph-collage-painting "explores the unknown and the enigmatic," she writes. The name "ghostsoul sheshapes" is from an e.e. cummings poem that is like a puzzle, in which the reader is required to put fragmented words together or take them apart. The poet creates new meanings by doing this, just as Eber gives new meaning to the objects she transforms.
Transformations, Brodsky Gallery, Chauncey Conference Center, 660 Rosedale Road, Lawrence. Through May 27. Opening reception Thursday, April 11, 6 to 7:30 p.m. www.princetonartistsalliance.org
Growing New Roots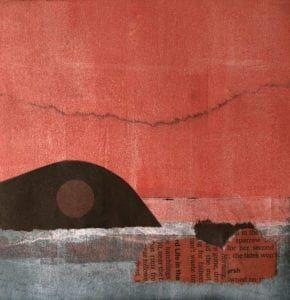 At the same time Princeton Artists Alliance was forming, Lucy Graves McVicker, Vickie Moy, and others were forming another group, Roots. It began as a critique group but recently evolved to present exhibitions. The group's second ever exhibition, "New Shoots," will be on view at Touchstone Gallery, 11 East Afton Avenue, Yardley, Pennsylvania, April 13 through May 5 with an opening reception Saturday, April 13, from 5 to 7 p.m. Three of the Roots members are also PAA members.
"Some artists settle early into a particular style or niche. Others continue to infuse their work with a new vitality as they push their personal boundaries and seek new ways to express their persistent internal vision," says the press release. "New Shoots" includes work by the 10 artists who work in diverse media and who have opened themselves to new forms of expression and developed individual ways of making art. They are Joanne Amantea, Gilda Aronovic, Joy Barth, Joanne Donnelly, Deborah Eater, Alice Sims-Gunzenhauser, Joy Kreves, Dorine Lerner, Florence Moonan, and Vickie Moy.
New Shoots, Touchstone Gallery, 11 East Afton Avenue, Yardley, Pennsylvania. April 13 through May 5. Opening reception Saturday, April 13, 5 to 7 p.m. 215-595-2044 or www.touchstoneartgallery.com.