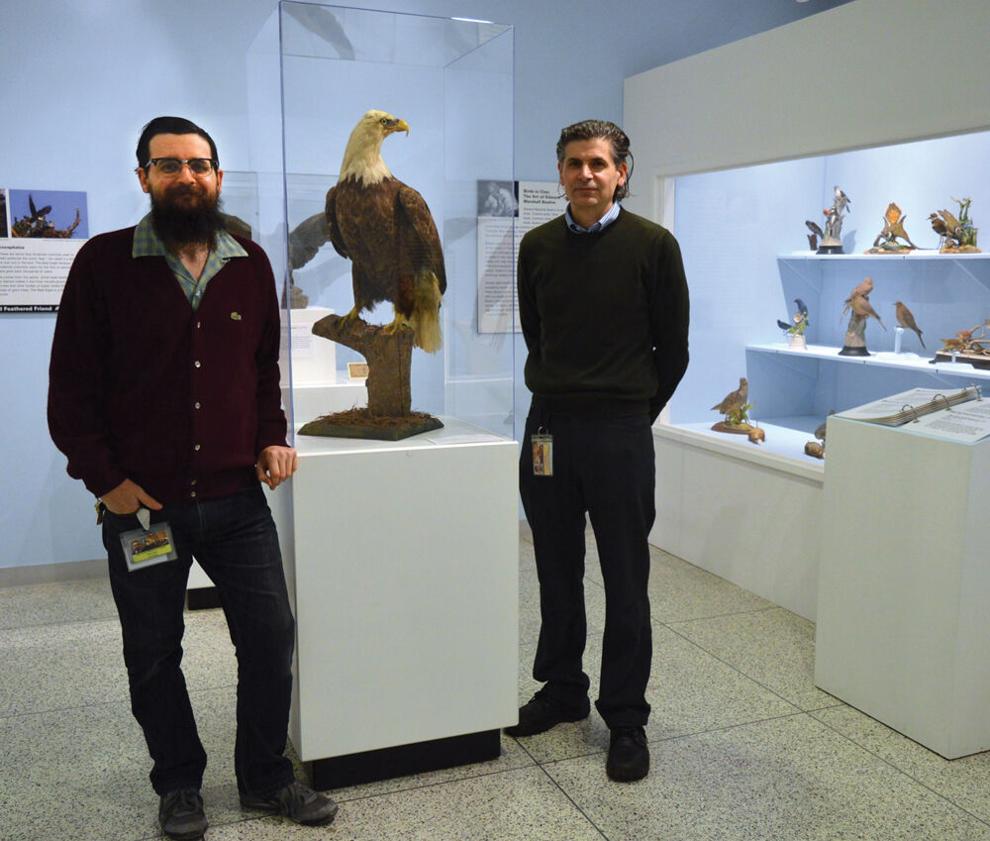 It's winter in New Jersey, and the morning symphony of nesting cardinals, robins, wrens, and even crows and jays is still a bit in the future.
But if you miss those avian sights and sounds, take a trip to the New Jersey State Museum in Trenton where the exhibit "Fine Feathered Friends: Birds as Mainstay and Muse" will surely soothe your birdie yearnings.
Co-curated by Nicholas Ciotola and Dana Ehret, "Fine Feathered Friends" showcases some 200 pieces of art, artifacts, and specimens, many of which have been tucked away for years. The show recognizes New Jersey's birds as both central to the natural world, as well as muses for artists and artisans.
"Fine Feathered Friends" is on view in the NJSM's second floor Riverside Gallery through Sunday, September 13.
It's an unusual collaboration, equally balanced between two collections.
"Nick came to me shortly after I got here (in 2018) and said 'I have a great idea for this collaborative exhibit,'" says Ehret, assistant curator of natural history. "We like to have the different collecting bureaus involved, but this one is unusual because it's almost a 50-50 split between natural history and cultural history."
"There's birds as 'mainstay,' in the ecological and scientific world, and then birds as 'muse,' how birds have inspired artisans in a variety of media," says Ciotola, curator of cultural history. "We don't work across the bureaus as often as we'd like, so this was an idea we developed, a complete exhibit that focuses on two collections — natural history and cultural history. There's lots of stories from both."
Perhaps the most famous avian artist was John James Audubon, and just before you enter the Riverside Gallery there is a magnificent copperplate aquatint etching by the artist of an osprey with a fish in its talons.
Apparently Audubon spent time in our state in the early 19th century, and this particular image was inspired by a trip to the South Jersey shore, just outside of Ocean City, where he observed osprey hunting for food in the Great Egg Bay, now called Great Egg Harbor Bay. (Travel to that part of the state and you'll see numerous platforms in the marshes made for osprey nesting and observation.)
One could spend 20 minutes absorbed in the detail of this work alone, admiring the prehistoric quality of the osprey's fearsome talons and beak, meticulously rendered by Audubon.
But the rest of the exhibit calls, literally.
One of the most pleasant aspects of "Fine Feathered Friends" is the soundtrack that accompanies your visit: bird calls from a variety of species, but all heard in New Jersey.
Collected from Cornell University's ornithology library, you'll hear familiar backyard birds like jays, robins, cardinals, and mockingbirds, as well as not-so-familiar birds such as the loon.
The sound sets the mood for the walkthrough, which begins with the science of birds — their calls, their use of plumage, family life, nesting habits, etc. Then there's "birds on the move," about migratory habits of our state's avians, some of which, like the Red Knot, travel tens of thousands of miles each year.
Ehret worked for a while at the Wetlands Institute in Stone Harbor and participated in banding Red Knots during their springtime migration in the Delaware Bay area, particularly Cape May.
"They travel from South America, all the way to the Arctic, and they stop off in Cape May to feed on horseshoe crab eggs," he says, noting that some of the volunteers he met actually made the long journey with the Red Knot.
Shifting to the artistic aspects of the exhibit, a cornerstone of New Jersey's cultural history of birds is famed avian sculptor Edward Marshall Boehm, who lived in Titusville, just miles from the museum.
A main section of the exhibit displays Boehm's creations next to taxidermy specimens from the NJSM's collection.
Viewers will see Boehm's masterful depictions of catbirds, blue jays, robins, towhees, and sugar­birds, just to name a few.
"We think this was the first time the Boehm porcelain birds were exhibited next to a taxidermy specimen, and some of them almost match," Ciotola says.
"After seeing the Boehm sculptures, I was a little (intimidated) because they were beautiful artworks, and I didn't know how they'd look side by side with our examples of taxidermy, some of which might be from the turn of the 20th century," Ehret says. "But they really do complement each other."
"I'm in natural history, so I collect bones and things, but in showing Boehm's pieces, I was blown away by how realistic and how well done they were, and it really gave me an appreciation of a subject matter I didn't know about," he says.
The exhibit continues with "birds in silk," antique examples of needlework, all incorporating birds of our state, and all done by school girls from New Jersey.
"This was another opportunity to bring out pieces that have rarely been on display," Ciotola says.
Yet another aspect of "Fine Feathered Friends" is "birds in wood," a focus on New Jersey's decoy carving traditions, which includes the Shore or Coastal School, and the River School, based around Trenton.
In addition, in and around the exhibit are "favorite feathered friends," familiar species like the crow and Great Horned Owl, chosen because of their widespread appeal.
Ehret's favorite from this group is the spotted sandpiper, that tiny creature you see running along the ocean's edge at the beach.
"They're interesting for a couple reasons, for one, they're found in waterways across the country, not just near the shore," he says. "But also, they have a different life history. The males take care of the nests and eggs, whereas the female will breed with four or five different males — quite a role reversal."
Most of the exhibit celebrates the abundance of favorite birds in the Garden State, but the issue of species reduction and extinction is addressed as well.
"By displaying extinct species like passenger pigeons and a Carolina parakeet, the exhibit also hopes to inspire an appreciation of birds and their importance in our world, and the need for continued wildlife preservation in the future," says Ehret.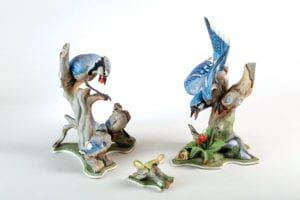 A small installment at the end of the exhibit shows now-extinct passenger pigeons both taxidermied and crafted by Boehm, as well as an unusual Stangl ceramic of the parakeet species once seen in New Jersey and all along the Eastern seaboard, also extinct.
"We try not to end on a sad note, but we want to use it as a call to action, since we've lost entire bird populations since the 1970s," Ehret says.
According to recent studies, nearly three billion fewer birds exist in North America than did in 1970. Experts say collisions with buildings is a major cause for the decline.
"People say, 'what can one person do?' and fortunately there are things we can do," he adds. "For example, New York City just passed legislation for the construction of skyscrapers (stipulating) the need to use a special kind of glass to reduce the accidents birds have."
Indeed, last year the New York City Council approved an initiative requiring new buildings and major renovations to meet construction standards that will reduce the risk of bird collisions.
"It's about changing our habits (just a little) to preserve the natural world," Ehret says. "We hope this is one thing people might take this away from the exhibit."
Ehret, 40, says half of his family has been in central New Jersey for generations, at one point in Trenton. More recently, his grandfather was the mayor of Wall Township, and his dad was a policeman in Howell. His mom was the bookkeeper for a local fire alarm supplier called Fire Security Technologies.
He grew up in Spring Lake Heights, just minutes from the beach and ocean. Currently he lives in Hamilton Square.
"There are picture of me in my playpen, on the beach," he says. "Living so close to the ocean really instilled a love for the natural world. Aside from the beach, my dad and uncles would take me to my grandparents' place (in Wall) and we'd look for shark teeth at Shark River Park."
Ehret recalls having some gifted elementary school teachers who also fostered his love for natural history.
"So much (of my interest) came from them and their sharing of everything about natural history, with me and my classmates," he says.
His appreciation for the ocean, bays, marshes, rivers, and creeks motivated Ehret to choose marine biology as his major at Richard Stockton University in Pomona.
"I said to myself, 'since I grew up on the beach, I want to have a job where I can be near the shore,'" he says.
Ehret earned his bachelor of science degree in 2001, then pursued graduate and doctoral studies at the University of Florida in Gainesville.
He had shifted his interest from marine biology to paleontology, focusing on fossils in modern tortoises for his master's and fossil sharks for his Ph.D. in interdisciplinary ecology, 2010.
After his time in Florida, he took a job as curator of paleontology for the Alabama Museum of Natural History in Tuscaloosa, but after a few years there, he really hankered to return to the Garden State.
"When the job at the State Museum became available, I was also thinking that my family was here, and I wanted to be close to them," Ehret says. "I'm so happy to be back in New Jersey."
It's almost a full circle experience for Ehret to be at the State Museum. He admits he didn't visit the NJSM as a youngster, but there is one piece here he recognizes from his childhood.
"When I was little, my grandmother used to take me to Princeton, when they had more of a natural history museum there," he says, adding that when Princeton ended its paleontology degree, some of the items in its collection came to the State Museum.
"The Elk Moose we have here on permanent loan came from the Princeton museum," he says. "It was the first fossil skeleton I saw as a kid, and now I see it every day at work."
He is also pleased to be working in a museum because it's a place where he can give back the enthusiasm for the natural world his teachers gave to him.
"We have many school children visiting the museum, and being able to share my knowledge with the kids, passing it on to the next generation, is something that really makes me happy," Ehret says.
Fine Feathered Friends, Riverside Gallery, New Jersey State Museum, 205 West State Street, Trenton. Through Sunday, September 13. Hours: Tuesday through Sunday, 9:30 a.m. to 4:45 p.m. Free admission, suggested donation. 609-292-6464 or www.statemuseum.nj.gov