Sculptor Janis Purcell's Ellarslie Open award-winning "Garden Delight" was seeded during a dark time.
"During the pandemic, I decided I wasn't going to buy new materials," says the East Windsor artist about the tree-inspired fabric creation on view with 160 other works by mainly tri-state artists at Ellarslie — aka The Trenton City Museum in Cadwalader Park — through October 2.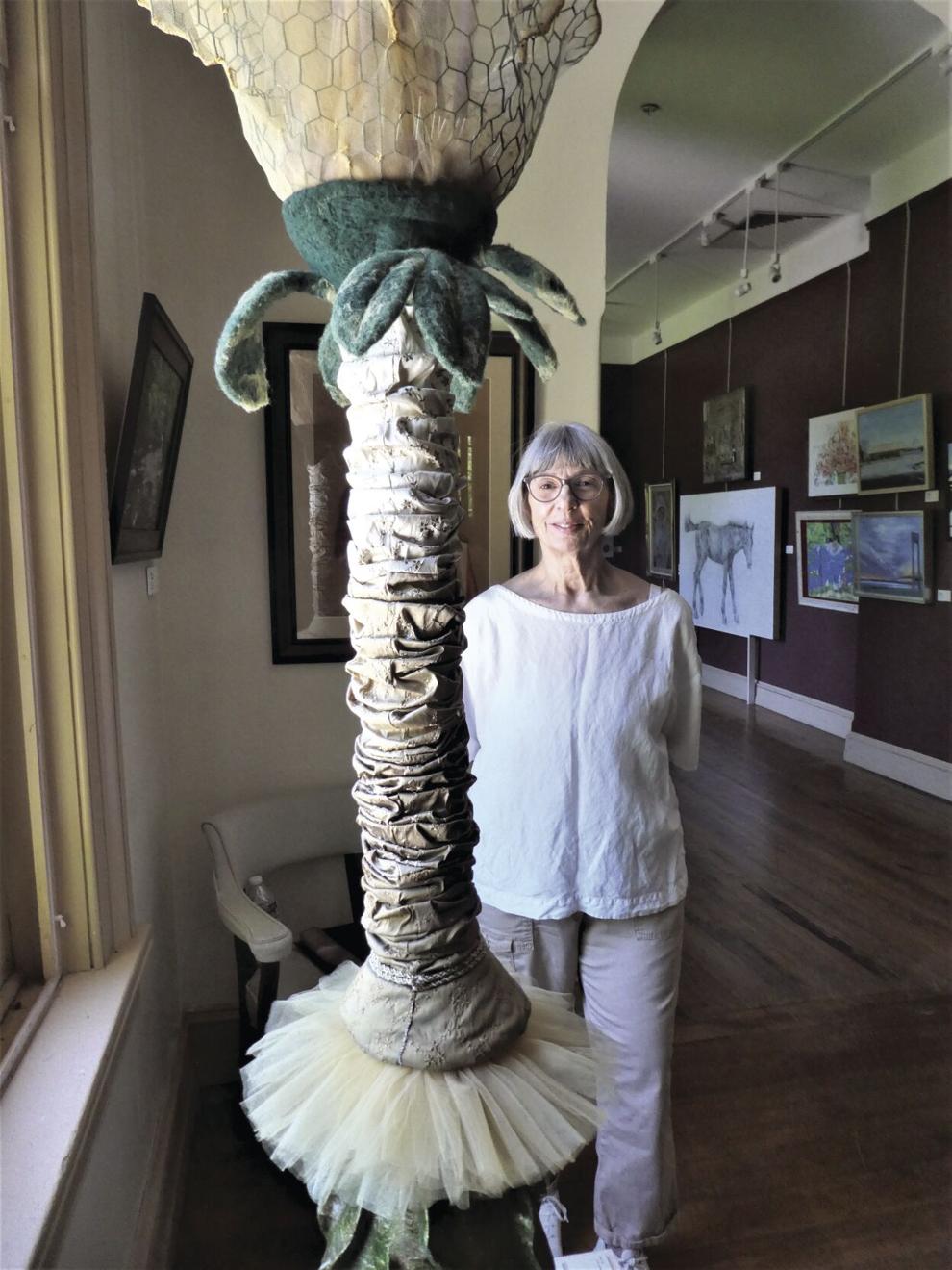 "I had so much stuff around the house. So I decided to look for what I could use," she says, adding that she disassembled another work "to repurpose this part of the sculpture."
One of several "delights" existing or in process, Purcell says they are part of her "surrealist fantasy garden," although she agrees that surrealism — a 20th century European art movement — may be limited and expands on her references.
First there is the connection to Dutch Renaissance artist Hieronymus Bosch and his early 16th century "Garden of Earthly Delights," a teasingly enigmatic depiction of fleshy humans existing in a colorfully exaggerated world of strange plants, bizarre animals, and benevolent and malevolent spirits.
Purcell names Bosch as one of her influences, especially "the way he shapes forms together."
Yet, she says her work generally uses the collective unconscious, 20th-century psychiatrist Carl Jung's proposed theory that humans are connected by universally significant images, and that she puts "shapes and forms together in a natural form. The best subject is nature. I believe that people are attracted to certain shapes and forms and aesthetics."
Another influence is 20th-century German photographer Karl Blossfeldt, whose work emphasized the artistry and architecture beauty of natural structures.
In addition to receiving both the President's Award and Second Runner Up Award sponsored by Jerry's Art-a-Rama, Purcell's Ellarslie piece is significant in another way. It helped the artist move from her former mediums of clay and concrete to fabric — and reconnect to her past.
"I am getting older, and I needed lighter materials," the Brooklyn-born 71-year-old says, adding that the solution was to mix her training with her father's background in tailoring.
"My father was a furrier; he designed and worked on furs. His job was on Seventh Avenue in Manhattan. I grew up with fabric and notions, trinkets, and buttons. I have a natural connection to that stuff."
To illustrate that influence, Purcell points to the color gradation of fabric on the truck of the sculpture. "It's from a (fabric) sample book. (The fabric) has the same patterns in different shades," she says.
She then points to the wool felting and the translucent material used to create the sculpture's crown. "I wanted to include something that was transparent. You don't see much transparency in sculpture. Here's garden wire. It developed into the head of a flower. I wanted to put the tulle in it to look like a flower. It has the element of a flower raised to an architectural and textural sculpture."
The product of a traditional Italian family, Purcell — née Suriani — graduated from Catholic grammar and high schools, "had to go to work," became a reservation agent for American Airlines, and married high school boyfriend Jack Purcell in 1973.
After nearly a decade, Purcell's American office relocated its operations to Texas, but she decided to stay in New York.
"I got severance pay and thought I could go to college," she says, adding that she hadn't been a good student and her family discouraged her.
With the support of her husband, who began taking graduate physics classes at Brooklyn College, Purcell decided to study art, recalling that she was always making things with thimbles and boxes around the house.
"That was in 1979. I loved every minute of college and flourished," she says about earning both an undergraduate and graduate degree, two fellowship, and a solid education. "I worked with famous artists: sculptors Anne Arnold and Lee Bontique, Lois Dodd, Philip Pearlstein. Those people were highly influential, and it was great that I actually picked that time. I was 30 years old. And I appreciated it more that I would (have earlier)."
She says that it was also where she became more connected with the Trenton area arts community — thanks to an active relationship between the Brooklyn College and Mercer County Community College art departments.
In addition to meeting Trenton-area artist and Mercer County Community College ceramics instructor Jimmy Colavita, Purcell says she met then-active Trenton Artist Workshop Association artists and organizers David Orban, Terri McNichol, and Lorraine Raywood (who has two works in the Ellarslie Open).
The result was that Colavita helped Purcell become an adjunct instructor at MCCC, get the opportunity to exhibit her sculpture at the college gallery, become a TAWA member, and eventually work with MCCC gallery coordinator Tricia Fagan as a part-time gallery assistant.
Meanwhile, Purcell says, her college work also propelled her to work on the arts on a different level. "When I went to college, I needed a little bit of encouragement, and my mind opened up like a sponge. I did excellent, and I learned how to work," leading to a 10-year stint as a creative designer in the wall décor industry. "I would sell art to Target and Bed Bath and Beyond. I'd go to trade shows."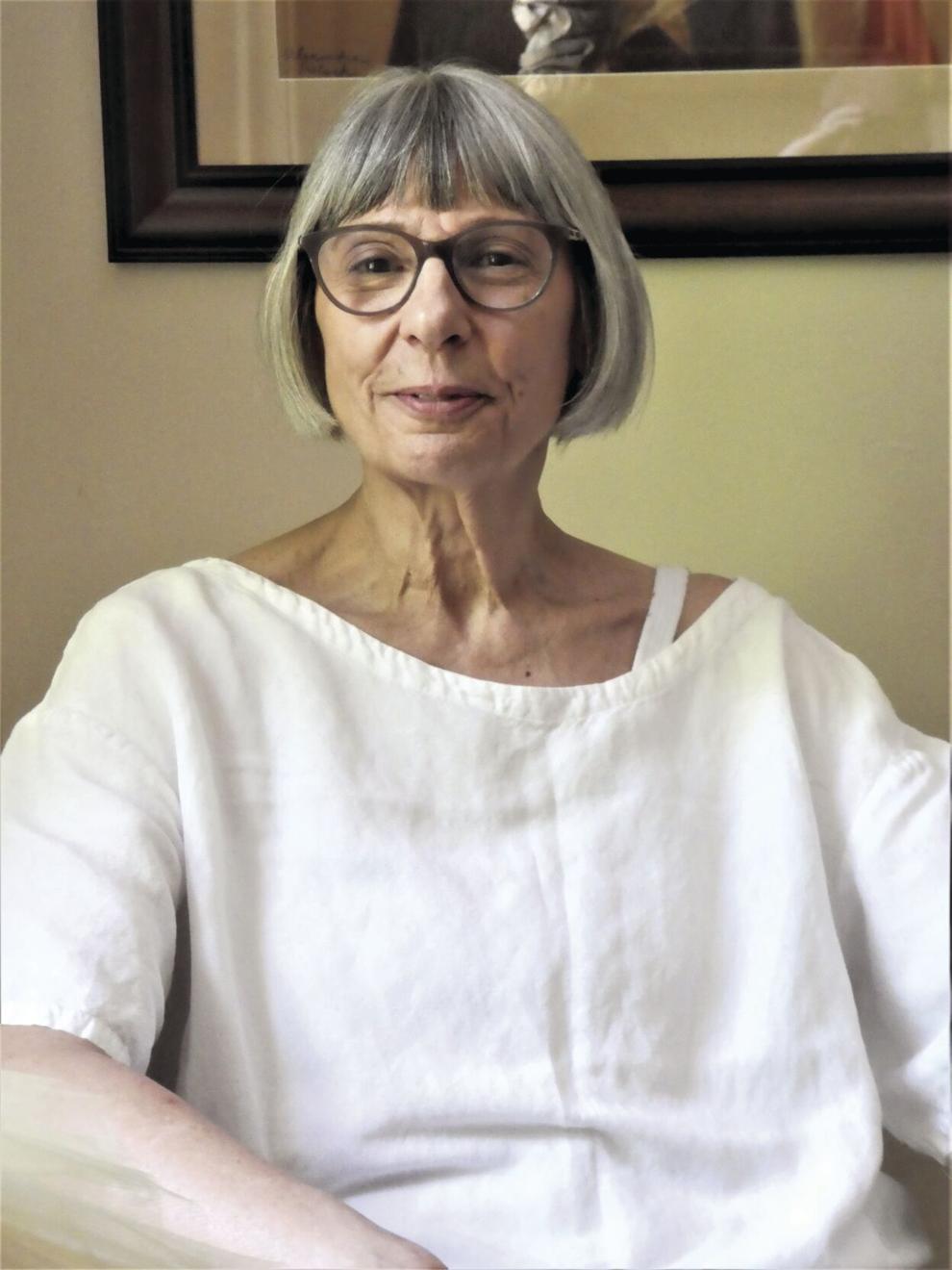 There was also the move from Brooklyn to New Jersey. "When my husband graduated from Brooklyn College, he became a research physicist at Schlumberger Technology (in Princeton Junction). We moved to Hunters Glen (Plainsboro). Then we purchased our first house in Hightstown, and we made a nice sale on it" that led to purchasing their current home in East Windsor.
Purcell's impetus to return to creating a more recent and focused body of work is connected to two difficult times.
"I was very depressed. My friend was passing at 50. He was sick with esophagus cancer," she says.
She dealt with it by tapping into the aforementioned world of images, starting with those she knew first hand. "I pulled a lot from my Catholic school upbringing. I am not a practicing Catholic, but I pulled from that, things that I grew up on."
She also pulled from other world sources discovered through study, including African masks, the "patterns on tribal art and the colors they use and the repetition of pattern," and the psychologically charged abstract sculptures of 20th-century German-American sculptor Eva Hesse, pointing out Hesse's "repetition and textural forms."
The other challenging time was supporting her mother and father, creating works that she feels contains moments of that time.
As an example, she references the work "A Moment in Time," a wood and fabric sculpture featuring an abstracted tree and full moon. "I worked on that when my dad was in assisted living for three years. It is my father and my life. I worked with him for three years at pattern making — which is related to sculpture.
"He was an artist. He made flat material into a wearable object. At home, he would tear down the house and rebuild it. He was a remarkable craftsman, and I take pride in my craftsmanship.
"Everything I learned about anything I do was from my grandmother (who crocheted) and my father. It is my whole life. I like the process, the thought, the religion. I pull from everything in my life."
Before participating in the current Ellarslie exhibition, Purcell's involvement with the museum started through her participating in Trenton-area arts organizations, being part of a two artist show in 2009, and through meeting Trenton City Museum board member Joan Perkes, who served as the juror for a Mercer County Arts Exhibition and named one of Purcell's works Best in Show. That work was the above mentioned "Moment in Time."
Purcell is also a Trenton Museum volunteer and among other activities is currently participating on the team conducting the Trenton Explorers Program.
Developed with the Trenton Public Schools, the summer program has Trenton middle school students attend morning learning sessions at their regular schools and afternoon artists' sessions at the Trenton City Museum.
Purcell says the Trenton-centric museum program provides Trenton students an experience that teaches them how to express themselves visually and exposes them to the city's visual expression and the city's culture. "It's important to give everyone a cultural experience," she says.
Purcell adds that the Ellarslie Open — juried by an outside curator often unfamiliar with artists in the region — is another important museum activity. In addition to providing artists with attention, it can also engage artists not normally included in regional arts circles or exhibitions because of various factors — including shyness.
Yet for herself, Purcell says receiving the President's Award provides "a great feeling" of being accepted by her peers. "That moves me. The acceptance gives me motivation" and artistic validation.
"I was leery about how this 'felt' thing was going to be accepted in the fine art world," she says. "There was always a difference between art and craft. But I'm trying to elevate felting into a fine art."
She is also humorously trying to differentiate something else, the difference between her and artist, writer, and Times of Trenton arts columnist Janet Purcell.
"Everyone gets us confused," says Purcell, who says the two are friends who have even exhibited together (although Janet used a former last name).
"Janet contacted me (upon receiving the Ellarslie Award) and said, 'I'm so happy you won the award. Now, everyone will be congratulating me."
Ellarslie Open, Trenton City Museum, Cadwalader Park, Trenton. On view through October 2. Open Wednesday through Saturday, noon to 4 p.m., Sunday 1 to 4 p.m. Free. 609-989-3632 or www.ellarslie.org.