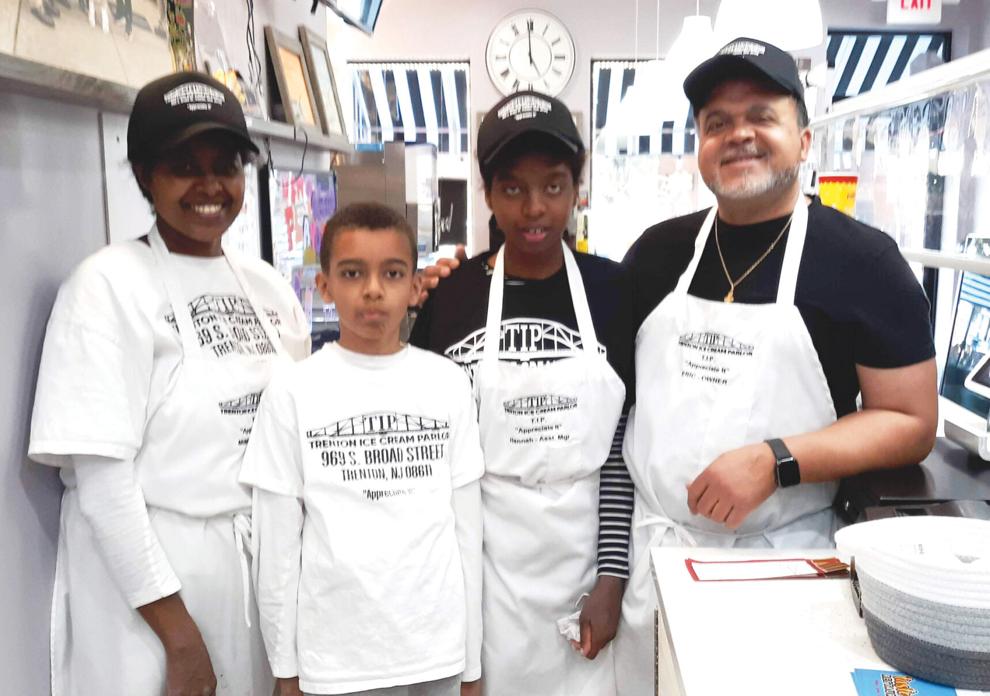 The Trenton Ice Cream Parlor's — aka TIP's — South Broad Street brown brick facade is embellished by a black and white awning, signage based on the Trenton Makes Bridge design, and a parkette with seating.
Inside is a bright ordering area with light walls, images of Trenton and family members, seats, and rows of brightly colored ice cream behind the gleaming glass counters.
Uniting the two is a story co-owner Eric McRoy is ready to dish out.
"I am a lifelong Trenton resident," he says.
Well, mainly Trenton. McRoy was born in Fort Dix to a military dad and a German-born mother.
When they separated, he and his mother came to Trenton and lived on Walnut Street.
McRoy then hopscotched through a variety of public and private schools: Cook Elementary, St. Mary's Cathedral, Notre Dame High School, and finally graduating from Trenton Central High.
He studied at the University of Vermont and earned degrees at Hampton University and Lincoln University then returned to the Trenton area to "get to work."
That came through the County of Mercer, where he worked as a social worker "training and getting people independent."
After he retired in 2018, he sold real estate. But that changed. "Now, all my energies are with the ice cream parlor my wife (Mimi Hailemichael) and I designed," he says.
Well, not exactly.
The original came from their daughter, Hannah, who created it under unusual circumstances.
Hannah is autistic and nonverbal.
"When she was 12 in her art class, she made a diorama of an ice cream parlor and brought it home," McRoy says. "She built the chairs and the window treatments, selected the color she wanted, and, on the tables, did the ice cream and desserts."
The design later became a prototype for their future.
McRoy says that as a parent of a disabled child, "You wonder, 'What can I do? What can I do to make my child's life easy?'
"My wife and I were talking. And we were looking at the ice cream parlor she built and said, 'That's it!' It was something she could do, she and her two brothers."
McRoy's choice for the Trenton location was easy. "We owned the building. We bought it 10 years ago. The building used to be a doctor's office. We kept the original closet where the doctor used to keep the medicine. That's where her artwork is.
"We didn't know anything about it, but a woman who visited told us of the (building's) history and how she used to take care of the doctor's daughter, who was also named Hannah.
"We didn't know that that the building had hidden qualities — a building of healing."
They also didn't know that the district's zoning that wouldn't allow the original plan: a window counter and waiting area.
However, the zoning allowed them to use the entire first floor for serving and seating, and the couple dove into "a lot of planning."
And while it was all inspired by Hannah's design, McRoy admits that they embellished it. "The great thing about having a computer is that we got ideas from around the world, but it all goes down to Hannah's design."
After months of planning and making an effort to use Trenton businesses, TIP opened in March, 2020.
McRoy says, "We had our grand opening. It was ribbon cutting and art event. That was Saturday."
The following Monday, Governor Phil Murphy ordered the state to close in order to contain COVID-19.
"A lot of people felt bad for us," says McRoy. "But we owned the building and had (an upstairs) tenant. We didn't pay rent and we owned everything inside. So we could close for 18 months."
After seeing people getting vaccinated, testing the market, and hearing that mask restrictions had been rescinded, McRoy and Hailemichael reopened on April 20, 2022, to "the same appreciation that we started with."
Looking back, McRoy says that the initial reaction from associates and neighbors was that it was a poor decision to invest in an ice cream parlor on a street that has seen its share of neighborhood decay.
However, he adds, "an interesting thing happened. The block started changing, the community started hanging around the ice cream parlor. People throw things in the garbage now. People are taking pictures. It's been like a shining star to have the parlor there.
"The really interesting thing is we see a lot of parents come in with children with special needs — and if you're a parent of a child with special needs, you're not invited to places with other children. People who have seen our shop and story see hope.
"We never anticipated anything like that. We started out to build a safe place, and by doing this an extraordinary thing has happened in our community. It made us realize that it is bigger than us. This is something we didn't plan."
McRoy says other customers include parents giving their children a reward for their report cards, people traveling the state to visit ice cream shops, and Grounds For Sculpture visitors who find the place on a web search and head over.
On a recent Saturday afternoon, teenagers and families arrive in bursts to gaze at the offerings of hard ice cream purchased from a variety of vendors, including Artic Ice Cream in Ewing, and the eight soft ice cream flavors that are custom made on the premises. That includes mint and salted caramel.
Hannah is on hand, but, as McRoy says, the 17-year-old "may say hi to you, she may serve you, she may wave goodbye, but one thing she'll always do is look at the pictures you have on the phone."
After scanning through the images on my Android, Hannah leaves me with her mother, who shares more about the family journey.
Hailemichael left her native Ethiopia on a diversity visa to come to stay with relatives in Trenton, joined an Orthodox church in the city, and met her husband when she was waiting tables at Pete's Steakhouse.
Married now for 20 years, she says they lived on Second Street for years before moving to other Trenton locations. They also started a shop in Morrisville and a real estate business.
And while they currently live in Cream Ridge, she and her husband attend church in Trenton and maintain several Trenton properties. She also notes that her daughter and first son, Solomon, were born in Trenton (another son, Yoseph, was born in Freehold).
Upbeat as the upbeat slogans on the shop's walls, Hailemichael says she looks forward to some new food items over the summer including baked cookies, popcorn, and hot dogs with a special sauce that she's concocting.
Echoing her husband's enthusiasm, Hailemichael says the street seems to be changing, thanks to a combination of the City of Trenton addressing quality of life problems and a growing Latino population taking ownership.
"I want Trenton to be a place for people to come and enjoy. Anyone can come here," she says about the shop. "But at the end of the day, it's Trenton."
TIP, 960 South Broad Street, Trenton. Wednesday through Sunday, noon to 6 p.m. (summer hours to be announced). www.trentonicecream.com.