Professionals can learn from working with amateurs. Just ask Alex Meakem.
A professional singer and music teacher, the 25-year-old Lawrenceville resident also works as a choral scholar for Voices Chorale NJ, an auditioned chorus of more than 40 amateur community singers that rehearses and performs in the Princeton area.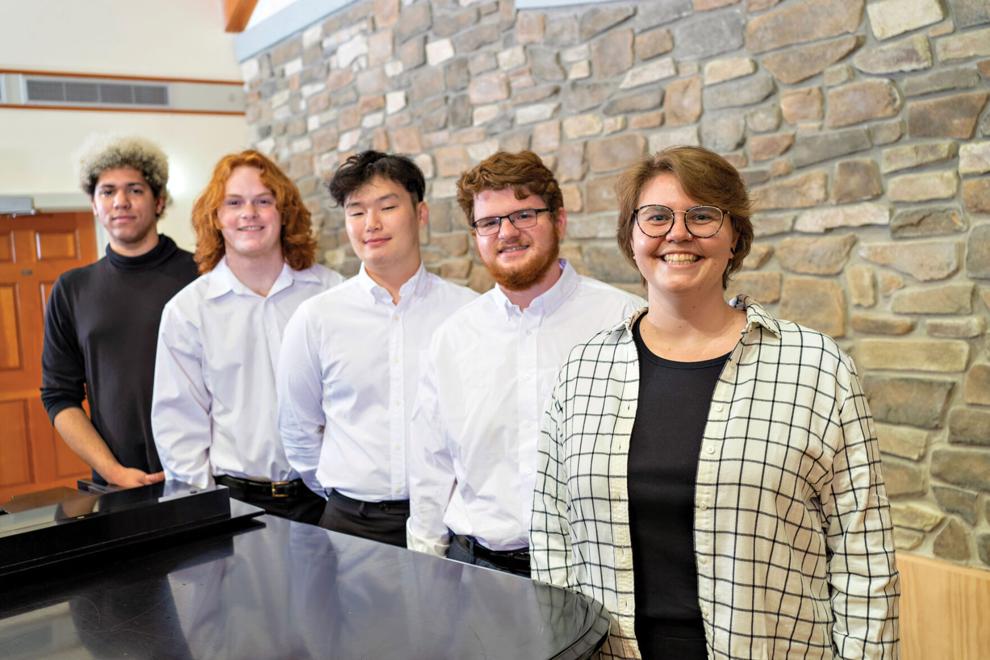 Meakem, along with four other choral scholars, will be singing with Voices Chorale during its winter concert, "I Dream a World," on Friday, December 17, at Princeton's Trinity Church.
"I'm not somebody who's only interested in singing with professionals. I do love singing with pro ensembles, but it's also nice to be a part of a community," says Meakem, an alto and 2018 graduate of Westminster Choir College in Princeton. "Voices seemed like a great organization, and the members rubbed me the right way," she continues.
Early-career singers get a chance to use their technical proficiency and talent to support the volunteer singers in the choral scholars program of Voices Chorale NJ. Says Meakem of the experience, "people are expecting me to sing the right notes, answer any questions they have, and help them with the musicality of each phrase." But she continues, "I need to be paying attention to the conductor at all times so that I can really lead."
For young singers like Meakem, getting hired as "ringers," or extra singers to supplement community or church choirs, provides income that can help them make a living from music.
When she first became a choral scholar in 2018, Meakem says, "I was doing a lot of gig work back then, scouring all the Facebook groups for 'we need an alto — come do this gig.'" With these mostly short-term gigs, Meakem would squeeze in as many ensembles as she could during the high seasons to tide her over into the slower months for performances. In the Voices program, singers chosen as choral scholars are paid for all rehearsals and through the concerts.
"I liked the idea of it being steady," says Meakem of why she decided to try out for Voices. She also liked the impression she got from the group's artistic director, David McConnell, who had also graduated from Westminster Choir College — the latter being a connection in the lives of many local young musicians starting their professional careers.
McConnell says because most of the choral scholars come from Westminster, "they have experienced the absolute best in choral work. It can be hard to leave that level of singing and come and work with groups that do not operate at the same exalted level. Hopefully, with us, they experience our passion for music-making and our desire to touch an audience even though our technical proficiency might be at a different level."
"There are a lot of absolutely stellar singers that you're singing with every single day, making it easy to rest on your laurels," says Meakem of her time at Westminster. But working with amateurs is much more demanding. "Singing with community organizations, where it's people who just like to sing, have great spirit, and are looking to learn, gives me more of an opportunity to develop leadership," says Meakem, who often runs warm-ups and finds it challenging to "see if I can keep everyone's attention and look out for everybody's vocal health."
It wasn't a love of music that initially brought Meakem to choral singing, but the lure of an amusement park. A friend in middle school convinced her to join the choir because they would be performing at Dorney Park in Allentown, Pennsylvania. She wasn't planning on staying in the choir, but her dad insisted it would be good for her, as he had been part of the same choir program. "I ended up actually loving choir and sticking with it."
She continued singing in her hometown of Ringwood, New Jersey, meeting many mentors linked to Westminster, including her high school choir director. She didn't even apply to any other colleges. "They told me: 'you're going to Westminster.' I said, 'okay, I guess I am,'" she says.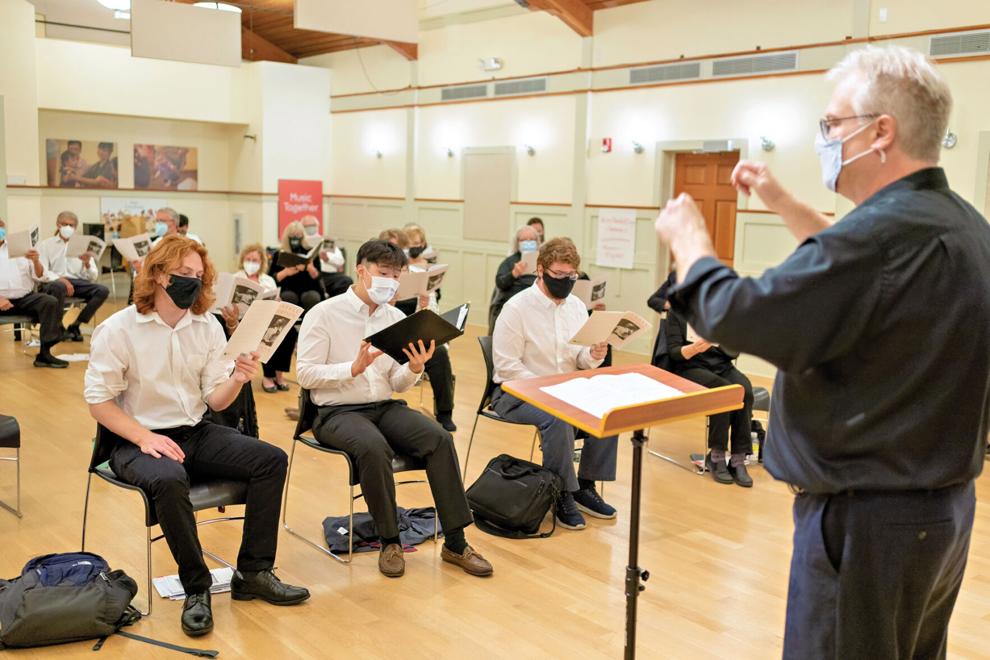 After graduation, in addition to singing gigs that helped pay the rent, Meakem started teaching voice and piano lessons at Octopus Music School, a privately run music school in Hillsborough and North Brunswick. But when the pandemic began drying up singing jobs, Meakem went to full-time remote music teaching for the school.
Then, as more performance opportunities returned, Meakem reduced her teaching to two days a week to expand her other roles in the local music scene.
That includes serving on the artistic committee for Voices and helping select repertoire and more. "Seeing how to run board meetings, seeing how community ensembles can succeed and fundraise and hold events," she says gives her a better understanding of the administrative side of music performance.
Looking towards her future, Meakem says, "In my ideal world, I would love to do admin work for a pro ensemble and sing with them as well."
Fittingly, in addition to continuing as a choral scholar with Voices, Meakem is the executive director, board vice president, and a singer with the new choral ensemble called The LOTUS Project, set to present its inaugural concert at Trinity Cathedral in Trenton on Saturday, January 22, 2022.
Since the Westminster alumni community is strong in the Mercer/Bucks area, Meakem has recommended Voices to other colleagues including Michael Thaddius Banks, a baritone choral scholar and now the assistant conductor.
Banks began singing at a young age, continuing through high school, where a highlight was singing in a choir for a holiday party at the Obama White House. In addition to numerous prestigious past and present singing gigs, Banks is a contributing author for Opera Wire and works as an associate at the Princeton University Art Museum.
This year, three other choral scholars are working with Voices. Aiden Gent is a tenor with a bachelor's degree from Westminster and a master's from Rutgers, both in vocal performance. Gent's singing started while growing up in Brookline, Massachusetts, where he was cast as a lead in Benjamin Britten's "The Turn of the Screw" at Boston Lyric Opera. He currently teaches music lessons alongside Meakem and sings with the Philadelphia Symphonic Choir.
Tyler Kim and Benjamin Kirk round out the tenor section, both current Westminster Choir College students.
Says McConnell of the choral scholars, "I hope they learn how important it is to share their love of music with as many people as possible, and how that enriches them both as musicians and people."
Meakem is completely smitten with choir singing, whether alongside amateurs or in professional ensembles. "When you're singing in four-part harmony, and you get a chord that just lines up exactly the way that it's supposed to — you can hear the overtones buzzing, and you know that everybody is so engaged. It's a really rewarding experience. And everyone's in this together. It's teamwork. I love being a part of a team, and that's what choir can really be."
I Dream a World, Voices Chorale NJ, Trinity Church, 33 Mercer Street, Princeton. Friday, December 17, 8 p.m. $20 advance, $25 at door, $10 online. www.voiceschoralenj.org
Julia Tell (www.juliatell.com) is a volunteer singer of Voices Chorale NJ and a freelance writer specializing in education and digital transformation.