Some of the nation's most interesting stained glass exists close to the central New Jersey region and is worth a visit.
To make a handy list of places to visit, I went over my stained glass research notes and asked stained glass master J. Kenneth Leap for his recommendations.
While some were mentioned in my March 27, 2018, article, in U.S. 1, "Adventures in Light and Color," we'll briefly note them again and follow them with some fresh thoughts about nearby visits or easy day trips to eye boggling destinations.
Leap quickly recommends Princeton and the Princeton University Chapel as an important representation of the Gothic Revival glass movement that features work by the noted American glass artists Charles Connick and Nichola D'Ascenzo.
He also appreciates the Princeton University Art Museum's glass work from various eras, including pieces from France's historic Chartres Cathedral as well as work by Louis Comfort Tiffany, Frank Lloyd Wright, and Pre-Raphaelite artist Edward Burne-Jones.
Equally close by is Trinity Church in Princeton, also influenced by the Gothic Revival movement and featuring work by Connick and the important William Willet Glass Company, founded during the above mentioned movement and based in Philadelphia. Princeton United Methodist Church offers a free stained glass tour that centers-around its gigantic Tiffany glass. And nearby at Princeton Abbey and Cemetery, formerly Saint Joseph's Seminary, is a Romanesque-styled chapel with a suite of glass created by D'Ascenzo available to see during services and occasional tours.
Leap's own stunning work at the New Jersey State House in Trenton is often a part of the building's tour, and a highlight of the State House Art Tour, but the capital city has additional significant glass art that was part of a regional movement involving regionally based Gothic Revival artist George Sotter, who designed stained glass for the New Jersey State House Annex and had a studio in Bucks County.
He was also a teacher to artists Valentine D'Ogries, who created the glass for Trinity Episcopal Cathedral on West State Street, and Edward Byrne, creator of the glass for St. Mary Catholic Cathedral on Warren Street. Also on Warren is St. Michael's Episcopal Church and its Tiffany Windows and glass by the New Jersey-based J&R Lamb Company. It was established in 1857 and maintains the oldest continuously operating facility in the United States.
For day trips involving stained glass, there are several recommendations.
Pennsylvania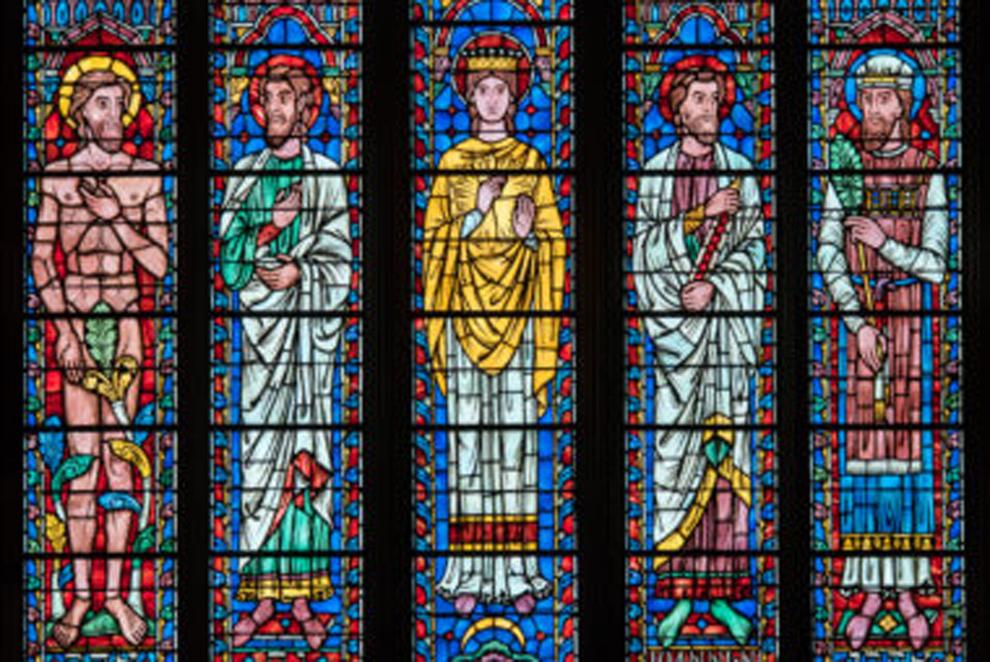 Bryn Athyn Cathedral, located about 30 miles away from the U.S. 1 circulation area in the town of Bryn Athyn, holds an important role in the creation of stained glass in America — and the world. As indicated in the story on page 11, they recreated a medieval guild studio and furnace to create the glass for the 20th century Gothic-styled building.
Part of a campus that includes a college, the Swedenborgian influenced worship center is connected with Raymond Pitcairn, the Philadelphia-born heir to the Pittsburgh Plate Glass Company.
According to the Bryn Athyn Cathedral's history, as early as 1914, Pitcairn had begun thinking about the stained glass windows for the cathedral. Determined to reproduce the textures and pure colors of the early Gothic French windows he admired during his trips to Europe researching construction, he arranged for the translation of a 12th-century manuscript on the subject to revive the medieval art of making pot metal glass.
His artists were sent to England and France to photograph and draw windows in specified churches. He also sent them to see a stained glass collection of a friend, in order to provide them with a hands-on view of medieval panels.
Stained glass craftsmen were sought and set to work experimenting with color recipes before they moved on to create the hand-blown windows seen in the Cathedral today.
For more information on the building and tours, go to brynathynchurch.org/bryn-athyn-cathedral/history-and-architecture.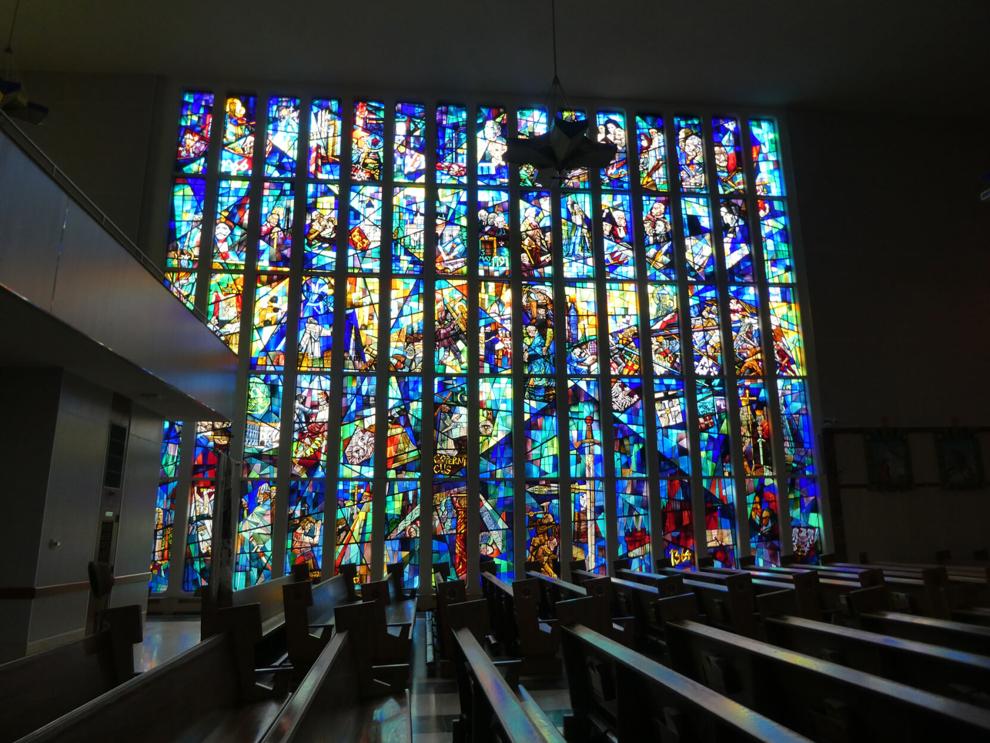 The National Shrine of Our Lady of Czestochowa in Doylestown was built in the mid-1960s by Americans of Polish decent to honor their spiritual and cultural heritage.
The center's main church features two 40-by-50-feet walls of 75 panels each, considered the largest glass walls in North America. One chronicles the history of the Polish people, spanning its prehistoric era to nation's mid-20th century resolve to defy communism. The other wall looks at the European colonization of South and North America, including images of William Penn and the signing of the Declaration of Independence.
The windows were designed by Father Michael Zembrzuski and architect Jerzy Szeptycki and composed by Jerzy T. Bialecki. Based in Morristown, New Jersey, at the time of the construction, the Polish-born Bialecki studied painting and stained glass at the Academy of Fine Arts in Warsaw.
After serving as a Polish glass conservationist for five years, he came to North American in 1964, worked for New York glass studio, and opened his own 1966. A frequent international exhibitor and winner of two awards in the 1964 Competition of Religious Art in Warsaw, he began working on the windows in 1966 and engaged the prominent then-Philadelphia based Willet Studio of Stained Glass Windows to produce the glass.
For more information, visit www.czestochowa.us.
Two Elkins Park synagogues work together to make this town — roughly 35 miles from the U.S. 1 region — a memorable stained glass and architecture stop.
Keneseth Israel offers a full wall of work by the late Jacob Landau, a nationally known illustrator and painter who had lived in Roosevelt, New Jersey.
Commissioned by the Reform Congregation Keneseth Israel to commemorate the occasion of the synagogue's new building in Elkins Park, the series of 24-foot-by-5-foot windows reflects Landau's combination of flowing imagery and powerful statement and a dynamic and changing evocation of the readings of the prophets Abraham, Elijah, Amos, Hosea, Isaiah, Jeremiah, Ezekiel, Second Isaiah, Job, and Malachi.
It was Landau who proposed the subject matter in order to explore God's decree that humans live justly and the human struggle to deal with evil and pain.
Landau's only stained glass work, the work featuring 30,000 pieces with 100 colors was fabricated in Philadelphia by the Willet Company. One of the premier American stained glass companies, Willet also created glass for Trinity Church in Princeton and Princeton University Chapel. The company, now Willet Hauser, has relocated to Minnesota.
Landau's collaborator was Benoit Gilsoul, an internationally known Belgian-born stained glass maker who created for Willet as well as with his own studio. In addition to designing the glass for universities and churches, Gilsoul also created the artistically etched glass walls for the Hughes Justice Center in Trenton.
For more on Keneseth Israel, visit www.kenesethisrael.org.
Beth Shalom Synagogue is Frank Lloyd Wright's only synagogue design and offers mainly an architectural tour in which glass is a contributing detail.
The National Historic Landmark, built between 1953 and 1959, is a pyramid-like mountain of glass rising atop of a foundation marked by triangular protrusions rising up to surround half of the building. The building fulfills Wright's promise, "Your temple will be 'Mount Sinai cupped in the hands of God.'" He also suggested that the raised roof reflected ancient tent structures.
Designed in cooperation with the congregation's Rabbi Mortimer J. Cohen, the building emphasis the use of triangles that appear and reappear in various places and even creates Stars of David in lighting fixtures. The main sanctuary uses a sand-colored sloped floor that suggests the Biblical desert while overhead is the metaphoric and literal heaven, with the glass and plexiglass covering bringing light to the sanctuary's ceiling and letting it change with the day.
Beth Shalom Synagogue, 8231 Old York Road, Elkins Park, Pennsylvania. Tours Wednesdays, Thursdays, and Sundays or by appointment, $10 to $12. 215-887-1342 ext. 106 or www.bethsholompreservation.org.
Northern New Jersey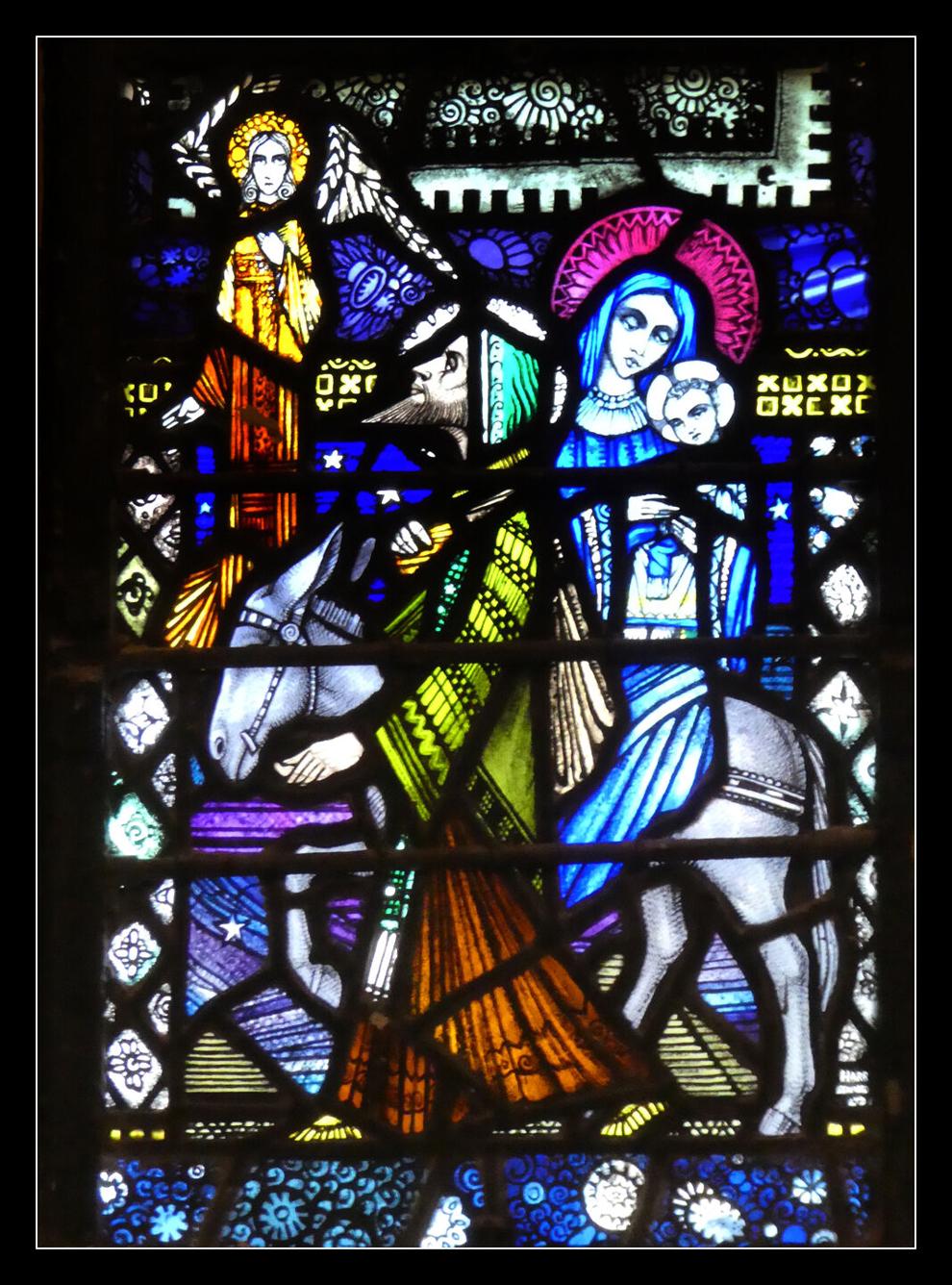 Saint Vincent De Paul Church in Bayonne is a destination Leap and I feel is great for art lovers. It is the only American church with windows designed by the internationally acclaimed Irish stained glass master Harry Clarke (1889 to 1931).
Clarke's shimmering and expressive style was fed by a variety of influences that range from the art work Gustav Klimt to Aubrey Beardsley and were informed by the French Symbolist and the Celtic Revival art movements.
Although his monumental publicly commissioned stained glass created a controversy because it depicted erotically charged scenes from books by contemporary Irish writers, he was commissioned in the 1920s by the Irish-born priest and Clarke admirer Joseph F. Dolan to design 40 windows for the Bayonne church.
The fatally ill Clark personally supervised the first stages of the commission and by 1928 had completed the designs and color schemes for the nine chancel windows depicting angels holding symbols of the mass. They were exhibited at Clarke's Dublin studios in October, 1929.
After Clarke died in January, 1931, his company continued the work and completed the commission in the 1940s.
St. Vincent De Paul, 979 Avenue C, Bayonne, New Jersey. The church is open regularly for services. For more information, visit www.stvincentdepaulchurchbayonnenj.com.
The Cathedral Basilica of the Sacred Heart at Branch Brook Park in Newark is high on Leap's list of recommendations. Reported to be the fifth largest cathedral in North America, it is roughly the size of Westminster Abbey, 45,000 square feet.
The French Gothic-styled building with two towers taller than those at Notre Dame in Paris features 200 stained glass works that were created in 1954 by artisans at the Zettler Glass in Munich, Germany.
The use of images reflects medieval stained glass's intent to visually depict Biblical stories with an emphasis on New Testament images of Christ's life and miracles.
Cathedral Basilica of the Sacred Heart, 89 Ridge Street, Newark, www.newarkbasilica.org.
Leap also notes that there are two northern New Jersey cemeteries where, despite seeming odd destinations, viewers can see the art by his one of his major influences, Albinus Elskus. One is the Gate of Heaven Cemetery in East Hanover where the internationally known Elskus created his largest work, the 27 by 12 feet "Our Lady" (www.rcancem.org/gate-of-heaven-homepage). He also created glass for the Holy Cross Cemetery in North Arlington (www.rcancem.org/holy-cross-homepage).
New York State
Union Church in Pocantico Hills, about 100 miles away in the scenic and historic Tarrytown region of New York State, features two major artistic attractions.
First is the "La Rosace," designed by the influential French artist Henri Matisse (1899-1954). Noted to be his Matisse's final work, the rosette was commissioned by the Rockefeller family to memorialize art patron and Matisse collector and friend, Abby Aldrich Rockefeller, whose husband had funded the construction of the Gothic Revival-styled building.
"La Rosace" uses the artist's colored paper "cut-outs" method and was completed four days before he died. His daughter coordinated the commission's completion in 1956.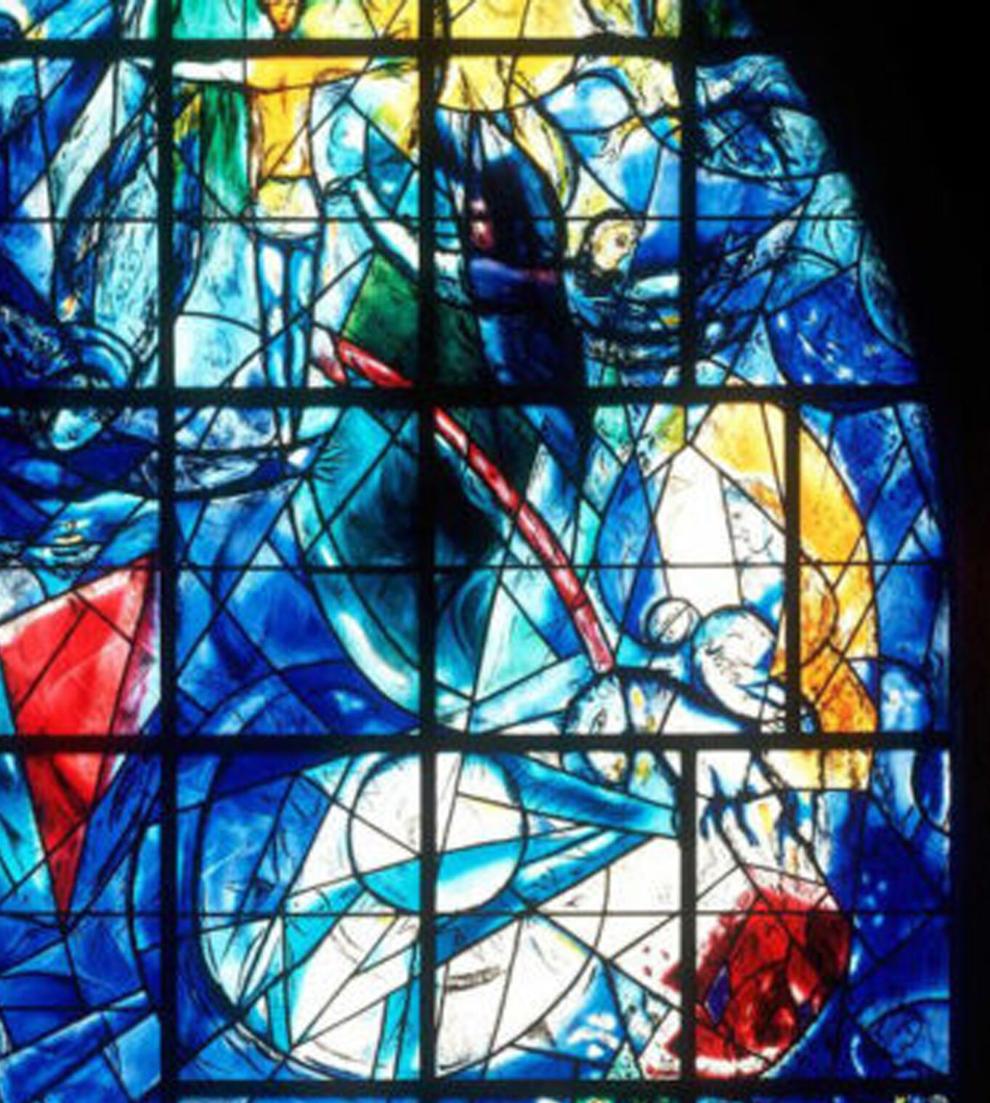 The second attraction is a suite of windows designed by celebrated Russian-French artist Marc Chagall, commissioned several years later by other members of the Rockefeller family involved with the church.
The designs are based on the parable of the Good Samaritan. They were completed in 1966 after Chagall traveled from Nice to Tarrytown to study the site and prepare the final drawings.
Using the approach similar to his 1962 "Jerusalem Windows," Chagall used glowing colors painted applied directly to the glass, leaving clear areas to include the outside sky and woodlands.
The center piece is an arched widow, 9 feet wide and reaching a 12-foot tip and has been described as a "vast eruption of color." The eight smaller windows' images represent the crucifixion, several prophets, Elijah ascending to heaven in a fiery chariot, and the expulsion of Adam and Eve from the Garden of Eden.
While autumn provides an opportunity to see fall foliage colors along the Hudson Valley, Leap argues that seeing the glass during the winter provides a clear and sharper view.
No matter what season it is the only place where visitors can see two of the 20th century's greatest artists working with light and color.
For more details, visit hudsonvalley.org/article/union-church-of-pocantico-hills-virtual-tour.