The New Jersey State house Tours have resumed after the state's closing and offer visitors the opportunity to explore the functions of government and the historical building where it happens.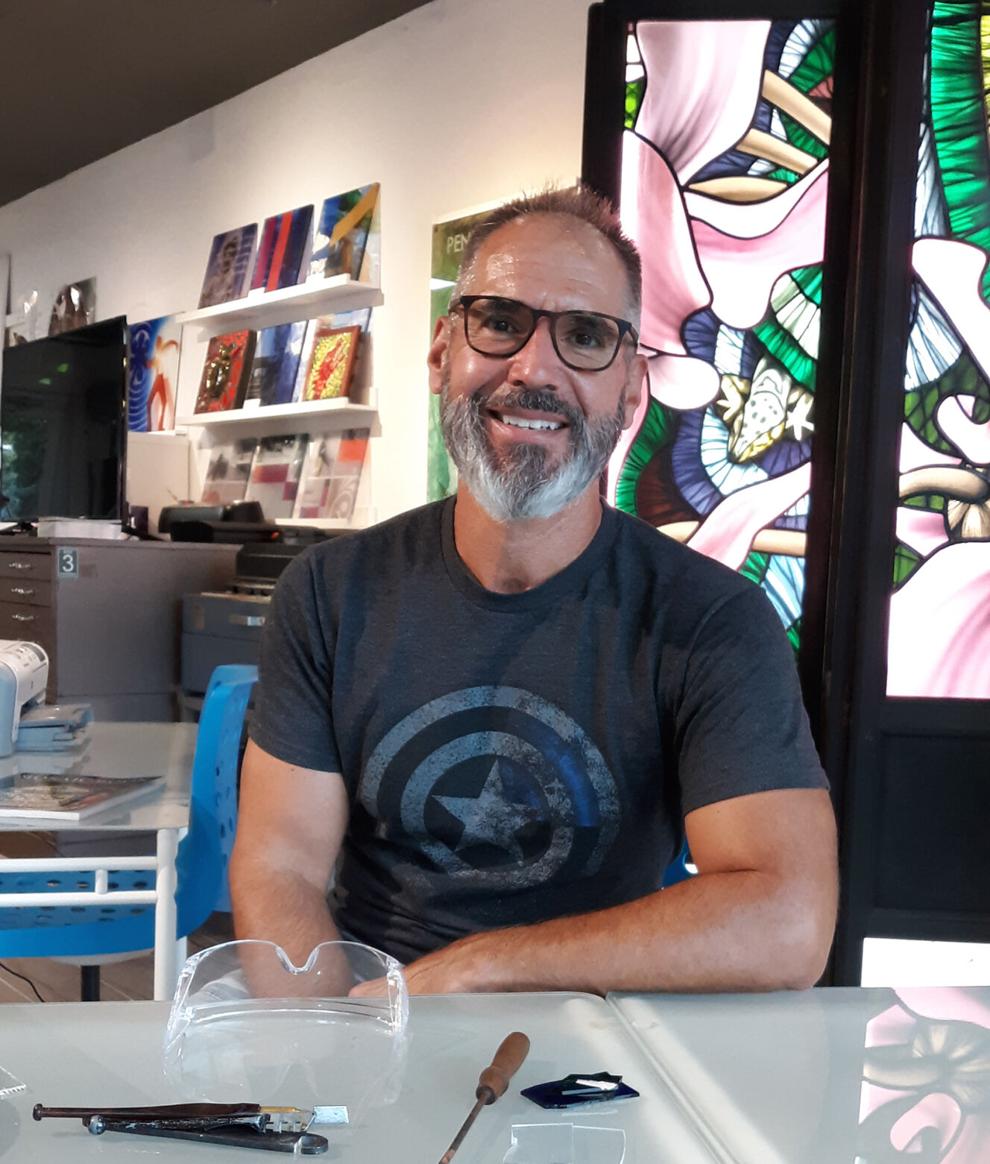 The tours — currently affected by major renovations on the capitol building — also highlight some of the building's architecture and art. One stop on many of the tours is one of the state's most engaging commissions, "New Jersey: A 360 Degree View."
The work is a 1,500-square-foot stained glass State House Annex skylight that tells the story of New Jersey through a mixture of factual and fictional images.
The factual includes the images connected to the Trenton and Princeton region: George Washington and his boats on the Delaware River, Princeton University, Albert Einstein, and the New Jersey Statehouse.
On the fanciful side, the stained glass includes images of the radio-inspired Martian invasion of New Jersey and a lurking Jersey Devil, a presence that provides an entry into the imagination of the New Jersey artist who created this stained glass tour-de-force, New Jersey artist J. Kenneth Leap.
"My dad gave 'lost towns tours' of the New Jersey Pinelands, and the Jersey Devil was a favorite subject of his," Leap says. "He had a book on the Jersey Devil in his study. The 'eyewitness' descriptions of the Jersey Devil are pretty out there — horse's head, cat body, leathery wings. I opted for something a little more classical and depicted him as a tragic figure — a little misunderstood but not malicious."
"My dad was interested in history, and I got interested," continues Leap in his Runnemede, New Jersey, stained glass and mural studio. It is close to where he grew up and his father had a sign painting business and his grandfather ran a grocery store.
"I am a designer and work in a number of different media. What I'm known for is stained glass, but I started as a painter and an illustrator."
Although he had been exposed to stained glass windows through attending the Episcopal Church, he says the shift from working on paper and canvas to glass was something unexpected.
The talented artist was a sophomore majoring in illustration at Rhode Island School of Design, when, he says, he says, "I had a crisis of confidence and was looking at a blank piece of paper and trying to fill it up. Then a voice said, 'Change your major and go into glass.'
"I knew nothing about it and investigated the glass program. They were looking for undergrads and made me an offer. My illustration teacher said I could go back (to the illustration major). So, I spoke to my dad who said, 'We sent you to college to grow up'" and would support his decisions.
Leap says when he transferred to the glass department, he was struck by an immediate difference. "I was one of 400 students in illustration, but when I was in the glass program it was, 'Here's the key to the studio.'"
He says he also did not realize how challenging it would be to work with three dimensionally sculpture-like glass in the style of Dale Chihuly.
"Basically everything was about the material," he says, adding that students would be given assignments involving natural materials, quick delivery, and fast critiques.
"It was great preparation for doing public art commissions, where you'd be given a brief and have to come up with a solution in a specific amount of time," says the artist who in addition to the commission for the New Jersey State House Annex has also executed projects for Kean University, New Jersey Transit's Edison and Pennsauken train stations, and the historic Atlantic City Convention Hall.
He says he gravitated to creating stained glass panels during a visit to Europe during his junior year. "While I was in Germany, I saw painted stained glass. It was so exquisitely painted, and I became curious about how it was done."
He decided that he would do a degree project and investigated glass painting by learning how to make stained glass, cutting and fitting it with lead, and then taking glass painting classes using a medium composed of silica and metallic oxide) and painting it directly on the glass.
"I was accomplished in watercolor painting, but I found it infuriating to paint with this," he says, adding, "After 30 years of working in stained glass, mural painting is easy. If something breaks you put a line over it."
Leap says he then set off to a do a glass painting project and was guided by the 1980 book "The Art of Painting on Glass" by internationally respected Lithuanian glass artist and instructor Albinas Elskus.
Leap later found Elskus was teaching in the United States, attended his class, and stayed in touch with him. Leap says he then "saved up money to buy a kiln, and my dad gave me space in his sign shop. And I made the best stuff I could."
After graduating from RISD, Leap took additional classes at the Pennsylvania Academy of the Fine Arts, Parsons School of Design, and the Philadelphia College of Art.
He eventually opened his own studio in 1987 and has since received public and private commissions and has exhibited his work at Montclair State University, Noyes Museum of Art, Newark Museum of Art, New Jersey State Museum, and others.
He also has taught stained glass making at two important centers. One is the noted Millville, New Jersey, Wheaton Village, where Leap has a second studio. The other is Bryn Athyn College whose campus is also the home to a recreated medieval-guild styled glass studio that created the glass for the cathedral built in the first part of the 20th century.
"I had been teaching 'medieval style' glass painting workshops at my studio at Wheaton Arts in Millville, New Jersey, for several years, using photographs as references, so I offered to teach that workshop at (Bryn Athyn). When it came to fruition and I had the opportunity to teach in the medieval gallery surrounded by 12th-century stained glass panels, it was a dream come true."
"J. Kenneth Leap's stained and painted glass ceiling mural in the New Jersey State House Annex is one of his first major commissions," says Trenton based artist Tom Moran, the longtime former coordinator for the New Jersey State Council's public art division which oversaw the artists selection process for the 1995 state house renovations. "He won the competition based on his extraordinary design, which illustrates key moments in New Jersey history. In terms of his execution of this extraordinary artwork, Leap, one of the leading glass artists in the state, combined his mastery of stained glass with his signature method of painting glass images. The painting of glass has its roots in early German art, which Leap studied. This artwork was a major accomplishment for Leap. It helped pave the way for many public and private commissions for the artist over the succeeding decades to the present day."
Leaps says the idea for creating the "New Jersey — a 360 View" faux skylight was to match another skylight in the annex. "I suggested the panorama with all the state imagery. The subject matter was left up to me. All the imagery created in the building was what I proposed," he says.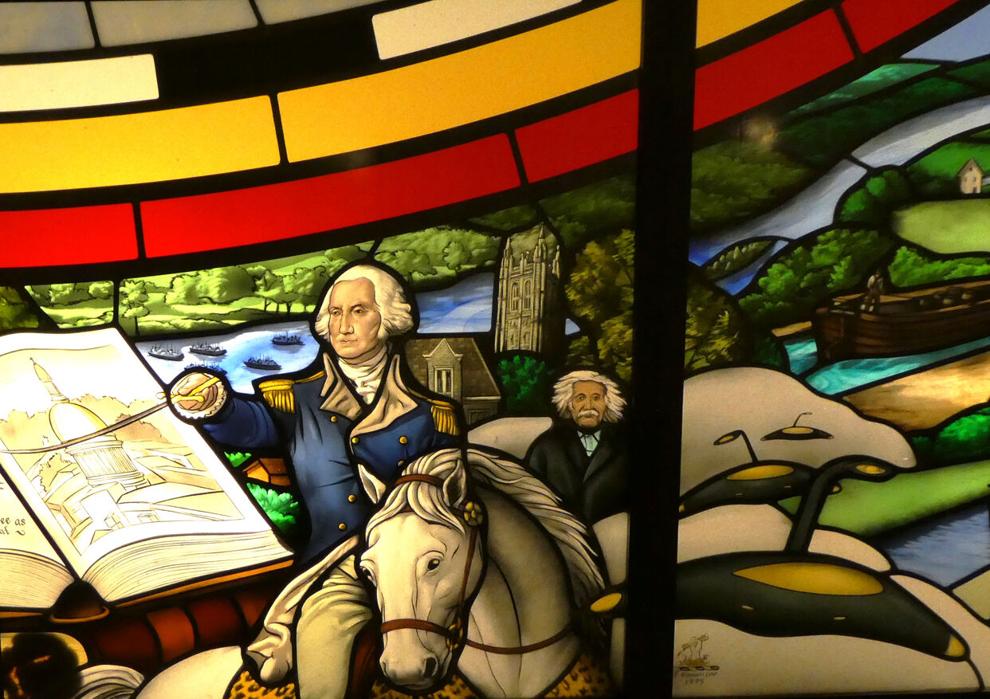 In addition to the skylight, Leap was also commissioned to create glass for the annex meeting room areas that housed the original New Jersey State Museum.
The existing stained glass windows by nationally respected Bucks County-based stained glass artist George Sotter (1879-1953) had deteriorated and needed to be addressed through restoration and replacement.
"Some of the windows had figurative medallions (a central image) and others did not. So they wanted new medallions to complete the series. The images I did were state symbols. I did 12 new stained glass panels that were inserted into the historic windows when it was built."
Taking artistic cues from Sotter, who played an important role during the early 20th century's Gothic Revival movement, Leap says among the things he noticed and echoed when appropriate was the artist's use of "ornamental patterns within the decorative borders — symbols of the zodiacs, constellations — part of small little decorative elements. And the glass was nice blown glass. It wasn't opalescent glass (the thick glass used by Tiffany). It was more connected to the medieval glass that brought color into the room. And the 'clear' glass (around the medallions) wasn't clear. There were touches of green and rose, and it was thick and wavy. It was very interesting from a craft perspective. The glass itself was good choice, Gothic Revival."
Leap may follow the impulse of medieval and Gothic Revival glassmaking, but his inclusion of the images of dinosaurs, Martians, mythic monsters, and even showing himself struggling in the sea off the New Jersey Coast indicates a unsinkable wit and sense of humor.
"It is a thread through all my work," says Leap. "In addition to design and composition, I tell a story that the viewer can enter. It's a hook. Humor comes down to a little bit of my personality and the way I look at things. I see the irony in some situations and having a quick wit becomes part of the story."
Realizing the ceremonial and functional aspects of state buildings, Leap feels that art work for the structure can become too serious and dull. Therefore, he says, he strives to create work that is "more interesting, more human. The Martians are a chance to put in something that is unexpected. Some people think that history is dry, but I want humor to be part of it."
New Jersey State House Tours, offered at various times through the Office of Legislative Services, 145 West State Street, Trenton, Monday through Friday, 10 a.m., 11 a.m., 1 p.m., and 2 p.m., Free. Reservations required. 609-847-3150 or www.njstatehousetours.org.