Ceramicist, printmaker, and hand-crafted book publisher Shellie Jacobson, of Somerset, has recently launched two new works available in both a very limited editions Press and on her website.
"In a book there is always a press listed," she says about her RedBrook Press. "It's important information for people to know. That's my press. And they know it is independent and handmade. Every book is the same in content, but the covers could be bigger or smaller. They're all unique."
The publishing name is also unique. She doesn't see the need for a name of her other artistic ventures, just the books.
That includes the two new books — with one coming unexpectedly and the other growing out of recent experiences.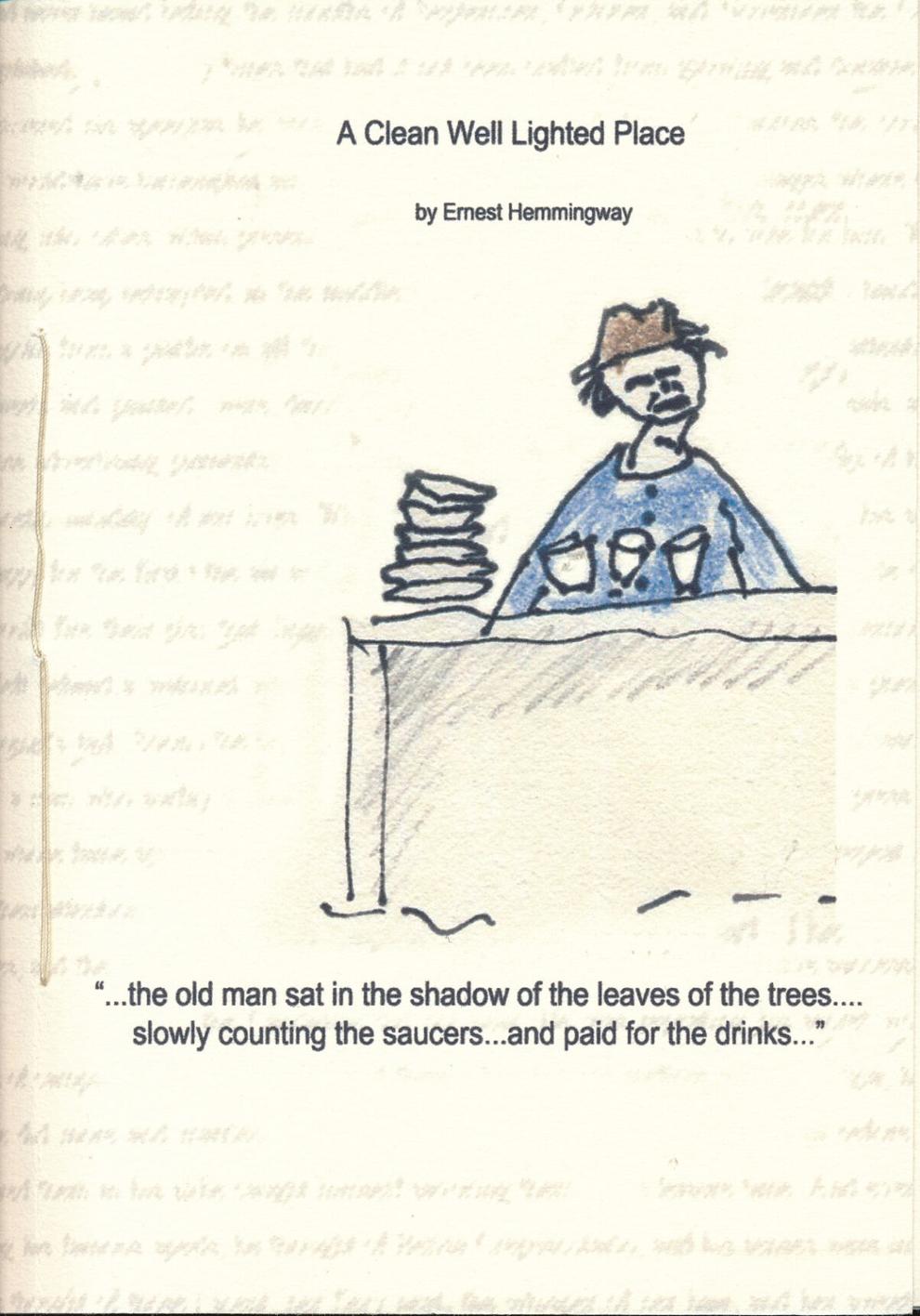 The first is a series of seven illustrations inspired during a class she took with Ellen Gilbert at the Princeton Senior Resource Center. The class was "People and Stories," using the same technique of the reading program with the bi-lingual name People & Stories/Gente y Cuentos.
The program was founded in the mid-1970s by the late Princeton-based educator and community activist Sarah Hirschman. Originally a Trenton nonprofit, the organization is now headquartered in Lawrence. Gilbert's involvement includes serving as a facilitator.
Using literature as a way of building community and interest in reading, individuals are invited into a group where a facilitator reads a story aloud and then engages in conversations regarding the listener's personal connections to the story.
Jacobson says the Evergreen Forum-sponsored, eight-week, two-hour People and Stories class used the same technique and similar stories. In this case, "A Clean, Well-Lighted Place" by Ernest Hemingway; "Night of the FEMA Trailers" by Vivian Demuth; "Marriage Is a Private Affair" by Chinua Achebe; and others.
But unlike the regular program, this was a course, and Gilbert introduced the approximately 18 people attending the Zoom-based classes to an optional, open-ended project.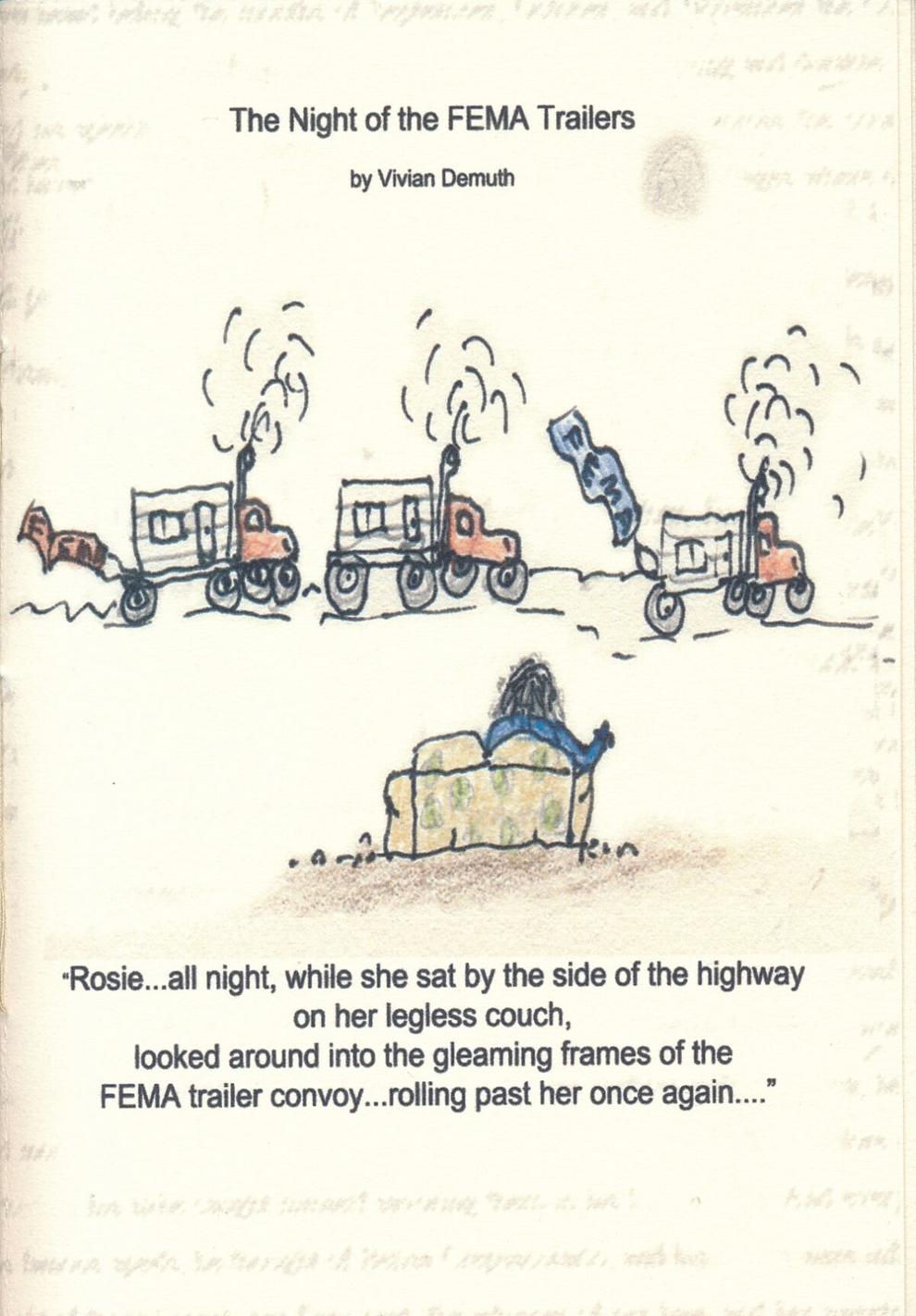 "I began these drawings — little tiny drawings — about the poignant point of the story. Ellen asked us to do a presentation and on Zoom. I showed the images. The response from the class was positive, and I told Ellen I was going to bind it into a book and gave it to her. Then I gave it to another person in the class." She continued the process as requested.
Looking at the work, she says, "Unless you read the stories the drawings don't have the meaning" and that if she were doing it as her own project she'd include the stories.
She then turns to the making the book by hand. "Even though it was a simple book I have a tendency to make things complicated, so I had to remind myself that it needed to be done in a week. So I had to keep it simple, which is always the best."
One problem was creating a folding spine. "It is a concertina fold, like the fans you made as a kid. But I made the fold small, and that made it hard. I folded a lot of paper before I understood what I could do."
She adds that she made the decision because each story image is one folio and she wanted it to open flat. "I figured that the best way to do it would be the small concertina spine. I then thought of the cover. You know when it is right because it fits like a puzzle. I was pleased with the outcome."
Jacobson then describes her printing material choices. "The Rives is the paper I printed on. It is a pleasant paper to touch. It's not hard or soft. And it's not white. Cream colored. It takes the ink lines very well."
For the soft green cover she says she needed something stiffer and selected a French paper to protect the pages and give tone to the book.
"I originally bought red, not knowing what it would look like. I decided it was too harsh and too bright, and I bought gray. Then, I saw the green, and I really liked the green — and in the last class we ended up talking about the color green as something hopeful. There was a lot of hope in the stories. And unbeknownst to me, it was a good choice."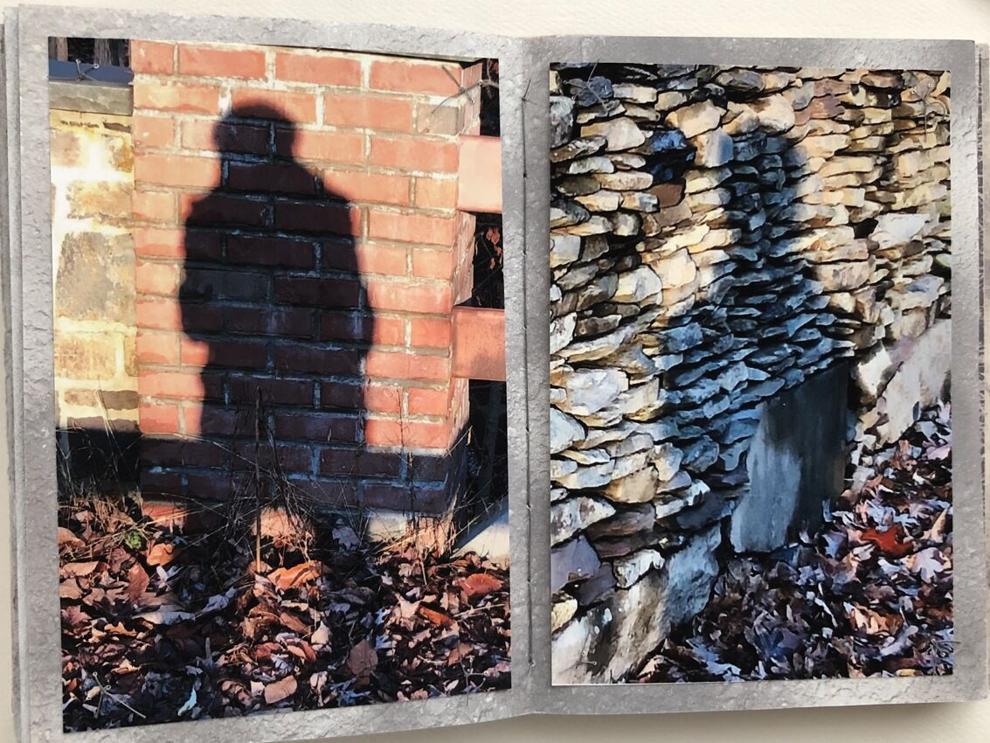 "Just before this book I finished another book called 'Unfamiliar: Self-portrait Shadows,' during COVID." She says the book of 36 images she photographed of herself as she took walks during the early days of the pandemic.
She says it took months to create the book and again prompted the question of how best to bind it. "I found this Belgian binding and this was cool," she says about creating a physical copy of the book and releasing images from it on her website.
"I am a ceramic artist," says Jacobson about her work. "That's where I spent most of my time. I'm still a newbie at printmaking. I've been doing the books since 2000.
"With ceramics I didn't do much with images. (Creating books) is my way of putting images in a package. Most of my books have text, some do, but the shadow book doesn't have any. It was a transitory moment."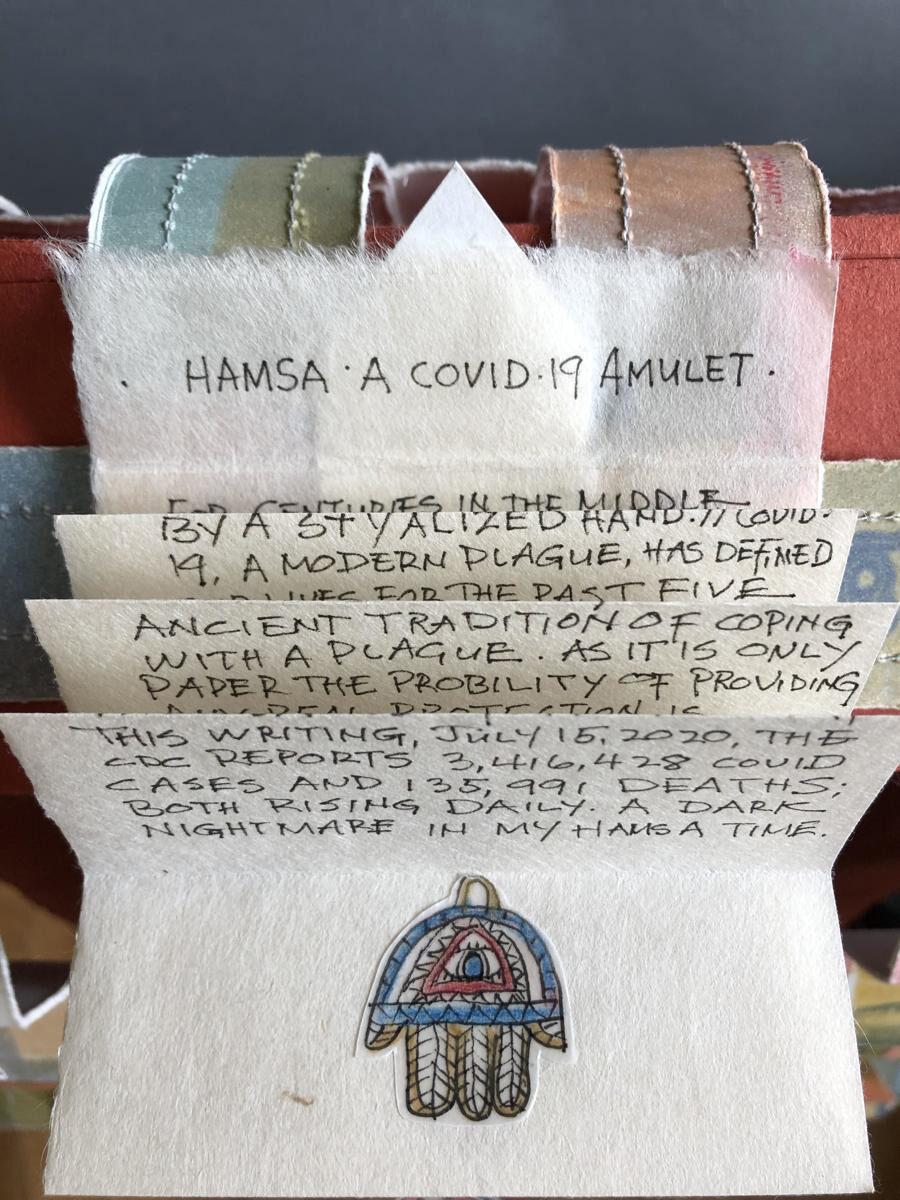 She also mentions another COVID-inspired piece. "Last summer I did a lot of printmaking — monoprints. I did a lot of prints and then tore them up into small prints" and used the pieces to make "myself an amulet vest to protect me from COVID. In the middle is a book that displayed my feelings about where I was at the time. The pages were open. It stretches the idea of a book. The COVID vest was colorful so it was all doom and gloom. The art took me through the period."
The art also took her from her hometown of Buffalo, New York, where she attended the Albright Art School, to Pittsburgh, where she attend Carnegie Mellon University, and later to New Jersey and Rutgers University.
She connects her interest in art to her family. "My father was a dentist. He built bridges and they had to be cast in molds. I watched him stir up the Plaster of Paris and do gold work. My mother was a dietician but she could draw, and I'd ask her to do drawings.
"I liked to draw as a kid. I didn't think of myself having a special talent. I took art in junior and senior high school. My older brother asked what I was going to do with my life, and I said I was going to be a third grade teacher. My brother said that it was a stupid idea and to go to art school. I didn't have a lot of confidence, but I got in. I respected my brother, so I pursued it, and I'm not unhappy that I did.
About new projects, she says, "One thing I was thinking of doing was with cicadas. I've watched them in their various stages. I think they're fascinating.
"I've been collecting wings. I hope to incorporate them into some handmade paper, because it's a phenomenon, because it isn't going to happen for 17 years. It is not bad to record it and mark it in time."
For more on Shellie Jacobson and explore her books and other works, visit www.shelliejacobson.com.