Jersey Devil images began to appear in the early 20th century and were related to either reported sightings or around manufactured events.
One such created event was a Philadelphia entrepreneur's campaign to drum up audiences to see the legendary creature.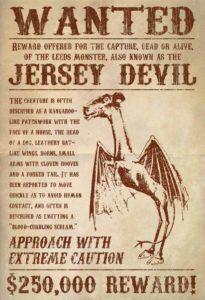 A "Jersey Devil Wanted Dead or Alive" poster illustrating the creature was followed with announcements that the creature — a painted kangaroo with wings — had been captured on view at his 9th and Arch Street Museum — an arcade of sorts.
Jersey Devil illustrations also made front-page news when reporters exposed the hoax and then reported on an unprecedented number of Jersey Devil sightings occurring during a single week in 1909.
Newspaper illustrations kept the Jersey Devil alive in the area's visual imagination until the 1960s, when artists started taking advantage of new technologies for creating and reproducing art, like Ed Sheetz's popular Jersey Devil portrait.
Another popular image was the painting of the Jersey Devil appearing in a misty bog. The work by an unknown artist was on display at the New Gretna House along Route 9 until it vanished one night — several years before the building was closed and demolished.
One recent Jersey Devil image is securely in place in a very secure and prominent location: the New Jersey State House Complex.
Part of the public art project component of the 1990s-era State House renovations, the Jersey Devil can be spotted in the massive skylight stained glass "New Jersey: A 360 Degree View," a fact and fiction depiction of New Jersey history.
The image is by Runnemede, New Jersey, based stained glass master J. Kenneth Leap, who chose to depict a more conventional red devil seemingly fleeing from some invisible tormentors.
In a quick exchange with U.S. 1 about the work, the South Jersey-based Leap says, "My dad gave 'lost towns tours' of the New Jersey Pinelands, and the Jersey Devil was a favorite subject of his. He had a book on the Jersey Devil in his study. The 'eyewitness' descriptions of the Jersey Devil are pretty out there — horse's head, cat body, leathery wings. I opted for something a little more classical and depicted him as a tragic figure — a little misunderstood but not malicious."
Leap says he also put a Jersey Devil in the windows for the Ocean County Library in Toms River Township but "used a different graphic entirely."
For more on the artist, visit www.jkennethleap.com.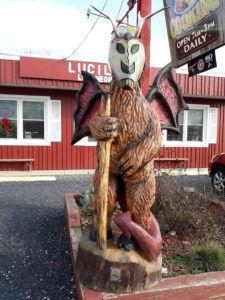 A Jersey Devil sculpture stands tall in the midst of the Pine Barrens out front of Lucille's Restaurant on Route 539 in Warren Grove.
Its maker, New Jersey native and chainsaw carver Joe Wenal, says by cellphone as he drives from a "carve off" in Montana to his home in Colorado that the Jersey Devil is "one of the funnest sculptures I can do."
He also says he doesn't really recall how the Lucille statue got started because he has been going there since he was a boy — he grew up in nearby Cedar Run where his parents still live on Route 9.
The local institution founded in the 1975 by the late Lucille Bates caters to locals, hunters, travelers, and sometimes those on a quest —like the late New Jersey-raised food adventurer Anthony Bourdain.
While noted for its pies, Lucille's family continues the operations and provides general cafe fare, a Jersey Devil hot sauce dish, and T and sweat-shirts with signage that lets wearers brag, "I ate with the Jersey Devil." The logo image depicts a hiking winged devil with a walking stick.
Wenal says, "When I started to talk with Lucille, they wanted it to be too close to their logo and not too scary. I'm waiting for that perfect costumer who will let me loose and do what I want."
The 45-year Army veteran then adds, "I'm drawn to the meaner, more classic version of the Jersey Devil, not the goblin version. For years I wanted to do a scarier one that makes people go 'whoa!'"
Wenal says he learned about the Jersey Devil by simply growing up in the Pines and that he heard all the legends. He and his pals also went out on hunts. "There were a couple of places we'd be out looking."
Returning to the topic of creating figures of the famous monster, Wenal says, "There are so many different ways to do the Jersey Devil. I have done some small ones, tiny two-footers. But I wished more people would order (life-sized ones) because I'd love to carve them."
He says that the Lucille's Devil is made of pine wood. "It's a soft wood that carves a lot easier and takes the sealer well for the weather."
A full-time carver, Wenal says he didn't set out to become a professional wood sculptor. "I was never an artist. I never had an artistic bone in my body."
He says his path to his art making happened when he made houses in the Army and learned how to use wood tools.
Then, he says, "I had ruptured some tendons and started making furniture to keep myself from going crazy. I started making more and said I could do this full-time. My first sculpture was a bear — it wasn't made for anyone. I just decided to do it. I went into the back yard and made a bear and someone stopped and asked if it were for sale and I said 'yeah.'"
He says the price of his works ranges from $100 to $8,000, depending on the size and figure.
He says cute bears are popular and that "no one wants a mean bear on their porch." There are also requests for nautical figures and dragonflies.
He also says he is involved with Carve Wars — or chainsaw competition. One usually occurs at the Tuckerton Seaport and may happen this fall if COVID conditions allow.
Turning back to the devil, Wenal says, "With the Jersey Devil you can get scary, you can do something different. You've got me thinking. I am going back to New Jersey in October. I'll carve a Jersey Devil. I'm sure someone will buy it."
More on Wenal at www.facebook.com/rockymountaincarvers.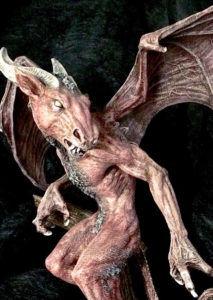 While Wenal's sculpture comes directly through the Pinelands folk tradition, the northern New Jersey sculptor Michael Locascio's approach reflects his training.
In a biographical statement, Locascio says, "I studied classical sculpture at the Cathedral of St. John the Divine and the Newington-Cropsey Foundation. Working with live models, skeletons, and annual cadaver dissections, I trained in anatomy and the bronze monument process there while studying at New York University. Since then I've worked as a fine artist in addition to building a prolific career sculpting action figures, toys, and collectible statues."
Ask about his interest in the Jersey Devil, the sculptor says, "Since I was born and raised in New Jersey, I've always known about the legend, and I remember having lessons about it in grade school. My inspiration in sculpting for my business, Dellamorte & Co., is focused on mythology, legends, and lore. It was a natural subject, and I wanted to give it my own take while still maintaining details from the devil's descriptions.
"My design process is to look at primary source references, both written and visual. I take from that what inspires me and begin sculpting. I rarely render concept drawings; I try to solve the creative challenges in clay.
"With my background in anatomy and classical sculpture training, I wanted to depict the devil naturalistically — to breathe life into some of the old depictions. I actually wasn't aware that Albright knew about my work! With all of my pieces, I sculpt in a type of wax or clay by hand, and I work with a mold maker and resin caster. We produce the statues locally, and I sell them through my Etsy site. I still sell the resin castings. The benefit of keeping a master copy and making silicone molds is that I can make as many as I want. It is a popular piece, so I have no plans to stop producing it."
For more, visit www.facebook.com/dellamorteco.