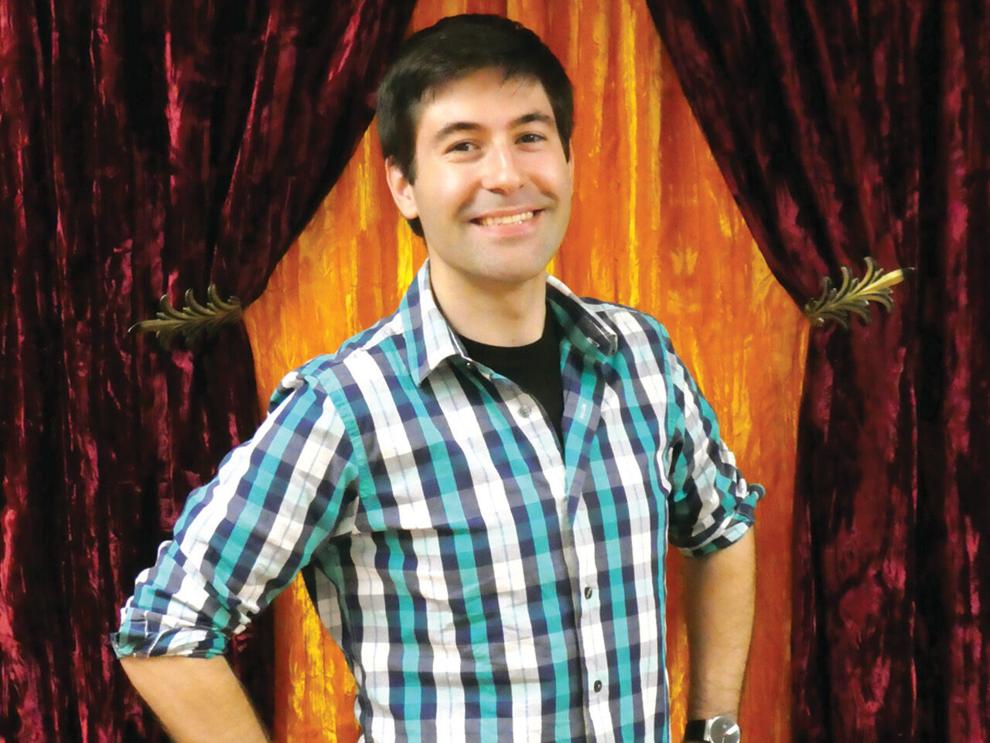 It's magical — really. Every first Thursday from September to June, the Hightstown First United Methodist Church meeting room turns into a meeting for members of the Society of American Magicians Assembly 181 – aka KaDabara.
Here members get together to talk shop, swap stories, hawk books and DVDs, and watch a magic show workshop presentation.
And while the magicians are there for the trade, the public is also invited to get a behind-the-scenes peek into the magical world of fooling the eye.
Also giving a peek into this mysterious world is Robbinsville-based magician Mike Dziubas — otherwise known as "Magic Mike the Magician" — who attends the monthly meetings and is willing to share the tricks of his trade.
"Essentially I provide interactive entertainment," says Dziubas, 27, a 2010 Robbinsville High School graduate. "It's not like prestidigitation. That's more for stage illusionist. That's they guys making things disappear. I'm not an illusionist. I do sleight of hands. But I deal more with the presentation. My presentation is more family friendly. There is no fire, no blades, no gore. My style is to bring the trick out, play with the audience, then add twist they didn't see, and give them a hint of a comical ending — and the audience will feel amazed."
To illustrate what he means, Dziubas describes his approach to birthday parties, which he says his roughly 80 percent of his schedule.
"My shows are generally designed to be about 45 minutes. When I start the show I look at the audience and think who I want to volunteer and pre-pick them.
"I start the magic show with a sponge ball routine. It is like a prelude to an opera where I say I am going to amaze you. Then I move into a three-minute music act — a colorful and flashy presentation that grabs the attention of every child and parent in the audience. And they're seeing tricks one after the other, and the audience is hyped up and says, "Let's see some more."
Dziubas says the first portion show focuses on group participation. "That way I have the audience engaged in the show. I (also) can see how kids will be as volunteers" for the second portion."I look for kids who have a high energy that I can feed off."
In addition to birthday parties, where he arrives at private homes or restaurants, Dzibuas says he also performs at churches and synagogues, summer camps, and the occasional stage show — where he also performs with other magicians.
"Of course (that) involves some coordination to find out who is doing what trick so we're not doing the same trick for the same audience," he says.
It also will deal with styles. "A lot of magicians hit the stage to try to impress the audience by the trick or way to present it. Other magicians are comedy magicians. They don't try to fool the audience, they just want them to laugh (and) do adult nightclub crowds. I think I'm an in-between level. I'm not very serious, but I'm not a lot of comedy."
He is also between magic as a profession and love.
"It's part time," he says about his magic work, adding how he had decided after a grueling show schedule that he would prefer to do it for pleasure. "It is more on the weekends when there are birthday parties and festivals. Occasionally I will take off from work for a day camp."
The rest of the time he is a business continuity manager for the Yardley, PA, headquartered mortgage service company Cenlar, where he has to help make unexpected disruptions to normal workflow disappear.
"I don't really make it disappear," he says. "I coordinate with everyone to keep operations going — even though it may not be in their normal working environment."
He says he's been with the company for three years, gaining entrée when he worked for a temp agency after he received a business degree from Rider University in 2015.
But the magic, he says, has taken up more than half his life.
"I was 12 years old when I started," says the son of a State of New Jersey employee father (working with Medicare) and a cosmologist mother (owner of Radiant Day Spa), also of Robbinsville. "It started when my mom bought me a magic kit for Christmas. And I would do the same trick over and over. She wanted to get me doing extra-curricular activities and away from the video games and she met a magician, Dennis James."
The Bordentown-based James had been a Ringling Brothers Circus clown who learned magic and was presenting and teaching it locally. Dziubas says his mom signed him up for an eight-week class, then viola! James spotted the younger magician's talents and told his mother that he would teach him more on weekends for no extra cost.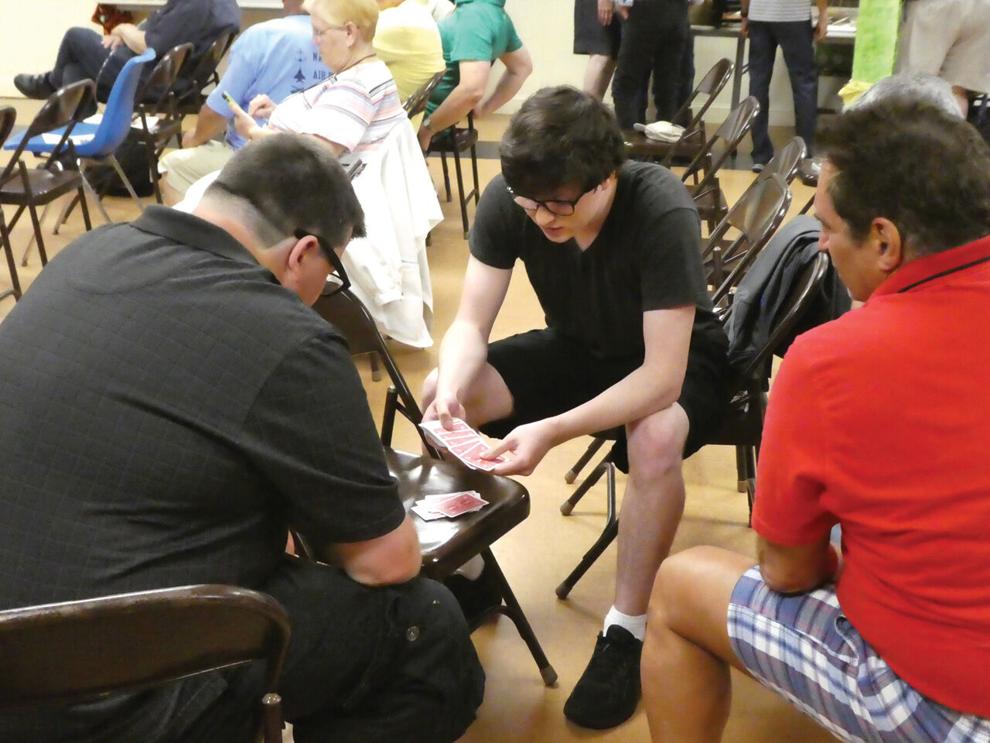 Dziubas says while the eight-week course helped him build a foundation, "The real training was when (James) showed me how to put together a show and perform it in front of children and adults, how to work with music, and how to have a backup in case something didn't work. He also taught me advertising and how to work in different venues — parks and stages."
Then one day James told his protégé he thought he was ready to see if he could do a show. "So he gives me an address for a birthday party that he was hired to do. I go in and set up. And Dennis is also set up, in case I get stage fright," he says. "And I did my show. And I was doing it for kids younger and older than me. Then James did his show. And my mother was impressed. And thought I could do other shows. We started doing advertising and I started driving and doing it high school and have been doing it ever since."
With an original investment of $1,200 — borrowed from and repaid to his parents — he was able to invest in equipment and materials obtained mainly from a magician convention regularly held in Bensalem, PA. Other materials he gets online.
Accessing what he learned, Dziubas says James taught him to build his show around presentation rather than sleight of hand. "Most audiences don't care how much skill you have, they just want to be entertained," he says.
He says he also learned from unexpected situations with kids and learned how to use them to keep the show going.
Moving into the business, Dziubas, who chose his stage name long before there was a movie with the same name, says there are a variety of ways to find a musician and to be careful using the internet. High placement on the search list and a flashy website may be a trick of another sort.
"There is a balance between the quality of the magician and the price you're going to pay," he says, adding that a skilled magician charges between $250 and $350 per hour. "If you have a low price, you can expect low quality."
Another clue is availability. "You call someone and say I want you next month, and they say sorry I'm booked up for the next three months, then you know you've got a really good one."
He adds that looking online does have some benefits. There are reviews and background information.
As for himself, Dziubas says he doesn't need to hustle like full-time professionals do. He works mainly word of mouth and sometimes offers special packages.
Looking into the future, Dziubas, who is single, says he sees getting married, starting a family, slowing down the shows, and perhaps finding his own protégé.
But for now he keeps his act fresh and learns new trick through books, videos, and magician conferences.
And then there is are monthly Hightstown monthly sessions, where his fellow members "live and breathe magic and are trying to improve their routine and get a competitive advantage. When they come in and show. I'm learning and take it apart and if I can incorporate it in my style and in my show," he says. "And if I'm trying to develop something, I can always turn to them. They have a lot of skills and say just do this move." And then, presto!
Society of American Magicians Assembly 181, First United Methodist Church, 187 Stockton Street, Hightstown. Meets the first Thursdays of every month, September through June. Doors open at 7 p.m. Workshops start at 7:30 p.m. Free. For more information, visit magicsam181.com. To reach "Magic Mike" Dziubas, call 609-558-4619.