Though known primarily as an architect of complex comedies and convoluted farces, Ken Ludwig displays a simpler, less complicated side to his writing in "Dear Jack, Dear Louise," at New Brunswick's George Street Playhouse through Sunday, November 21.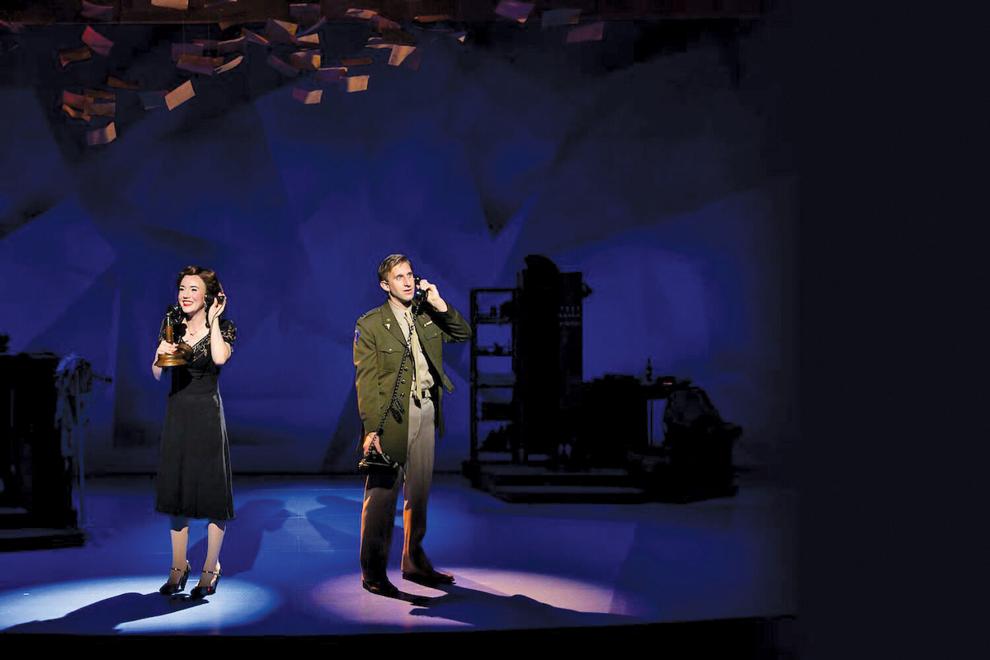 Billed as "Ken Ludwig's Dear Jack, Dear Louise," as if there's another play out there that could be confused with it, this pleasant, amiable piece chronicles the romance that spans the duration of World War II between a young military doctor, stationed in Medford, Oregon, and other places, and a budding young actress whose career hopes have taken her all the way from Brooklyn to Manhattan.
Given the distance between them, the only way they can conduct, let alone evolve, their relationship is through letters, exchanged at times at breakneck pace and at other times with frustrating, worrisome slowness.
"Dear Jack, Dear Louise" is a fully staged play enjoying an appealing production directed by David Saint. Unlike in "Love Letters," the correspondents do not sit at desks and read their contrapuntal epistles. Instead they stand at their individual billets, Jack's an unadorned Army barrack, Louise's a colorfully strewn efficiency at a hotel for fledgling chorines, and recite their dispatches from memory. (A poster for the 1937 movie, "Stage Door," and the stills of its stars, Katharine Hepburn and Ginger Rogers, are pinned to a screen adjacent to Louise's sofa and bed.)
Our acquaintance with Jack and Louise grows as theirs with each other does. Our interest also develops along with theirs, and that interest becomes affectionate to the extent we become invested in their fates as individuals and, more keenly, as a couple.
This involvement comes in small, steady increments. While Ludwig endows "Dear Jack, Dear Louise" with dozens of dramatic and amusing incidents, Saint's production sails along on a fairly even keel. Only a few times during the two hours or so of "Dear Jack, Dear Louise" is a passage built to a height that makes it stand out or takes it beyond a conversational flow.
It's the accumulated information and the warm fondness for Jack and Louise that hold overall attention and make one care what happens to the couple. Actors Bill Army and Amelia Pedlow make you love their characters, Army with a mixture of boyish charm and responsibly adult staunchness, Pedlow with personality that brims over with enthusiasm and verve. They bestow such reality on Jack and Louise, it is a blessing of sorts that Army and Pedlow take a quiet, steady, building approach that offsets big moments, mostly Pedlow's — Louise is much more effusive than Jack — and earns rather than demands our deep regard.
Frankly, I wanted more fireworks at times, even more than when Pedlow is hurt over something thoughtless Jack has done or when Army is inconsolably distraught over the non-stop barrage of wounds, amputations, and death he faces each day at his field hospital.
Yet I have to give Saint, Army, and Pedlow credit for trusting restraint that gives Jack and Louise the opportunity to win us over.
Ludwig's adeptness as a writer is established in his large body of work, particularly in his play, "Lend Me a Tenor," its sequel, "A Comedy of Tenors," and the book for the musical, "Crazy For You."
"Dear Jack, Dear Louise" shows his deft hand with quick response lines that sometimes seem strange, because they are one-line zingers arriving by mail in answer to an earlier one-line zinger, but hit home because they're funny and, when first used, show some playfulness developing between Jack and Louise.
Ludwig is also a strong storyteller who realizes full gains when Louise relates her encounter with Jack's family, including his mother's sisters, his 11 aunts, each with her own method of judging Louise's fitness for her nephew. There is also the moment when Jack shares what he is seeing of the European battles that entered history as D-Day and the Battle of the Bulge. Then there are Louise's various experiences at auditions for Broadway shows.
Much time elapses in the course of Jack and Louise's writing. Ludwig proves inventive in providing the pair enough to discuss, but sometimes, especially at the beginning of his play, he needs to be more forthcoming and less withholding.
For example, in her first letter, a response to Jack's initial missive, Louise quite naturally asks Jack to tell her something about him. Ludwig hems and haws and gives Jack laconic, newsless responses — until Louise reveals she learned from a mutually known source he is a doctor.
Who, when asked to say something about himself, would leave out that he is a doctor? Especially to a woman he is trying to impress? And who, when he finally owns up that he has a business degree and medical degree, fails to mention the schools at which he earned them, confining his information to "prestigious universities?" Jack says he is not talkative and unlikely to write long sentences. He doesn't say he is modest or dense enough to leave out key facts when someone asks who he is. Ludwig's stinting on these rather salient points is a little too cute. It doesn't ring as being true and is a tad annoying in its gimmickry. (In a curtain speech, Saint mentions that "Dear Jack, Dear Louise" is based on Ludwig's parents' courtship. Perhaps Louise had to pull information out of Jack, but if so, the dialogue doesn't reveal that.)
Also cute, but more charmingly successful, are Ludwig's bows to 1940s sensibilities, e.g. when he has Louise coyly write she once played "a lady of the evening" or when both protagonists, in different speeches, literarily blush while mentioning certain human body parts.
One repeating bit is silence or nervous panic when one or the other of the correspondents does not answer quickly. The device of having a character stand a bit confused about having nothing to respond to is effective at first but needs more variation as the play proceeds. It becomes predictable and loses its dramatic importance.
In general, Saint's production is a delight. Ludwig's early withholding is a cavil worth noting but not totally damaging. The natural tone and cadence of the production make the words seem more like letters and allows the show to be a satisfying cross-country run rather than a sprint.
Though it will take Jack and Louise a while before they get to see each other in person, Bill Army and Amelia Pedlow have the looks and personality to insure neither will be disappointed when that big occasion arrives.
Army has a Jimmy Stewart-like regular guy quality about him. He makes Jack immediately likeable and exudes the easy self-confident nature of leading men in 1940s movies. Pedlow can get you excited about a subject by the excitement Louise expresses when writing about it. She is the louder, more impulsive yin to Army's more reserved yang. Both performers demonstrate a lot of range, Army's at times coming as a surprise when Jack lets himself go with some emotion, Pedlow's always entertaining but especially rewarding when Louise is amused by something.
James Youmans' set is perfect in both its simplicity and flexibility, Lisa Zinni's costumes, especially for Louise, evoke the '40s, and Joe Saint's lighting targets the characters well.
Dear Jack, Dear Louise, George Street Playhouse at New Brunswick Performing Arts Center, 11 Livingston Avenue, New Brunswick. Through November 21. Tuesday, Wednesday, Friday, and Saturday, 8 p.m., Thursday, Saturday, and Sunday, 2 p.m., and Sunday, 7 p.m. $25 to $70. 732-246-7717 or www.georgestreetplayhouse.org.