Eighteen months after shuttering to prevent COVID spread, live theater is back! You can feel the jubilation of every theater lover from either side of the footlights.
Openings occurred at both ends of the coverage area. General manager David Abers from the Bristol Riverside Theatre and founder/artistic director Ricardo Khan from New Brunswick's Crossroads Theatre welcoming returning audiences with outstretched arms and emphatic roars of "We're live!"
Bristol and Crossroads also welcomed their audiences with much more. Both "Murder for Two" at Bristol and "When Day Comes" at Crossroads, though different in style and tone, are engaging and entertaining.
One, "Murder," gets you laughing with a non-stop barrage of comic antics from a gifted duo of farceurs. The other, "When Day Comes," puts the time between the forced closings of the theater and today in intelligent perspective, using skits, deliciously infectious music from Sweet Honey in the Rock, and well-timed projections to show all we, as a society, have weathered and to a large extent, survived.
A return to normality is great, but it provides dividends when two productions, so opposite in nature but alike in delight, can usher in a new era so effectively, they make you forget how long an intermission the defense against COVID necessitated.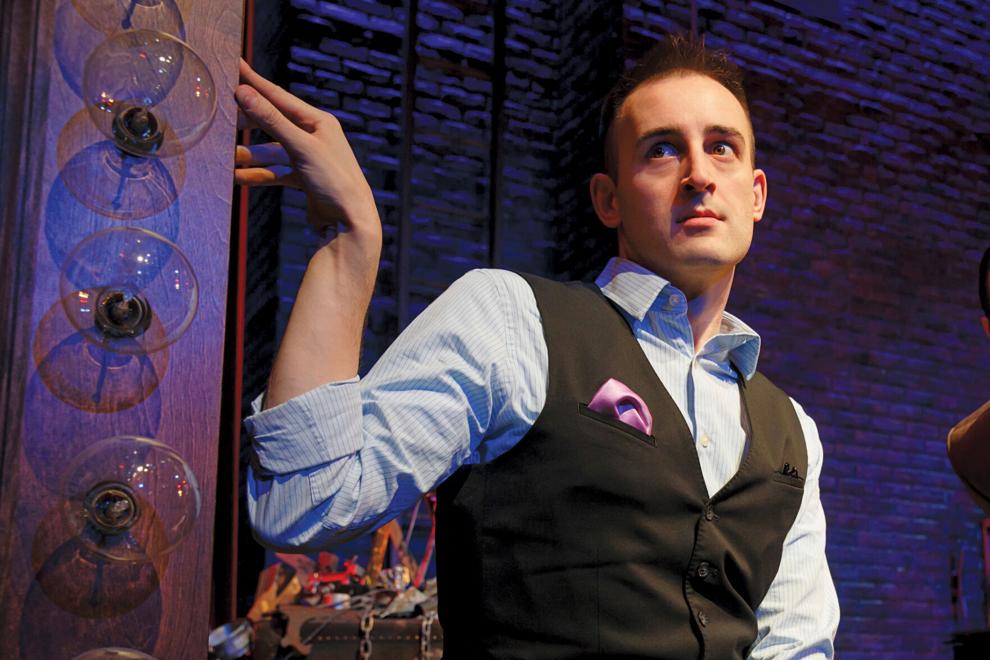 "Murder for Two" is a proven piece. It was a success in Chicago before becoming a hit off-Broadway and works best when its manic, madcap plot is paced carefully enough to let jokes and even clues to a murder mystery be savored.
Luckily, the Bristol production, directed by J. Scott Lapp, finds that Goldilocks spot between chaotic, indecipherable mayhem and strong, structured comedy.
The secret to the discovery is "Murder for Two" co-author and composer Joe Kinosian. I've seen "Murder for Two" seven times, three with Kinosian and four without him. Believe me, he makes a decided difference in the quality and enjoyment of the show he created with lyricist Kellen Blair.
Kinosian has a sure, unfailing sense of how to make all of the comic elements with which he and Blair endowed "Murder" work on several cylinders, keeping theatrical matters orderly while insuring they're hilarious.
The key is timing. The productions I saw without Kinosian were sloppy and overdone to the point that none of his and Blair's jokes, songs, sight gags, or plot came through. Others playing the dozen or so roles Kinosian assays work too hard and too fast. You can see them sweating and working self-consciously to keep a pace and make one comic bit per second pay.
With Kinosian providing the mayhem, the pace is perfect. Every iota of his and Blair's cleverness registers clearly and earns its laugh, groan, or alternative form of admiration.
Interestingly, Kinosian never races through his parts like others have. His comic technique is slower, more deliberate, and thus more effective.
At Bristol, Kinosian and Lapp seemed to have relaxed the pace even further to better result. Kinosian is a master quick-change artist at work, never frantic or slapstick but in control as a communicator and a comedian.
He plays characters of all genders, ages, and types, from a trio of Boy Scouts to a prima ballerina and a socialite who drinks tea she grows in her garden. He does it all with nuance, a change of voice here, a pouty facial expression there, or a tell-tale walk. Because he is neat in his approach, Kinosian's ease improves on the breathlessness that I've seen mar "Murder."
He is artfully aided and abetted by a co-star as gifted and attuned to the material as he is. Martin Landry also has a true sense of how to make his lines and character of a police rookie pretending to be a detective pay.
Kinosian and Landry are aces with the farcical scripts. They also impress when they land at the center-stage piano for solos and, more uproariously, for competitive four-handed stints.
'When Day Comes" takes its title from a line in youth poet laureate Amanda Gorman's work for President Biden's inauguration, "The Hill We Climb." It introduces a passage that speaks of optimism that accompanies ordeals, challenges, and struggles.
Ricardo Khan resumes his role as artistic director of Crossroads Theatre by building on themes Gorman suggests.
Khan conceived and directs "When Day Comes," a mélange of vignettes that show various scenes, funny and harrowing, from the time since January, 2020, when the first COVID death occurred in Kirkland, Washington, until now. These sketches, performed with precision by Ashley Nicole Baptiste and Ernest Bentley, cover ground from the early cases of COVID to the boredom that set in from being home all of the time, and from the plight of nurses on the front-line to the racial upheaval caused by the killing of George Floyd, Breonna Taylor, and others. These scenes and stories are punctuated by the glorious a cappella sounds of the internationally acclaimed quartet Sweet Honey in the Rock.
The brilliance of Khan's collage of one-act playlets, pertinent music — some by members of Sweet Honey in the Rock, others arranged by them — and well-chosen visuals is in the author-director's ability to be even-handed, create a discussion that mentions several sides of a situation, and establish perspective rather than simplistic advocacy.
Khan's scenes are funny as Baptiste and Bentley portray multiple characters that spar, answer back, and work to one-up each other while always keeping their exchange civilized and complete. The actors are joined at times by members of Sweet Honey in the Rock, with one of the most telling bits featuring residents of a nursing home kept unaware of the calamitous events outside their milieu.
Khan is also excellent at building his production. At the start, it looks as if it's going to be an amiable evening filled with light sketches and warming music. As vignette follows vignette and the Sweet Honey in the Rock ensemble break into solo numbers, backed, of course, by tight harmony and the remarkable work of bassist-guitarist-percussionist Romeir Mendez, "When Day Comes" becomes increasing moving. Humor turns to warmth, music into a battle cry of both action and peace, and easy pleasantness turns to poignancy.
"When Day Comes" may be only 75 minutes long, but it has a lasting effect, especially when the works of Sweet Honey in the Rock, songs such as "Inner Voices," "Living Waters," and "Where Are You Going to Be Standing?" keep one singing hours after the show has ended. By the way, Sweet Honey gives a mini-concert following curtain calls.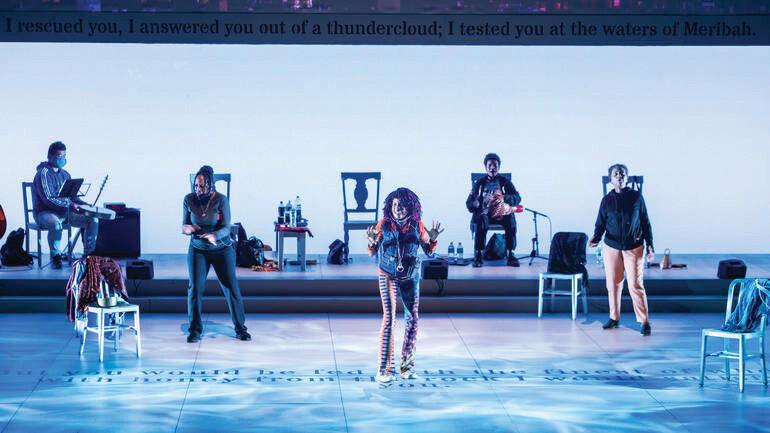 Crossroads, thanks to Khan, whose reliability has been proven over decades in New Brunswick and elsewhere, Baptiste, Bentley, Mendez, and Sweet Honey in the Rock represented by Carol Maillard, Louise Robinson, Aisha Khalil, and Nitanju Bolade Casel, has brought theater back in all of its glory by showing all of its facets, including a versatile set that features Bible verses (including the ones from which Sweet Honey in the Rock derives its name, Psalms 81: 13-16), mood-enhancing lighting from Nicole Lang, a sound design that maximizes the acoustics needed for Mendez and Sweet Honey in the Rock by John Gromada, and sharp, thought-provoking projection design by Caite Hevner.
Murder for Two, Bristol Riverside Theatre, 120 Radcliffe Street, Bristol, Pennsylvania. Through October 10. Wednesday and Thursday, 7:30 p.m., Friday and Saturday, 8 p.m., Wednesday and Saturday, 2 p.m., and Sunday, 3 p.m. $48 to $50. 215-785-0100 or www.brtstage.org.
When Day Comes, Crossroads Theatre at the New Brunswick Performing Arts Center, 11 Livingston Avenue, New Brunswick. Through October 10. Wednesday through Saturday, 7 p.m., Saturday and Sunday, 3 p.m., and Wednesday, 11 a.m. $30 to $45. 732-545-8100 or www.nbpac.org.
Note: To gain entrance to either theater, you must show both proof of being fully vaccinated against COVID and ID to verify you are the correct holder of the vaccination card. Enforcement at both theaters is strict. Masks are required at all times at both venues.