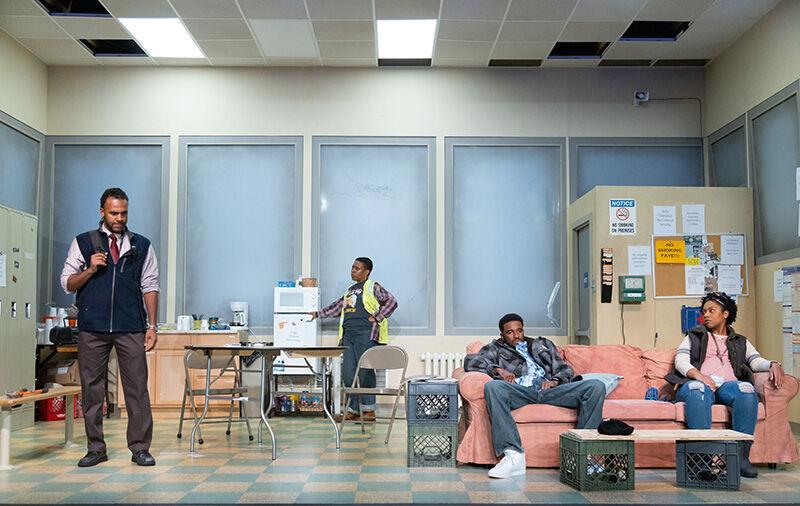 Given the number of motor vehicles on the road, four people working in the auto industry can be forgiven for believing they would have well-paying, union-protected jobs for life.
The four people Dominique Morisseau depicts in her play "Skeleton Crew" certainly think so, especially one who has logged 29 years of service at a plant that significantly increases retirement benefits after 30.
"Skeleton Crew," at the Bristol Riverside Theatre through Sunday, November 21, is a play about dashed hopes, about a city, Detroit, that fades as once-thriving business after once-thriving business shuts down, about a robust industry that diminishes to a fraction of its prime, and about people whose lives and pride depend on the income dying and shuttered factories will no longer pay.
Morisseau is shrewd in concentrating her large tale about a turn in fortune that affected millions on four people who represent situations and attitudes that can apply to many.
"Skeleton Crew" has the power to be searing. Even the seemingly irredeemable character has a story that generates empathy. The disappearing workplaces and devastated city tell a sad tale of their own.
Director Cameron Knight and his cast capture the human and social catastrophe in the making. They make you understand the breakdown that shakes an entire region and four individuals you come to know and like, even when their warts show.
Knight's is a good production that establishes intensity and makes its point but which is stronger in some parts than others, depending on which characters are taking the stage.
All of the players do well, and all eventually make you care about them, but there is increased tension, increased drama, and increased emotion when Lisa Strum, as the 29-year veteran who is also the union steward for the plant depicted, or Marquis Wood, as a high-school dropout who proves his mettle to the point he holds a responsible supervisory position, are on stage.
Bristol's "Skeleton Crew" coalesces and reaches its potential the first time Strum and Wood have their own scene. The pair supplies an added dimension that commands attention and invites a strong interest in them.
That command comes from Strum and Wood having stage presence that turns your gaze in their direction and rivets it there. They are articulate and precise in their line readings. In several ways that make sense from a textural point of view, Strum carries the production. She creates the character that earns the most concern, excites the most curiosity, and uses her age and experience to be patient and reasonable even while conveying the struggle that takes place. Wood matches her in filling the stage with magnitude every time he enters.
Strum and Wood not only connect forcefully with the audience, but the acting bond they form gives their roles authenticity, even when being adversarial or critical of the other, they seem tight with each other, familiar while keeping some distance, a fitting relationship considering the veteran, Faye, is a mother figure to the manager and helped him get and rise in his job. They have a past that introduces a theme of mothers and sons, and by extension, parents and children, that receives more clarity because of their performances.
Joelle Weil, as a younger worker with a great attitude and an unblemished employee record, also accentuates that theme as she talks about admiring her father and her pride at following him to the factory line, where she excels, and who has aspirations for the child she is carrying and for whose pre-natal care she needs benefits.
Weil and the fourth member of the company, Malik Childs, do well in filling out their roles. Childs is quite adroit in changing the impression one has of his character, a seeming buffoon, slacker, and thug who may appear as all of those things but is actually a reliable worker and way above the worst of which he is accused or suspected.
They each have vocal strength and know how to present their characters, but they aren't as crisp in their delivery or as defined in their movements as Strum or Wood. While their opening patter seems genuine, it doesn't hit home and sets Knight's "Skeleton Crew" at two different levels.
"Skeleton Crew" carefully shows what happens when routine, expected security, and trust break down and lead people to spread rumors, jump to conclusions, worry about their futures, and take matters, when they can be taken, into their own hands. And while Morisseau knows how to build a joke, she is serious about showing an industry and a city that depends in decline and how individuals depending on both clutch on to what they have and move into an uncertain future.
Britton Mauk's set has all of the accoutrements of a break room. Folks sitting house left will notice a large graffitied wall and the sides of lockers that look as if they will dwarf the stage and create blind spots. That never happens, but it may have been better if the stage didn't feel so hemmed in on one side. Sarah Smith's industrial costumes and street clothes seem to come from the characters' closet. Jared Gooding's lighting meshes with Michael Keck's music for fine effects, especially at the beginning of the production, and between sequences, when Knight stages a prolonged sequence of the characters, in shadow, going through monotonous tasks on a production line. The effect is reminiscent of Charlie Chaplin's "Modern Times," a 1936 cinematic critique of industrialism, and what feels extended actually takes a cunning turn as Knight gradually speeds up his assembly line until the characters work feverishly to keep up its pace.
Skeleton Crew, Bristol Riverside Theatre, 121 Radcliffe Street, Bristol, Pennsylvania. Through November 21, Wednesday and Thursday,7:30 p.m., Friday and Saturday, 8 p.m., Wednesday and Saturday, 2 p.m., and Sunday, 3 p.m. $43 to $50. 215-785-0100 or www.brtstage.org.