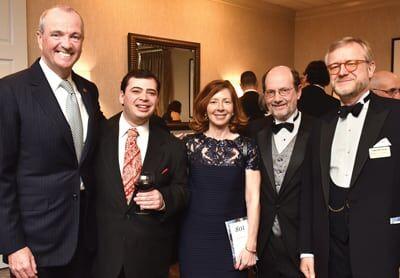 There's still a month to go before this year's Princeton Festival gets underway with its eclectic combination of opera, musical theater, and chamber music, and jazz. But the music is already reverberating for the organization, which held its annual gala at the newly reconfigured Cobblestone Creek Country Club in Lawrenceville.
The revelers had plenty of chances to dance to the music of the Courtney Colletti Band. But they also had some moments to listen as they were entertained by Janara Kellerman, who sang a selection from Rossini's "Semiramide" and "The Gypsy Song" from Bizet's "Carmen." Also performing: Jordan Bunshaft, singing "Comedy Tonight" from "A Funny Thing Happened on the Way to the Forum" (the musical theater selection for this year's festival) and "Ring Them Bells" from "Liza with a Z." The singers were accompanied by Akiko Hosaki.
With "Madama Butterfly" the opera selection for this year's season, the "Fanfare for the Festival," as the gala was called, included a lot of guests in brightly colored kimonos. The Princeton Festival audiences can also look forward to jazz by the Peter and Will Anderson Quintet and performances by the Princeton Festival Baroque Orchestra and Chorus, and the Concordia Chamber Players. Events run from June 9 to July 1. For the full schedule visit www.princetonfestival.org.
Stopping by for the cocktail party was Phil Murphy, the new governor, who's taller than most people thought. His appearance reminded some guests that it's a new era in New Jersey. The governor showed up — and no one got yelled at.