Spanning 29 sites, the Witherspoon-Jackson Historical and Cultural Society (WJHCS) has devised a heritage tour of local memorials and monuments as a tribute to the enduring legacy of Princeton's historically Black neighborhood. Organized by President Shirley Satterfield, whose career has included being both a teacher and a guidance counselor, the tour allows anyone to make a voyage across Princeton's rich wealth of documented African American culture by foot. At all of the stops, there are plaques with information about the sites, all curated by Princeton's Historian of African American life — Satterfield herself. And it's a perfect outing to celebrate the history among us this Black History Month.
Witherspoon-Jackson was recognized on April 11, 2016, as the 20th Historic District in Princeton. Shortly afterwards, Satterfield and her team formed WJHCS in an initiative to further preserve the rich history of the area. The tour is self-guided, but sometime in 2022, Satterfield plans to release an audio guide featuring her voice on the organization's website, princetonwjhcs.org.
Slavery is an often-overlooked aspect of Princeton's identity dating back to the early establishment of the community itself, and despite being in the Northern part of the country, the area frequently interwove the enslavement of African Americans with the school's, and the town's, founders or influencers, the Princeton & Slavery Project found in 2017.
African Americans have been present in Princeton since the late-17th century, either as slaves on farms or in homes, but by the 1700s, Satterfield explains on the WJHCS website, descendants of slaves "had migrated to Princeton from the South to find employment." When slavery was abolished, at first gradually, the Black residents were forced to abide by Jim Crow policies in an era of segregation.
Persevering through the hardships, the district became "a proud, self-sufficient and self-sustaining community," as described on the Heritage Tour page. Satterfield articulated on the website that a wide array of shops from all services and storefronts flourished, self-contained yet still undoubtedly affected by "years of racial separation, red lining, urban renewal, gentrification, municipal neglect, and high taxes."
In 1990, Satterfield joined the Historical Society of Princeton. Seven years later, she started the Albert E. Hinds Memorial Walking Tour, an early incarnation of the heritage tour.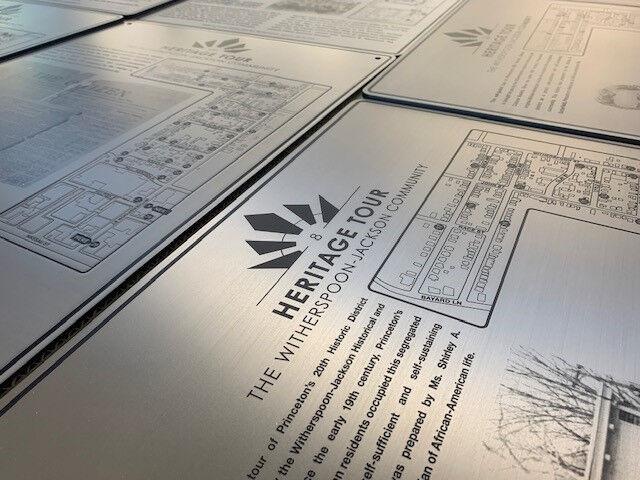 The installation of the plaques was a work in progress dating back to 2017, originally starting with the four churches of the area — Mt. Pisgah AME Church, the Witherspoon Street Presbyterian Church, the First Baptist Church of Princeton, and the Morning Star Church of God in Christ — then finally completed in December, 2021, with a lineup of businesses, community centers, and landmarks.
The plaques, which are all sponsored by members of the community whose names are dedicated at the bottom of each marker, were created by architect J. Robert Hillier. Hillier created the plaques for free and also serves as WJHCS' treasurer. His firm, Studio Hillier, is redeveloping two buildings on the tour, the original Witherspoon School for Colored Children and The Waxwood on Quarry Street.
For an abridged trip into history, here are 10 sites you can visit in the Witherspoon-Jackson neighborhood, as well as an overview of their significance.
Albert Hinds Plaza (#1)
A prominent local figure with years of service to his name, Albert E. Hinds wore many hats — to name a few, he helped pave Nassau Street, reopened the Colored YMCA, and worked as an exterminator at the state hospital.
Hinds' lasting commitment and enthusiasm for assisting others helped give him a formidable legacy before his passing at 104 years of age. The quilt patterns on the plaza gates represent his journey throughout life.
Installed in 2013 and designed by artist Tom Nussbaum, the gates can be found adjacent to the Princeton Public Library as a fitting beginning to the heritage tour.
Witherspoon Street Presbyterian Church (#24)
The first Presbyterian church of color in Princeton, the WJHCS website states that when 90 of the 131 Black members were dismissed from the Nassau Presbyterian Church in 1836, that excluded group came together to make their own space to practice religion.
Formed four years later, Witherspoon Street Presbyterian Church welcomed both enslaved and free people in their congregation. Founded in part by Elizabeth "Betsey" Stockton, an enslaved woman who earned her freedom, then became a missionary and taught in an African American public school, the church is also where Satterfield is active as a deacon.
Houses Moved From Baker Street to Build Palmer Square (#17)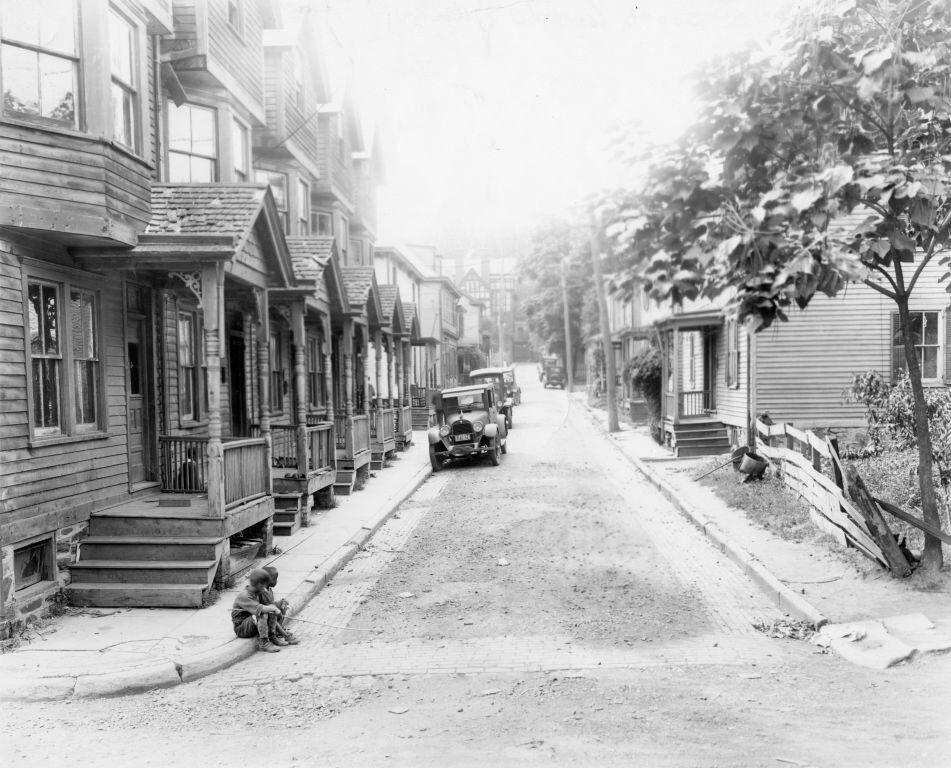 In an act of urban renewal, Princeton University graduate Edgar Palmer's 1929 decision to encroach on Baker Street (sometimes called "Baker Alley") for a new town square displaced Black families and residents from their homes, physically splitting a number of buildings in half and moving them to Birch Avenue.
The WJHCS plaque states that "the Double houses between here and Bayard Lane (Route 206) are the houses that were moved" into the Witherspoon-Jackson neighborhood.
Mary Moss Playground (John Street Wading Pool) (#11)
Originally called the John Street Wading Pool, this playground was designated as a recreational area for Black children. Due to segregation, they could not enter other parks, making the wading pools at this site important to the community.
Mary Moss had the nickname of "Mommy" during her time as a teacher and nurse at the Princeton Nursery School (#16 on the tour). When she retired in 1954, she became the playground's supervisor, and in 1992, the area was posthumously renamed in her honor.
The playground was completely renovated in 2018 with updated features.
The Original Witherspoon School for Colored Children (#20)
Teaching African American children in public schooling from kindergarten to eighth grade, the original Witherspoon School for Colored Children opened its doors in 1873. But in 1908, "a new and larger school was built on Quarry Street," the plaque reads, and the first building became known as Douglass Hall after abolitionist Frederick Douglass.
In 1948, the separated schools became integrated in a move called the "Princeton Plan," but tensions soon arose. Black students faced discriminatory treatment and mourned the loss of their former learning environment at Witherspoon Street School with Black educators, The Princeton & Slavery Project stated.
Used for many different reasons throughout its history, the space has been transformed from a gathering site to a functional apartment building. Hillier's plans to restore the former educational facility are in hopes to get the structure back "to its original architectural exterior."
Paul Robeson House (#25)
Paul Robeson, Princeton's own multi-talented bass singer, athlete, activist and actor, was born in 1898 at 110 Witherspoon Street. Known as "Princeton's Native Son," Robeson transitioned through several American industries, moving from lawyer to the stage with ease — his version of "Othello" ran the longest of any Shakespeare play in Broadway history, according to PBS.
Robeson's father, William Robeson, was a slave-turned-preacher and a minister at Witherspoon Street Presbyterian Church until his dismissal. The church currently owns the building, maintaining it as a "Cultural Center" for the African Americans in Princeton. Also on the tour is Paul Robeson Place (#3), a street renamed in his honor, and the Robeson Family House (#26), their second home following William Robeson's expulsion.
Mr. Ball's Candy Store (Originally home of Henry Austin) [#6]
Before Robert Ball began selling sweet treats to the community from the side of his home, Henry Austin, the editor of Princeton's Black weekly newspaper, "The Citizen," lived in the same spot with his family (#29). The writer's son, Dr. Henry J. Austin, practiced in Trenton, paving the way for the four health centers ultimately named in his honor.
Robert Ball moved from Washington D.C. to Princeton in 1922. His wife, Marie, was a nurse at Princeton High School. Besides penny candy, the plaque explains that the store's wares included ice cream, dill pickles, and various other snacks.
Witherspoon YMCA-YWCA (Colored YMCA-YWCA) (#27)
Until their inclusion into the branches of the National YMCA in 1917, African American adolescents and men gathered at places like Douglass Hall or in Paul Robeson's basement, hosting events and coming together on their own terms.
The "Y" functioned as a social center for decades prior to integration. Now in its place, despite a history of burned down infrastructures and relocations to other properties, is the Arts Council of Princeton, also known as the Paul Robeson Center for the Arts.
Mr. Griggs' Imperial Restaurant (#2)
In addition to owning the Imperial Restaurant for 42 years, Burnett Griggs' influence spread across town to the point that "Griggs' Corner" has caught on as the name of the entire surrounding area. A former "houseman" at a Princeton University eating club, Griggs was not only a man who fought to fill stomachs, but to remain open when pushed out by urban renewal.
"The Imperial Restaurant was listed in the 1940 edition of The Negro Motorist Green Book," the plaque reads, an annual guide for Black travelers that recommended safe businesses for them to stop at or patronize for food, lodging, and other services.
William 'Sport' Moore Used Clothing and Antique Stores (#28)
Setting the stage for later business ventures, William "Sport" Moore owned two locations along Spring Street, an antique store and a second-hand clothing store. His daughter, Christine Moore Howell, opened a beauty salon called "Christine's Vanity Parlor." The beautician, who studied chemistry in Paris, had a laboratory in the back of her business to formulate products for her line, Christine Cosmetics, Inc. "She was the first Colored person to be appointed to the Board of Beauty Culture Control," the plaque states.
Artist Rex Gorleigh, commissioned to Princeton by the Princeton Arts Group, also had his studio at 4 Spring Street. Later in life, he moved his studio to another street in Princeton, but his years at this location are forever immortalized as part of Witherspoon-Jackson's history.